Where to watch the Super Bowl in Miami that's not your boring house party
Where to watch the Super Bowl in Miami and more free Super Bowl parties happening in South Beach, Wynwood and Brickell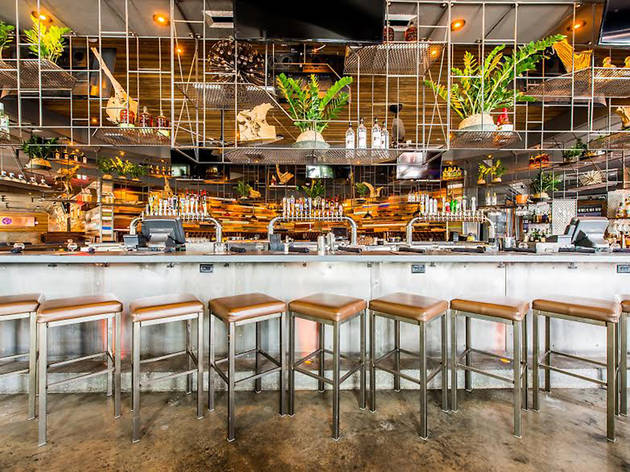 You probably still want to know where to watch the Super Bowl in Miami despite the fact that our beloved Dolphins will be far from the playing field. Of course, that doesn't mean you still can't have fun (and root against the Patriots too). The Super Bowl is more about the food and drinks these days anyway, right? That's why—if you plan on staying in for the big game—you'd be wise to order some of the best tacos in Miami or the best pizza in Miami on your favorite delivery app. Maybe there'll even be time for some of Miami's best seafood at halftime. But if you plan to leave the house, these are the watch parties you should hit up.
Where to watch the Super Bowl in Miami
Philly cheesesteak or lobster roll? Sweet Liberty has both on the menu in honor of the two Super Bowl contenders. Order one of the two, plus a cocktail (or three) and don't worry about getting a good seat. Sweet Liberty has some extra TVs on hand for the big game.
The Nautilus hosts a free Backyard BBQ with all the Super Bowl snacks you could want: ribs, wings, nachos burgers and more. Want a bit more privacy? Rent a private cabana (private TV included) to root for your favorite team far away from those awful [insert opposing team name here] fans.
Tap 42 has one of the more well-known bottomless brunches in South Florida. So it's only natural that the gastropub is offering bottomless wings and beer for $25 at all Tap 42 locations (Coral Gables, Midtown, Fort Lauderdale and Boca). It's—dare we say—as tempting an offer as never-ending mimosas and pancakes.
AmSo never misses a big game so of course it's going huge for the Super Bowl. If one of the more than 25 TVs isn't doing it for you, watch on the floating 47-foot LED TV (which will be bobbing on the Miami River). Bring some friends to enjoy the $20 buckets of Heineken and Dos Equis.
Go from Sunday brunch straight into Super Bowl Sunday at Nikki Beach. The pre-game tailgate includes trivia, color wars and more activities that should be quite fun after a bottle of rosé. When the Super Bowl starts, grab a $25 champagne flight before you root against (or for) Tom Brady.
Kiki on the River debuts a special Super Bowl menu on Sunday. In addition to the things everyone can agree on (nachos, wings and chips) there are the more polarizing choices: New England lobster rolls and Philly cheesesteaks. Choose wisely.
Basement's bowling lanes open at 5pm on Sunday. When the game starts an hour and a half later, sit back and grab a seat. You can watch along on all the bowling lane's TVs (so you don't even have to take a bowling break). Specials include $20 beer buckets and $10 beer/shot combos. For $75 a person, enjoy an open bar from 6pm to 9pm.
Nightlife, Late-night bars
Have you had a chance to check out Wynwood's newest bar yet? Super Bowl Sunday is the perfect day to scope out this sizable cocktail lounge (from the folks behind Drunken Dragon). Get a first look at the bar's new menu during Rácket's backyard cookout and enjoy $4 beers from Biscayne Bay Brewery.
Restaurants, American creative
The Dolphins might not be in this year's big game, but at least you can watch it while stuffing your face with mini grilled cheese sandwiches. That's just about as satisfying, right? Thankfully, Ms. Cheezious is taking reservations in its garden, where it will serve loaded tots, PBR buckets, wings and pounds of gooey cheese to hungry fans. (Note: this party is happening at the MiMo location of Cheezious, 7418 Biscayne Boulevard.)
If the neighborhood sports pub is a little too sticky for your liking, get bougie at the Mondrian. Watch the game on a 15-foot screen or rent a day bed and gnaw on chicken lollipops, wagyu sliders and more. Will there be rosé? Of course.
Better Days has some stellar deals for the beer lover in your life. The laid-back Brickell bar offers $4 draft beers and two-for-one specials on select canned beers. Happy hour prices apply to well drinks throughout the game as well.
Things to do, Film events
As CMX—the luxury movie theater located in Brickell City Centre—likes to often remind us, they have the largest LED screen in Florida. So you won't find a bad seat in the house during their Super Bowl party. Packages for three to four people ($120–$175) include beer buckets and appetizers such as wings, nachos and guac.
Still hungry after the game?
These late night options will set you right.