Heads up! We're working hard to be accurate – but these are unusual times, so please always check before heading out.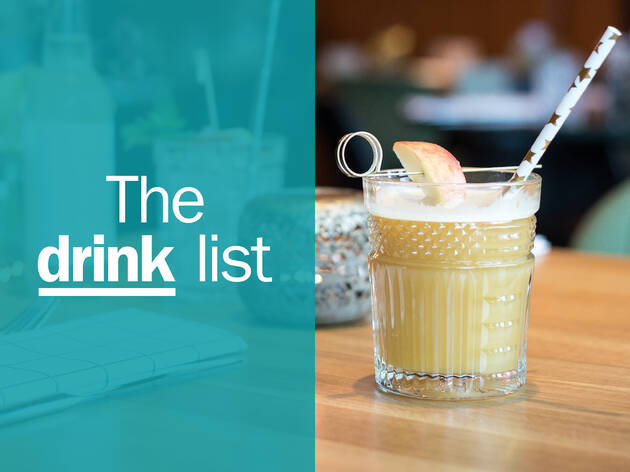 The 15 best bars in Milan
Affected by the global hipster epidemic, the best bars in Milan serve crazy cocktails in addition to aperitivi and wine
Even advertising agencies are aware of the supremacy of the best bars in Milan. In 1985, the tagline for an ad for Amaro Ramazzotti, a digestif, christened the city as "Milano da bere," which literally translates to "Milan to drink [up]." The line was representative of a vibrant and pulsating town, embodying the zeitgeist of the '80s, when Milan was a de facto city of ambition, hustle and hedonism, all conveyed through the social ritual of aperitivo, the pre-dinner drink, which, to this day, is both a social, scene-y and purely gourmet experience.
The local drinking culture dates back to the late 19th and early 20th centuries, around the time when Gaspare Campari began producing his eponymous bitters in a factory outside of the city and serving them as pre-dinner drinks meant to stimulate rather than spoil the appetite. And while Campari is still a foundation of many pre-dinner cocktails that are beloved by the Milanese (hello, Negroni and Campari Spritz!) alongside other light-bodied bitters like Aperol and Cocchi Americano, the hipster epidemic has invaded Milan too and, as a consequence, it's not hard to find establishments such as Rita & Cocktails, Nottingham Forest and Santeria serving highly creative concoctions that move away from the classic drinks the citizenry is used to.
Milan's craft beer scene, on the other hand, while less visibly trendy, has its accolades, too: at Bere Buona Birra and Lambiczoon expect to wax poetic about lambics, saisons and gueuze.
With the exception of purely residential neighbourhoods, there are solid drinking options all over the city, and you should make it a point to visit them all before heading to the best restaurants in town for some pizza and classic local eats.
Best bars in Milan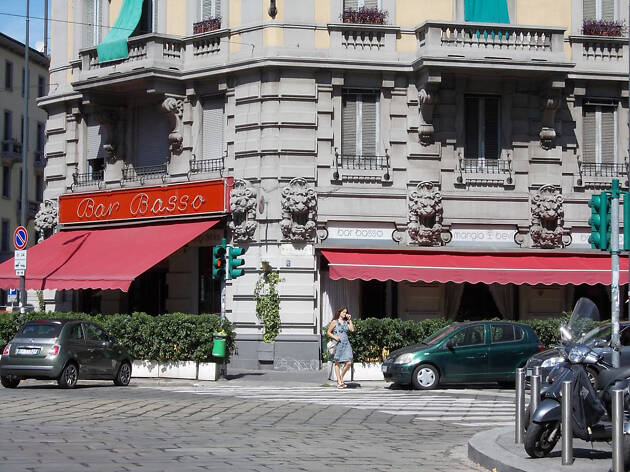 Photograph: Courtesy Yelp/Raffaella M.
The negroni sbagliato (a "wrong" negroni made with spumante in lieu of gin and mixed with Campari and vermouth) was first created at this classic Milanese cocktail bar and is still served today in an enormous glass. Located in Città Studi, an area buzzing with students, Bar Basso fills up during Salone del Mobile, the annual design week, when it becomes the after-party venue of choice.
A reliable spot for inventive cocktails, Rita & Cocktails stands out in the Navigli: the canal area is teeming with mediocre establishments and this contemporary bar is like a port in the storm. The specialty here is fresh, quality ingredients and clever flavour combinations. Outside of the glass-encased patio, the main focal point is a bespoke wooden bar that practically fills the room.
Photograph: Courtesy TripAdvisor.com
Radetzky has been a fixture in Milan since 1988 and, on any given day, you can ogle among its patrons during aperitivo hour. Expect a mixture of families, elderly locals, starlets and influencers. With its buffet (included in the drink price) comprised of homemade chips, squares of focaccia, pizza, cubed cold cuts and pickled vegetables, Radetzky is proof of the undying appeal of 1980's Milan. The staff offers breakfast, lunch and weekend brunch options, too: does it get any better than this?
This neighbourhood favourite in Porta Romana, run by brothers Luca, Fabio and Massimo Crinò, is first and foremost a pastry shop. But don't let the display cases full of mouth-watering sweets deter you: the venue is equally renowned for its inventive cocktails, many of which are Luca's own creations. Not only does Luca concoct the recipes, he also creates his own Vermouth and Campari-style liquor.
Photograph: Courtesy TripAdvisor/Mbm
The sophomore venue of the folks behind craft beer mecca Lambiczoon, Perditempoteca is a brewpub that offers rotating taps of Italian and international craft beers, and a matching selection of panini, burgers and sandwiches that can definitely be classified as comfort food. You will need the pulled-pork sandwich or a Lazzaron (ciabatta, coppa, goat cheese, tuna and vodka) after sampling a few beers.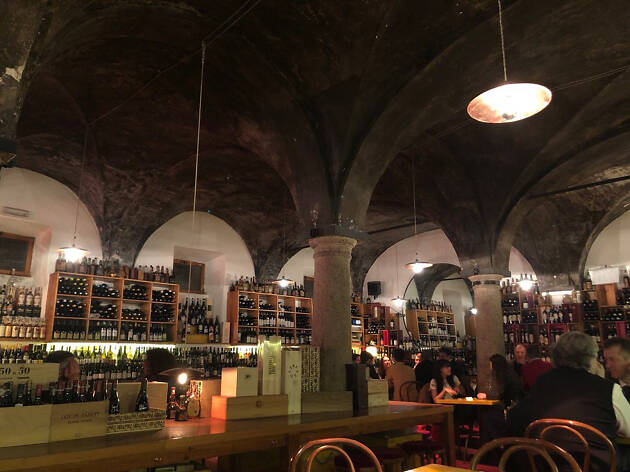 Photograph: Courtesy Yelp/Lorena S.
Buttressed by the walls of San Marco Basilica, this historic wine cellar in Brera is a place where people go to see and be seen. N'Ombra de Vin was opened by Giacomo Cora, who transformed what used to be the refectory of the Friars of the Agostine order in the 16th century into one of Milan's best wine shops. Today, the grand cellar is run by Giacomo's son, Cristiano.
Photograph: Courtesy TripAdvisor/Nottingham Forest
The second you step into Nottingham Forest, you might be disoriented by its Disneyland-ride decor (even though, now that "immersive experiences" are a thing, it might be unwittingly trendy) but the menu, which adapts the most refined culinary techniques (including chemical reactions) to the art of mixology are anything but a Disneyland-like experience. Don't call those in charge of your cocktails "barmen" or "mixologists:" at Nottingham Forest, they are bar chefs and, true to their role, they wear a chefs' uniforms.
Photograph: Courtesy TripAdvisor/Terrazza Triennale
The rooftop in the Triennale space overlooks the lush Parco Sempione and is technically a restaurant open for both lunch and dinner. However, it is possible to enjoy both an aperitivo and after-hours drinks, part of a drink menu created by Venezuelan-born Luis Hidalgo, which sport a predilection for smokey and citrusy flavour profiles.
Housed in an old foundry with soaring ceilings and a sprawling patio, Fonderie Milanesi can be relied on for solid cocktails and an aperitivo buffet that prioritises quality over quantity. Close to Bocconi University, this hidden spot at the end of a gravel road attracts a younger crowd, although it's hopping with people of all ages during aperitivo hours.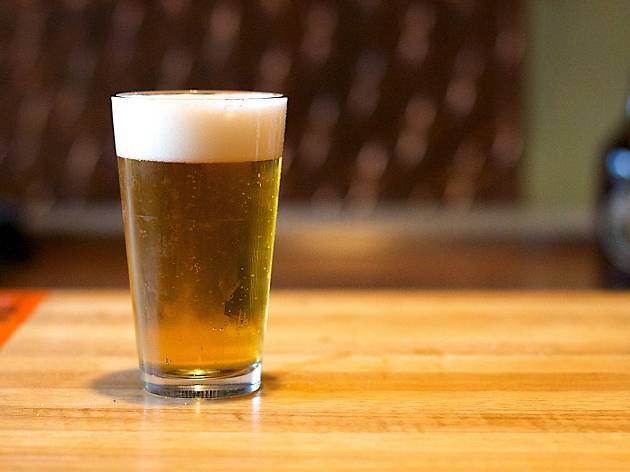 Photograph: Courtesy CC/Flickr/Alan Levine
More clubhouse than bar, this craft beer spot in Porta Romana is upfront about its priorities: its name translates to "drink good beer," after all. The informal venue occupies a small storefront featuring playful art on the walls, loads of stools and a few nondescript wooden tables. But most people congregate around the bar's six taps and the two coolers full of bottled craft Italian and European beers; crates on the opposite wall showcase bottles you can buy and take home.
Occupying a small, den-like space in Chinatown, Cantine Isola has an interior that's more cosy than cramped, with a narrow bar along one wall and floor-to-ceiling wooden shelves packed tightly with wine bottles grouped according to region and country. Below most of the bottles are handwritten notes describing the contents' origins and flavour profiles.
Photograph: Courtesy Yelp/Riccardo M.
What started in 2011 as an unassuming space for creative strivers in Città Studi, the university-neighbourhood hub on the East Side of Milan, evolved into a space that houses an art gallery, a restaurant, a performance space and a bar that has, according to its own website, "80 types of gin, 30 types of bitters, 40 types of tequila and mezcal, 10 different vodkas, 50 rums, 70 whiskeys, 70 liquors and 20 grappas." The staff also concocts craft cocktails using ingredients such as peanut-butter-flavoured bourbon and grilled yellow peppers. Say what?
Although The Botanical Club in increasingly hip Isola is technically both a bar and a restaurant, don't bother with the back dining room. Instead, hunker down at the retro green and metal bar in the front of the house, where you can spend a night in cocktail heaven. The drink menu changes every month but all selections are made with one of the limited-edition gins on premise.
During the day, Otto's distressed wooden tables are covered in Apple laptops that belong to freelancers. Come aperitivo time, the computers are replaced with glasses of wine and cocktails. Get here early to snag a seat, but don't be concerned if you're left to twiddle your thumbs: all ordering takes place at the bar and there's no table service for drinks.
This lofty venue with two pools, a cigar room and sleek interiors is owned by Canadian fashion designers Dean and Dan Caten, whose label Dsquared2 is housed next door. Come during sunset so that you can see Milan's relatively new skyline awash in pink light. The bar doesn't accept reservations, so come early to grab a poolside couch for aperitivo.
Need to get away?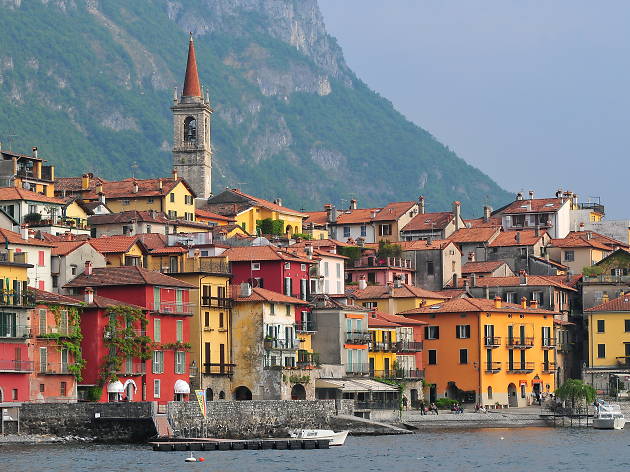 Photograph: Courtesy CC/Flickr/Juan Rubiano
Milan might be landlocked, but short drives will take you close to the nearby mountains and the postcard-worthy lakes to the north, the French-Riviera-like Liguria to the west and the hidden cultural (and culinary) gems just about everywhere else. Where to go?