The 10 best Airbnbs in Milan
Looking for a place to stay in Italy's fashion capital? Check our list of the best Airbnbs in Milan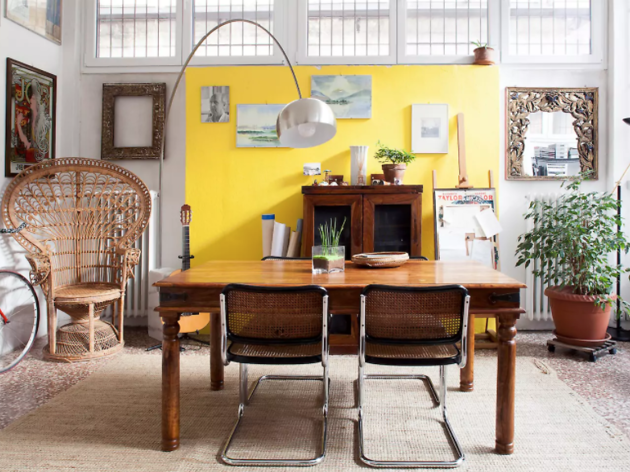 Rejuvenated by the postwar economic boom, Milan is known across the world as the fashion hub of Italy. Expect a beguiling mixture of old and new: a place where chic fashion houses, stylish boutiques and chi-chi restaurants rub shoulders with churches, museums and other historical attractions.
And if you're looking for a convenient and affordable place to stay, you may well want to check out Airbnb. Luckily, we've done lots of searching and scrolling, and have put together this list of Milan's top rental properties. Take a look below and start exploring a city a whole host of things to do.
Best Airbnbs in Milan
1
Elegant home near the Duomo
Milan's Duomo, a stupendously beautiful gothic cathedral, is an essential sight for all visitors to the city. This spacious, refined home is just short walk away. Surrounded by shops, cafés and restaurants, the spot sleeps seven, has five bedrooms and three bathrooms.
Image ©Airbnb
2
Quirky apartment near Teatro degli Arcimboldi
This place has some worldly and curious decor, and whatever your thoughts are on zebra pelts and the like, the comments by left previous guests attest to the generosity and helpfulness of the hosts. Another property in the Bicocca area, this is close to the world-famous opera house Teatro degli Arcimboldi. Plus there's space for six guests so you can bring your entire brood (including any furry friends).
Image ©Airbnb
3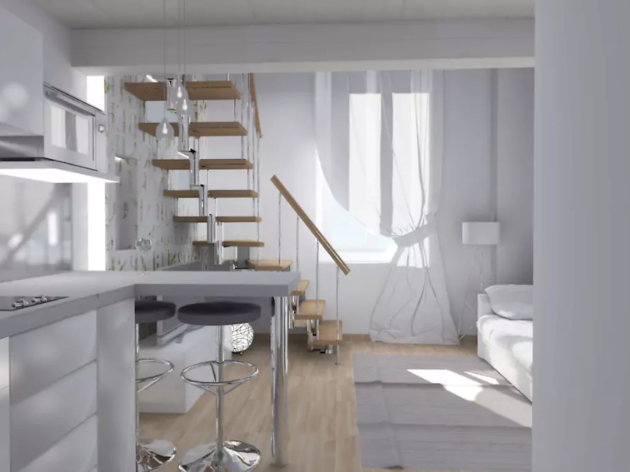 All-white canalside apartment
Wow! This apartment, based in a 200-year-old building, is so bright and white that you might want to put some sunglasses on. It's also located by a naviglio, one of the canals built in Renaissance-era Milan that's every bit as charming as you imgine (take a look at the full range of the host's pics, they're phenomenal).
Image ©Airbnb
4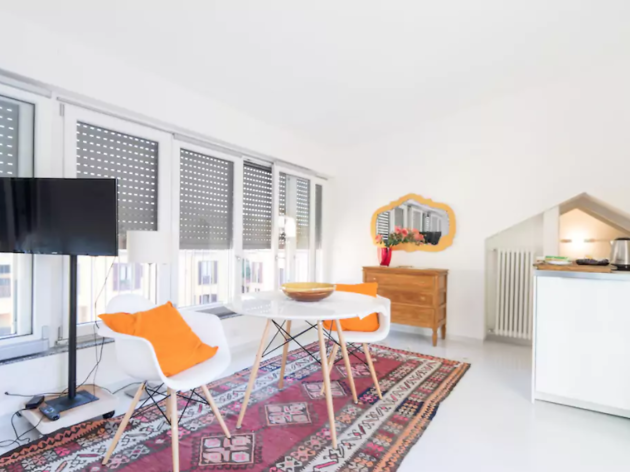 Studio with terrace in Brera
Definitely one to consider if you want to soak up the Italian sunshine during your stay in Milan. Crisp and calming, the understated decor is fantastic if you're in need of some rejuvenation. This one-bed studio has a large terrace that overlooks its leafy neighbourhood of Brera: an area known for its chic fashion, shopping and al-fresco dining.
Image ©Airbnb
5
Gorgeous loft near Sempione Park
Another property in Brera, this split-level loft is a real treat for the eyes: an elegant mix of old and new, with contemporary decor offset by timber-framed ceilings. There's space for four guests, comfy soft furnishings and wooden beams galore. It's in a quiet neighbourhood, and not far from the haven of Sempione Park.
Image ©Airbnb
6
A truly lovely choice for those who like to stay in places with a bit of clutter and lived-in personality. This one-bed loft is another property based on the Navigli, this time near the Porta Ticinese, in an area rich in nightlife. The host mentions he's an art historian – so make sure you get in touch ahead of your stay for cultural recommendations.
Image ©Airbnb
7
Huge penthouse in the city centre
Visiting Milan with a big group of mates? Take a look at this place, which is slap-bang in the city centre. There are five beds across two rooms, and if you factor in the couches in the living area, this place can accommodate up to eight people. Sleek and fashionable, the design is perfect for those looking for a luxury stay.
Image ©Airbnb
8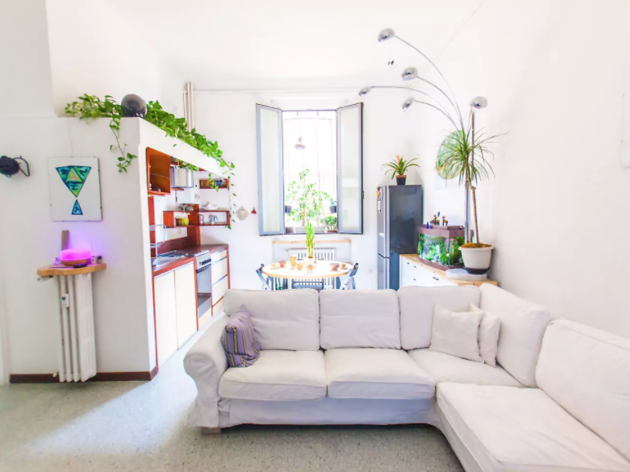 Family-friendly apartment near the canal
This bright, cheerful-looking two-bed apartment looks like a good choice for families visiting Milan. While it's near the Navigli, and so not far from the buzz of canalside bars and restaurants, it's also away from car traffic and so pretty tranquil as a whole. Bellissimo!
Image ©Airbnb
9
High-rise apartment in Centro Direzionale
Chic and monochromatic, you'll find this Airbnb in Centro Direzionale, the business district of Milan. Only three subway stops from Duomo (and a few meters from Central Station), the location is just as satisfying as the slick interior. Come evening, settle in to overlook the warming Milan skyline amongst your very own slice of contemporary living.
Image ©Airbnb
10
Sumptuous split-level apartment with an incredible view
This gorgeous split-level apartment is basically in the most desired location possible for visitors to Milan: in the Piazza del Duomo. Which means you have one heck of a view as you eat breakfast on the balcony – the cathedral sits directly opposite. And even though it's at the higher end of the price spectrum, divided across five guests, and it'll hardly break the bank.
Image ©Airbnb
Wondering which neighbourhood to stay in?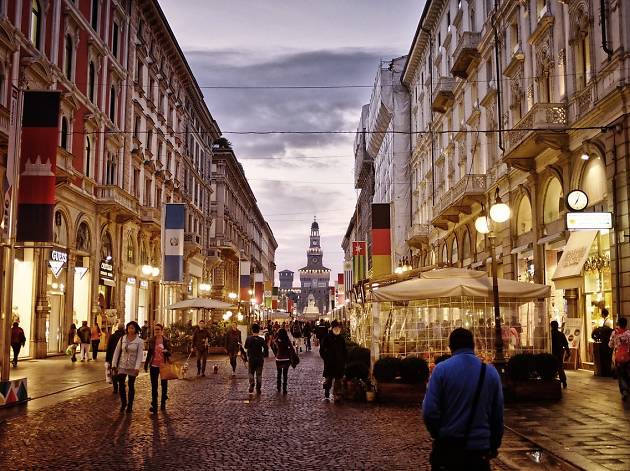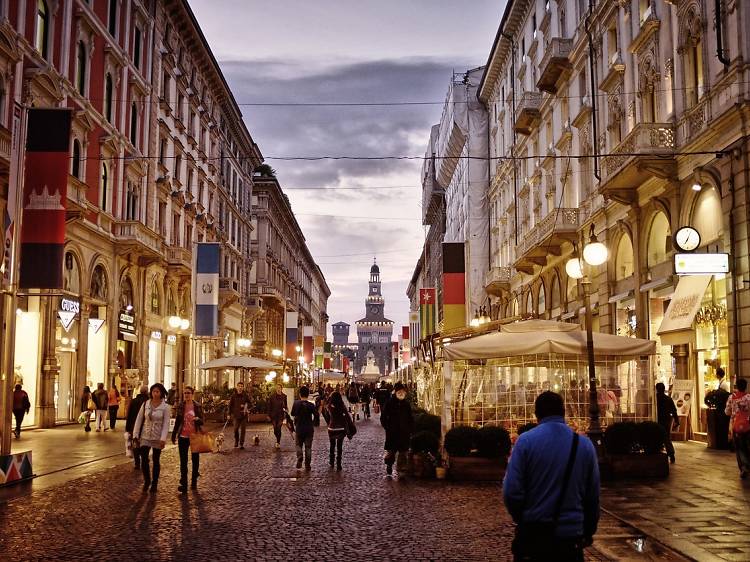 Between centuries-old buildings and dramatic skyscrapers, you can't go wrong staying in this stunning, cosmopolitan city