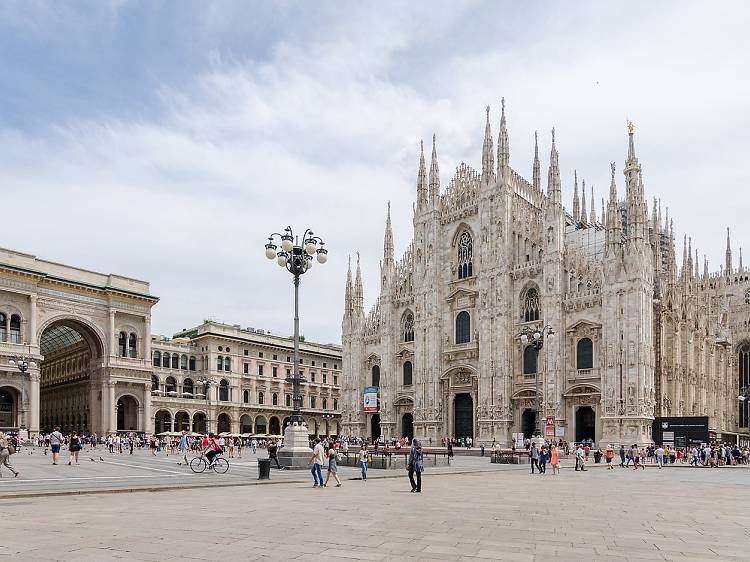 Photograph: Steffen Schmitz/Wikimedia Commons
Duomo is the heart of Milan. Named after the stunning cathedral and the piazza that shares its name, many visitors make this their first stop in this internationally famous city. The gothic cathedral is one of the five largest in the world and is characterised by its unique spire and gleaming gold statue of the Virgin Mary. Known as 'la Madunina' in the Milanese dialect, the iconic artwork is said to represent local pride.
A more modern version of splendour is found in the Galleria Vittorio Emanuele II, Europe's oldest shopping mall. Even if the designer wares on sale from Italy's top designers are outside your budget, a little window shopping at Prada, Gucci, and Dolce & Gabbana is a must. For more eye candy, take a relaxing walk around Via Montenapoleone, Via Spiga and Via Sant'Andrea, not forgetting to poke your head into the interior porch of Palazzo Morando.
EAT:
Despite the proliferation of tourist traps on Corso Vittorio Emanuele, the neighbourhood still holds a few gems. Treat yourself to lunch-to-go with the unbeatable deep-fried pizza rolls at Luini. For an informal lunch, order a plate of freshly cut charcuterie at Salsamenteria Parma (San Babila). Otherwise, head to the 7th floor of the world's best department store, Rinascente, for gourmet bites and food shopping.
DRINK:
Stepping out of Rinascente, you will be right in front of STRAF bar. Treat yourself to a calice di vino and sip it on the street (if you're there around 6pm, you might be lucky enough to get free bar snacks as well).
DO:
Even if you can't get hold of a ticket to a performance, the chance to marvel at the Scala Opera Theatre shouldn't be missed.
STAY:
Where hotels are concerned, Mandarin Oriental barely requires an introduction, especially if the location in question is the heart of the Golden Quad. Featuring eclectic decor and individually styled rooms, SINA The Gray is another option well worth considering. Alternately, the quaint Ostello Bello, one of the best hostels in Italy, is close by.