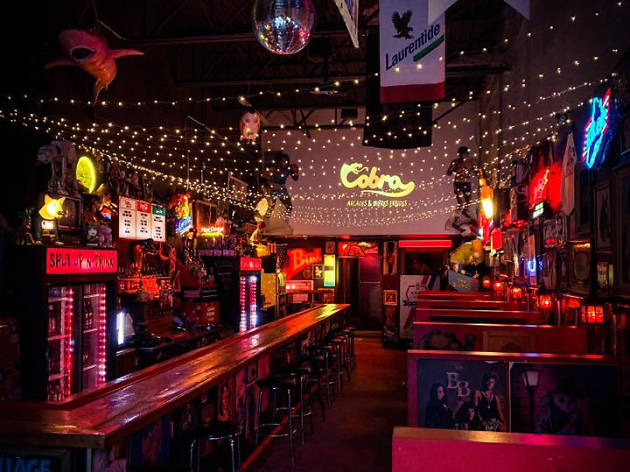 The best dive bars in Montreal for getting your buzz on
Find the cheapest beers and deals on shots—plus jukeboxes, gambling and games—at the best dive bars in Montreal
For all of the art galleries, fine dining restaurants and upscale cocktail bars this city is known for, Montreal remains a gritty town fueled by poutine, cigarettes, and cheap beer from the best dive bars. Save your sipping at wine bars and snacking on charcuterie for another time: These are your essential bare-bones establishments to pull up a stool and enjoy boilermaker combos of grosse bottles of basic beer with bottom shelf shots. Maybe you can drop a bill in a VLT or a dollar in the pool table while you're at it, but you know what isn't a gamble? Grabbing a round at any one of these spots.
RECOMMENDED: Full guide to the best bars in Montreal
Where to find the best dive bars in Montreal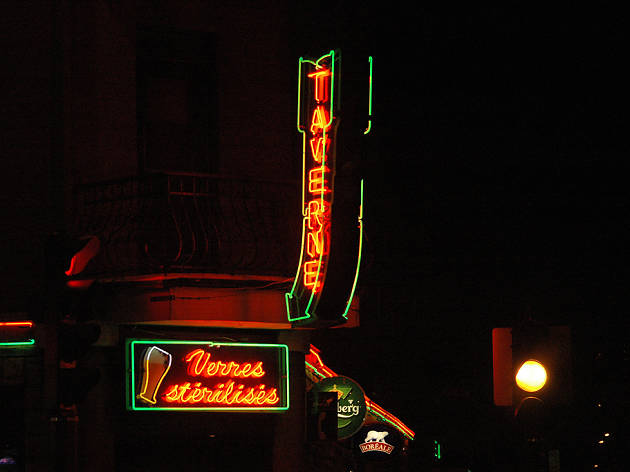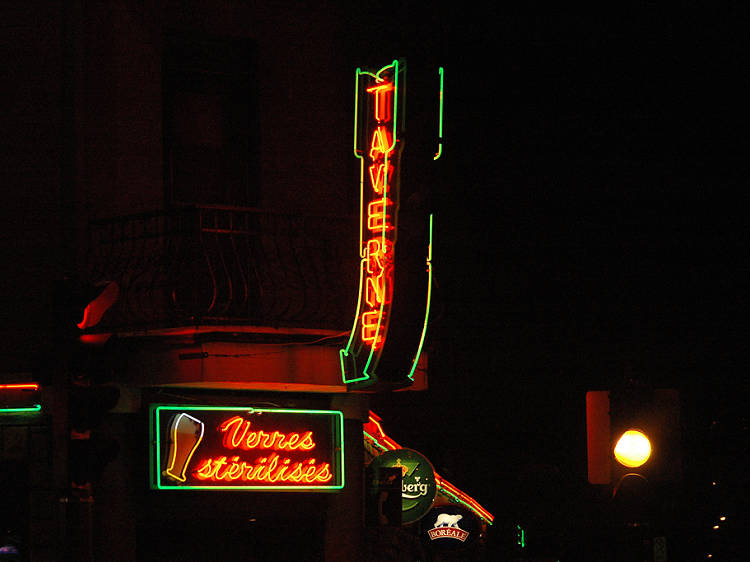 Photograph: Courtesy CC/Flickr/Caribb
It's hard to say if it's the name of the bar or its unmistakeable neon signage that acts as its first selling point, but what really seals the deal here is how classic this dive bar is. They've got plenty of options on tap and they're all poured into a freshly cleaned glass—of course—and tall bottles of classics like Laurentide and Labatt 50 go for a song. We're guessing that, back in the day, the promise of a clean glass was both cheeky and alluring for plainspoken bars like this. Don't forget: As for entertainment, you'll find a pool table, small lines of VLT machines, and hockey games regularly projected on the wall.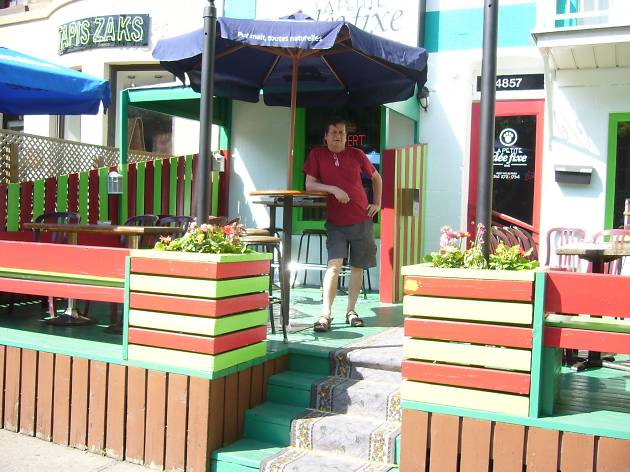 Photograph: La Petite Idée Fixe
Sometimes when dive bars get popular, they keep the look, but its grimy soul is lost. Despite the good-looking Mile-End crowd it pulls in throughout the week, La Petite Idée Fixe is a dive bar through and through. Throw a dollar on the pool table, and while you're waiting for your turn, grab the Idée Fixe classic: A boilermaker composed of a big bottle of Labatt 50 with a shot of Jameson.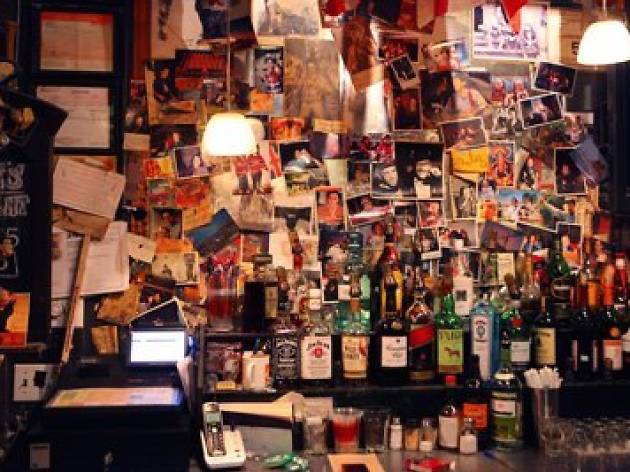 Photograph: Barfly / @BarflyMtl
A classic dive and music venue, Barfly is the kind of place you come to for a cheap pint of whatever's cold to enjoy while you enjoy their live shows of blues, bluegrass, jazz and rock. Try as you might to enjoy your beer, it's probably going to end up spilled on the floor after you get up and dance with the rest of the bar. Don't mind the dog drinking a beer in the corner, by the way.
Photograph: Bar des Pins
A McGill University student essential, the crowd at Bar des Pins is young and down to party. While you might want to pull in for a quiet round, there may or may not be a beer pong night planned during your visit. This is a dive for the session drinker, for the competitive drinker, but above all, for the college drinker. Bottoms up.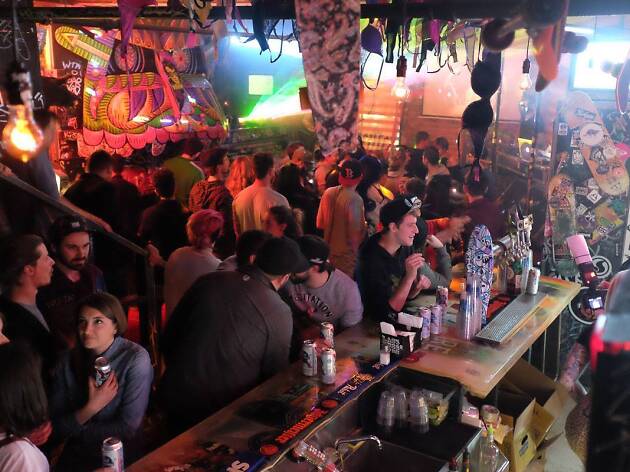 Photograph: TRH-Bar
Also known as Trash Bar, this bar acts like the secret lair of the Foot Clan from the first Teenage Mutant Ninja Turtle flick with a bunch of skate rats gathering in its dark, tagged-up recesses to enjoy tall cans of PBR while watching the working skate-bowl. Bring your board if you've got some tricks to get in, or just kick back and enjoy cheap booze as you marvel at the metal toilet on the back bar. It may be far from classy, but it is comfy.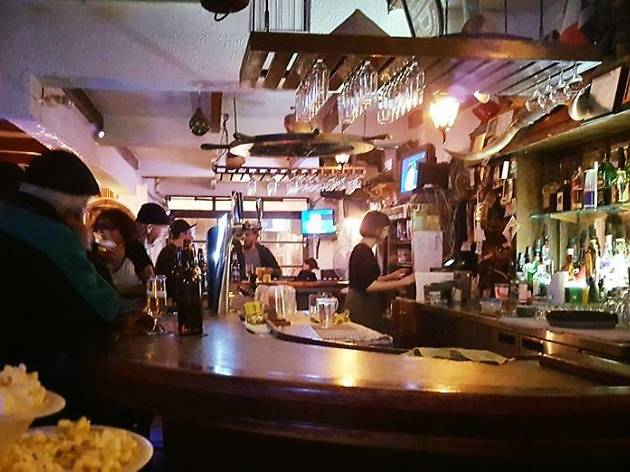 Photograph: Bar Biftek / @BarBifteck
The quintessential dive bar, this two-storey dive is an institution of the Main. Bifteck is all about cheap pitchers of Boréal or Blue and shots of Five Star rye. Shoot some pool or sit near the open front windows and people watch in the summer as you fill your face with baskets of Bifteck's famously free popcorn. Pay a visit during the final Superbowl match to enjoy their tailgate cooking competition.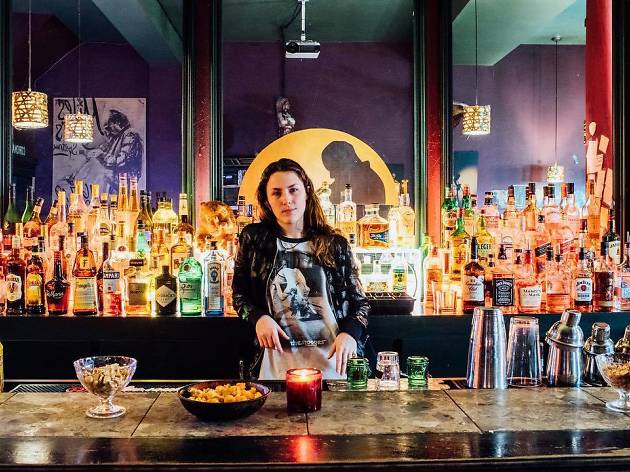 Photograph: Two Food Photographers
Serving drinks since 1991, this jazz and blues bar feels like it's been around forever; three decades, after all, can feel like a long time. You come for the music and pool, but you stay because they have free sour keys and chocolate-covered almonds—the word 'snack' in the name isn't just for show. Plainspoken and popular for don't-give-a-fuck date nights, your best bet for acting cool here is avoiding asking for complicated cocktails and just drink what's on tap.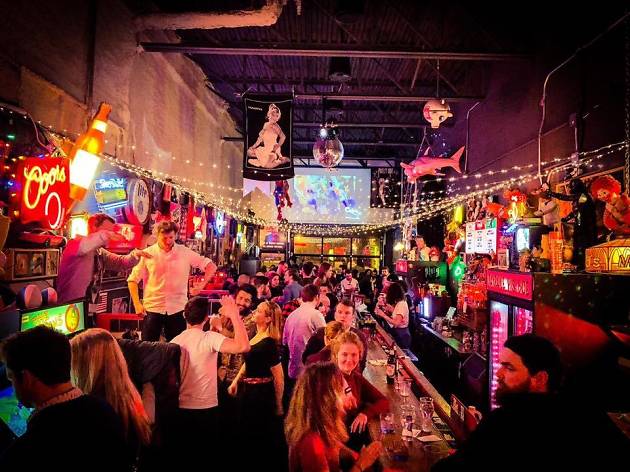 Photograph: Taverne Cobra
This kitsch watering hole dripping with 1980s nostalgia has vibes that land somewhere between a Bangkok night market and tequila-soaked version of The Goonies. This dive does it all: Karaoke, movie screenings, hockey games, arcade games; whatever your thing is, they've got it. It's definitely got the biggest visual pop out of any dive bar in town with its meticulous coat of ephemera, and that alone is worth stopping in for a beer and a shot.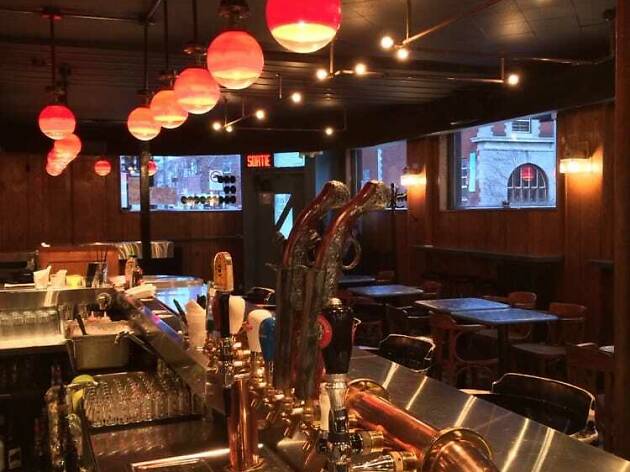 Photograph: Courtesy Yelp/Ann T.
The dive bar equivalent of a town square, Bar de Courcelle is the community watering hole for Saint-Henri. Bar de Courcelle is the spot where folks are likely to run into an old friend—or just drink until they make a bunch of new friends. The bar also features a small menu of bar snacks and a few larger plates like chilli con carne and a cheese board. Want to find it? Look for the neon cat or the small crowd of locals on the corner of De Courcelle and Notre-Dame Street on weekends.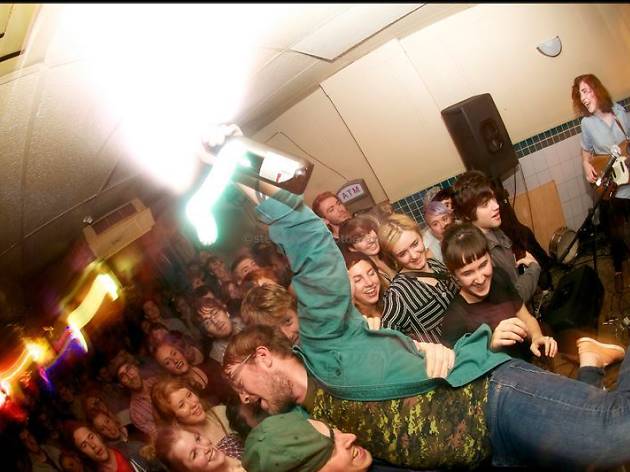 Photograph: Brasserie Beaubien
This place definitely constitutes a dive bar, but it's chiefly recognized as a music venue. A low-key brasserie with VLTs and cheap shots, Beaubien's possibly one of the best places to check out up and coming Montreal-based bands and visiting out-of-towners in an intimate setting. Bands here comes in all shapes and sizes, from experimental atonal jazz trios to country guitarists and emo revival bands.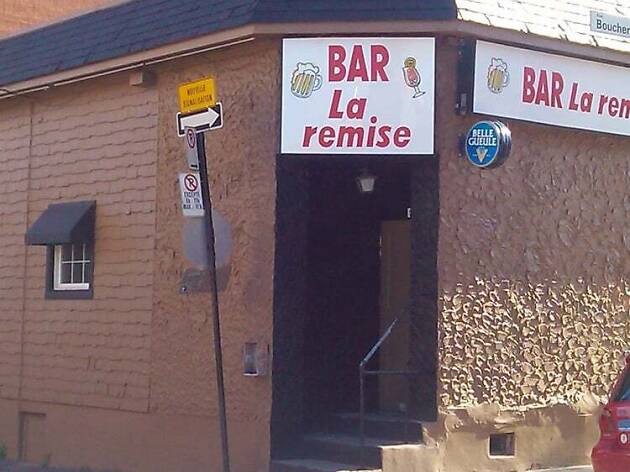 Photograph: Courtesy Yelp/Risa D.
Hidden on a tiny back street opposite a grocery store's industrial loading dock is Bar La Remise. Far from quaint, you'll know you're in the right place when—between clouds of cigarette smoke—you see the neon sign that looks like it was designed on MS Paint. $6.25 gets you a big bottle of Belle Gueule, and if you happen to be there on a Saturday, drink a couple of them so you can loosen up enough for karaoke.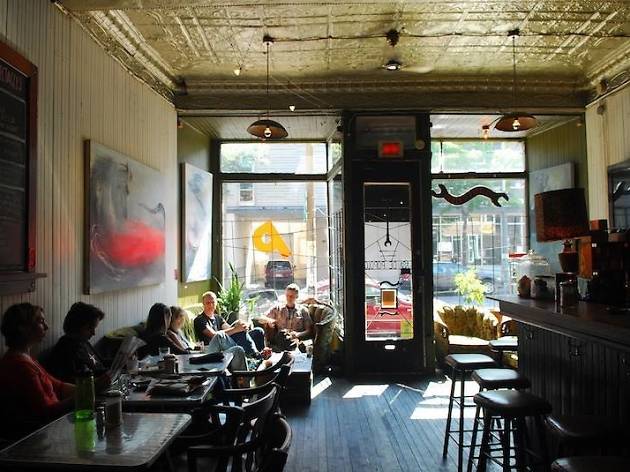 Photograph: Casa del Popolo
A Mile End staple for indie acts and a focal point for performances during the Suoni per il Popolo and Pop Montreal music festivals, it also figures as a dive bar for younger Montrealers. Casa distills what a dive bar is down to its most desirable elements: An unpretentious room, cheap beer, a few good snacks, and all of it without the grime and ruckus of a classic dive. You could call it a classier option if you want, but not matter how you look at it, it's still a dive.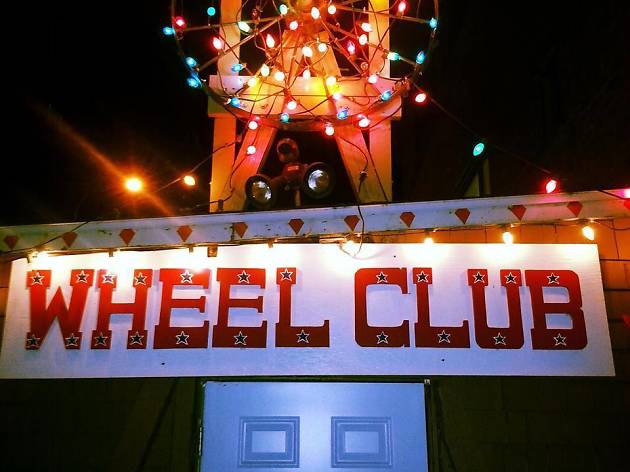 Photograph: The Wheel Club / @wheelclubndg
An NDG institution and Montreal's home for country—real country, not Keith Urban country—music. Make sure to come by on a Monday for the weekly Hillbilly Night which has been running since 1966 and, coincidentally, only allows music from the same decade to be played that night. Like stepping back in time, the kitschy space with its wood-panelled walls is the perfect place to split a pitcher with some friends while stomping along to some classic country tunes.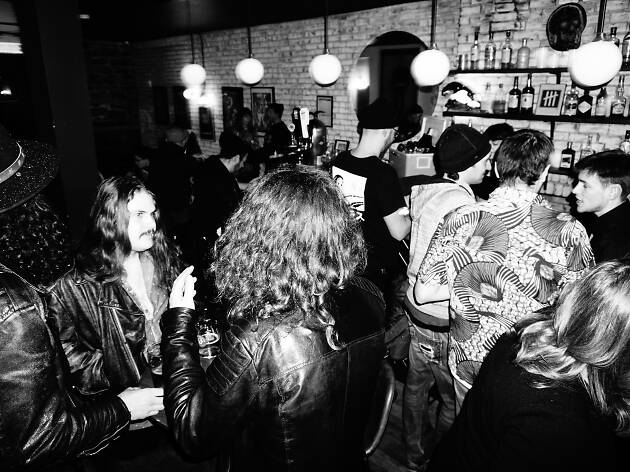 Photograph: Courtesy Turbo Haüs
Part dive-bar, part art gallery, part punk show venue, Turbo Haüs defies the traditional definition of dive bars. To be honest, we've chosen this place for the dive bar vibes it exudes in the best of ways: Depending on the night you pay it a visit, you might be in for a metal band, stand up comedy, Dungeons and Dragons campaigns or live band karaoke to accompany a solid cocktail list and cheap pints. Above all, you should be visiting for their killer happy hour deals.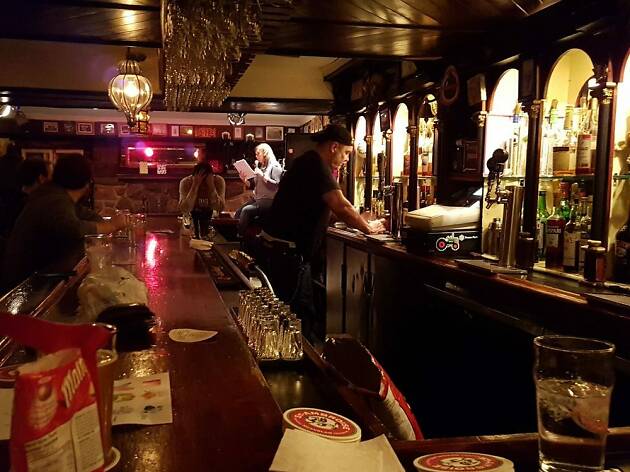 Photograph: Courtesy Yelp/Steve D.
A neighbourhood pub in Downtown Montreal, Grumpy's is a dive bar in how its bartenders famously refuse to make any cocktail that goes beyond two steps and sells pints of blonde for $4 from Monday to Wednesday. Pair that attitude with good musical acts on Wednesday (jazz), Thursday (bluegrass) and a free-for-all on weekends (usually indie acts), and you've got yourself a respectable establishment that cuts corners in the best of ways.
More of the best places to pull up a stool
Here are the best Montreal karaoke bars for your next singsong night out on the town, from private rooms to dive bars.
From evening supper clubs to brimming bars and after-hours clubs, here's where the best nightlife in Montreal is at now.
Find quality on the cheap and end the day right by following our guide to the best 5 à 7 and happy hour bars in Montreal.