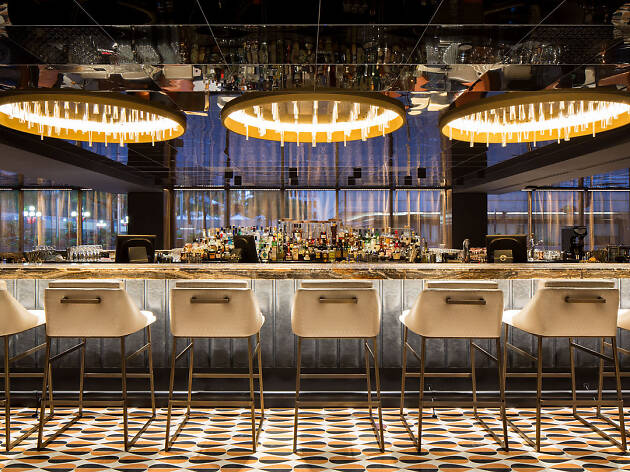 The 21 best Downtown Montreal bars you need to hit up
It's time to party: Kick back with a pint or order up pitchers full of cocktails at these awesome Downtown Montreal bars
When considering how many bars are available here, the watering hole options can be overwhelming, especially when picking a spot to pull up a stool in downtown Montreal bars. A combo of student nightlife with tourist hotspots and business lunch cocktail bars makes for a difficult decision indeed. Here, we've cut the noise and listed some of the most fun and interesting places to imbibe downtown, from happy hour establishments and multi-level wine bars to underground speakeasies for escaping the bustle of the city core.
RECOMMENDED: Full guide to the best bars in Montreal
Best of the city under one roof
Time Out Market Montréal is a unique culinary and cultural destination with 16 restaurants, a cooking school, a demo kitchen and a retail space—it also features three single-focused bars for cocktails, wine and beer. To make a truly great downtown bar, local Time Out editors contacted their favourite bars across town and asked their talented mixologists to develop a recipe just for the market. The result is a star-studded menu with ten stunning cocktails from great Montreal bars (and one Time Out specialty), a host of locally brewed beers, a selection of reds, whites, rosés, bubbles and an exclusive range of orange and natural wines. The downtown drinks scene just got a whole lot better.
Where to find the best Downtown Montreal bars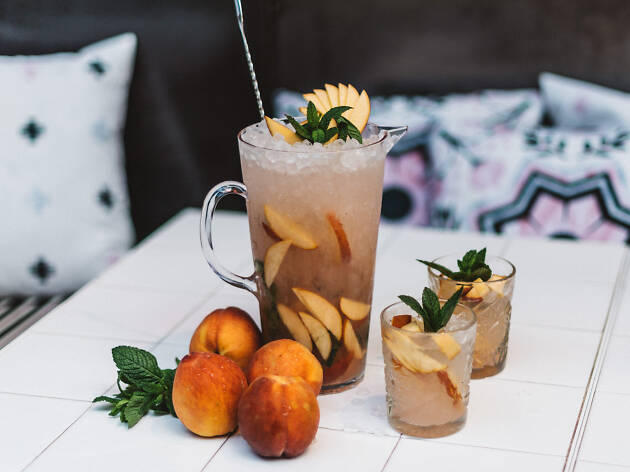 Photograph: Jade Wulfraat
Spread out over multiple rooms, this 10,000 square foot "beer garden" in Shaughnessy Village has become a hub for students and yuppies alike. The sprawling restaurant and bar is rife with Instagram-friendly flora and neon-lit wall art, hot pink bar stools and pool tables, all suggesting a distinctly on-trend and casual atmosphere. Creative cocktails and high quality Japanese fusion dishes reign supreme here, thanks to the menu curated by restaurant champ Antonio Park.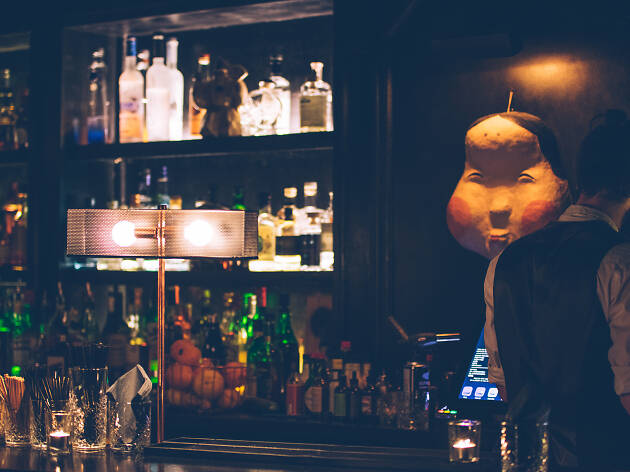 Photograph: Mehdi Lampropoulos
Tucked into a largely forgotten corner of downtown at the corner of Union Avenue and Cathcart Street, it's easy to walk by and miss this Japanese speakeasy-style bar in favor of some of the offerings around the corner on Sainte-Catherine. Keep your eyes peeled for the slatted, wood-lined front of the chirashi bar Ryoshi, which dips down through curtains into a dimly lit, ornate bar upon entrance. Here you can expect plush, comfortable couches that snake throughout the small bar, along with an impressive selection of sake-based cocktails and Japanese bar snacks from up front.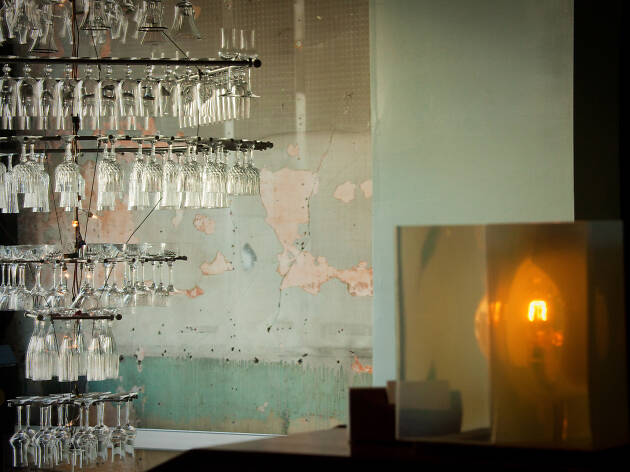 Photograph: Amielle Clouâtre
One of the city's first wine bars, this multi-level establishment continues to be the spot wine aficionados stop at for a glass of wine and a charcuterie board downtown. Locals have come to count on the ever-changing, by-the-glass list which features a healthy dose of tendance du moment natural wine, bold European classics and higher end bubbles. Cozy up in a window booth for one of the best views in the house: Just above the ground floor bar is a massive, bespoke chandelier made of dozens upon dozens of wine glasses.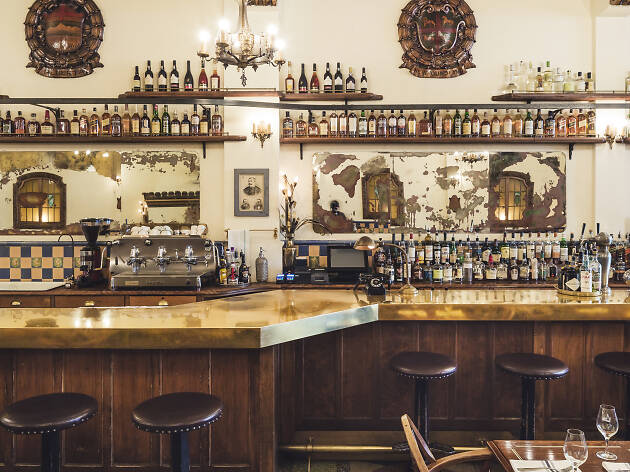 Photograph: Ulysse Lemerise-Bouchard
4. Dominion Square Tavern
A refurbished 1927 tavern turned upscale English pub and eatery, this downtown institution (and its associate neighbour Balsam!) is a piece of Montreal history. The design and well-worn period furniture feels like a distinct throwback to the Roaring Twenties, with the cocktails and bites taking you back then too. Here's where to go for classic English fare with a Quebecois twist like Scotch eggs, fish & chips and Sunday roasts, all washed down with a classic gin and homemade tonic or mint julep.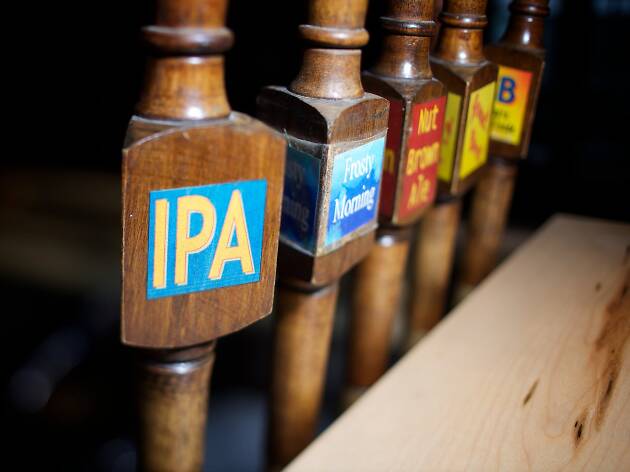 Photograph: Brutopia
The line blurs between student dive bar and local watering hole at this three-storey microbrewery. Each floor has a distinct feel: Head to one of the top floors for easy going conversations over a pint of house brew—the honey brown is a fan favorite—or stay on the ground floor to enjoy a more lively crowd, usually complemented with a live band on the corner stage. There's also a cozy back terrasse which stays open for summer and most of the colder months.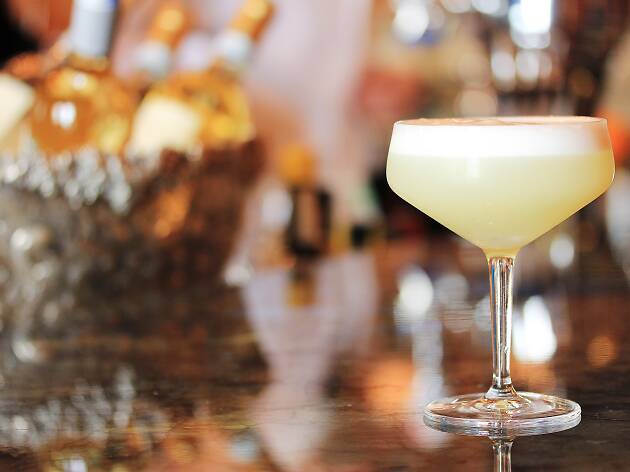 Photograph: Cindy La
Since 2017, this swanky English bar has been serving pints and cocktails in the former residence of Sir George Stephen in Le Mont Stephen Hotel. The jaw-dropping wood panel walls and red accented decor feels distinctly like stepping into your chic uncle's well-loved library, but the food and drink is what keeps locals coming back. Chefs Anthony Walsh and Kevin Ramasawmy lined the menu with modern Scottish and English fare like Beef Wellington and Cornish hen, while Marco Gucciardi pads the expansive wine and cocktail list.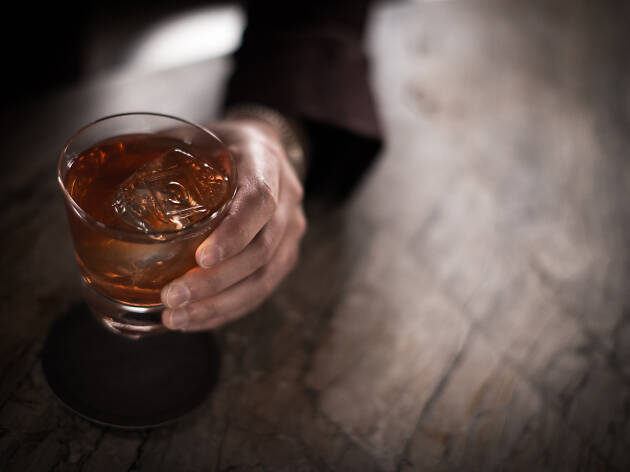 Photograph: Cloakroom Bar
Who doesn't love a good hidden bar? Nestled into the coat check of a bespoke menswear destination, this elegant speakeasy is one of the best in the city. Here you'll find high quality made-to-order drinks by renowned mixologists in a decidedly swanky space that will instantly transport you to the Prohibition era in a way that most modern day speakeasies haven't seemed to capture just yet.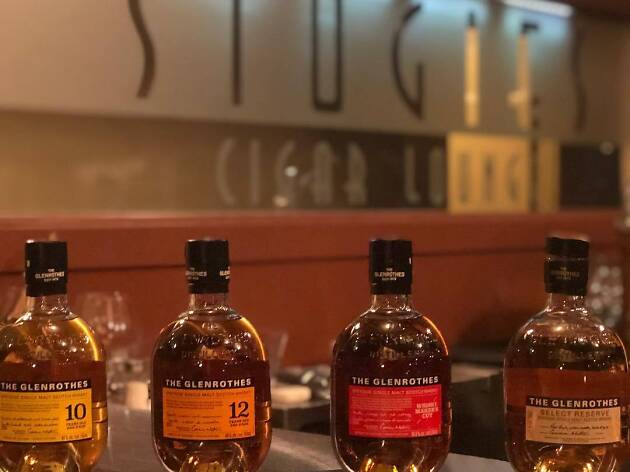 Photograph: Stogies Cigar Bar
Sit back and let the waves of cigar smoke flow past you. This popular indoor-outdoor cigar lounge overlooks bustling Crescent Street below but inside acts as a refuge for those who want to enjoy a cigar with their whisky or pint. Bring your own cigar or select one—the selection's a big one—from the walk-in humidor next to the bar. All that, and there a selection of martini concoctions that number in at over 100.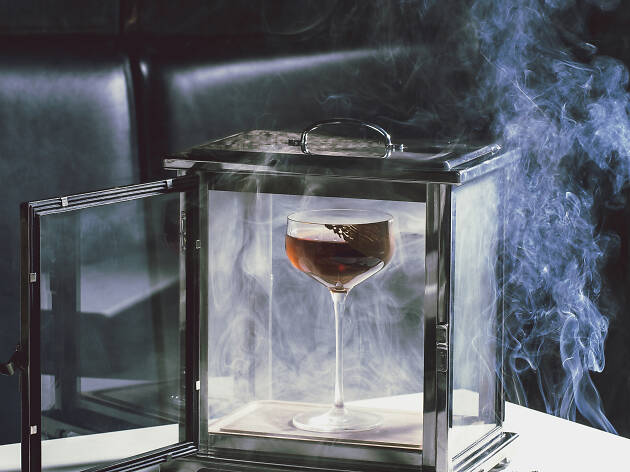 Photograph: Keven Poisson
The tides have turned on hotel bars and Nacarat, nestled into the Fairmont Queen Elizabeth, is no exception. It's thanks in part to its indoor-outdoor atmosphere which combines striking city views and a plush center bar, but it's that cocktail menu which director of mixology Nader Chabaane ensures is equal parts creative and surprising—don't be surprised to see squid ink and wasabi on the menu—but also delicious and indulgent.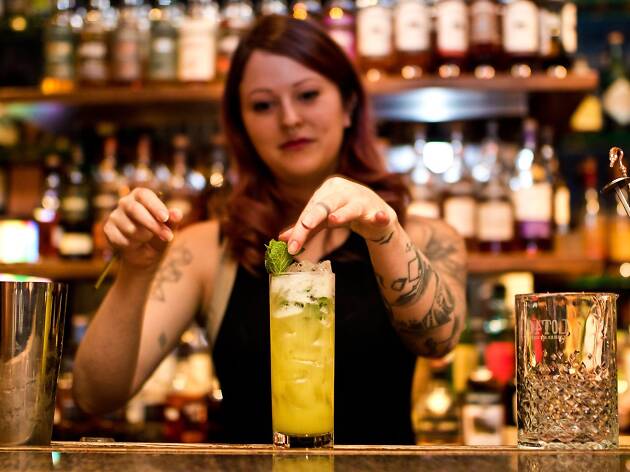 Photograph: Pub L'Île Noire
With a rotating featured whisky of the month and a drink list longer than a novella, this charming watering hole is a must-visit for anyone who loves discovering a new spirit. The pub and cocktail bar combine classic English pub charm with modern, clean lines. Walking from one side of the pub to the other can feel like stepping through a hole in the wall and into a modern brunch haunt, but the electic décor flows just as well as the heavy selection of whisky and gin does.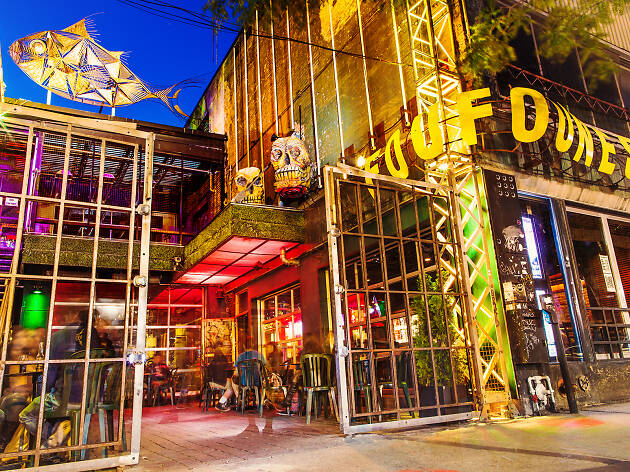 Photograph: Jerome Abramovitch/Chapter 9
11. Les Foufounes Électriques
Ask any student (or former student) about 'Foufs' and we guarantee they'll have a story to tell you. This multi-level dive bar has long been a well-loved institution for students and retired party-goers, largely due to its proximity to concert venues, live shows and its unparalleled drink prices. Step over the sticky floors, grab a three dollar beer and head out to the terrasse, which makes for a great spot to pre-drink while people watching.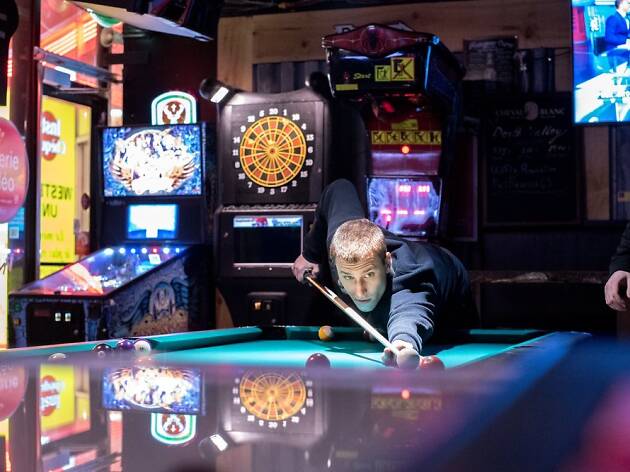 Photograph: Courtesy Yelp/Piranha Bar
Easily one of the most beloved dive bars in the city, Piranha Bar has all the fixings for a great evening on the town. The multi-level music venue (see: punk and metal in particular) and bar has a relaxed, laissez-faire atmosphere that's conducive to picking up a no-frills pint and a poutine with friends. There's also enough pool tables, darts and classic arcade games to make a night of it.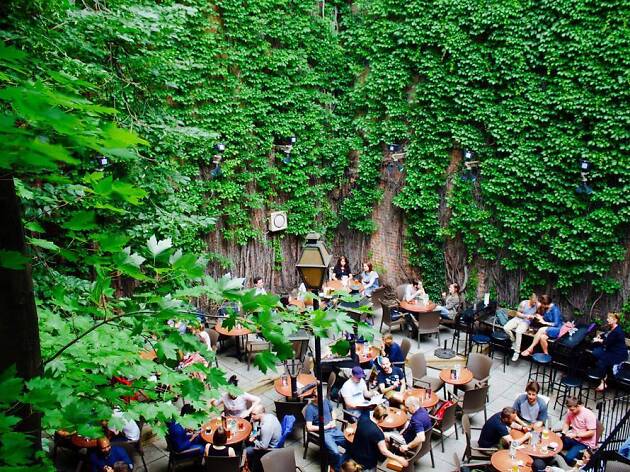 Photograph: Pub Le Sainte-Élisabeth
It might not look like much from the outside, but there are few downtown bars that will make you feel like you're stepping out of the bustle of the city and into a cozy backyard. Step into the front of the pub, grab a beer, and continue making your way to the back terrasse which feels like stepping an urban English garden due to its vine-lined inner walls that way up and enclose the bar's lushes in secrecy.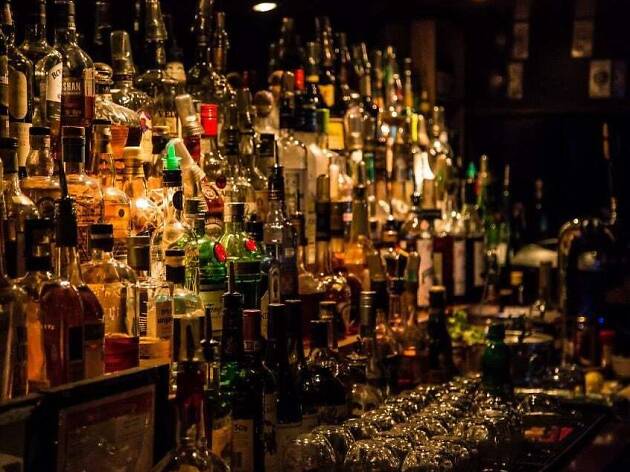 Photograph: Courtesy Yelp/N Sur Mackay
Finding an unpretentious cocktail bar can be hard in the age of mixologists and shock factor cocktails, but this basement cocktail bar and pub makes that search easy-peasy. Inviting and friendly and just around the corner from Concordia University, head to N Sur Mackay if you're in the mood for a great drink without having to dress up or feel compelled to schmooze.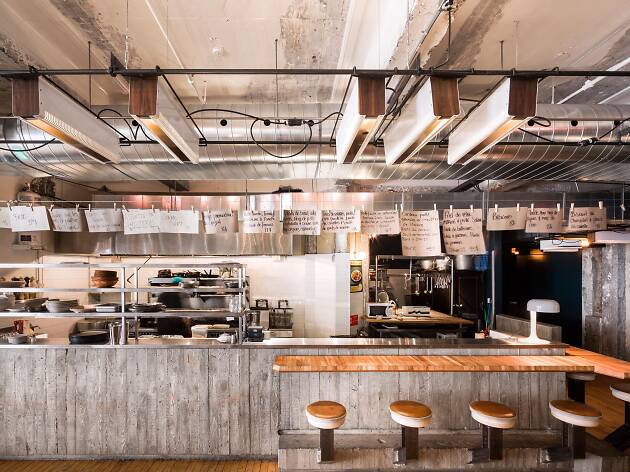 Photograph: Stéphane Groleau
Tucked into a quiet side street just off of the downtown thoroughfare of Sainte-Catherine, you'll find Furco. This wine-bar-meets-club is an extension of neighbouring Café Parvis by way of ownership but differs by serveing up refined cocktails alongside a great wine list. Depending on the night and the crowd, this sprawling bar can shift from a cozy haunt conducive to conversation to a dance floor that club-goers come to for a drink before carrying on to their next destination.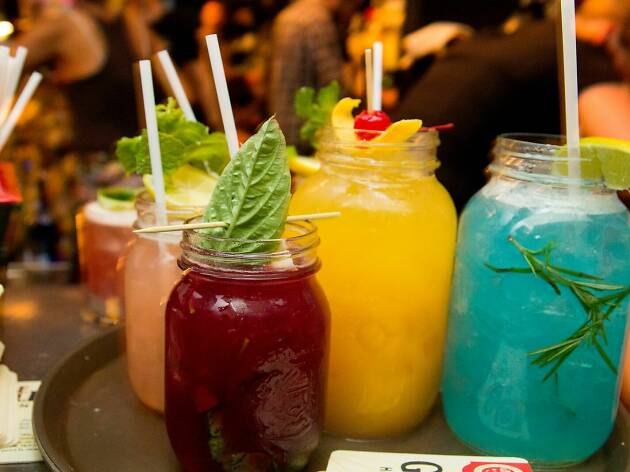 Photograph: Courtesy La Distillerie
Ever wanted your booze with a side of Goldfish crackers? Look no further than La Distillerie. This youthful watering hole was one of the first in the city to really embrace mason jar cocktails—we're talking really, really big mason jars—and has since taken its neon-colored boozy beverages to three different locations across Montreal. These cocktails pack a punch, but the ingredients are on the simple side, many of which are packed with a mouth-puckering amount of spiced rum, bourbon or tequila.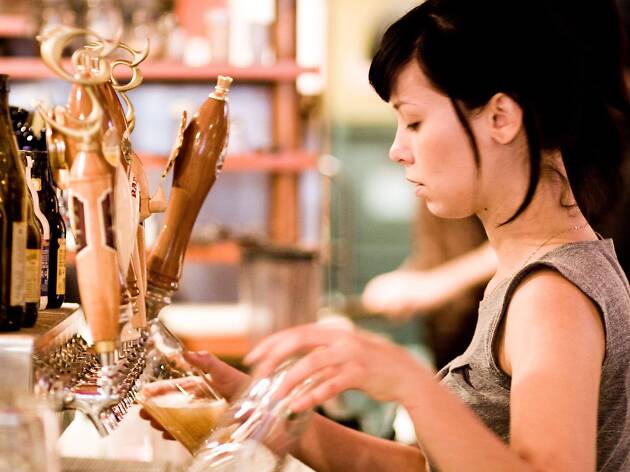 Photograph: Courtesy Le Saint-Bock - Brasserie Artisanale
This relaxed indoor-outdoor brewpub is an ideal spot to grab a seat and knock back a few pints of crafty brews with friends. Despite its size, Le Saint Bock packs an impressive selection of specialty and local Quebec beers—there are about six hundred different beers on offer at a given time by pint or by bottle—along with classic pub fare like poutine and pulled pork. Hockey games and other sporting events are always playing on the big screen, but the terrasse also offers an easygoing spot to knock back a couple rounds come summertime.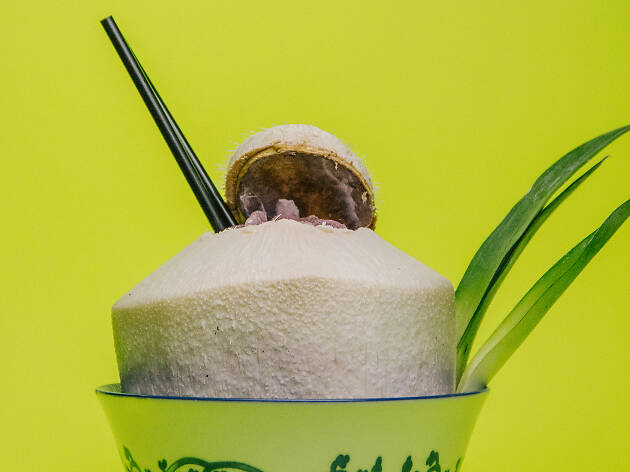 Photograph: Phil Nadeau
Tiki bars in the city are hard to come by, and (thankfully) Le Mal Necessaire did not disappoint. Upon opening back in 2014, this underground bar drew Montrealers to Chinatown like moths to a flame, largely due to its neon-lit pineapple and 70s-style décor at first, but keeps locals coming back thanks to its creative cocktails and friendly bar staff. Happy hour prices are available and the Chinatown location makes for a great meeting point for friends coming from anywhere in the city or if you plan on a round table weighed down with food nearby.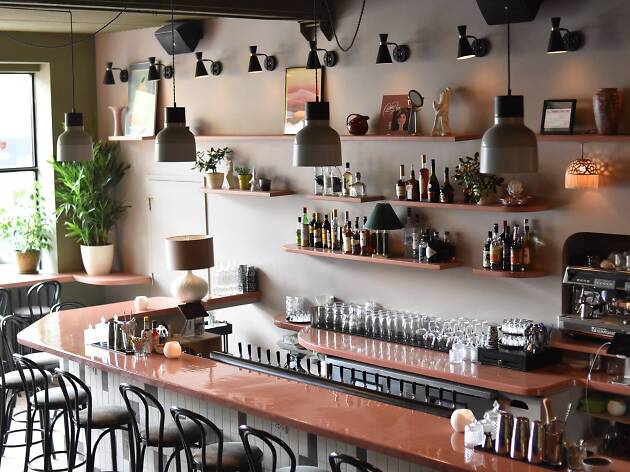 Photograph: Bar Pamplemousse
Cozy up with a pint of local craft brew at this trendy beer-and-more destination. Pamplemousse made a happy home on Saint Laurent Street, just down the street from Université du Quebec à Montréal. This place splits itself between a Quebec beer showroom and a wood-fired restaurant with Caribbean flair. They may not be making pizza, but that naanza? That's damn good.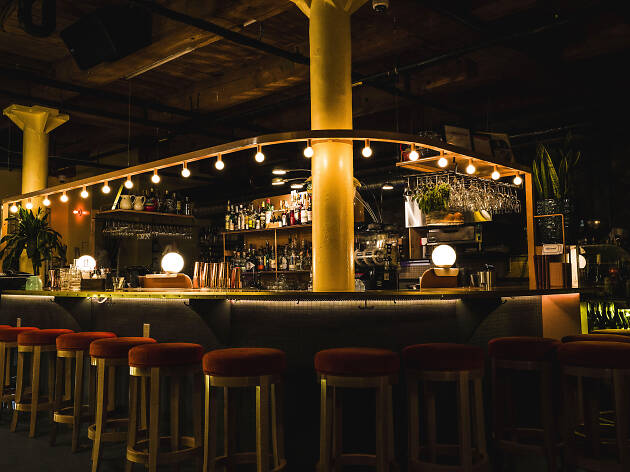 Photograph: Influencr Agency
Dive into a different kind of pool at this unique downtown cocktail bar. The subterranean haunt has quickly become one of the coolest spots for Montreal nightlife thanks to its great selection of cocktails, natural wines and it's campy Art Deco pool-themed decor. A nod to the "forgotten bathhouses" of Montreal, the sixty-seat bar is where to come to enjoy an imaginative cocktail in an unforgettable, dream-like setting while listening to visiting DJs spinning.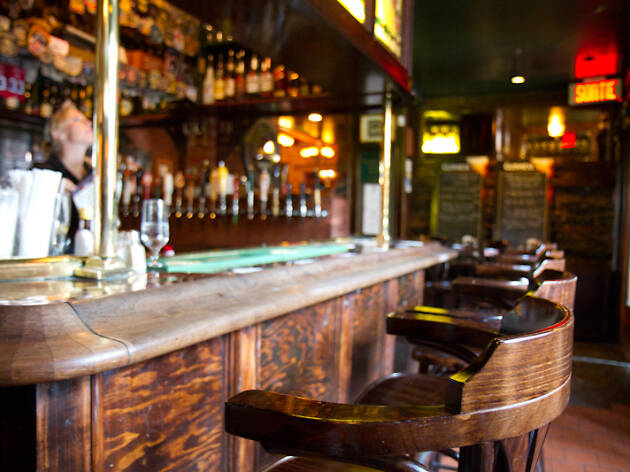 Photograph: Tracy Martin
This cozy, brick walled haunt is a go-to for students, young professionals and anyone craving a properly poured pint of Guinness. Spanning across two floors, three multi-level terrasses and endless nooks and crannies, an evening at this replica Irish pub feels like a choose your own adventure. It's no-frills goodness that you come here for, and it's no-frills goodness that you're going to get.
Discover more in the city core
Amazing things to do in Downtown Montreal are found on every corner, each bursting with arts, culture, food and drink.
Best selling Time Out Offers