Heads up! We're working hard to be accurate – but these are unusual times, so please always check before heading out.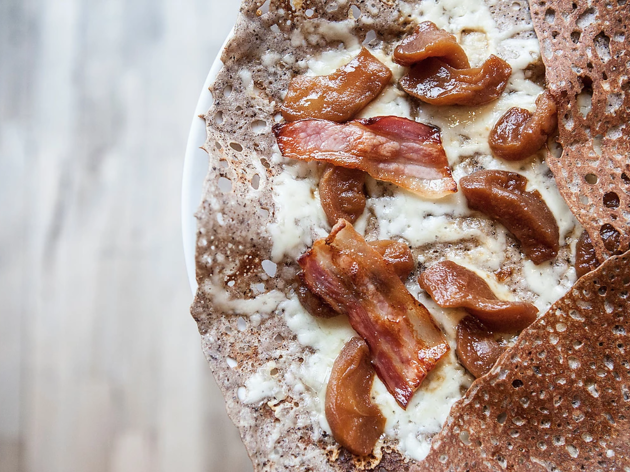 The best crepes in Montreal to dig into right now
Doesn't matter if it's time for breakfast, brunch or lunch—the best crepes in Montreal are deliciously awesome
Quick to produce and seriously tasty, the crepes Montreal has to offer—from sweet crepes to savory galettes—continue to be a staple of this city's best breakfast and best brunch options. It's no small wonder we continue to have fond feelings for these delicate cheap eats, and hunting down the perfect crepe is far from difficult when using this handy guide. You'll find it all here, from French restaurants in Old Montreal doing the classic crepe justice to Chinese restaurants doing their own must-eat version. What are you waiting for? Roll up and tuck in.
RECOMMENDED: Full guide to the best restaurants in Montreal
Where to find the best crepes in Montreal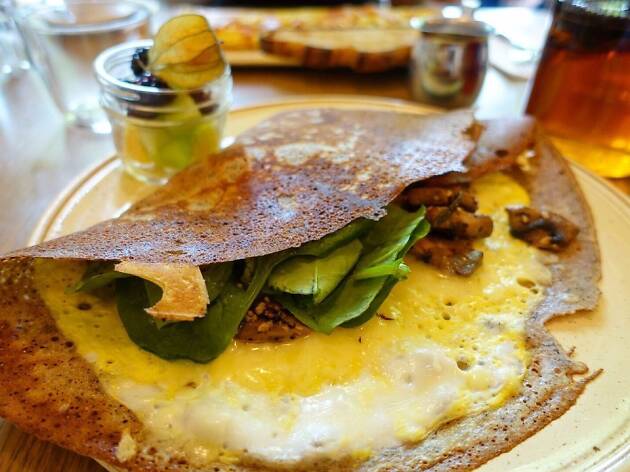 Photograph: Courtesy Yelp/Clea C.
1. Spanel Crêpes & Gourmets
Named for the old Breton word for spatula, Spanel is a miniature port of call for crepe lovers in Griffintown. They offer a lengthy menu of sweet or savory crepes with vegetarian, gluten free and organic options, including rolled crepes to go and buckwheat galettes. What really sets Spanel apart though is its spacious back terrasse, hidden from view and shaded with greenery. The terrace even stays open late into the fall season with free standing heaters, keeping clients toasty till the snow sets in.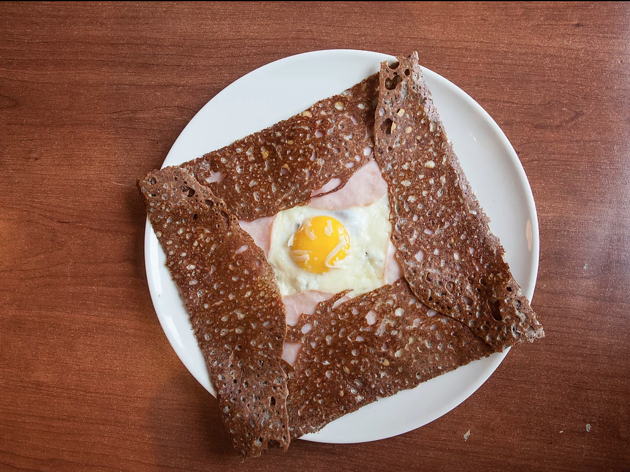 Photograph: Breizh Café / lebreizhcafe.com
It's clear that Breizh Café takes particular pride in its Breton roots, and the antique styling of the restaurant is more homage than gimmick. The same goes for the menu: Breizh Café stays true to the traditional Breton recipes by using a buckwheat base for its crepes. The buckwheat is shipped from le Moulin Bleu, a local mill in the Lanaudière. As many of their ravenous transplanted French clients might tell you, it makes all the difference.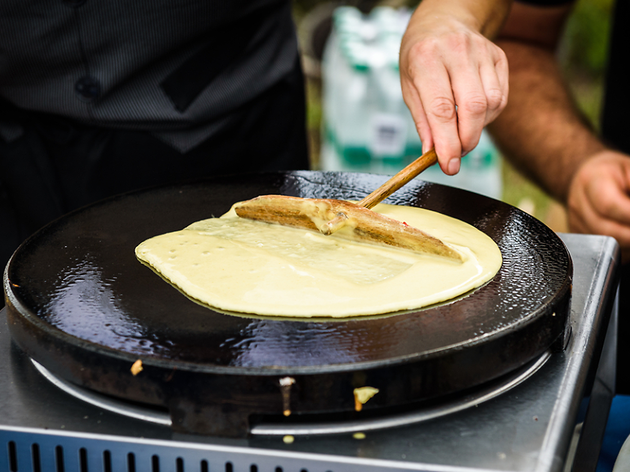 Photograph: L'Antre Nous / @AntreNousCreperieBretonne
This off-island breakfast spot in spacious, modern digs offers the North Shore a true-blue Breton experience where crepes are the main attraction. A monstrous litany of ingredients for those who want to take a hand at composing their own crepe masterpiece, or a curated list of go-to classics. Whatever your fancy, if you're in the market for a crepe on the North Shore, L'Antre Nous is your best bet.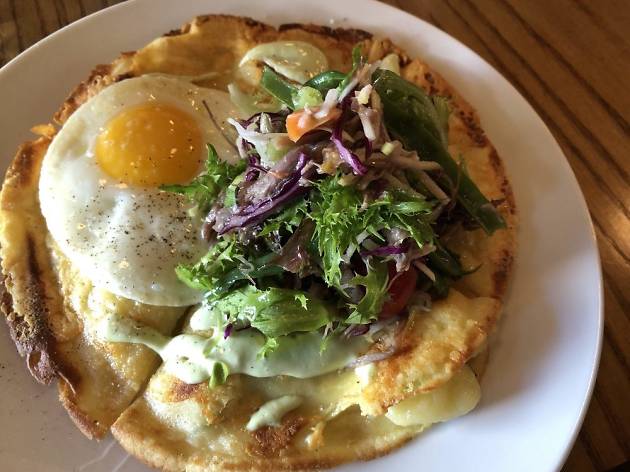 Photograph: Christine P.
A stone's throw from the Jean-Talon Market, this restaurant is well known for its seasonal locavore menus. Although their night menu often takes center stage and garners most of the acclaim, the longstanding crepe it has offered on its brunch menu—stuffed with local smoked trout and creamy Provençal-style scrambled eggs—is emblematic of the restaurant's ethos and the perfect way to experience the restaurant in the off-hours with a mimosa in hand.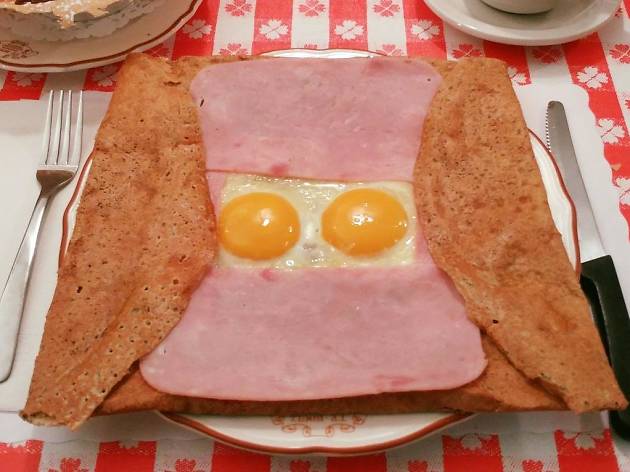 Photograph: Crêperie Bretonne Ty-Breiz
5. Crêperie Bretonne Ty-Breiz
A veritable Montreal institution, Crêperie Bretonne Ty-Breiz has been a local crepe purveyor on the Plateau for over 60 years. They've certainly expanded out from their initial three table capacity and come into their own cozy cottage space, but they haven't had to tweak the formula much. In addition to their sweet and savory crepes and old-world service, they're renowned for their French onion soup, escargots and their famous salads with their much-coveted garlic vinaigrette.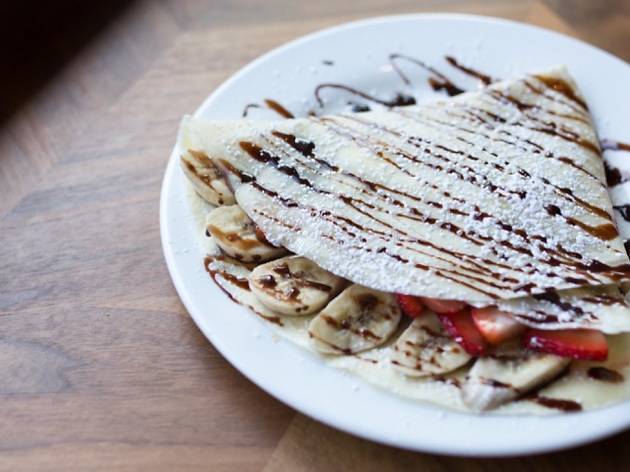 Photograph: Cocoa 70 / @cacao70
This eatery chain has a rather particular chocolate fixation. Their factory churns out high quality chocolate bars, fondues, powders and more, and this production supplies their numerous restaurants with enough chocolate to make your strangest chocolate dreams come true. They've got a number of store concepts in town that will serve you anything from chocolate sodas to chocolate pizzas, but for us, it's their crepes that are the true stars: Filled with cheesecake, fresh strawberries, chocolate sauce, apples, caramel, walnuts, French vanilla ice cream… Hungry yet?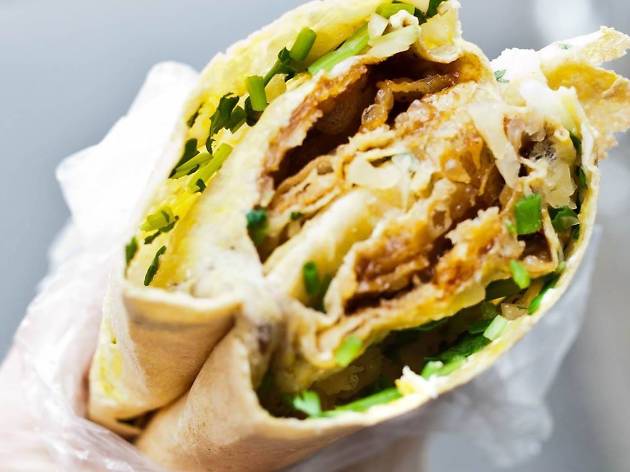 Photograph: Montreal Chinese Crêpes & Dumplings / @orders2017
7. Montreal Chinese Crêpes & Dumplings
This restaurant's offer of Chinese crepes makes it the one outlier on our list, but a worthwhile one. When you've had your fill of Breton-style crepes, these traditional Top of Form jianbing guozi are made to order right before your eyes and are a delicious, crispy hybrid between omelettes and crepes filled with the likes of mung bean, cilantro, fried wonton, BBQ pork, sautéed potatoes and more. The tiny restaurant is geared for takeout but if there's space, pull up one of the six seats and watch the show.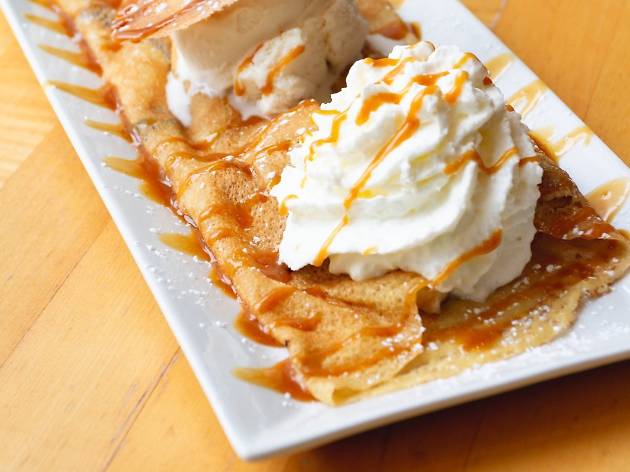 Photograph: Juliette et Chocolat / @julietteetchocolat
Juliette et Chocolat takes sweets seriously with a menu jammed full of brownies, cookies, fondues, waffles, crepes and their famous hot chocolate. It's a shoe-in as a great place to take a date with a sweet tooth, but if the contact high from walking through the door was chocolate isn't enough? Check out their full selection of savory crepes, a selection that manages to hold its own against its sweeter counterparts.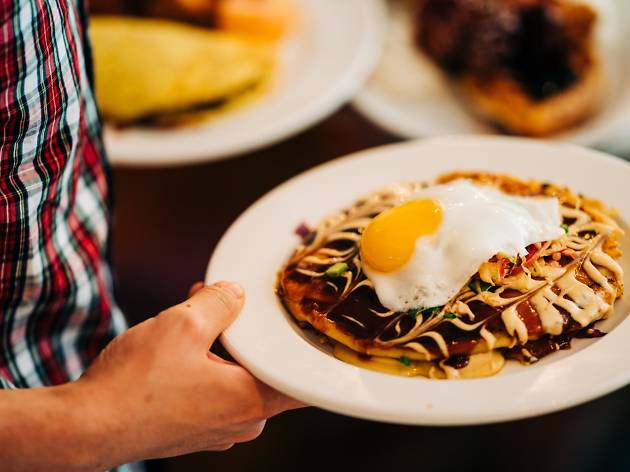 Photograph: Fabergé / @Faberge514
A Mile End hotspot, Fabergé has been serving up all day brunch to the ravenous hangovers of its neighborhood since 2010 and is widely credited with having a stellar breakfast poutine. In addition to the breakfast poutine of legend though, they've got a menu loaded with smoothies, milkshakes, benedicts, omelettes, waffles and, you guessed it, crepes. For something completely different, give their Japanese-style crepe a shot.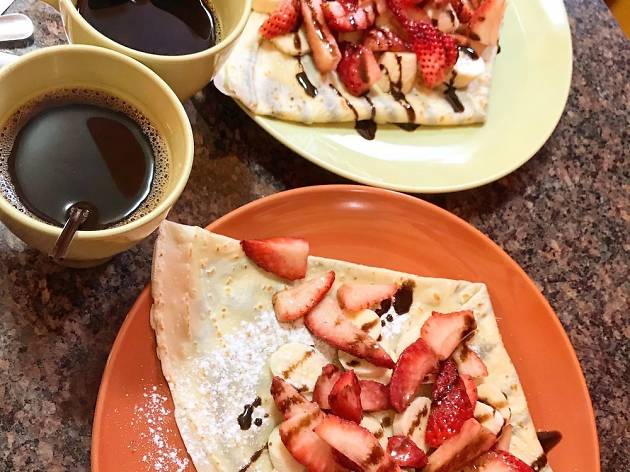 Photograph: Courtesy Yelp/Dawn C.
This quaint spot, half sunken into the steeply sloping De Bleury street near Place des Arts serves up a dizzying array of sweet treats, from Belgian waffles, smoothies and fruit cocktails and heavenly sweet crepes filled with exotic fruits, whipped creams, chocolate sauce and ice cream. They serve a selection of savory crepes as well, making La Crêpe 2 go the perfect spot for a high-energy lunch before touring whatever might be going on in the nearby Quartier des Spectacles.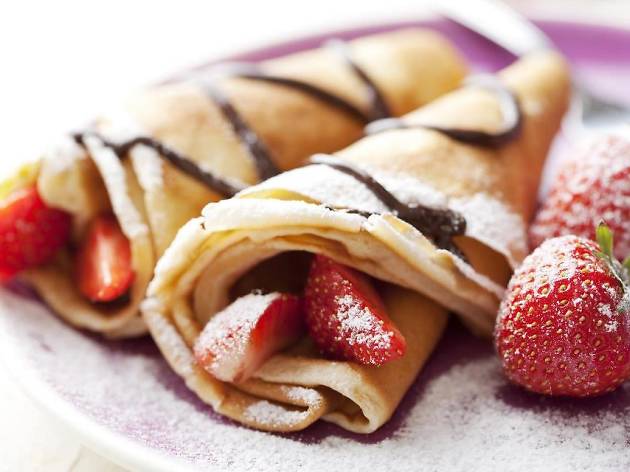 Photograph: Chez Suzette Crêpes & Fondues / @CreperieChezSuzette
11. Crêperie Chez Suzette
Having been converted from a clothing boutique in the mid-1990's, this family-run business in Montreal's charming Old Port is well-loved creperies. Throngs of locals and tourists alike flock in droves for its impressive array of classic French dishes including comforting soups and potages, savory crepes and requisite dessert crepes alongside swiss and Chinese fondue. The emphasis is on comfort dishes and the menu plays the ideal pairing to the postcard-perfect cobblestone streets of its borough.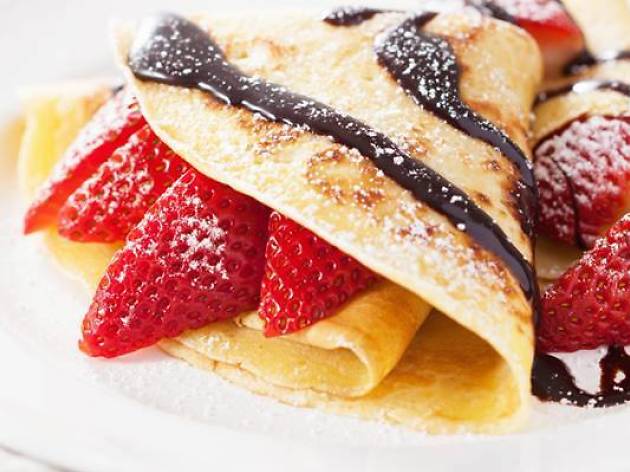 Photograph: Crêperie St-Paul / @CreperieStPaul
Crêperie St-Paul is a homey second floor Old Montreal nook with exposed masonry, country woodwork and Quebec curios lining the walls. It all comes off feeling a bit like a ski-chalet, or it would if it weren't for the mountains of exotic fruit pilled in baskets along the bar. Crêperie St-Paul specializes in fresh-pressed juices, coffees and straightforward crepes that work wonders as a pick-me-up when touring the Old Port in the afternoon.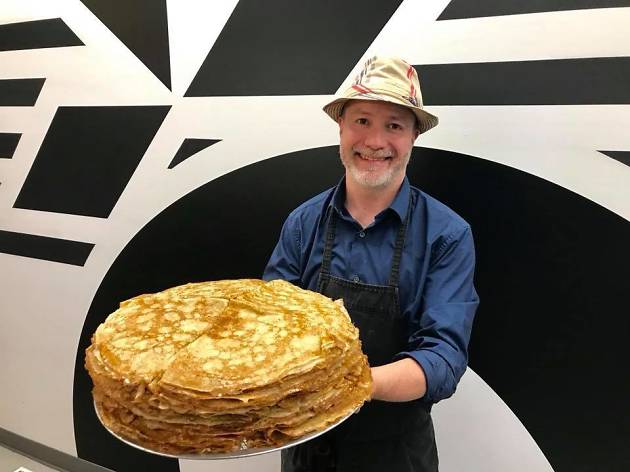 Photograph: ÔBreton / @obretoncreperie
This minimalist corner property on Mont-Royal and De La Roche may not look like a creperie at first glance, but its contemporary décor hides a truly authentic Breton experience with a novel twist: The crepes are wrapped and served in cone shape. It's an effective way of turning what was once a plated affair into a convenient handheld snack. Although initially skeptical, the local French expats have more than warmed to the idea and ÔBreton's traditional buckwheat crepes and galettes easily rank among the best.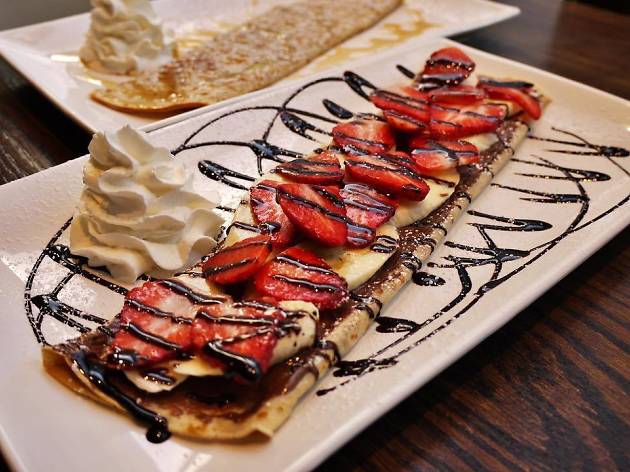 Photograph: Muru Crêpe / @murucrepe
Muru Crêpe is just a few paces from the Bonsecours Market and the Notre-Dame Basilica and, despite the legions of hungry crowds it receives throughout the day, the light, high-ceilinged space manages to avoid feeling cramped. The crepes are much talked about, particularly their hybrid crème brûlée crepe, but order a café au lait or hot chocolate to pair with your meal to be treated to some of the city's best latte art.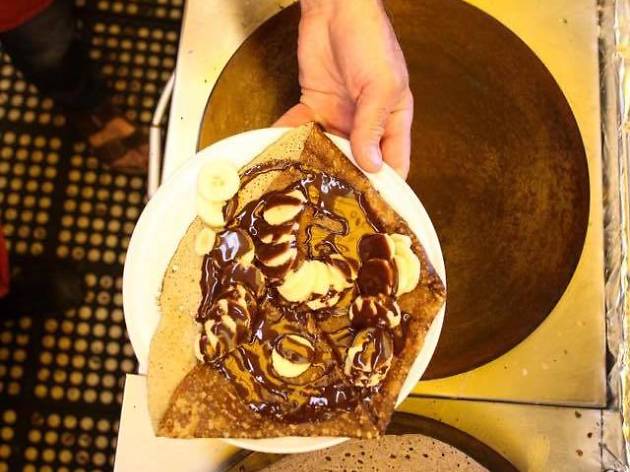 Photograph: Crêperie du Marché / @creperiedumarche
A delightful fixture of the city's largest open-air market Marché Jean Talon, Crêperie du Marché has been a go-to for crepe lovers in the city since 2005. The restaurant is completely gluten-free and uses exclusively plant-based milk with many of their ingredients being organic and local to boot. As if all that weren't reason enough to swing by, they're also dedicated to lessening their impact on the environment as well, using only compostable utensils.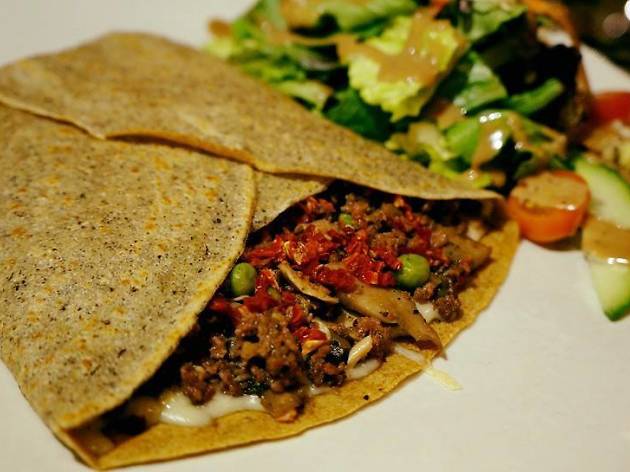 Photograph: Une Crêpe? / @UneCrepe
A laidback, chalkboard menu style hole in the wall on Mont-Royal Avenue, Une Crêpe? proposes a wide array of crepes with meats, cheeses and seafood, a selection of vegetarian options and the classic sweet crepes besides. There's also a fully stocked bar, so although some of the sweet crepes may bring back childhood memories, you can get in a few cocktails. Be sure to sit in the back next to their gigantic stuffed teddy bear and enjoy asking them the reason why it's there.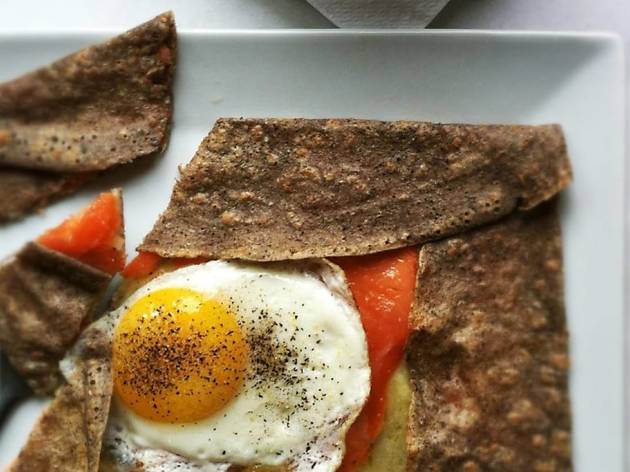 Photograph: Au Festin de Babette / @AuFestinDeBabette
This neighborhood brunch spot leans heavily on simple comfort with its warm vintage interior and sunny outdoor terrasse. That thrust for simplicity extends onto the menu with a selection of brunch classics including both sweet and savory crepes, and although the two- or three-ingredient crepes might look minimal compared to some of the other crepes around town, these crepes are all about execution: The team at Au Festin de Babette knows better than to resort to wowing with decadent unnecessary ingredients and flourish.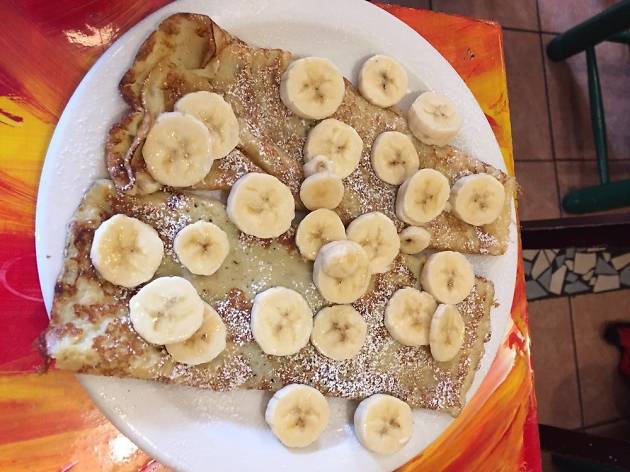 Photograph: Courtesy Yelp/Wenn S.
From the street, Chez José looks more like an acid-washed technicolor throwback than a neighborhood breakfast hangout. Inside, the food is made up of excellent inexpensive brunch fare with Portuguese accents like fish stew and churrasco. That comes with modern, eco-responsible touches like homemade vegetarian paté and fresh-pressed vegetable juices. Their sweet crepes are eternal classics, but their Mexican style churrasco crepes are a delicacy the whole city is sleeping on.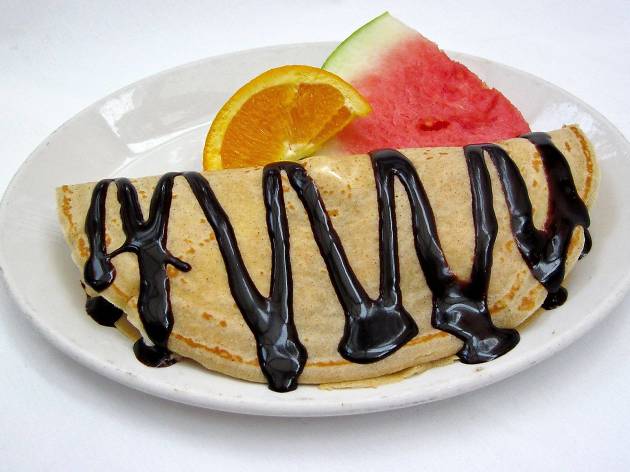 Photograph: Jardin Nelson / @jardinnelson
The stately Jardin Nelson is a glitzy hotel restaurant with one of the best terrasses in Montreal that overlooks the heart of Old Montreal, Place Jacques-Cartier. Although simple, their small offering of crepes are extremely popular and prove to be the perfect dish to enjoy while lazily people watching from on high, enjoying a few glasses of Jardin Nelson's famous house sangria from under the shade of the space's parasols.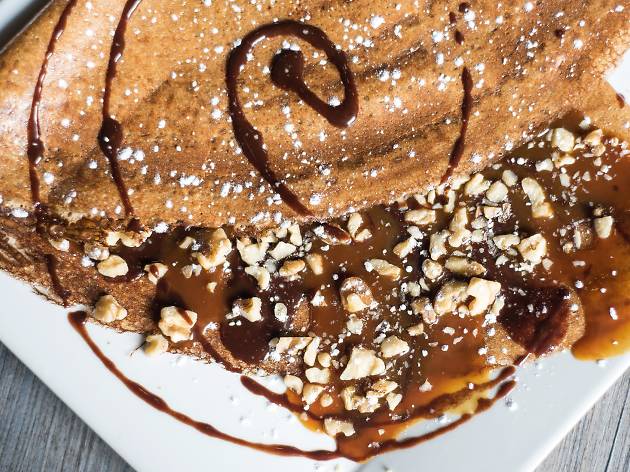 Photograph: Stephane Senez
Crêperie Le St-L has been serving the South Shore for over thirty years. In addition to offering sweet and savory crepes both as entrees or main courses, this restaurant also specializes in composed salads and gratinées. At night, the red carpet really gets rolled out and the restaurant boasts a full wine list, live music and that downhome Saint-Lambert hospitality you can't get anywhere else.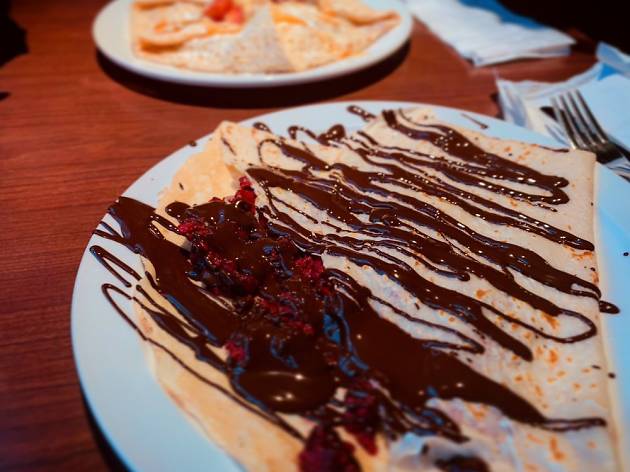 Photograph: Courtesy Yelp/Selene S.
A downtown haunt favored by famished students and Sainte-Catherine street shoppers alike, Paris Crêpe serves those on the go. That makes it a far cry from fine dining, but what it lacks in finery it certainly makes up for in speed. If you can spare the time, eat upstairs with the lovely views it affords onto the city bustle and pat yourself on the back for stopping to smell the roses.
More great places to eat in Montreal