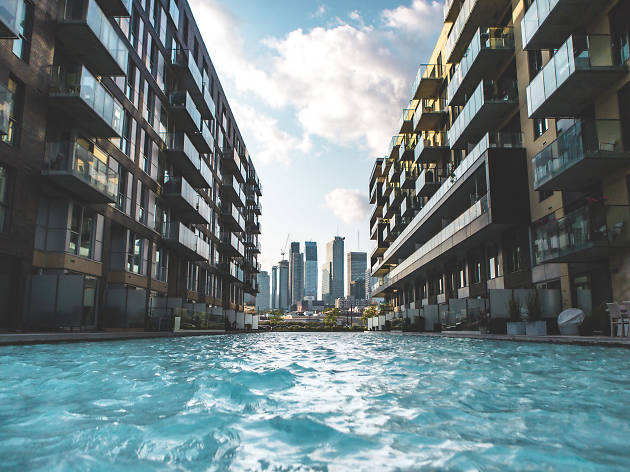 The best pools in Montreal for good times indoors or outdoors
Go for a soak in the best pools of Montreal, either to cool down and sunbathe in the summer or warm up in the winter
Whether it's during the dog days of summer or in the middle of winter, the best pools in Montreal—both indoors and outdoors—are the perfect places to go for a dip and unwind. Many count themselves among the best free things to do in Montreal for all ages and numbers in among the best things to do with kids. Come warmer months, many can be found in Montreal parks and rival the best beaches in and around the city, while others are good for amphibious locals and tourists alike with indoor spots during sub-zero winters. So dive, or just take a quick dip, into these refreshing addresses.
RECOMMENDED: Full guide to the best things to do in Montreal
Where to find the best pools in Montreal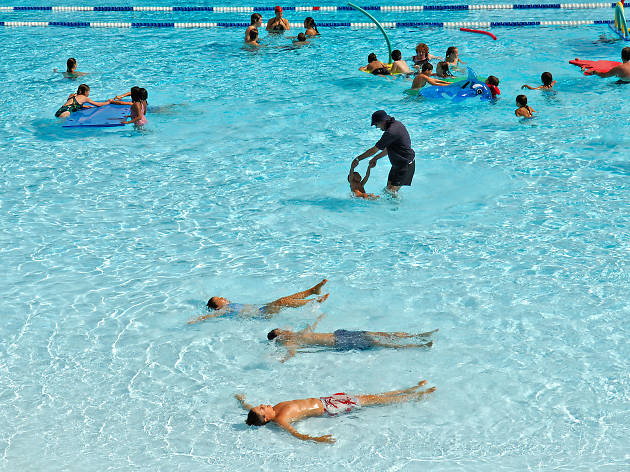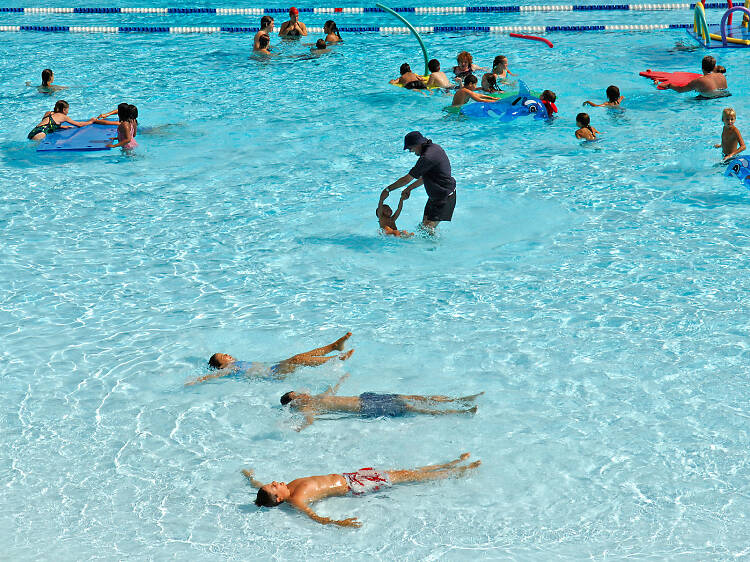 Caroline Durocher
1. Parc Jean-Drapeau Aquatic Complex
Île Sainte-Hélène is home to a horde of famous Montreal attractions, but the Jean Drapeau Aquatic Complex tends to be forgotten among them. The complex operates a recreational pool for children and adults with 8 sequestered lanes, a diving pool outfitted with springboards and diving towers, and a competition pool for international-calibre athletes. The pool also holds a number of unique events including inflatable aquatic obstacle courses and floating movie nights.
Indoor or outdoor?: Outdoor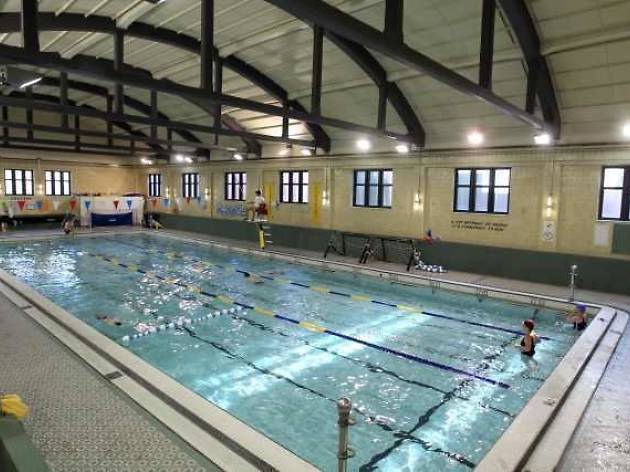 Photograph: Piscine Schubert
The stately Piscine Schubert was first constructed in 1929 right on Saint-Laurent Boulevard, the city's main artery, right in the heart of the Plateau. The pool underwent extensive renovations back in 2000 but has thankfully retained the charm of the original 1920s interior, and the pool continues to offer swimming lessons, free swims and lane swimming for one and all, completely for free.
Indoor or outdoor?: Indoor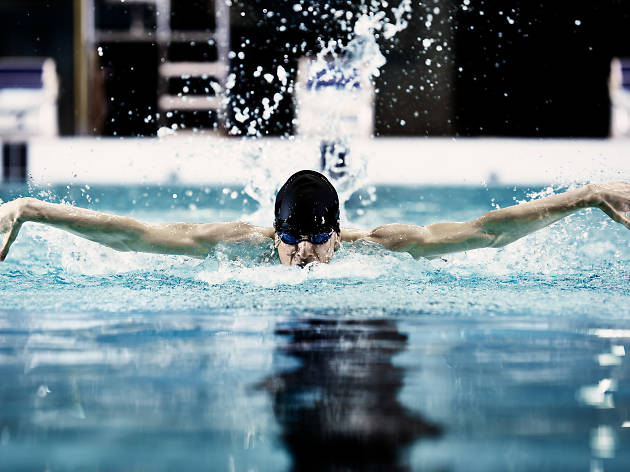 Photograph: Jean-François Hamelin
3. Olympic Stadium Sports Centre
The Olympic Stadium Sports Centre is an impressive multi-sport complex originally built for the 1976 Summer Olympics that prides itself on ensuring equal access to all of their facilities regardless of age, ability or mobility. That means the pool caters to a kids learning to swim, high-level athletes training for competitions and anyone in between. The facilities were painstakingly upgraded in 2015 and whether you're looking for low-impact fitness, high-intensity speed training or just a leisurely float across the surface, this place can easily accommodate.
Indoor or outdoor?: Indoor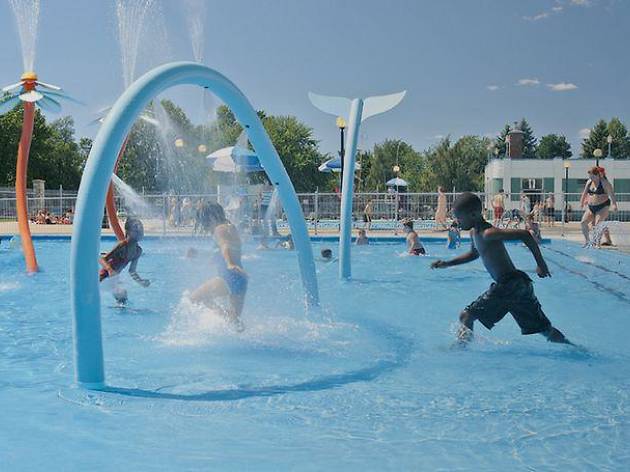 Photograph: @quai5160
This lovely art deco natatorium first opened to the public in 1940 to a lot of fanfare and remains one of Verdun's beloved public fixtures to this day. The outdoor natatorium can welcome a total of 1,150 bathers on any given day. In 2005, the pool inaugurated a brand new heated wading pool for children, and further modernization and refurbishment of the facilities is ongoing. The chalet is closed for a host of renovations at the moment, but the park as a whole remains open for summer fun.
Indoor or outdoor?: Outdoor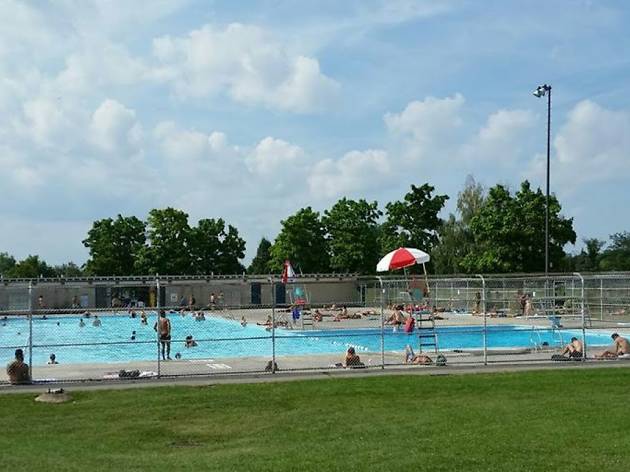 Photograph: Idir Arezki
5. Jarry Park Swimming Pool
The Jarry Park swimming pool is the outdoor companion to the nearby indoor Piscine Saint-Roch. This park tends to be recognized locally and internationally for its tennis stadium, but folks overheating in the sun know one of the park's real highlights is the outdoor pool. Sunbathers, waders, floaters and lap swimmers alike all agree it's one of the city's best spots to make it through a particularly hot day.
Indoor or outdoor?: Outdoor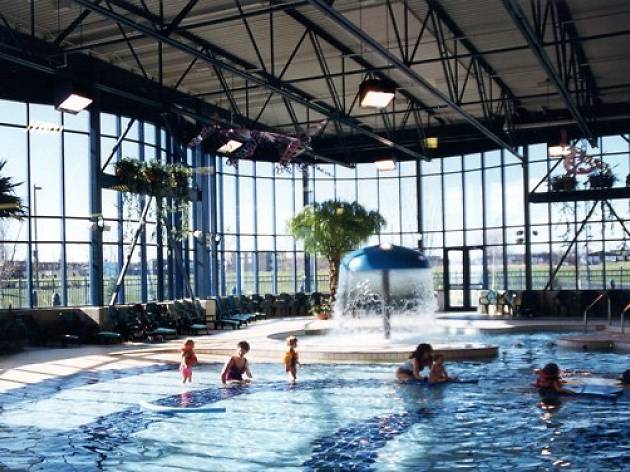 Photograph: Complexe Aquatic Michel-Leduc (Aquadôme LaSalle)
6. Complexe Aquatic Michel-Leduc (Aquadôme LaSalle)
This hefty water park in the LaSalle borough boasts a pair of 50 metre-long pools, a dedicated wading pool for toddlers, a ton of water toys, a trio of water slides and a small café for anyone who gets peckish after a dip. The pool runs aquatic aerobics as well as swimming and water safety classes and is available for rentals, parties and group swims. Although not completely free, the entrance fees are kept affordable and even cheaper for residents of LaSalle.
Indoor or outdoor?: Indoor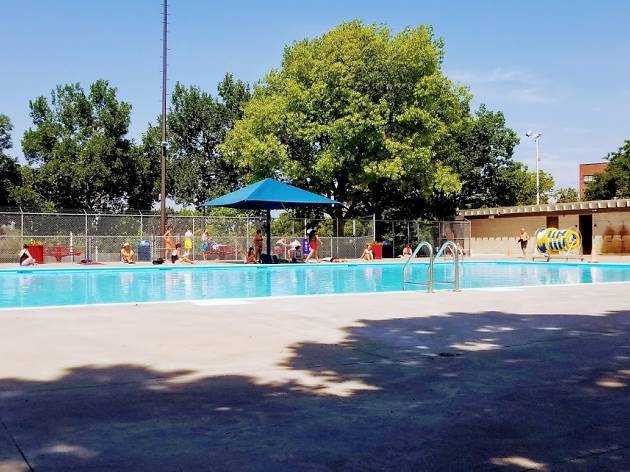 Photograph: Alexey G.
7. Kent Park Swimming Pool
Planning a family BBQ but can't decide on a venue? Look no further than Kent Park in Côte-des-Neiges. There's a shaded spot with picnic tables, perfect for the al fresco BBQ you've been dreaming of. Rather large for outdoor neighborhood pool standards, the pool itself has all you need, including an alert lifeguard staff, plenty of water toys and spots just to wade and relax. Top that with lanes for laps, trampolines for water shenanigans and even nearby table tennis to work up a sweat on before taking the plunge. Just make sure to give it a good half hour after gorging at your BBQ before making a beeline back into the pool!
Indoor or outdoor?: Outdoor
Photograph: Courtesy Yelp/Bobby A.
8. Piscine Arthur-Therrien
Verdun's favourite outdoor pool, the centrally located Piscine Arthur-Therrien is a quiet, no-nonsense pool that's great for families. The pool has a dedicated wading pool for toddlers and is a little less hectic than some of the more frequented pools in town, especially later in the evening. The only catch here is that has a rather limited area to lounge in and food isn't permitted on the premises, but hey, it's completely free!
Indoor or outdoor?: Outdoor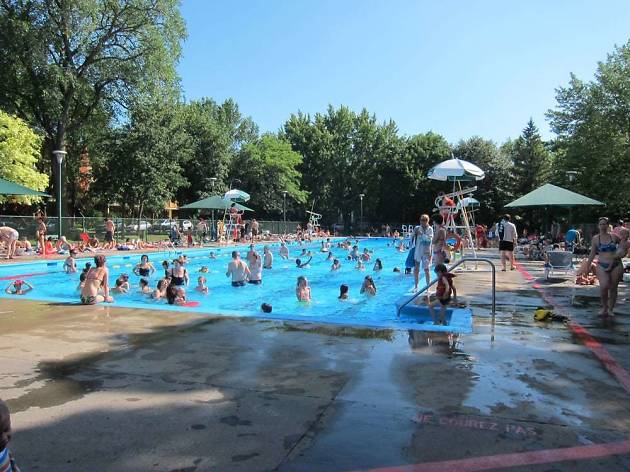 Photograph: Courtesy Yelp/Lauren B.
9. Piscine John-F.-Kennedy
Built in 1964, the Piscine J.F. Kennedy is Outremont's only public pool and—perhaps not surprisingly—the only outdoor swimming pool in Montreal named after a former United States president. This pool is our go-to for those looking for a something a little more quiet. Even on the hotter days, the pool shaded by old growth trees doesn't get too crowded. Although not free, admission runs pretty cheap ($3.50 for adults, $2.50 for kids and both are a buck cheaper after 5pm). Besides, a little peace and quiet can be considered a commodity in peak pool season.
Indoor or outdoor?: Outdoor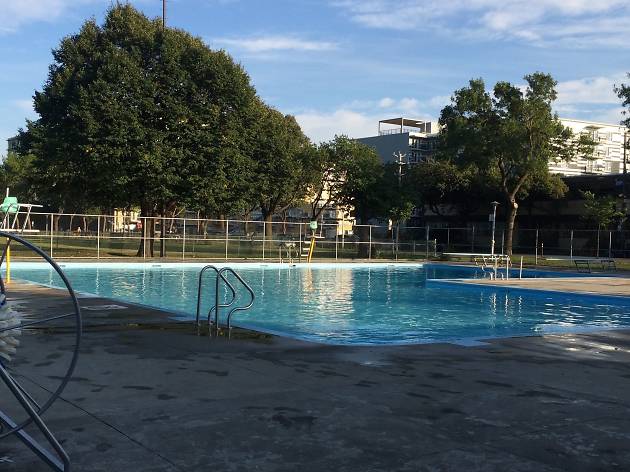 Photograph: RueMasson.com
The pool at Parc du Pélican may be relatively run-of-the-mill, but it's the Montreal park taken as a whole that explains why this body of water's such a community favourite. In addition to the fully staffed open-air pool, the Masson street park also features a fenced-in dog park, a playground, a sports field and—during the summer months—a small herd of sheep is brought in from a nearby farm to graze and hang out with the locals.
Indoor or outdoor?: Outdoor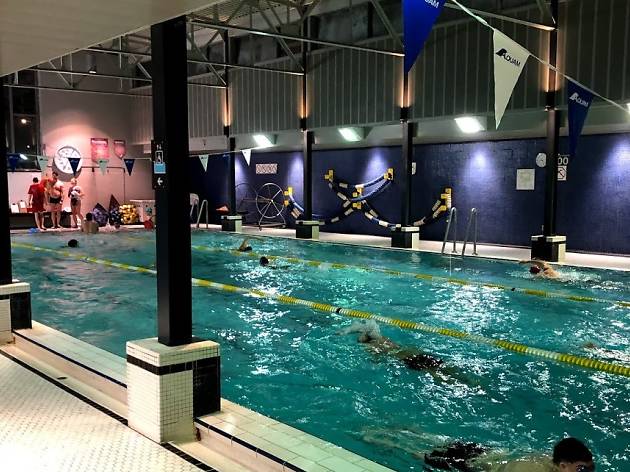 Photograph: Simon D. Prudhomme
Right in the thick of the Plateau, Piscine Lévesque's doors are open for free swims, lap swimming and swimming lessons for all ages and all seasons. Since 2018, the pool has proudly been home to an aquatic elevator, allowing for citizens of reduced mobility universal access to the pool. Best of all? Like most municipally run pools, it's completely free.
Indoor or outdoor?: Indoor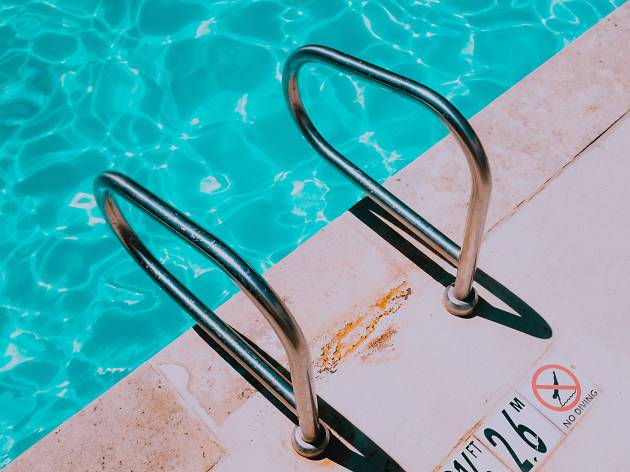 Photograph: Jay Wennington
12. Piscine Saint-Charles
A hop, skip and jump from the Charlevoix metro in Montreal's Point Saint-Charles neighbourhood, the Piscine St-Charles is your solid, no-frills community bet. If you're looking for a quick dip to beat the heat, the Piscine St-Charles runs all-ages swimming during the day and adult swims in the evenings. This one is free of charge!
Indoor or outdoor?: Indoor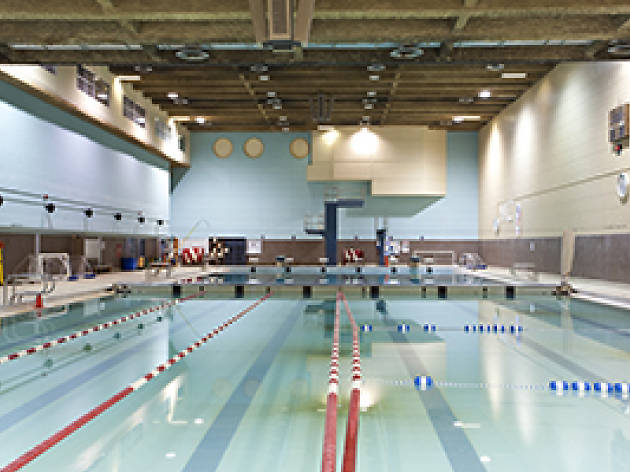 Photographer: Olivier Gariepy / Ville de Montréal
13. Piscine du Cégep Vieux Montréal
The Cégep de Vieux Montreal is a busy college in Downtown Montreal with an extensive aquatic sports complex that features a 50-metre semi-Olympic salt chlorine pool that regularly opens its doors to the public at large. In partnership with the borough of Ville Marie, the college organizes a wide variety of public activities and classes the whole year round.
Indoor or outdoor?: Indoor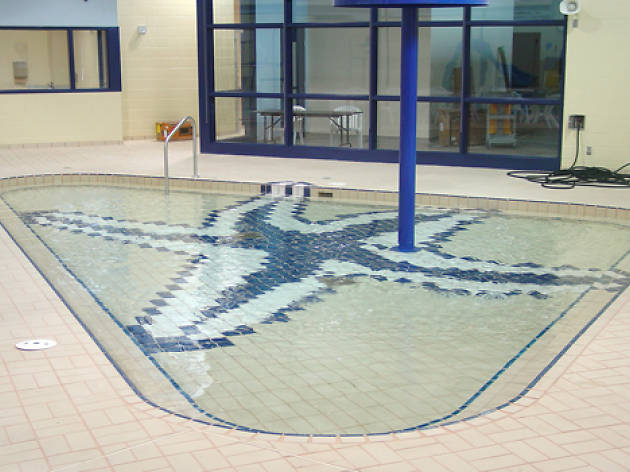 Photograph: carrelagesdemontreal.com
This charming neighborhood pool on the outskirts of Jarry Park provides a mix of aquatic activities that include lessons for children and adults, as well as a range of water aerobics. Word on the street says the Piscine Saint-Roch is also one of the warmest swimming pools in town, and while that's not ideal for the height of summer, it's perfect for those chilly winter evenings when you want to get rid of that lingering chill while getting a few laps in.
Indoor or outdoor?: Indoor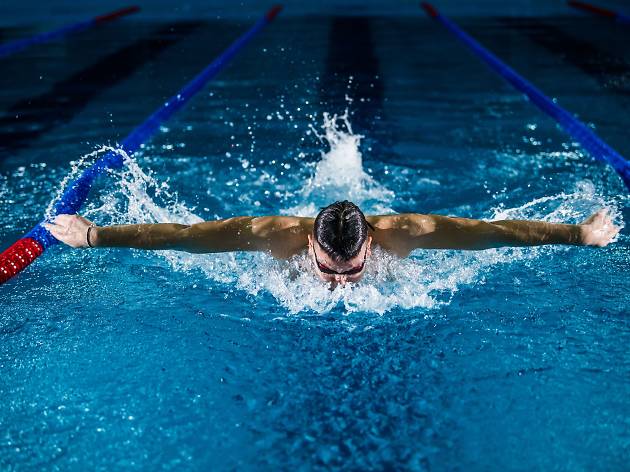 Photograph: Gentrit Sylejmani
Directly across the street from the Place Saint-Henri metro stop, Piscine Saint-Henri is a community hub at which locals of all ages congregate to get their swimming fix. The pool is a fully-staffed 25 metre-long affair that offers swimming lessons, water safety and lifeguard qualification classes, free swims, community fitness activities and lane swimming. All that, and it's refreshingly free of charge.
Indoor or outdoor?: Indoor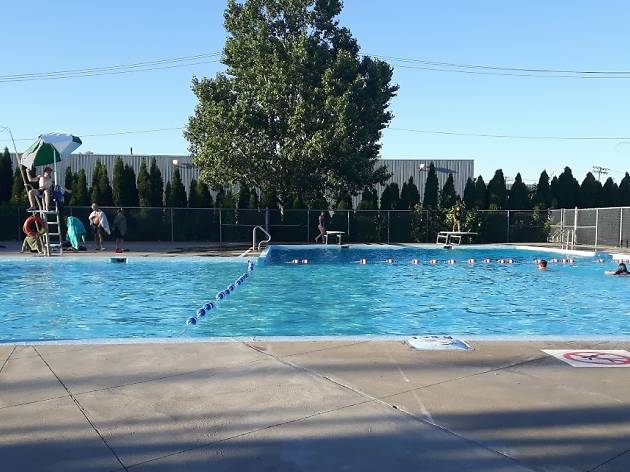 Photograph: Annie Legault
When the mercury rises, residents of Hochelaga Maisoneueve flock in droves to the Piscine Maisonneuve. It's a Plain Jane outdoor pool, but it's got a cadre of friendly lifeguards on duty keeping everyone safe (read: kid-friendly) and is completely free all summer long. It's also conveniently located right near the Marché Maisonneuve, so you can drop by for post-swim snacks of fresh fruits or grab your groceries on the way home. What more could you ask for?
Indoor or outdoor?: Outdoor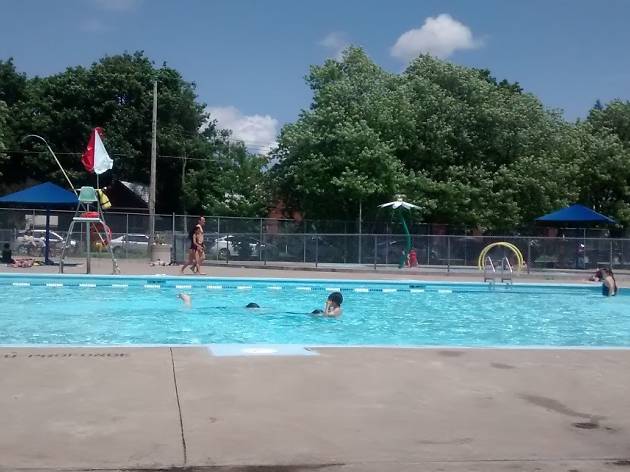 Photograph: Carlene Morais
17. Confederation Park Pool
In NDG's Confederation Park, the borough operates a cheerful, family-oriented 50-metre pool that's a good bet for all sorts of swimming, be it laps or just treading water. The pool has a dedicated area for picnics and is a perfect spot for working on that tan. Families should take note that there's a famed pair of trampolines and splash pads for kids.
Indoor or outdoor?: Outdoor
More of the best things to do in Montreal
Maximize your dime and time with the best cheap things to do in Montreal, from arts and culture to food and drink. Here's our list of our favourite ways to spend time in Montreal without spending too much of your hard-earned cash.
Here's your list of essentials for the best things to do in Montreal, from fantastic attractions to cultural powerhouses.
Best selling Time Out Offers