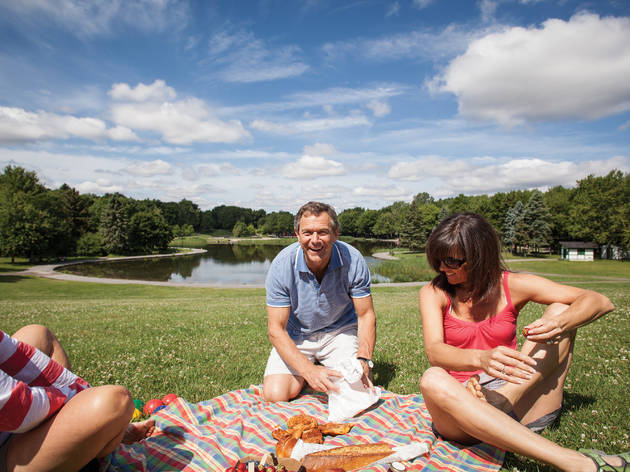 The best picnic spots in Montreal, ranked
These are the best picnic spots in Montreal to lay out a blanket and basket for their spaciousness and summery vibes
Forget the equinox: If you want to know when summer begins in Montreal, it's when locals get together at the best picnic spots in Montreal. This is the time Montrealers live for, having gritted their teeth through the winter until they can rush out the door to enjoy the sun al fresco style. Everyone has their favourite places to go—sometimes opting for the best parks and best beaches in Montreal—but if you want the very best spots for spaciousness, scenery, access to restaurants for easy eats and the best vibes all around, here's where you want to go.
(Remember: You can consume alcohol in all of these spots, provided you have food!)
RECOMMENDED: Full guide to the best things to do in Montreal
These are the best picnic spots in Montreal right now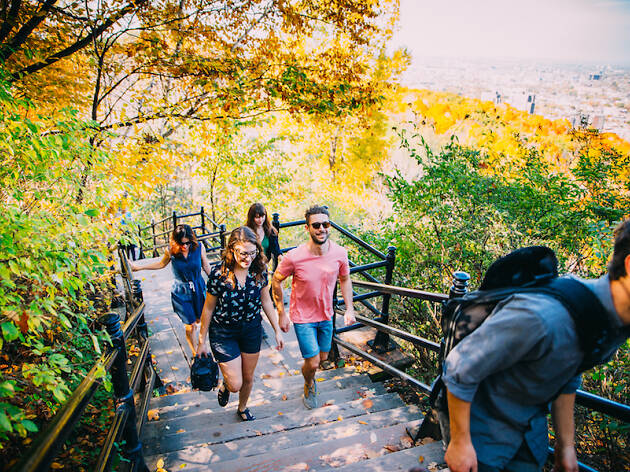 Photograph: Fitz & Follwell Co.
If there's one place that provides the most scenery in the city, it's the green lung located at the heart of the city. Mount Royal Park provides an abundance of places to pick for picnics, from the forested base and greenspace surrounding the George-Étienne Cartier Monument (with Tam Tams on Sundays) or just roughing it off the path until you find a plateau to lay out a full spread. Get your hike on to experience some amazing views; if you're the exploring type, no two visits will ever be the same.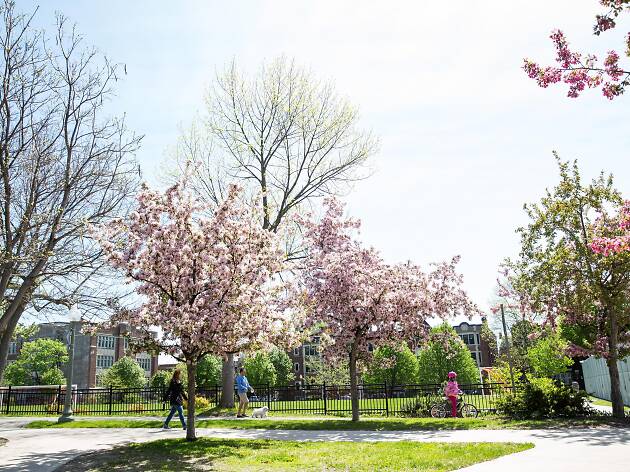 Photograph: Susan Moss
Want an idyllic Victorian experience? Pop your parasols and watch the ducks go by as you lounge among the lazy rolling landscape of this park that's been around since 1912. The nearby main strip of Westmount on Sherbrooke provides anything you need for equipment, and you can make a day of it when the nearby Westmount Library and its greenhouse are open. If it's a hot day, cool off at its wading pool or outdoor pool, and if it's temperate, check out its landscaping jobs or plan a game at the tennis courts.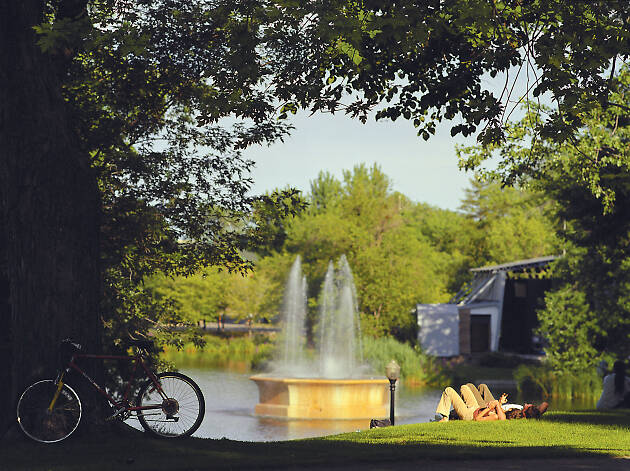 Photograph: Stéphan Poulin
A victim of its own popularity, La Fontaine where just about everyone in the city likes to gather for impromptu picnics (see: a sandwich to go with a case of beer), and while there's no mountain to scale, it can be hard to snag one of its ideal spots by the fountain, bocce courts or something with ample shade when the weather's perfect. Nevertheless it's among the very best places that's central, a great place to socialize with the friends you came with or friends-to-be that you'll end up dining next to.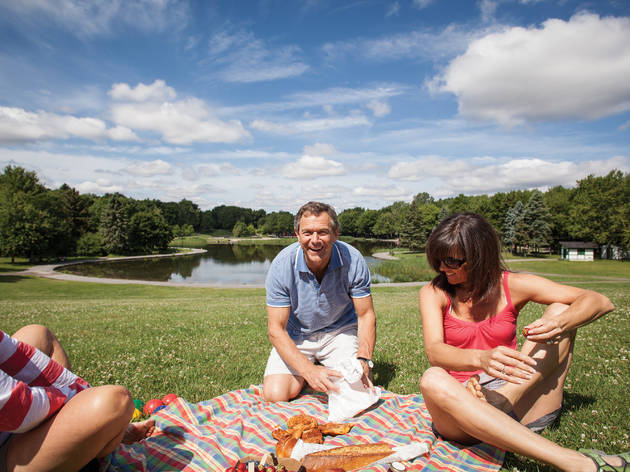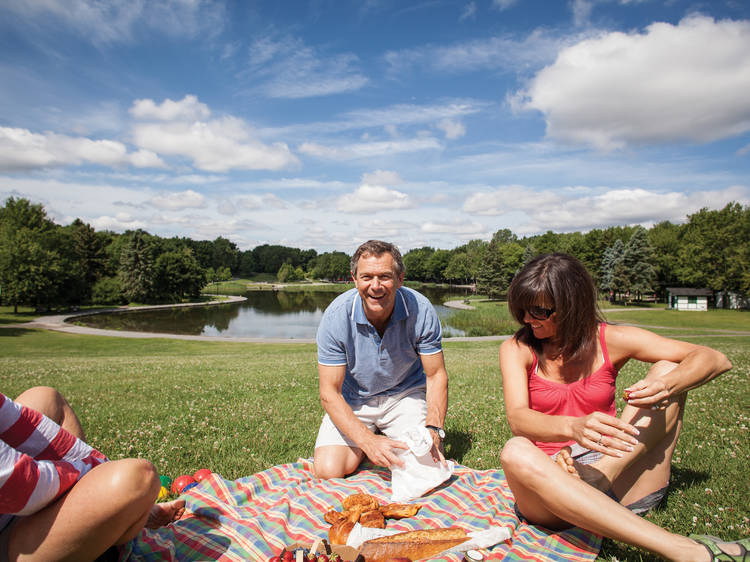 Photograph: © Canadian Tourism Commission
View this post on Instagram
While part of the Mount Royal Park, Beaver Lake acts as a park in its own right for the secluded sense its setup provides: Flat and gently sloping grass surround a large man-made lake where ducks gather, providing just the right kind of calming environs that make for a perfect picnic. Ever since the city cut down on the amount of traffic that runs between the greenspace and the nearby Notre Dame des Neiges Cemetery (a good backup spot if the park is full), it's all the more peaceful and perfect for picnics.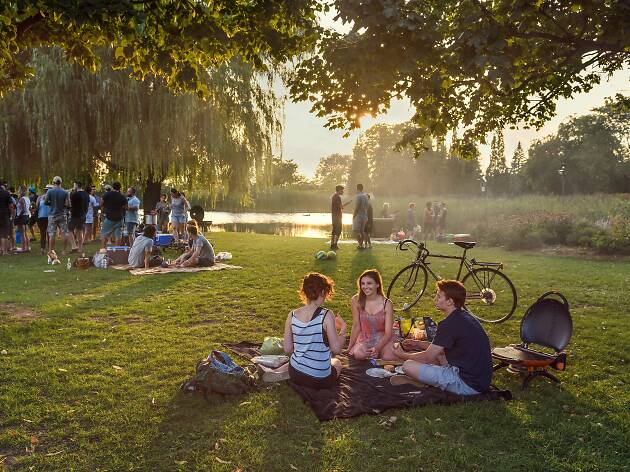 Photograph: Daphné Caron
Come summer, the park's alive with Montrealers from around the world playing baseball, firing up BBQs and just generally having a great time. The park is huge—massive even by park standards in this city—so there's always a spot to set up whether or not it's peak picnicking season. Folks tend to congregate around the water on the south side (that's Montreal south to locals), and its proximity to great bars along Jean-Talon like Harricana means you can skip a trip to the dépanneur for the usual swill.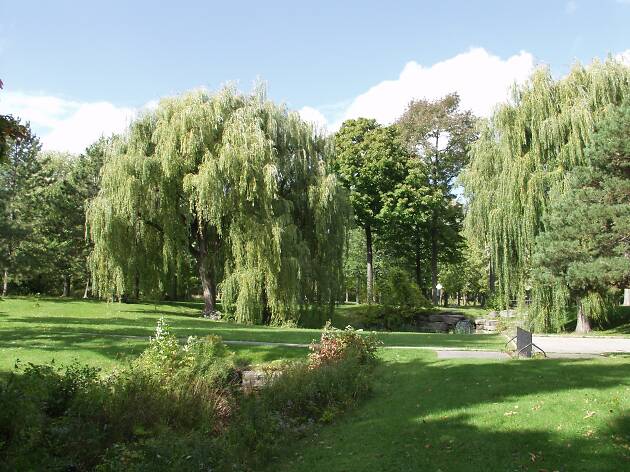 Photograph: Ville de Montréal
A huge swathe of greenspace in the southwest and easily accessible by metro, Angrignon is both an open park for gathering and a small forest for exploring. It's also one of the few parks in the city to provide BBQ pits, so provided you have the gear, it's ready for hot eats if you've got the meats. If you're looking for an undisturbed gathering, trust that this place has more than enough room for everyone in the city—really, we're surprised more people don't gather here, but if you look past the slightly higher travel time, you'll find it's worth it.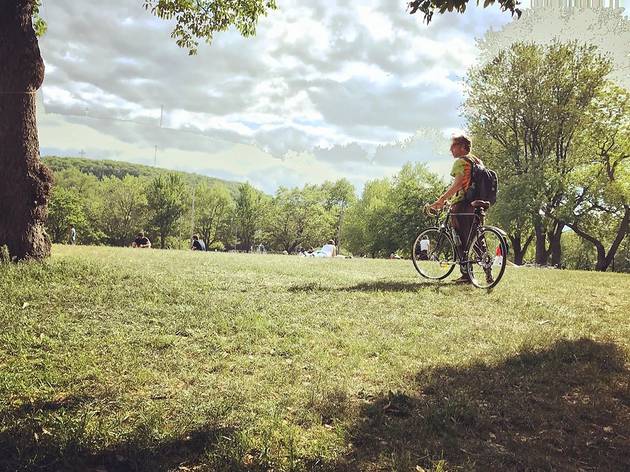 Photograph: @dewolfleloup / Instagram
Located below the Mount Royal Park and closer to some of the best cheap eats in Montreal around the Plateau, when it's not Tam Tams on Sundays, you'll find most Montrealers gathering here. By sheer force of gathering, the vibes here are among the best for meeting up in parks, and one look around shows as many first dates as there are family gatherings. Stake your claim closer to where the park connects with Rachel Street and grab Portuguese chicken, great diner eats and a lot more a mere 10-minute walk away with a pitstop at a dep for good measure.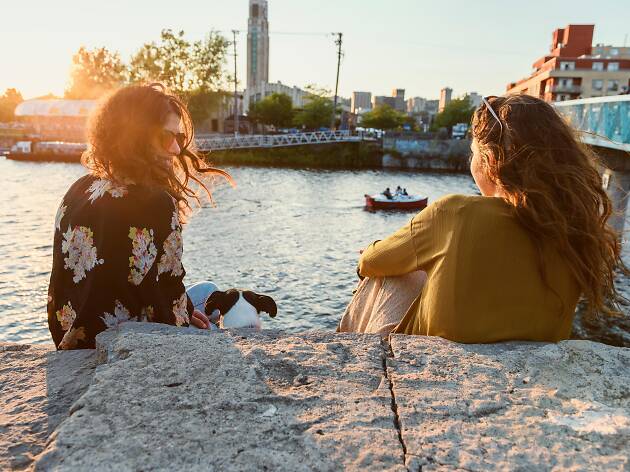 Photograph: Daphné Caron
Considering the length of this national park, winding from Old Montreal all the way to Lachine, there's a lot of space to claim for a picnic. The best spot along it, however, is centralized around the Atwater Market where you can easily pick up snacks and a bottle or two from the nearby SAQ which sports one of the better selections in the city. Note, however, that this IS a national park and drinking—even with eating—technically isn't allowed, but cops tend to turn a blind eye. Enjoy one of the chess games or public ping pong tables if you want to make a day of it.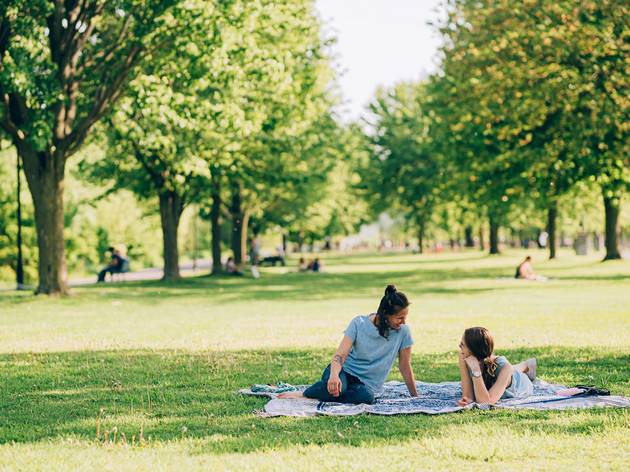 Photograph: Caroline Perron
Verdun's eastern side that faces the Saint-Lawrence River features a string of parks to pick from, starting with Champion Park by the Autoroute 15, down through the hillside views of Arthur Therrien Park, past J.-Albert-Gariépy Park (the site of Verdun's beach!), Verdun Park, Woodland Park, Turtle Wharf Park, the Rapids Park (which also acts as a bird sanctuary)… If you want to rest assured you can find a spot to sit and enjoy your spread, this whole area can provide. Our top recommendation goes to gathering down where the rapids begin—around NAVI, the canoe and kayak rental spot—where the water's churned and creates a pleasant breeze all day and all night.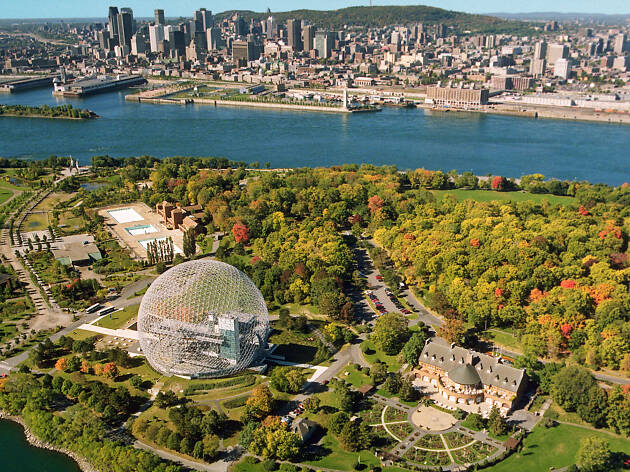 Photograph: Denis Labine
A major attraction in Montreal since it became decked out in landmarks following Expo 67, this island in the Saint-Lawrence is for the more intrepid picnickers who want to make their trip outdoors a complete one: Cycling on the Gilles Villeneuve racecar track, visiting the Biosphere for a photo op, exploring the gardens around different pavilions, dancing at Piknik Électronique, swimming at Jean-Doré Beach—heck, even a trip to La Ronde if you want to swing it—are all on offer, but setting up your spread next to Swan Lake is just as good for some outdoor dining.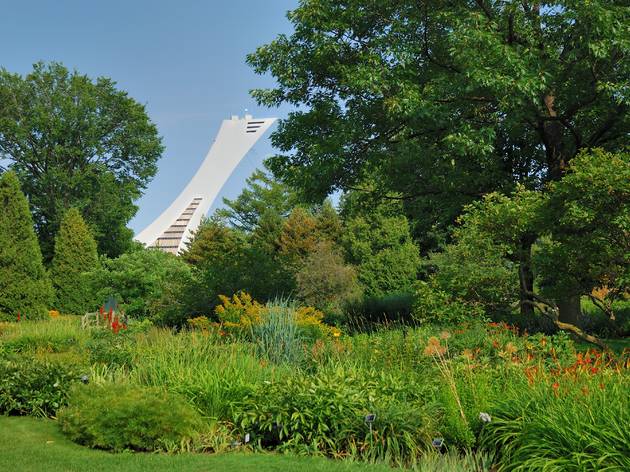 Photograph: Laurent Nicod
Given its proximity to the Montreal Botanical Garden and up-close-and-personal views of the Olympic Stadium, the wide open spaces of Maisonneuve Park make for a lot of ample space to find the perfect view as you enjoy a meal. Consider strolling through the Botanical Garden before or after your meal, but not during—picnics aren't allowed there except in 'designated spaces'. If you're the sporting type, end your day by whacking a few at the Centre D'Exercice De Golf Sports Montréal, a golf driving range.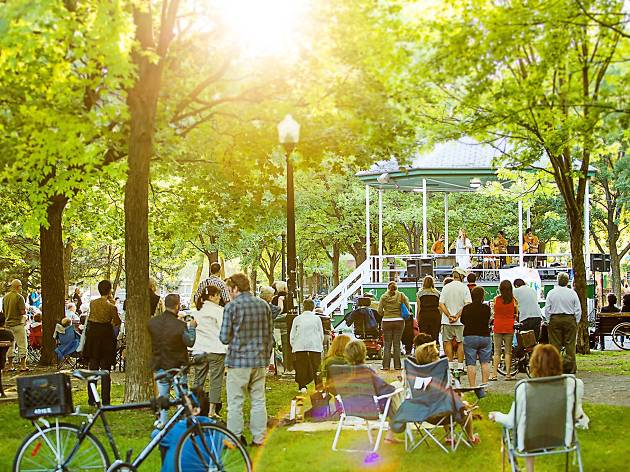 Photograph: Eric Carriere / @arrondissementRPP
It's small—meaning you may not find a lot of space to set up your picnic—but when you consider how it's surrounded with amazing restaurants, bakeries and wine lists and the possibility of nabbing a spot to see live opera during Italian Week? This park's perfect for an all-day occasion if you don't mind being in close proximity to other Montrealers (and you shouldn't, they're great people!). It's a place that's completely enclosed by a wide range of places to get equipped, so skip lugging your meal across town and just get it to go, stake a claim and dig in.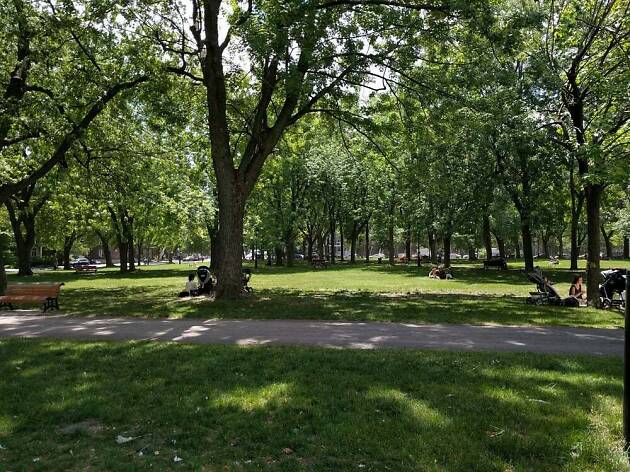 Photograph: Courtesy Yelp/Denzil D.
Consider this park to be a miniaturized version of La Fontaine. People swarm here when the weather's perfect, picking up charcuterie and wines (or sammies and brews) from the boutique-lined section of Laurier Avenue nearby and taking up every second socially-distanced spot they can. That said, the vibes iare great here, full of French students and expats gathering to blast their Bluetooth speakers and toss a pigskin around or play a game of pick-up softball.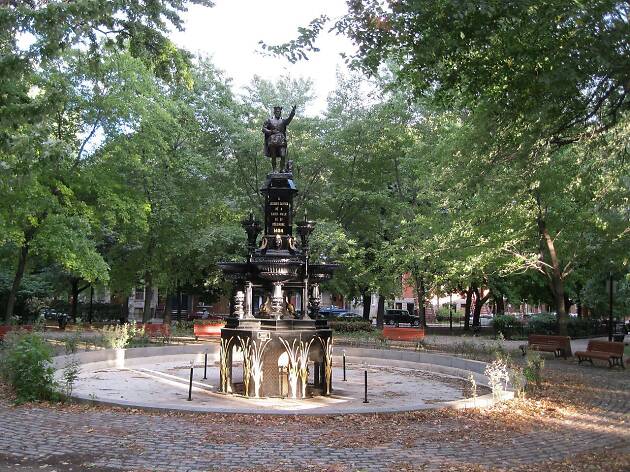 Photograph: Jeangagnon
This park goes out to everyone who'd rather not sit on the ground (and those that tend to forget commonsense equipment like blankets to sit on in the first place): Saint-Henri's park, with a gorgeous wrought iron fountain at its centre, is completely lined with bench after bench to sit at while you enjoy the sound of rushing water on a hot summer night. The deps nearby have great beer selections, and Notre-Dame Street West isn't too far away for grabbing food if you want to avoid carrying backpacks full of tupperware.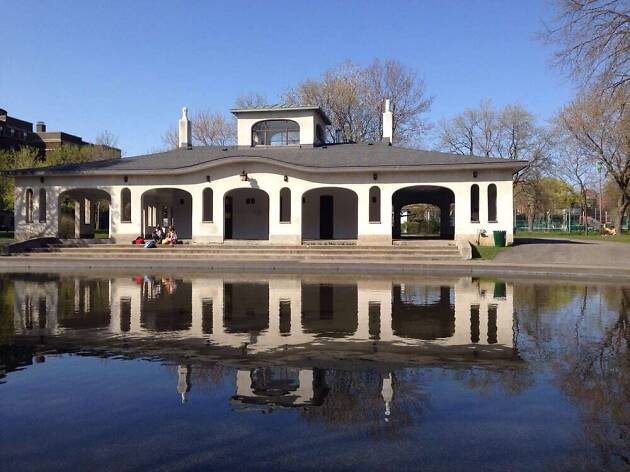 Photograph: Courtesy Yelp/Justine S.
Saint-Viateur Park & Outremont Park (tied)
Our preference for Outremont parks goes to these small beauties, both charming in their own right. Saint-Viateur sports a moat and stone bridge, while Outremont Park has a small pond and fountain. Both are good for a quick and casual picnic, and both are close to a lot of good restaurants on Bernard Avenue and Van Horne Avenue (barely 5 minutes walking further). Our suggestion goes to hitting up Boucherie Bar à Vin Provisions for everything you need, from BBQ supplies to a bottle of wine or just some of their butcher's sandwiches if you want something easy, or ordering up the whole menu at Boxermans to go for a picture-perfect picnic.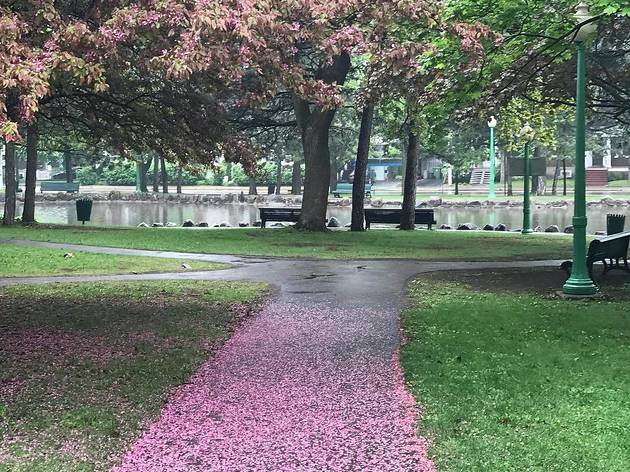 Photograph: @destinationmtl / Instagram
What can we say, Pratt Park is just… nice to be in. It's a moderately sized park with a lot of beautiful features, from its pathways to its waterways, and all provide a lot of superb spots to lay out a blanket and chow down. It's got some curiosities to explore too, like its central stone turret, a small waterfall running through it, or its central pond where ducks gather for your crusts. Its design is so curious that it stands out among just about any other spot in the city; we've only docked it points here because of its size and getting to nearby shops for food takes a bit more time.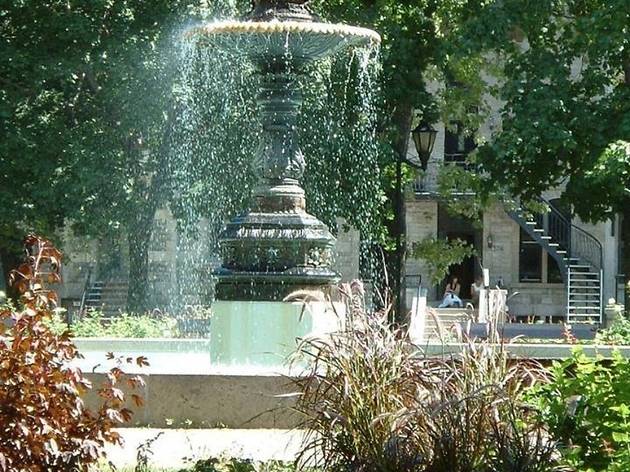 Photograph: @wilkimage / Instagram
Fitted out with its central fountain and surrounded by some of the most beautiful architecture in the Plateau, this is generally the park newcomers to the city end up in while exploring. It's less of a park and more of a central hub for pedestrians making their way to or from something on the Main, but there's still a lot of good spots to set up a picnic here. Just be warned a local panhandler might come up to you for some extra rolling papers or offer to play a song on their guitar. This one goes out to everyone who likes a vibrant, urban picnic experience.
Check out more ways to get outside in Montreal
Hit the road, take a hike, visit small-town gems or bask in some big city glory with the best day trips from Montreal.
Get the lowdown on exploring the forested grandeur of Canada by using this guide to the best hiking near Montreal.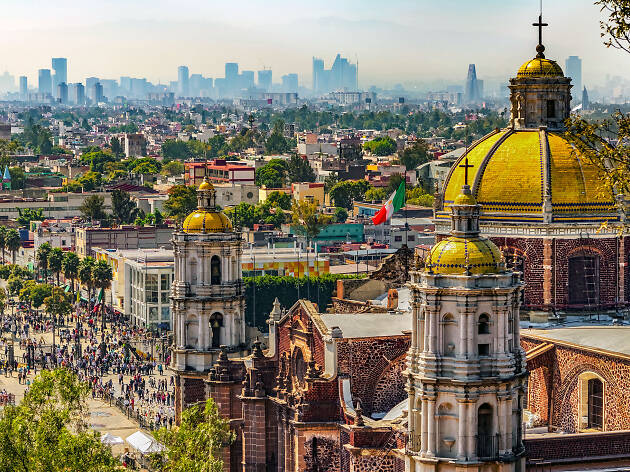 We surveyed 34,000 city-dwellers to rank the best cities in the world right now. Ready?
Best selling Time Out Offers