Heads up! We're working hard to be accurate – but these are unusual times, so please always check before heading out.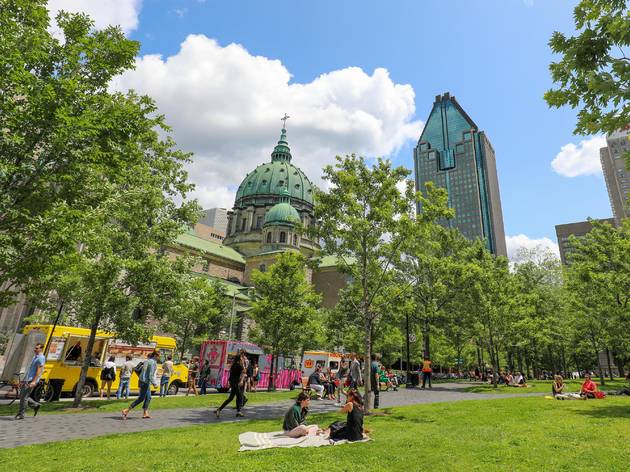 The best places to bring your next takeout picnic near Time Out Market Montréal
Whether you're on a lunch break or looking to enjoy summer while it lasts, these are the best spots for a takeout picnic near Time Out Market Montréal
Skip the leftovers from last night, leave the tupperware at home and treat yourself: There's no better time than warmer summer months to grab some of the best delivery and takeout in Montreal from Time Out Market and dig in under the sun. If you want to eat outside, the downtown core of any city can look like long stretches of uninviting concrete at first glance, but you can find Montreal parks and hideaways decked out in greenery, benches and public art for a much-needed (and well-fed) break if you know where to look. Everything you find here is for people looking to eat downtown, but if you're willing to travel further afield, then you'll want to see our rankings for the best picnic spots in Montreal overall are right now.
Use any of the methods for how to order at Time Out Market Montréal for takeout and delivery—yes, delivery—because if you don't want to come to the market, get someone to bring it to you! There's a lot of great options to choose; just don't forget to properly throw away your trash at the end of a meal and help keep the city pristine!
RECOMMENDED: Full guide to Time Out Market Montréal
Where to find the best takeout picnic spots near Time Out Market Montréal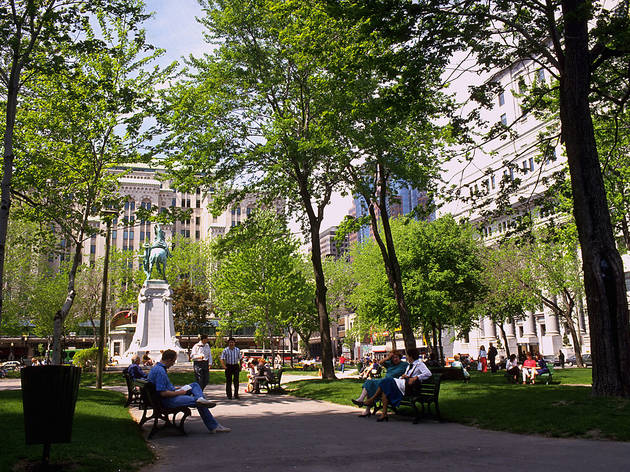 Photograph: © Tourisme Montréal
Easily accessible from just about any main stretch of downtown, Dorchester Square is a park and garden sandwiched between Peel and Metcalfe. Lined with long benches in any direction you look and recently fitted out with a bridge installation that passes by a unique cross-section fountain, you can sit and nosh quietly on a seat or sprawl out on the grass.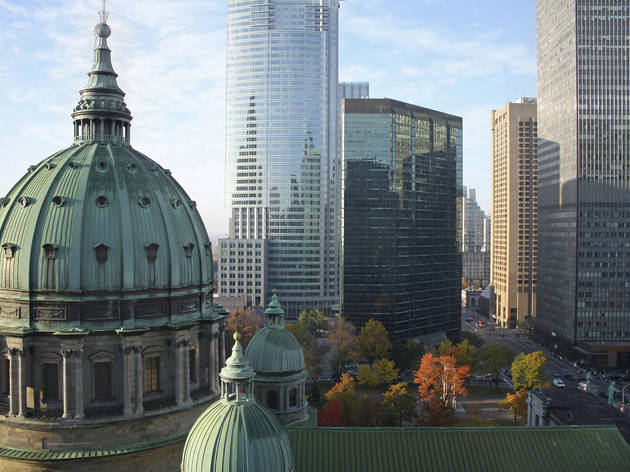 Photograph: © Tourisme Montréal
Mary, Queen of the World Cathedral
The greenspace that runs alongside this church provides ample space for lunchbreak meals, and plenty of scenery to take in. Either take in the skyscrapers around you, or take a closer look at the third largest church in Quebec that was completed in 1894. It's good place to put down your phone for a change as well, as the basilica's bells continue to chime the time on the hour and half-hour.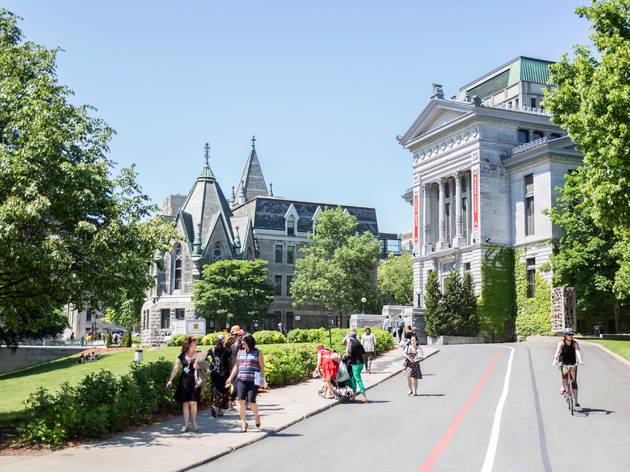 Photograph: © Tourisme Montréal - Marie Deschene
The wide open fields of McGill's campus are a prime spot for getting some sun while you're downtown, as well as hanging out on the steps of any of the expansive institution's buildings that date back as far as 1821 or under the canopies of its many species of trees that go from Japanese Oyama magnolias and ginkgo trees to a twisted European spindle by a fountain. Keep in mind that this greenspace—while regularly providing plenty of room for everyone—is chiefly for the student body, so treat it with respect if you're visiting and throw out your trash when you're done.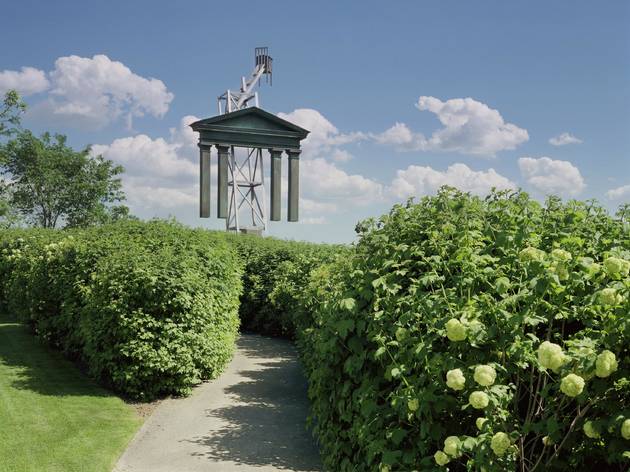 Photograph: © Canadian Centre for Architecture, Alain Laforest
The Canadian Centre for Architecture
While it's looked to first as one of the best museums in Montreal, the CCA also sports a long stretch of grass at its entrances on Baile Street that always make for good quick picnic spots. The real secret, however, is going 'behind' the museum to its garden's grounds located across René Lévesque Boulevard. There you'll find a small orchard, art installations, and a great stone banister to grab a seat and check out a great view of Montreal's southwestern boroughs.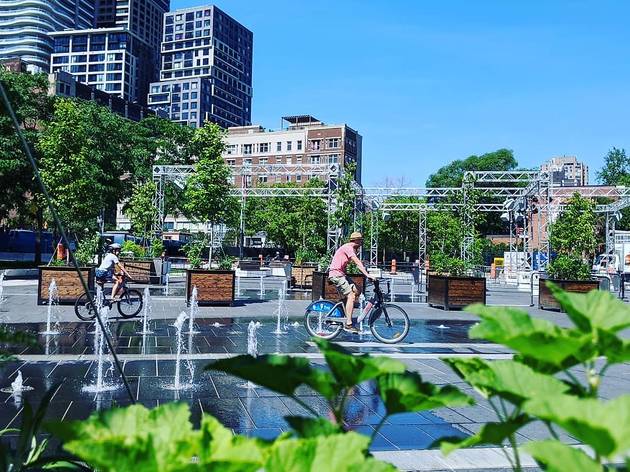 Photograph: @den.melnik / Instagram
Ever since the downtown area's arts district got its makeover, the long stretch deemed the Place des Festivals which runs alongside the Musée d'art contemporain de Montréal is covered in public fountains which shoot water out of the ground in patterns and intervals. Now that the construction and renovation is complete on surrounding buildings, it's a urban installation that's perfect for public gatherings when the space isn't filled to the brim by festivals.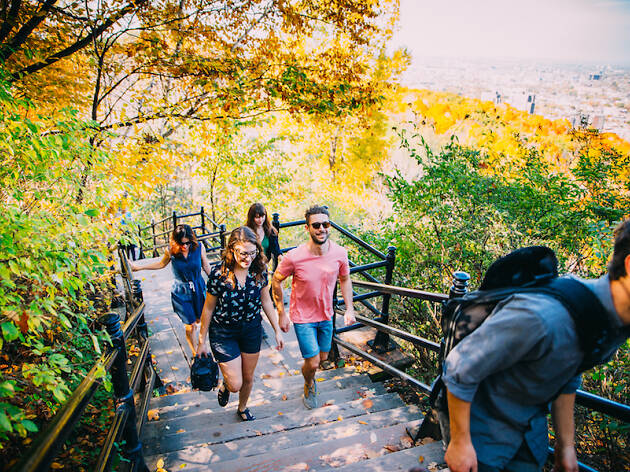 Photograph: Fitz & Follwell Co.
Easily accessible from downtown streets, if you're looking for a bit of a hike with your picnic, the mountain's a solid spot to take to when you have more time on your hands to find the perfect spot. From wooded plateaus to camp out at or taking in the view from the Kondiaronk Belvedere's plaza as you enjoy your meal, taking the trip up Mount Royal will always be among the best things things to do in Montreal, hands down.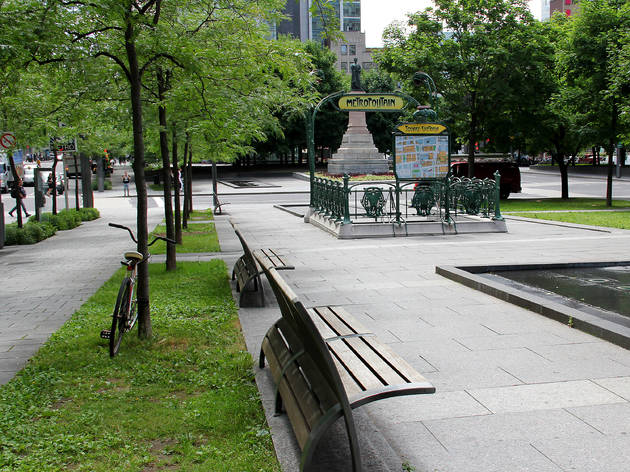 Photograph: © Marie Fournier
A skip, hop and jump downhill from Place Ville Marie takes Montrealers to this long, tree-lined stretch area on the edges of Old Montreal provides anyone looking for a nice lunchbreak outdoors with a solid place to snack. Enjoy checking out the Parisian, Art Nouveau-style metro entrance to Square-Victoria-OACI that was installed in 1967 or the sculpture Tai Chi Single Whip by Ju Ming, and—if rain suddenly strikes—duck into the World Trade Center to experience a city street enclosed in glass.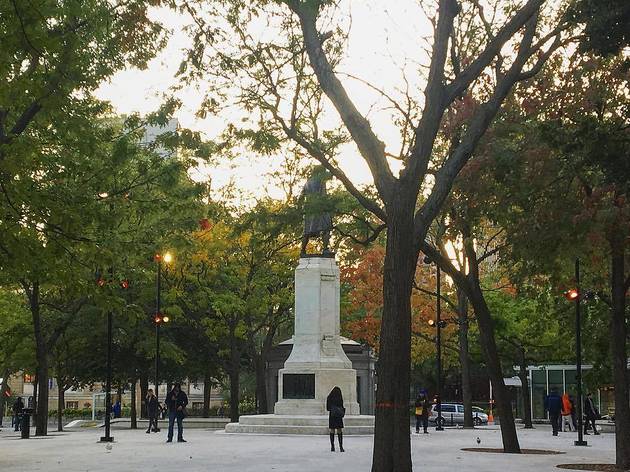 Photograph: @krizgeorge / Instagram
Towards Atwater, it's a farther walk than most from the immediate downtown core, but Cabot Square is where someone would want to eat if they like a bit more hustle and bustle around them as they eat. Keep in mind that this part of town is a large unofficial gathering spot for First Nations and Inuit people in Montreal; consider supporting them by grabbing a post-meal coffee at Café Roundhouse along with some bannock.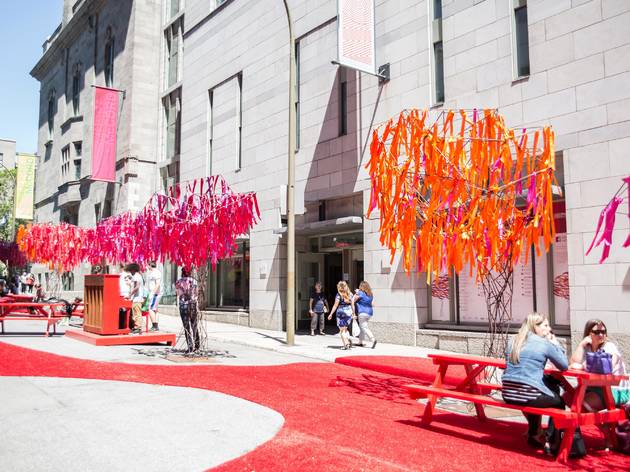 Photograph: © Tourisme Montréal - Marie Deschene
McCord Museum's Urban Forest
Celebrating its 10th anniversary in 2020, the Urban Forest has been a longstanding art installation that can be found running along McCord Museum. It's a small alleyway fitted out with picnic benches, with metal 'trees' festooned in ribbons to simulate leaves. It gets a solid 10/10 for adding a bit of colour to your IG feed, and depending on the day you pass through, you may find musicians playing to anyone who wants to stop by and listen. It's easily one of the more accessible spots downtown for an artistic escape; just note that space here can be limited.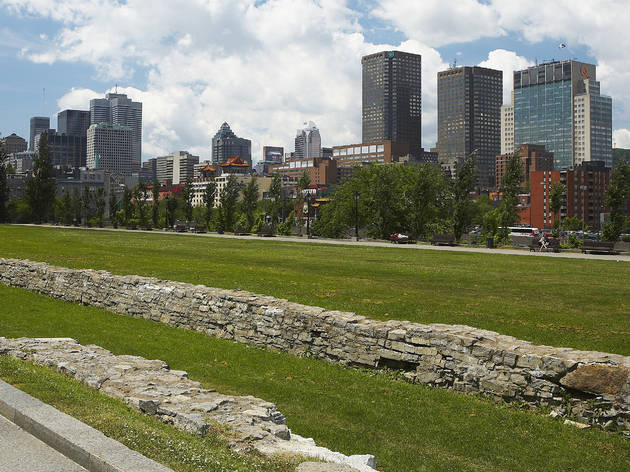 Photograph: © Tourisme Montréal, Pierre-Luc Dufour
A long public park in Old Montreal located a few minutes south of Chinatown, it was once where the city of Montreal's fortifications once stood. Now it forms a series of grassy steps found under the courthouse's backside where anyone can sit on the remaining masonry of history with a horizon made up of sharp contrasts between Montreal's first colonial days at the modern-day skyscrapers. Easily accessed via the Champ des Mars metro station, lunchbreaks need not worry about making it back to the office in time to clock back in.
What to order from Time Out Market Montréal
Check out the eateries now open at Time Out Market Montréal, plus info on how to order from the best chefs in the city.