Heads up! We're working hard to be accurate – but these are unusual times, so please always check before heading out.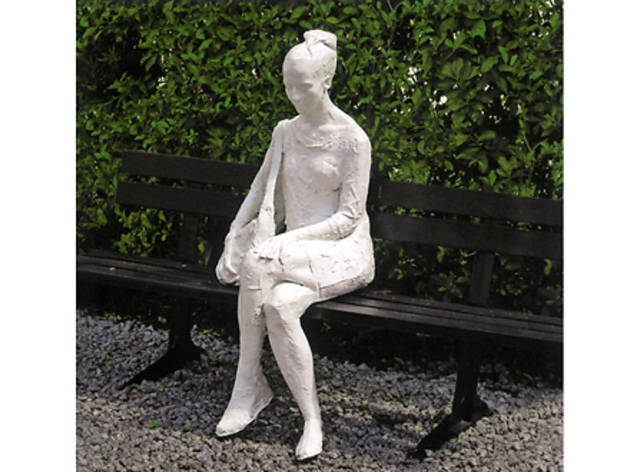 1/10
George Segal, Woman on a Park Bench"September 11"MoMA PS1, Sun 11--Jan 9While this group show observes the tenth anniversary of the World Trade Center attacks with mostly older works, it somehow manages to reflect on that day. Besides serving as a fitting memorial, the exhibit demonstrates art's ability to change its meaning depending on circumstance.
2/10
Photograph: Courtesy the artist
Xu Bing, Where Does the Dust Itself Collect?Xu Bing, Where Does the Dust Itself Collect?Spinning Wheel Building, through Oct 9As part of its Insite: Art + Commemoration program remembering 9/11, the Lower Manhattan Cultural Council, in conjunction with the Museum of Chinese in America, presents the U.S. debut of Chinese artist Xu Bing's award-winning installation, in which he incorporates dust collected near Ground Zero. Covering the floor of the Spinning Wheel Building gallery with this material, the artist used large letterform templates as a kind of reverse stencil, to inscribe a passage from a Chan Buddhist poem that includes the titular line. A meditation on the boundary that separates the physical from the spiritual, the piece won the $40,000 Artes Mundi Prize when it was shown in the U.K. in 2004.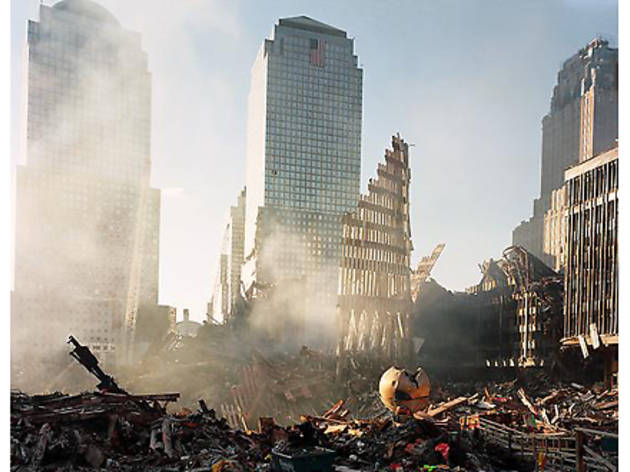 3/10
Photograph: Courtesy Edwynn Houk Gallery
Joel Meyerowitz, Rescue workers on the plaza, from the series "Aftermath" Joel Meyerowitz, "Aftermath"Edwynn Houk Gallery, Sat 10--17Meyerowitz---a pioneer in the use of color photography in art---was the only photographer granted official access to Ground Zero following the destruction of the World Trade Center. Over the next nine months, he took more than 8,000 photos documenting the cleanup effort. A selection is presented here in commemoration of the tenth anniversary of 9/11.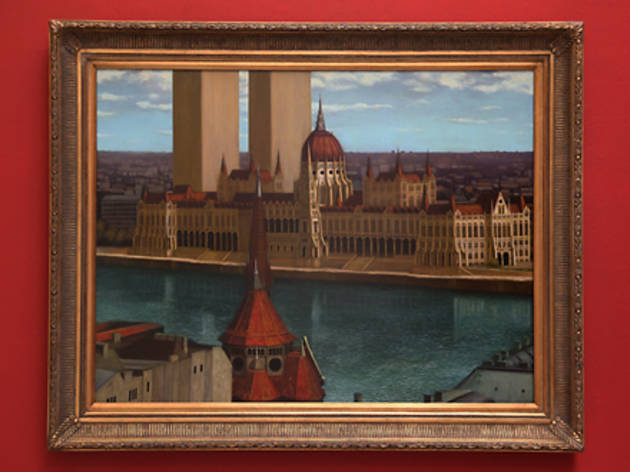 4/10
Photograph: Courtesy the artist and Stephan Stoyanov Gallery
Pedro Lasch, WTC Budapest"Selections from Pedro Lasch's Phantom Limbs and Twin Towers Go Global" Stephan Stoyanov Gallery, through Oct 9In these paintings done in different art-historical styles, the artist imagines reconstructions of the Twin Towers in different sites around the world---including on either side of the DMZ separating North and South Korea.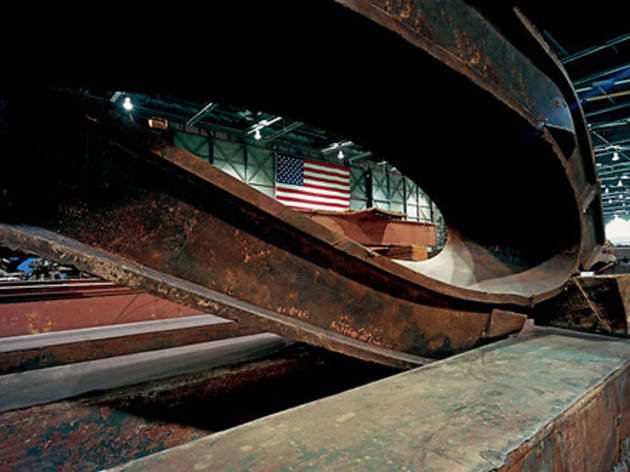 5/10
Photograph: Francesc Torres
Francesc Torres, Folded Steel Column"Remembering 9/11"International Center of Photography, Fri 9--Jan 8This five-part exhibition, commemorating the tenth anniversary of 9/11, is a collaboration with the National September 11 Memorial Museum. The show includes contributions by Francesc Torres, Eugene Richards, Elena del Rivero and Leslie McCleave, and Gregg Brown, as well as an installation of 9/11- and WTC-related photos from the ICP collection.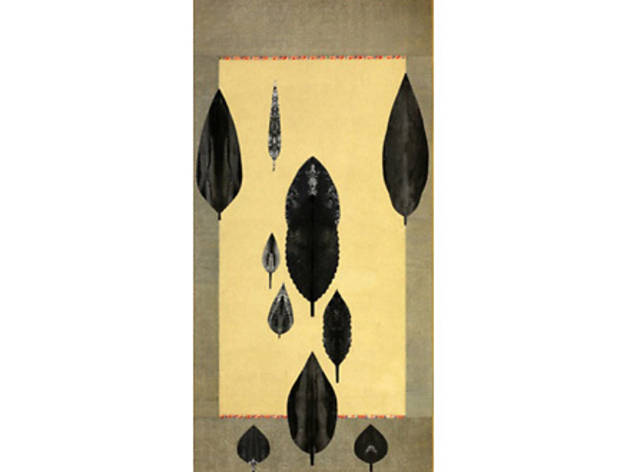 6/10
Photograph: Courtesy of the artist and Paula Coper Gallery
Bruce Conner (Anonymous), LEAVE TAKING,Bruce Connor, "Falling Leaves: An Anonymous Memorial" Paula Cooper Gallery, through Sept 24The late filmmaker, collagist and San Francisco Beats-scene eminence created "Falling Leaves," a series of drawn scrolls, in the immediate aftermath of 9/11---crediting them to an alter ego named Anonymous. They're being presented here (along with a film) to commemorate the attacks' tenth anniversary.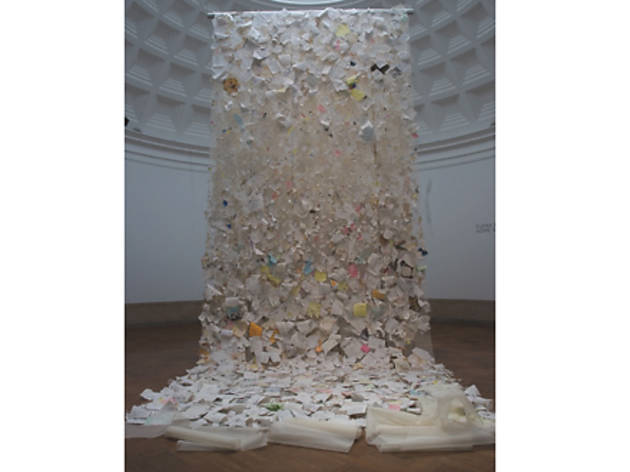 7/10
Photograph: Courtesy of the artist
Elena del Rivero, [Swi:t] Home: A CHANTElena Rivero, [Swi:t] Home: A CHANTNew Museum of Contemporary Art, through Sept 26This Spanish artist had a studio across the street from the World Trade Center on Sept 11, 2001. The devastation shattered the windows of her loft, filling her space with dust and piles of debris that included memos, personal notes and other documents blown out of the WTC. Over the next five years, she sorted and inventoried this material, eventually sewing each item by hand onto long rolls of fabric, which have been joined together in this installation to form a cascade tumbling from ceiling to floor. The piece has been previously shown at the Corcoran Gallery in Washington, D.C.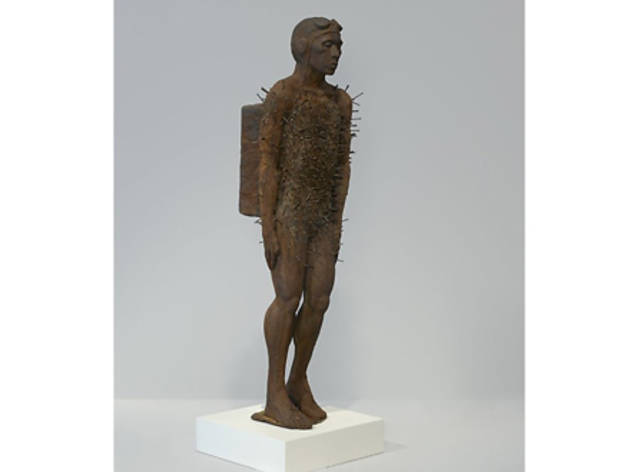 8/10
Photograph: Collection of the Brooklyn Museum
Michael Richards, Untitled"Ten Years Later: Ground Zero Remembered"Brooklyn Museum, through Oct 30The tenth anniversary of 9/11 is commemorated in this installation of two works: a sculpture by the late Michael Richards (1963--2001) and a photograph by Christoph Draeger. Richards, who died in the WTC attacks, is represented by a piece from of his series recalling the Tuskegee airmen, while Draeger contributes a jigsaw-board image of Ground Zero shortly after the disaster. The exhibit also includes comment books from the Brooklyn Museum show that observed the first anniversary of September 11 in 2002.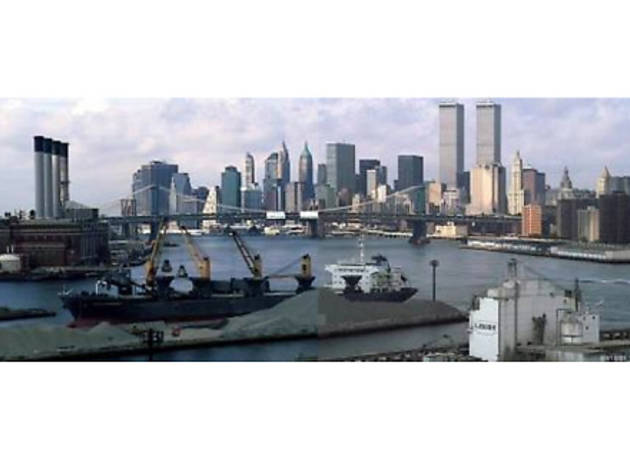 9/10
Photograph: Courtesy the artist and Postmasters
Wolfgang Staehle, 2001Wolfgang Staehle, 2001Goethe-Institut Wyoming Building, through Sept 14On the morning of September 11, 2001, German artist Wolfgang Staehle was readying his video installation for Postmasters Gallery in Chelsea---a live wide-angled webcam feed of Lower Manhattan from Williamsburg, Brooklyn, including a view of World Trade Center---when suddenly, his camera caught the attacks on the Twin Towers just as they happened. What had been intended as a "panorama of eventlessness" had been instantaneously transformed into a searing document of one of history's most terrible and transformative events. Ten years on, the Goethe-Institut's Lower East Side outpost hosts a re-installation of the nine-hour long 2001, unspooling in real time as it did a decade ago.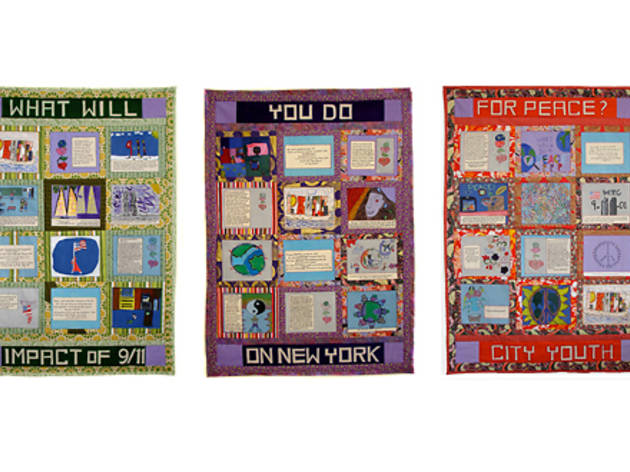 10/10
Faith Ringgold, The 9/11 Peace Story QuiltFaith Ringgold, The 9/11 Peace Story QuiltThe Metropolitan Museum of Art, through Jan 22Artist Faith Ringgold created the 9/11 Peace Story Quilt with the help of New York City students, ranging from 8 to 19, as a response to the WTC attacks. The aim of the work, which incorporates drawings and reflections by the kids, is to foster conflict resolution as an alternative to violence and war.
9/11 exhibitions
A select guide of what's on.