Heads up! We're working hard to be accurate – but these are unusual times, so please always check before heading out.
A fascinating look at the early years of Andy Warhol
Learn how Andrew Warhola became Andy Warhol, and discover his early works at MoMA's latest installation
Everyone has to start somewhere, even Andy Warhol, though it's hard to imagine that today; he produced some of the most famous artworks of the 20th century after all. Nevertheless there was a time when he was an unknown, freshly arrived from out of town, and looking to make his mark. Recently MoMA opened an exhibition that looks back at Warhol's early years, particularly a solo show in Los Angeles that established him as a star. The story of how he got there is a fascinating one.
"Andy Warhol: Campbell's Soup Cans and Other Works, 1953–1967" is at the Museum of Modern Art through Oct 12.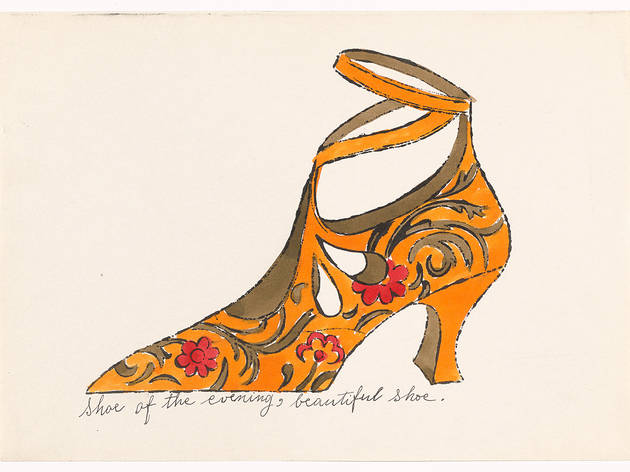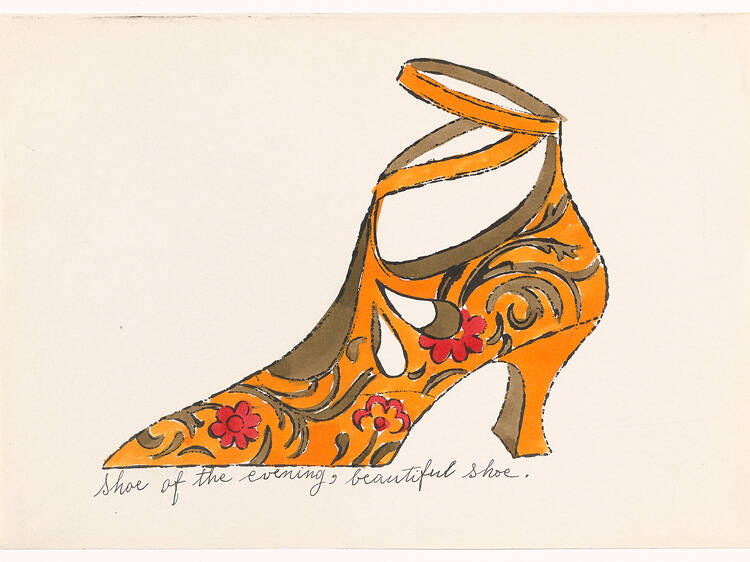 The Museum of Modern Art
Andy Warhol (1928–1987) was born Andrew Warhola, Jr. in Pittsburgh Pennsylvania. He originally planned to become a teacher, but wound up at Carnegie Mellon instead, where he studied design. In 1949, he moved to New York, establishing himself as a commercial designer known particularly for his shoe illustrations for I. Miller.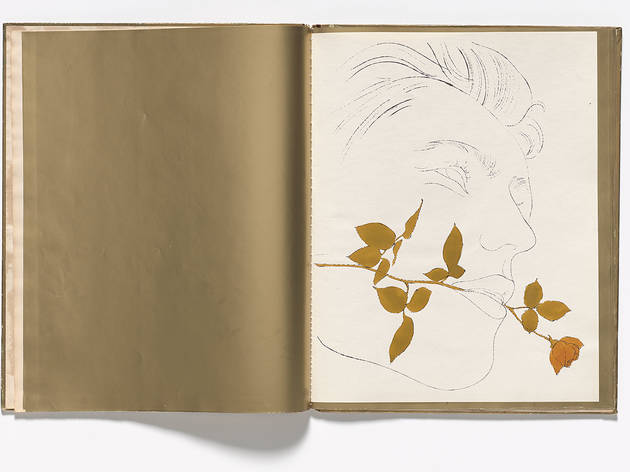 The Museum of Modern Art
Warhol also made art, and like much of his commercial efforts, it followed a linear style indebted, in part, by an unlikely artist Warhol admired: the Depression-era Social Realist Ben Shahn. In the late 1950s, Warhol exhibited at both the Hugo and Bodley Galleries. As a commercial artist, he was aware of the silkscreen process, which he applied to some of his early work. For those initial efforts, though, he used hand-cut stencils (the photo-silkscreen technique synonymous with his style came later).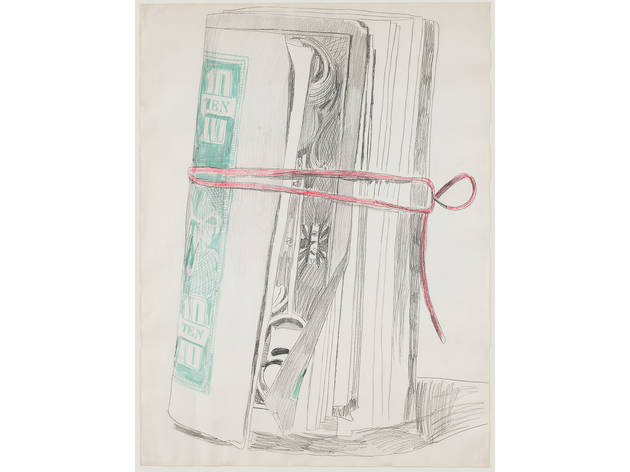 The Museum of Modern Art
In 1960, Warhol started to paint comic-book characters such as Dick Tracy and Popeye, as well as other pop-cultural subjects, with the idea of exhibiting them at the legendary Leo Castelli Gallery. But after viewing Warhol's work, the famed dealer turned him down, explaining that he already represented an artist who painted cartoons: Roy Lichtenstein.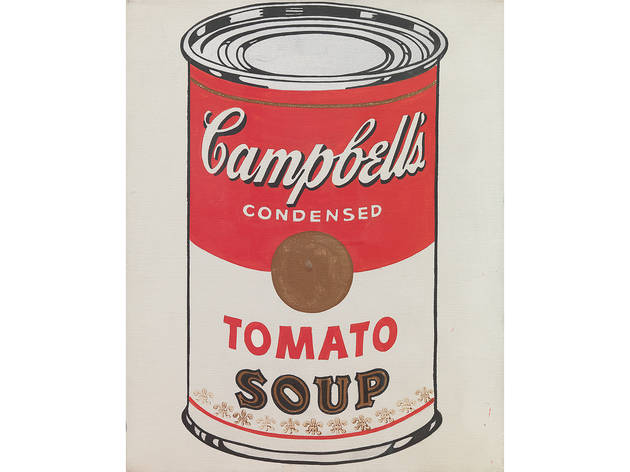 The Museum of Modern Art
After being rebuffed by Castelli, Warhol abandoned comics for a series of 32 Campbell's Soup Cans—a move that would break Pop Art wide open. They weren't silkscreened, as many people believe, but entirely painted by hand. Soon after, Warhol received a visit from Irving Blum of Ferus Gallery in Los Angeles. Founded in 1957 by curator Walter Hopps and artist Ed Kienholz, Ferus was ground zero for L.A.'s budding art scene. Blum, a dealer who arrived in L.A. from New York, came in about five years later after buying out Keinholz's stake in the gallery. Meanwhile, Hopps left to become head of the Pasadena Museum of Modern Art. So it came to pass that Warhol would have his first big show of Pop Art in Los Angeles. Displayed on shelves, the Soup Cans ran around the walls of the gallery in a single row. Just who invited Warhol to show would later became a bone of contention between Hopps and Blum, with each insisting it had been his idea.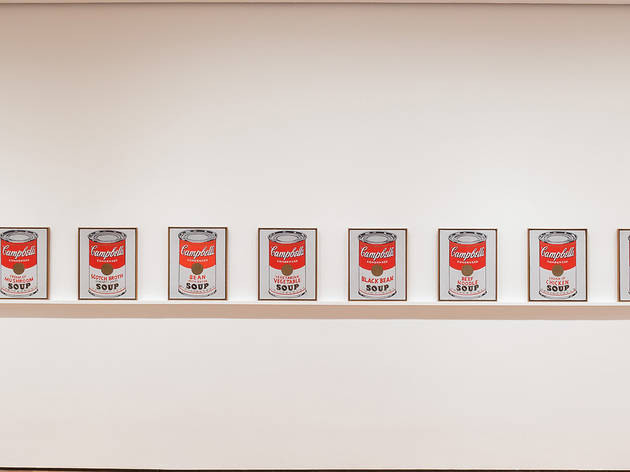 Jonathan Muzikar
Warhol's Ferus show was both a sensation and a lightning rod for controversy—with a rival gallery going so far as to mock Warhol with its own show of soup cans. Sales-wise, though, the reaction was cool. Five out of 32 paintings were sold, one to actor Dennis Hopper. Blum, however, came to the realization that the Soup Cans were more valuable as a single work, so he bought them back, and offered Warhol $3000 for the lot (some sources put the figure even lower at $1000). Warhol accepted the deal. As the Soup Cans became Pop Art icons, their value rocketed to tens of millions of dollars.
The Museum of Modern Art
In the years following Warhol's Ferus debut, Hopps and Blum squabbled over who possessed the Soup Cans. Hopps, who had never sold his share of the business to Blum, insisted he was part owner of the works. Blum disagreed, and seized control of them. For a while, he had the paintings mounted in a grid behind his desk, which became their standard arrangement in subsequent shows. In 1996, he sold the Soup Cans to MoMA for $15 million. Hopps never saw a dime.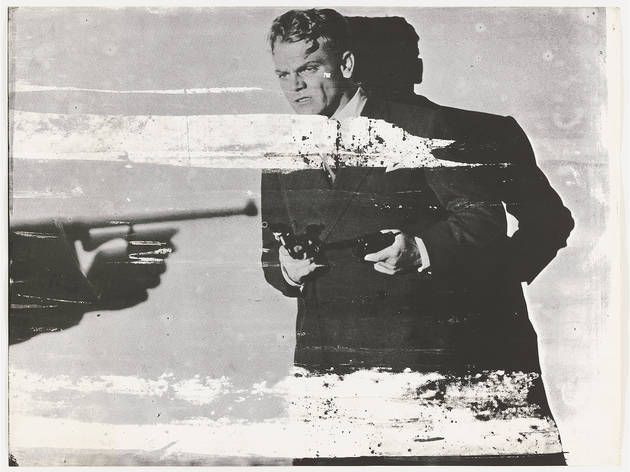 The Museum of Modern Art
Though the original Soup Cans were hand-painted, Warhol returned to silkscreen shortly after completing them, this time introducing the method of halftone dot reproduction. He began to use magazine pictures of Hollywood stars, employing a copy-camera to enlarge them into film positives. These were then exposed to photo-sensitive silkscreens, creating stencils for images he'd print directly onto canvas.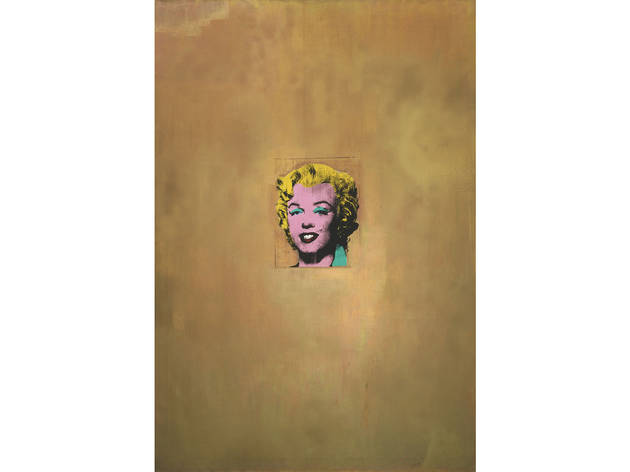 The Museum of Modern Art
Another element Warhol introduced was to print in black and white on top of colors—sometimes against monochromatic backgrounds, sometimes on a patchwork of hues conforming to different parts of an image. This "posterizing" approach was one he borrowed from commercial art and had the effect of flattening the subjects, making them seem more like signs than photos.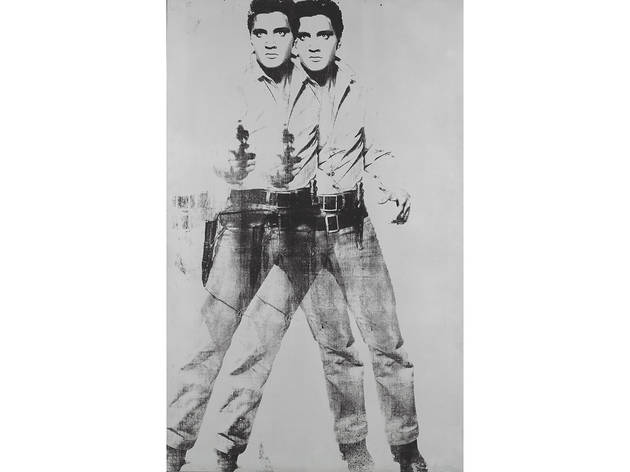 The Museum of Modern Art
In 1963 Warhol had a second show at Ferus in which he presented his equally iconic Elvis paintings. Hopps later said that Warhol originally wanted to exhibit paintings of '50s teen heartthrob Troy Donahue (supposedly because he had a crush on him). But Blum, knowing his market, convinced Warhol to do Elvis instead, suggesting he use a full-figure publicity still from the King's feature-film, Love Me Tender. Warhol had already done a painting of Elvis the year before, which repeated the singer's face 36 times in a grid on a red ground. The images of Elvis at Ferus overlapped a times in twos or threes like multiple-exposures, and were printed on rolls of canvas before being cut into individual paintings.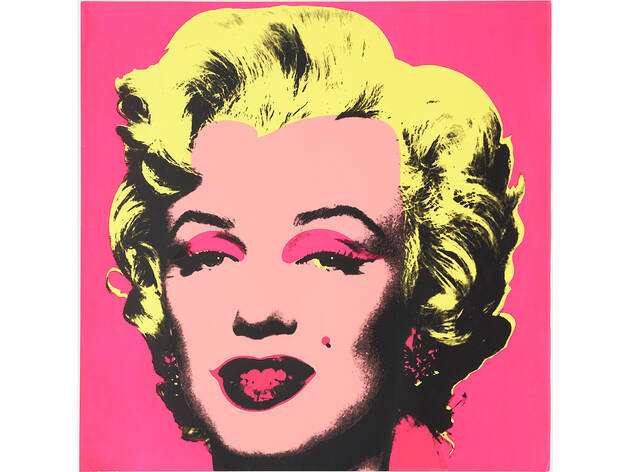 The Museum of Modern Art
The period leading up to the Soup Cans marked Warhol's emergence as one of the best-known artists of all time. Later he said, "I should have just done the Campbell's Soups and kept on doing them." It's just as well that he didn't.
See the exhibition
Often installed in a grid, Warhol's Campbell's Soup Can paintings were originally hung in a single line at Ferus, an installation MoMA revives here in its look at Warhol's early years, when he turned the art world upside down.