Heads up! We're working hard to be accurate – but these are unusual times, so please always check before heading out.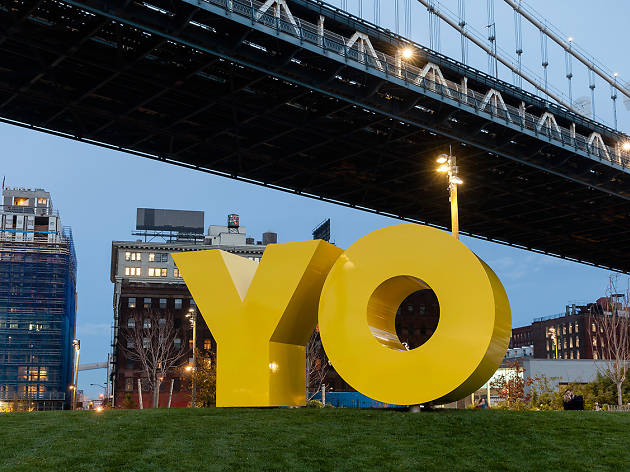 The best public art to see in NYC this winter
Thaw your seasonal adjustment disorder with these top public art works on view around the city in winter
Okay, it's gotten colder, so staying indoors is the natural thing to do. But slurping even the best ramen in NYC and binge-watching your favorite shows on Netflix will only get you so far before cabin fever sets in. You're going to have to get out sooner or later, so why not take in a little art viewing on your way to wherever you're going? We have ten outdoor projects up around the city you can stop by and admire during the winter months. There will be plenty of sunny and mild days to go see them—but only if you're a wuss; hardcore New York art lovers aren't afraid to brave the snow and freezing temperatures. Either way, these public artworks, listed chronologically by end date, are worth checking out.
RECOMMENDED: Full guide to things to do in the winter in NYC
Best public art to see this winter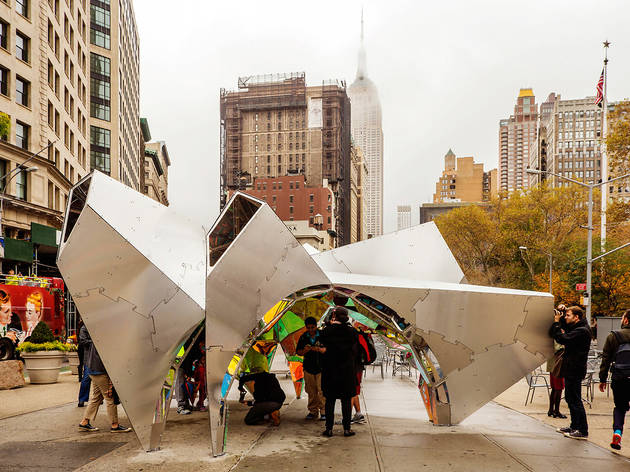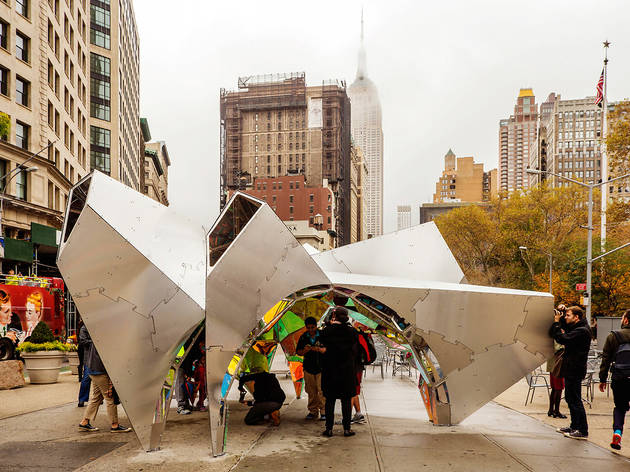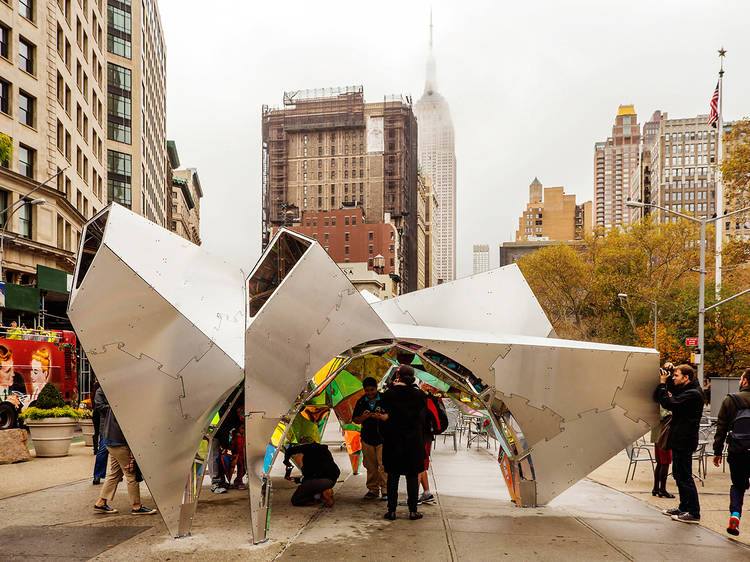 Photograph: Courtesy Van Alen Institute
Configured to resemble the points on the North Star, this shelterlike structure brightens the season with a kaleidoscopic interior of colored, light-up panels that reflect and refract both viewers and their surroundings. Flatiron Plaza, 23rd St. and Fifth Ave. Through Dec 23.

Photograph: Courtesy Van Alen Institute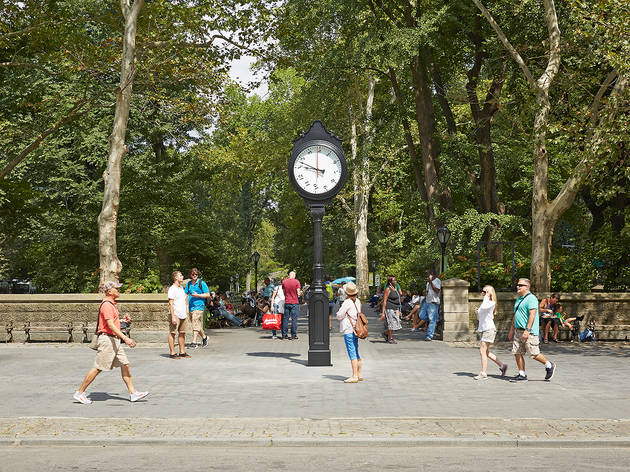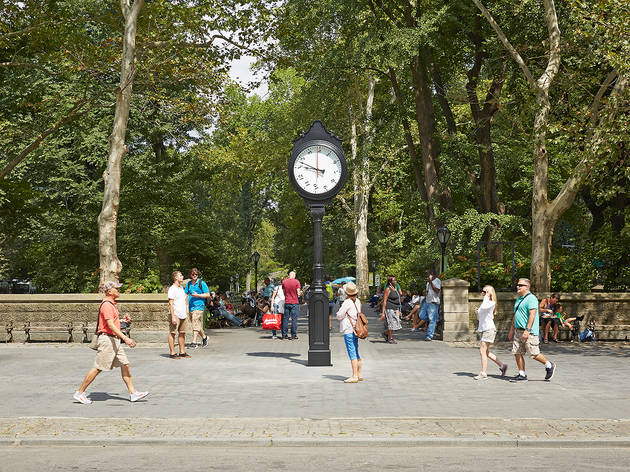 Photograph: Courtesy Jason Wyche/Public Art Fund
Alicja Kwade, Against the Run, 2015
This piece by Polish artist Alicja Kwade takes form as a standing outdoor clock like the ones that populated New York City streets from the late-19th to the mid-20th centuries—only with a retrograde twist. Instead of hands moving to mark the time, the clock face rotates while the hands stand still. While Kwade's clock keeps time perfectly, it's hard to read, so if you're passing it by while in a hurry, wondering how late you are, you're better off checking your phone or wristwatch. Doris C. Freedman Plaza, E 60th St at Fifth Avenue. Through Feb 14.

Photograph: Courtesy Jason Wyche/Public Art Fund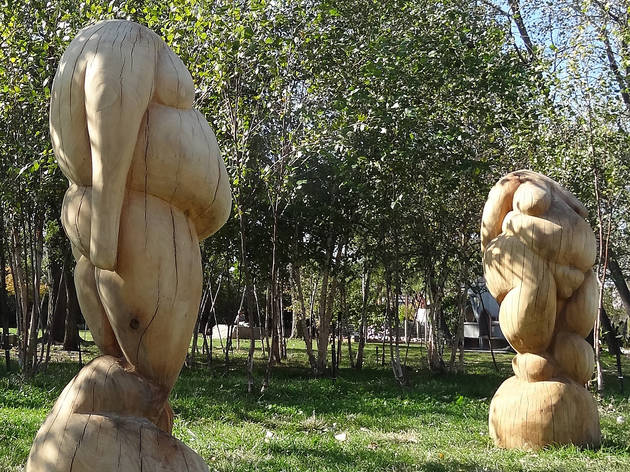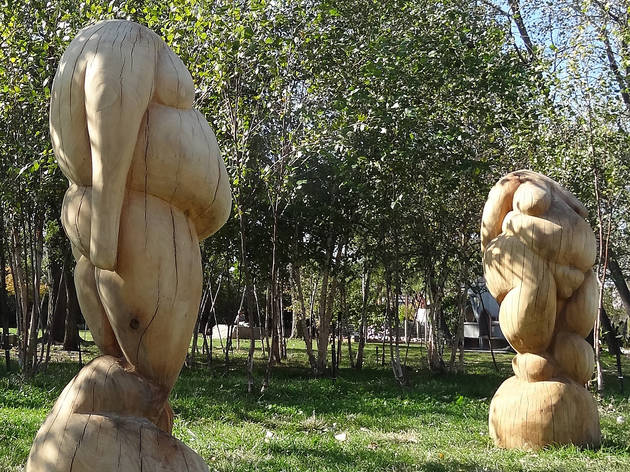 Photograph: Courtesy Nate Dorr
Charlotte Hyzy, Dessert Babes: Queer Fat Decadence, 2015
Among the standouts in this edition of Socrates Sculpture Park's annual showcase for young talent is Hyzy's woodsy, body-positive homage to the Paleolithic Venus of Willendorf, the 30,000-year-old figurine that got the whole male-gaze thing rolling. Socrates Sculpture Park, 32-01 Vernon Blvd, Long Island City, Queens. Through Mar 13.

Photograph: Courtesy Nate Dorr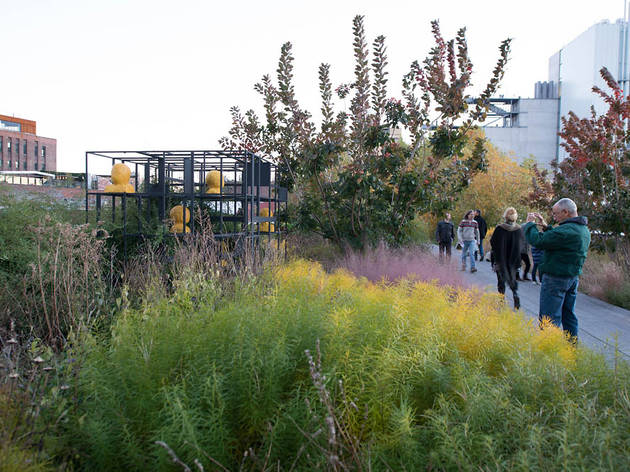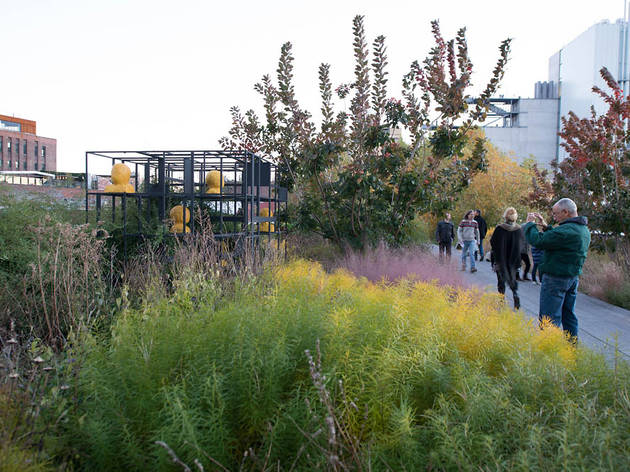 Photograph: Courtesy Timothy Schenck/Friends of the High Line
Rashid Johnson, Blocks, 2015
Johnson has made a name for himself by evoking his entwined experiences as an artist and as an African-American male with all of the historical baggage both entail. To that end he's employed painting, sculpture and drawing, along with many different materials, but one that's been consistent enough to become his signature is an emollient extracted from a food plant native to the African savannah: Shea butter, a cosmetic popularly used in the black community. His installation here is prime example of his approach. It consists of a three-dimensional grid fabricated in steel that's simultaneously a reference to Minimal Art as well as a series of shelves stocked with strange inventory of plants from the High Line and mute portrait busts slathered with hardened Shea butter. The sculpture and the items it contains stands out from it environment while threatening to be come invisible, creating an abstract allegory for the way African-Americans have been both harassed and erased over the course of American history. High Line at Little West 12th St. Through March.

Photograph: Courtesy Timothy Schenck/Friends of the High Line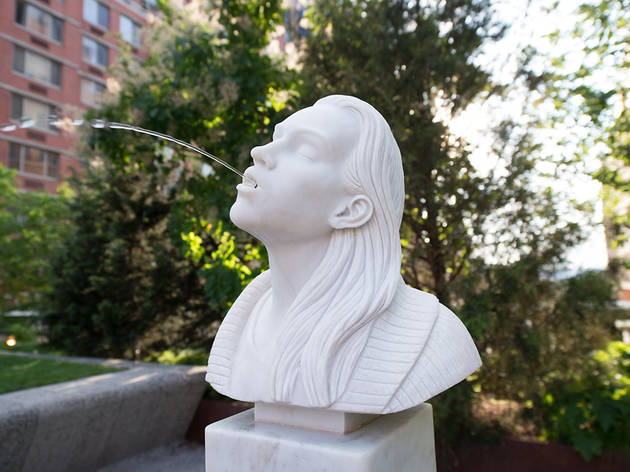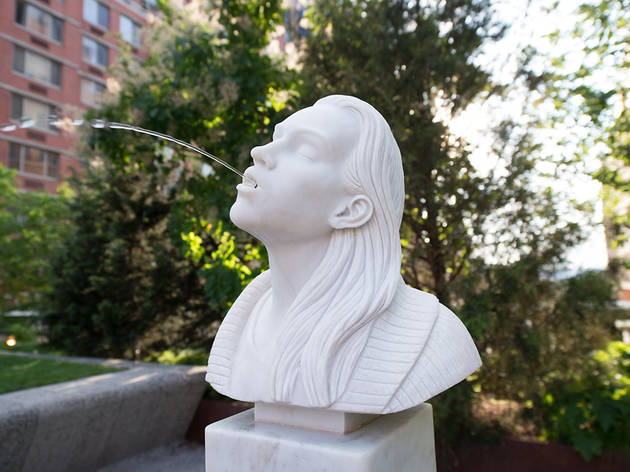 Photograph: Courtesy Timothy Schenck/Friends of the High Line
Ryan Gander, To employ the mistress.... It's a French toff thing, 2015
The British artist's wife served as the model for this provocative marble fountain of a woman's head spouting water. She's pictured leaning in for a kiss, with the stream arcing from her pursed lips. There's something erotic yet vaguely repulsive about the result, even as it offers a cool drink to passersby. High Line. Through March.

Photograph: Courtesy Timothy Schenck/Friends of the High Line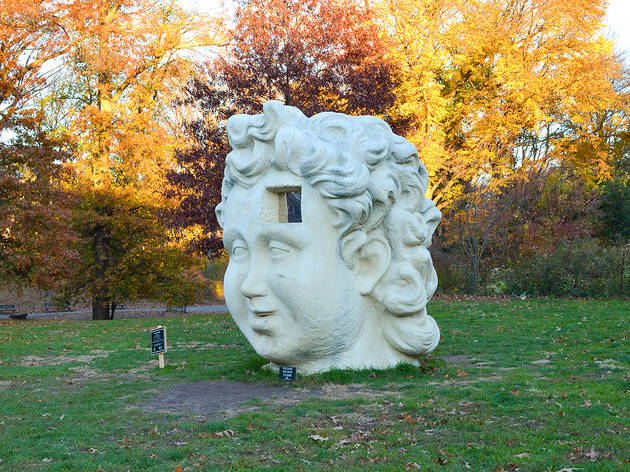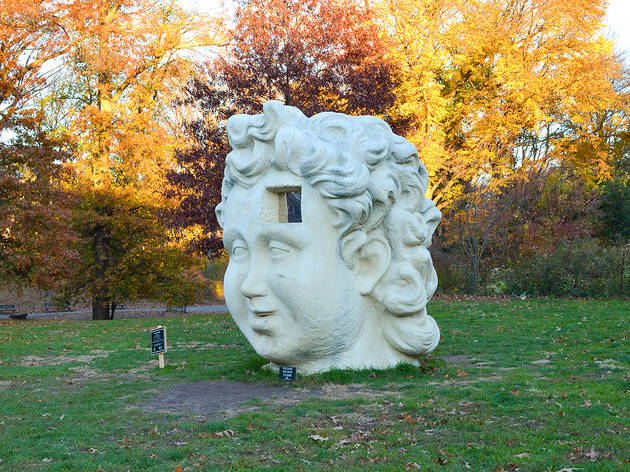 Photograph: Courtesy Jimmy Sawh
Leonard Ursachi, Fat Boy, 2014
Ursachi, a Romanian-born Brooklyn artist, channels his childhood recollections of living under a Communist dictatorship, a background that definitely colors this monumental head representing a collision of eros and thanatos. Titled after the atomic bombs dropped on Japan, it's based on the image of a putti, one of those cute winged babies known to buzz around certain Old Master paintings. But as the square gun slit in its forehead indicates, it's also part of the artist's series of sculptures based on the fortified military bunkers— relics of World War II and the Cold War—dotting the countryside of his memory. Prospect Park, Brooklyn. Through Apr 15.

Photograph: Courtesy Jimmy Sawh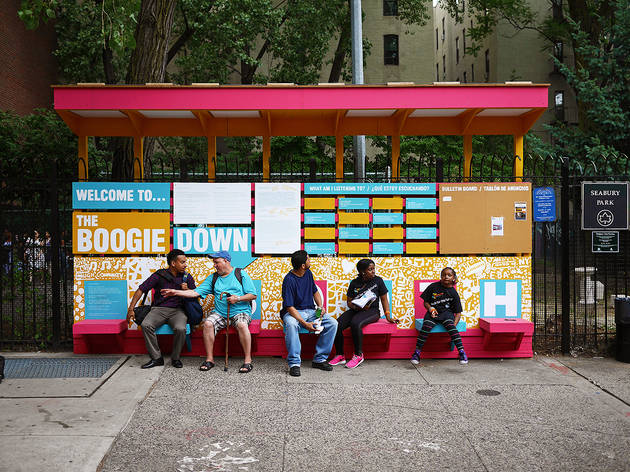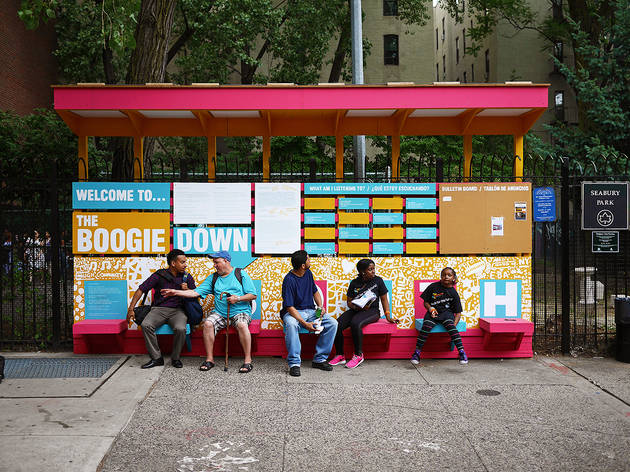 Chat Travieso, Boogie Down Booth, 2015
This colorful, solar-powered shelter serves as a community center, where people can sit down to talk, admire the punchy graphics created by local artists, and listen to music—both live and recorded—by local musicians. Seabury Park, Southern Boulevard at 174th St, Bronx. Through June 24.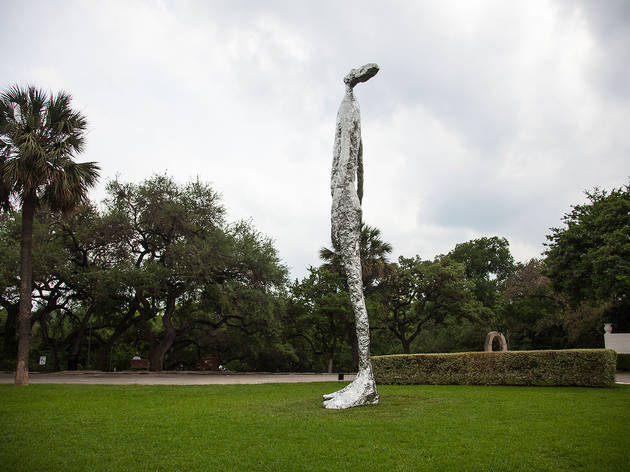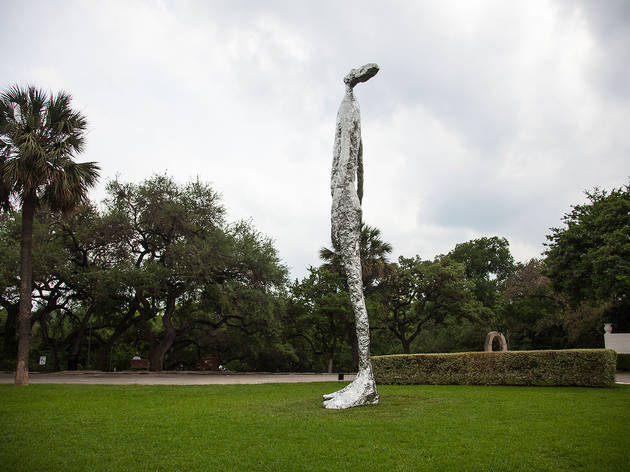 Photograph: Courtesy Brian Fitzsimmons/ The Contemporary Austin
Tom Friedman, Looking Up, 2015
This nearly 35-foot-tall sculpture of an gigantic, attenuated man is made of stainless steel cast from a maquette of aluminum-foil oven pans crushed and mashed together to form the figure. Though it's an obvious shout out to the work of Giacometti, Friedman eschews the postwar existential angst of his source to pose his sculpture with its face pointed skywards. Appearing to stare at the heavens in wonder, the work invites viewers below to do the same. Park Avenue at East 53rd Street. Jan–July.

Photograph: Courtesy Brian Fitzsimmons/ The Contemporary Austin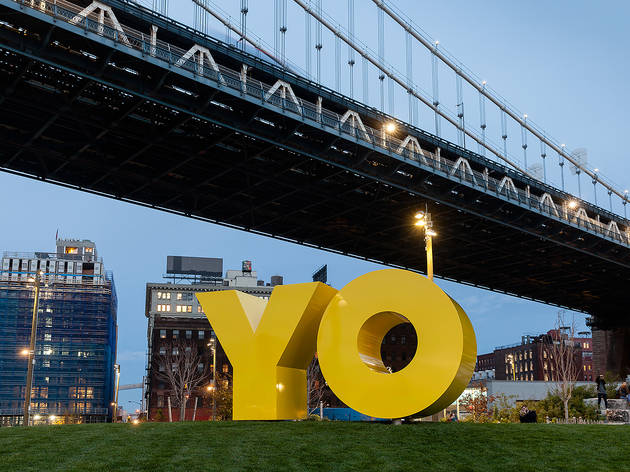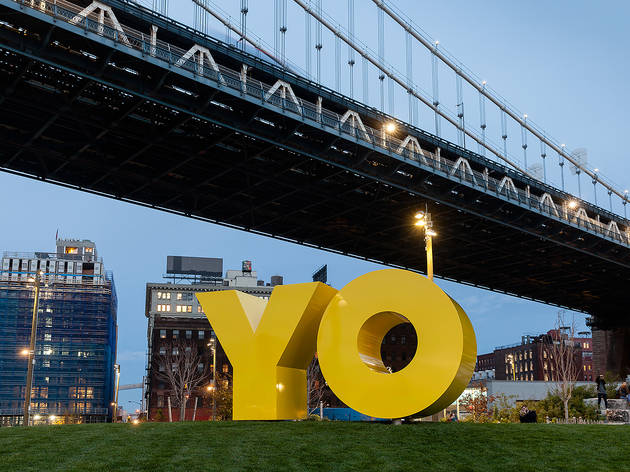 Photographer: Etienne Frossard
Deborah Kass, OY/YO, 2015
Based on a painting with the same text, OY/YO was originally conceived as a rejoinder to artist Ed Rushca's 1962 Pop Art masterpiece, OOF. Kass's take-off employed the same typeface and yellow-blue color combination as the original, and her cheeky textual follows her career-long formula of filtering works by famous male artists through a feminist prism. Here, Kass's eight-foot-tall aluminum letters depart from their connection to Rushca's canvas, becoming a wry celebration of the historical rivalry between Manhattan and Brooklyn. When seen facing west towards the skyline of Downtown and the Financial District, the letters read "OY"; seen from the opposite direction facing DUMBO, they read "YO"—a sight gag meant to distill, perhaps, the temperamental difference between the city's most important boroughs. Brooklyn Bridge Park, Main Street lawn, Plymouth St between Main and Washington Sts, DUMBO, Brooklyn. Through August.

Photograph: Etienne Frossard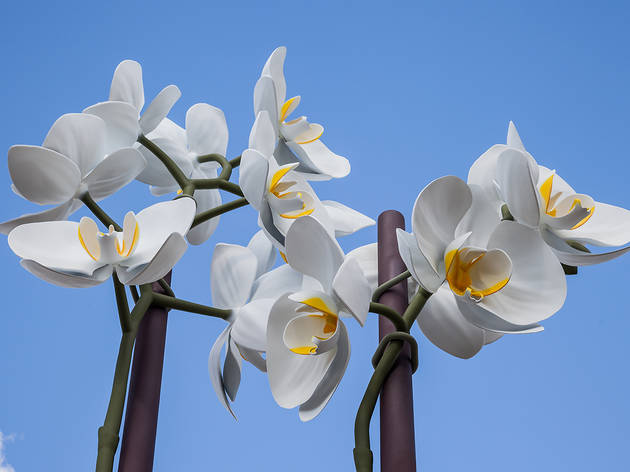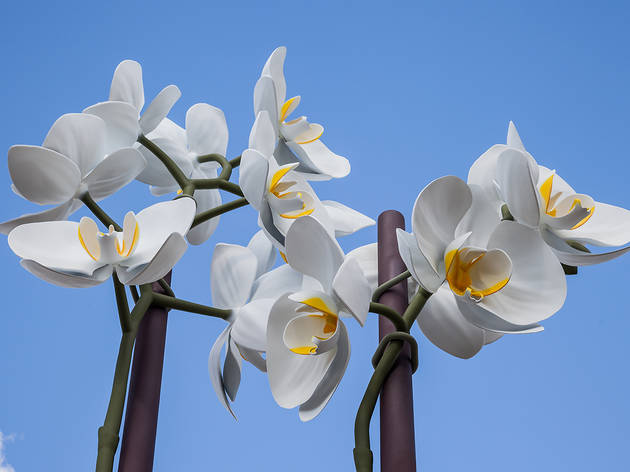 Photograph: Courtesy Walla Walla Foundry/Public Art Fund/2015 Artists Rights Society (ARS)
Isa Genzken, Two Orchids, 2015
The German artist who stuck a giant rose on the facade of the New Museum reaches back into her floral bag of tricks again with this pair of gargantuan orchids measuring 34 and 28 feet high, respectively. Last installed at the 2015 Venice Biennale's, they're popping up just outside Central Park to remind Winter-weary New Yorkers that Spring is on the way. Doris C. Freedman Plaza, E 60th St at Fifth Avenue. Mar 1–Aug 21.