The guide to Frieze New York
We've got the run-down on all the info you need to now about the art fair under the big tent on Randalls Island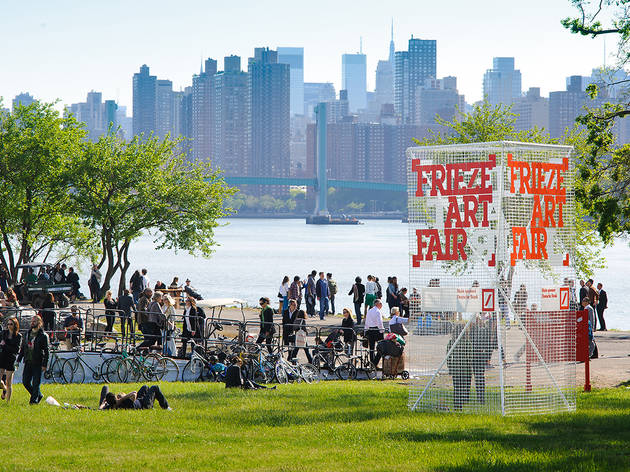 Every May, Randalls Island becomes the epicenter of the art world for four days thanks to Frieze New York, the art fair housed under a massive tent. Every year since 2012, dealers and deep-pocketed collectors have descended on the fair from all over the planet, and Frieze New York will be no different, as more than 200 art galleries bring bushels of artworks of every conceivable size and medium and then some.
When is Frieze New York?
Frieze New York runs from Friday May 2, 2019 to Sunday, May 5, 2019.
Where is Frieze New York?
Frieze New York takes place at Randalls Island Park between the Harlem and East Rivers.
How do I get tickets to Frieze New York?
Tickets can be purchased in advance online at the Frieze New York website or at the fair entrance.
What's the best way to get to Frieze New York?
The fair offers a ferry service ($19 round-trip) running every 30 minutes during fair hours from East 35th Street on the East River. An additional limited ferry service runs on Thursday and Friday leaving from East 90th Street dock. There is also a bus service ($8 round-trip) running approximately every ten minutes during fair hours from just outside the Solomon R. Guggenheim Museum on Fifth Avenue between 88th and 89th Streets. The 103rd Street Footbridge at 103rd Street and FDR Drive offers free access to Randall's Island for pedestrians and bicyclists; the closest subway is the 6 at 103rd Street and Lexington Avenue.
Archive Frieze New York content