Heads up! We're working hard to be accurate – but these are unusual times, so please always check before heading out.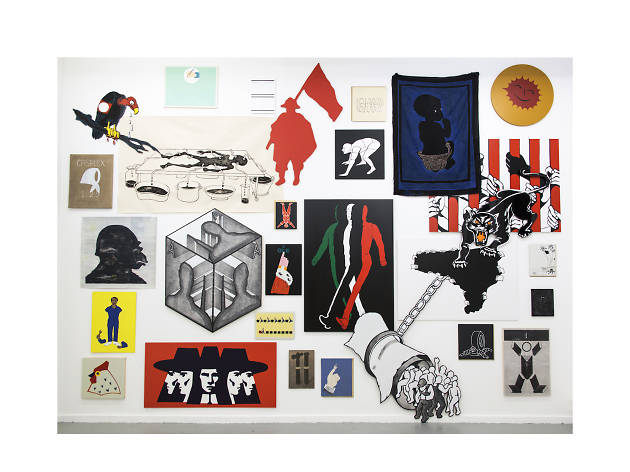 Meet the artists in the New Museum Triennial 2018
Check out some of the work by emerging artists you should definitely see in the New Museum Triennial 2018
Back in 2009, when the New Museum on the Lower East Side kicked off its first Triennial survey of emerging artists, a decision was made to distinguish the proceedings from similar contemporary art showcases (The Whitney Biennial, the "Greater New York" extravanga mounted every five years at MoMA PS1 in Queens, the Guggenheim's annual Hugo Boss Prize exhibit) by making the show global in scope and specific in theme. That's true of this year's edition, titled "Songs for Sabotage," which features 26 artists whose work deals with aspects of racism, colonialism, identity and climate change. With that many participants, there's a lot to see, but to give you a leg up on what to expect, here are some of essential pieces to look for at the New Museum Triennial 2018.
New Museum Triennial Preview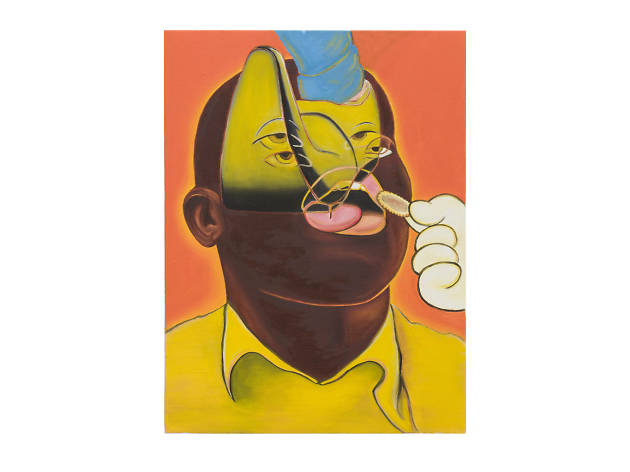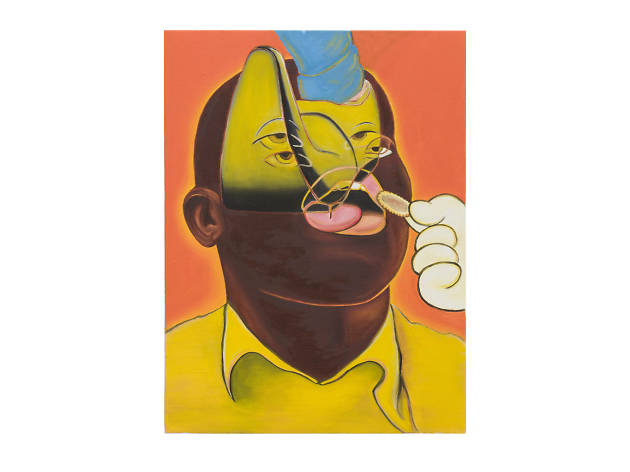 Photograph: Joerg Lohse, courtesy the artist and 47 Canal, New York
Janiva Ellis, The Okiest Doke, 2017
Much like Kara Walker, Ellis condenses the black experince in America into surreal, often distrubing paintings, like this hallucinogenic vision of a man receiving communion while a white person's arm seems to plunge into his head.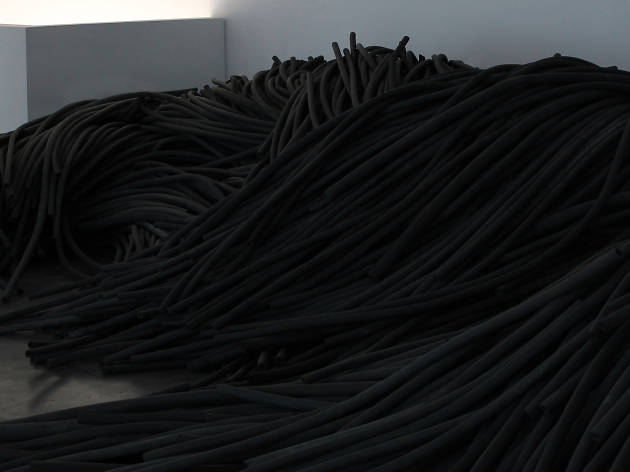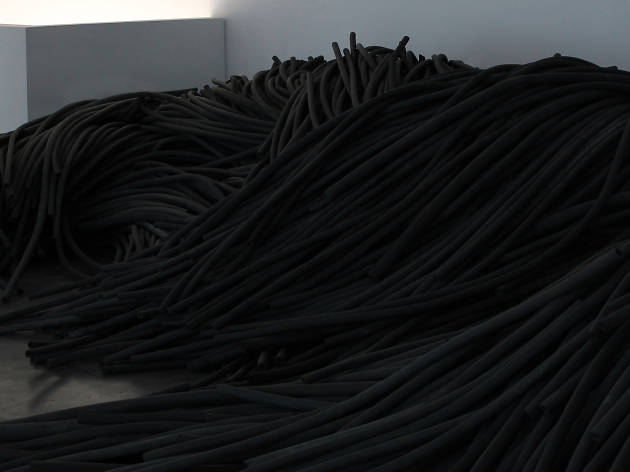 Photograph: Courtesy the artists
KERNEL (Pegy Zali, Petros Moris and Theodoros Giannakis), Torrent, 2016
The 21st Century "Silk Road" (sea lanes operated by the Chinese to expedite fast-track containerize shipping) is the focus of this art collective from Athens, Greece whose work explores the wages of globalism. In this piece, a nest of plastic cable jackets harvested from a port-side junkyard represent the deleterious impact of international trade.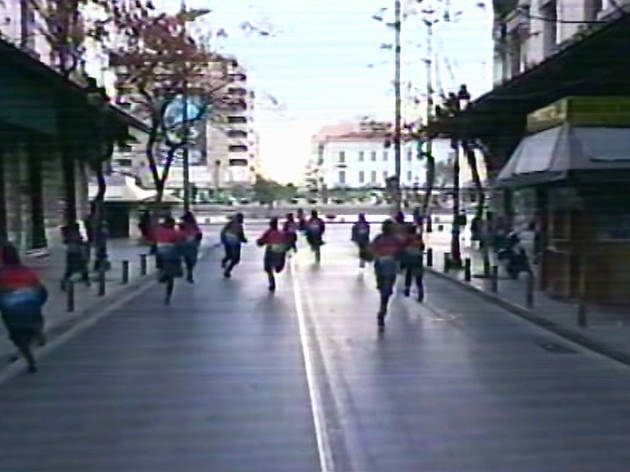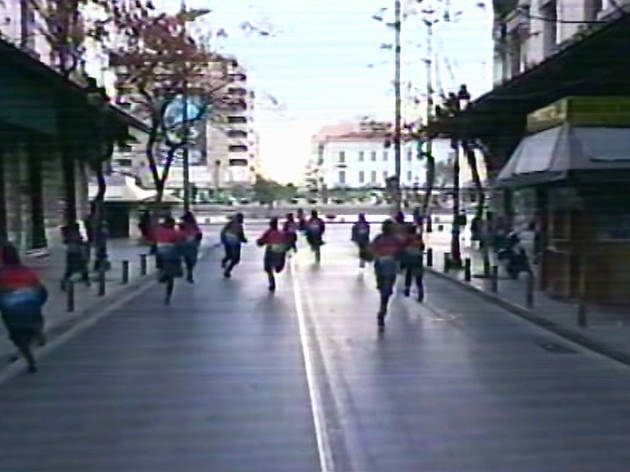 Photograph: Courtesy the artist and CAN Christina Androulidaki gallery, Athens
Manolis D. Lemos, dusk and dawn look just the same (riot tourism) (still), 2017
Crowds in identical outfits march and scatter in the streets as if they were demonstrators being chased by the police in this video installation, which evokes the tensions between neoliberal Western democracies and rising ethno-nationalists movements in Europe.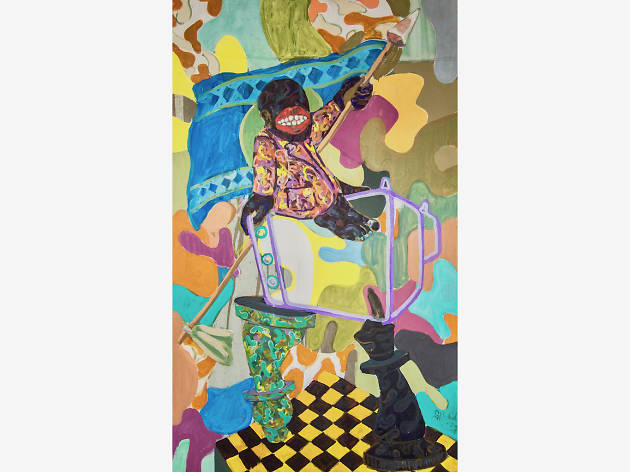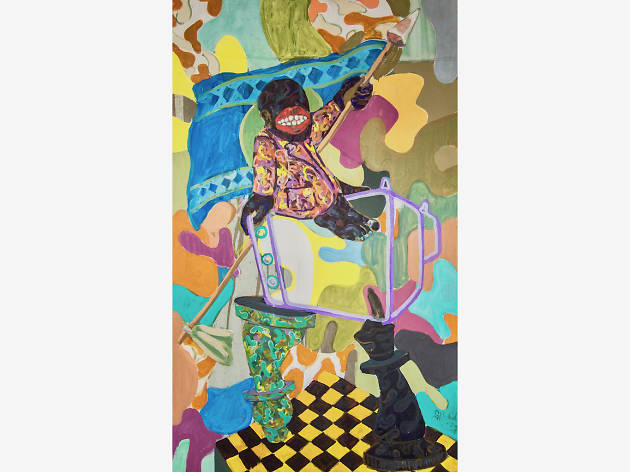 Photograph: Courtesy the artist and First Floor Gallery, Harare
Gresham Tapiwa Nyaude, Mazino (The Standard Bearer), 2017
Figuration, abstraction and satirical wit combine in the work of this Zimbabwean artist, who appropriates the colonial legacy of Western tradition painting in Africa to explore local political and personal themes. The title for Mazino, for instance, comes from street slang (literally translated as teeth) for life's hardships.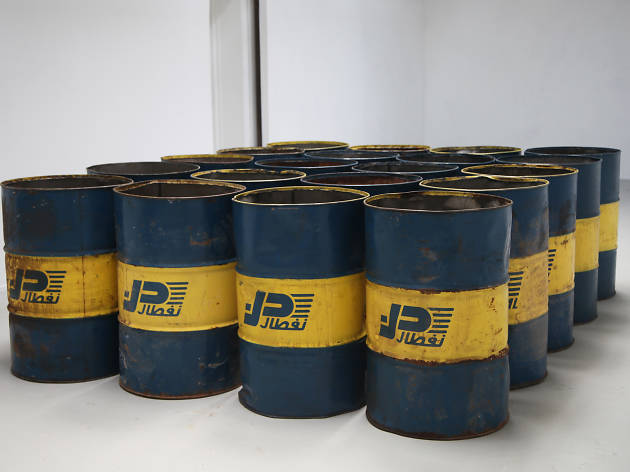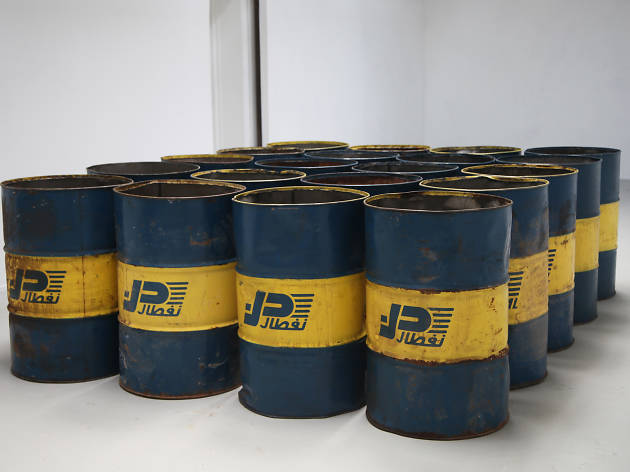 Photograph: Courtesy the artist
Lydia Ourahmane, The Third Choir, 2014
Ourahmane's industrial-strength installation started out as a global-commodities version of process art when the British artist imported 20 oil barrels from her native Algeria to the U.K. despite regulatory roadblocks. Each barrel, which she likens to refugees trying to flee that North African country, is equipped with a mobile phone tuned to an FM radio transmitter.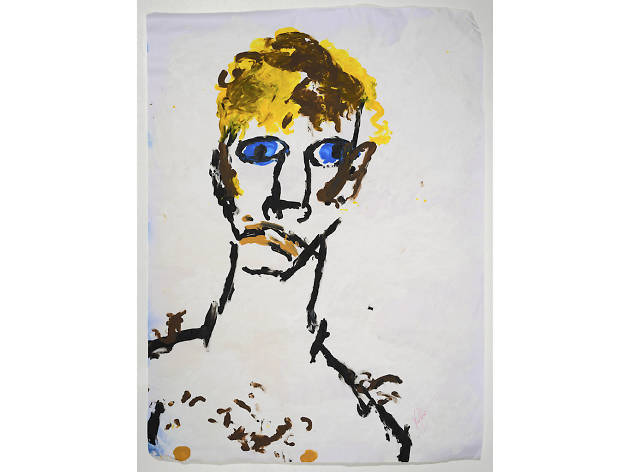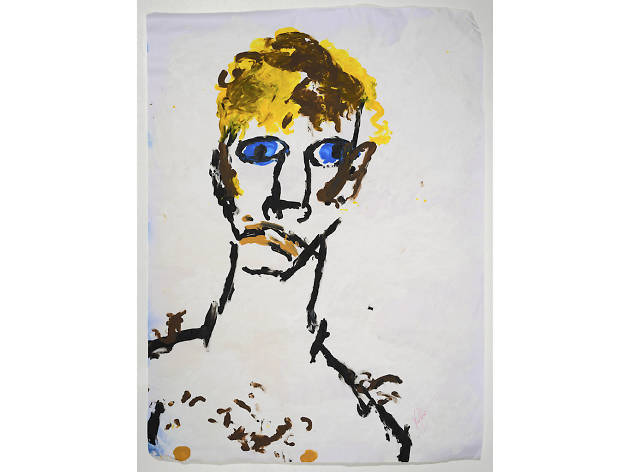 Photograph: Courtesy the artist
Manuel Solano, Antonin, le beau (Antonin, the beautiful), 2014
In 2014, an AIDS-related infection left this multi-displinary transgender artist from Mexico City with a near-total loss of sight. Still able to discern bright colors under certain circumstances, Solano has focused on painting on paper, as in this portrait in which the artist's memory and imagination join forces to create a starling image.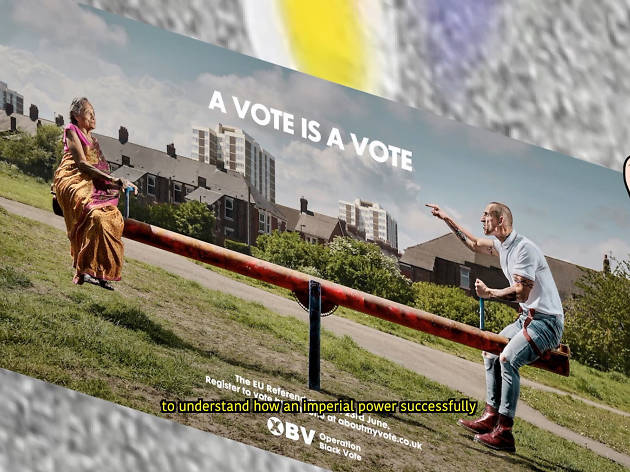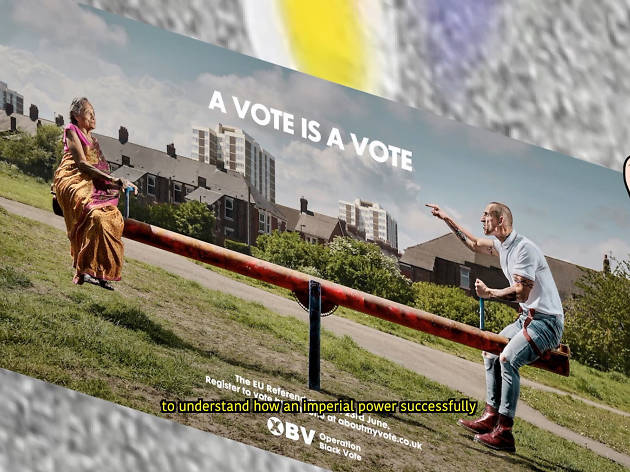 Photograph: Courtesy the artist
Hardeep Pandhal, Career Suicide (still), 2016
In this part live-action, part animation stream-of-consciousness video, British-Asian artist Pandhal connects present-day tensions in the U.K. over multiculturalism with the country's imperial past and its assimilation of former colonial subjects into British society.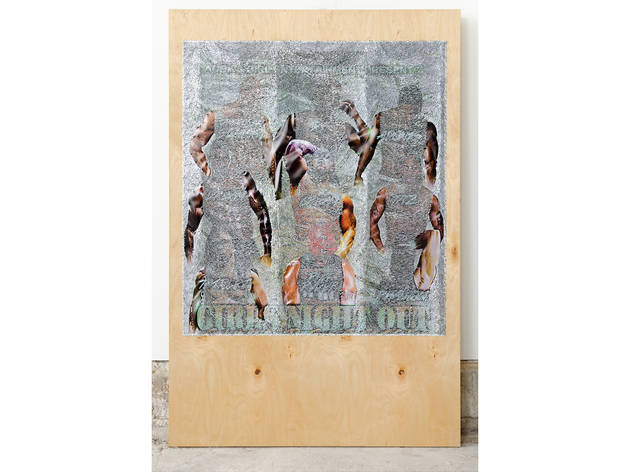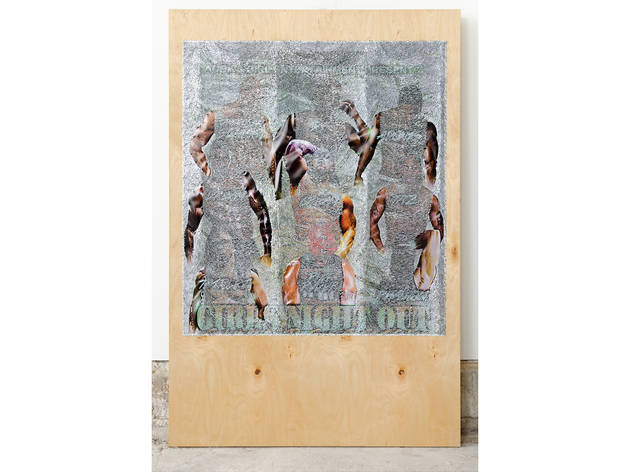 Wilmer Wilson IV
Wilmer Wilson IV, GIRLS NIGHT OUT, 2016
Working across multiple mediums, Wilson explores how white culture fetishizes the black body, as in this enlargement of a male strip club flyer covered by thousands of staples that impart a shimmering gloss to its surface.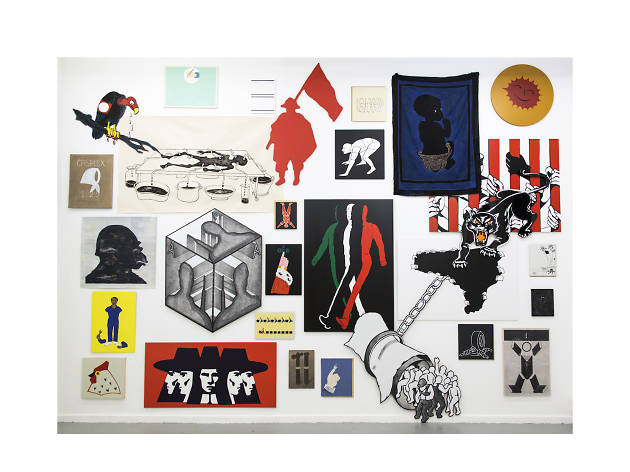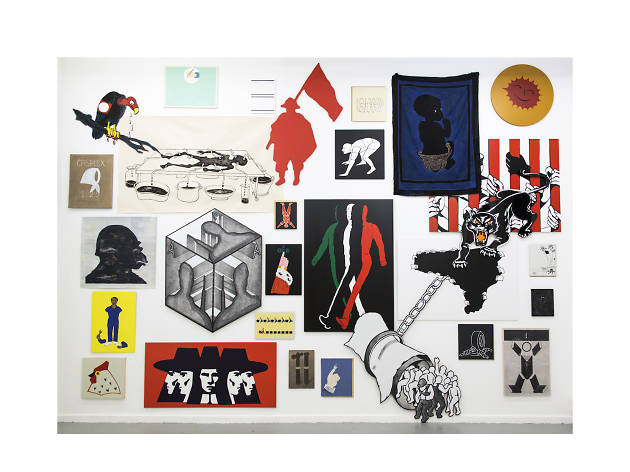 Photograph: Arturo Kameya, courtesy the artist and Ginsberg Galería, Lima, with support by Rijksakademie van Beeldende Kunsten, Amsterdam
Claudia Martínez Garay, The Leftovers, 2016
In this wall arrangement, Garay, a Peruvian artist based in Amsterdam, uses political imagery divorced from its original context to create an abstract composition that repurposes propaganda for visual effect.
Need to find more art museums?
Check out our guide to the top art museums in NYC, from Manhattan and Queens to Brooklyn and the Bronx