NYC's top 25 Picassos
TONY rounds up the top Picasso paintings and sculptures that call New York City home.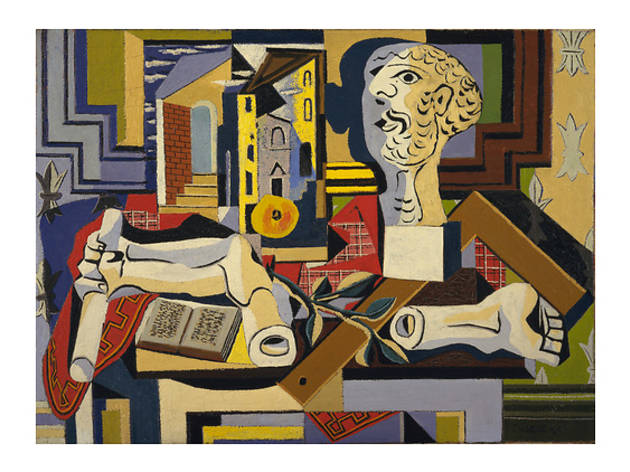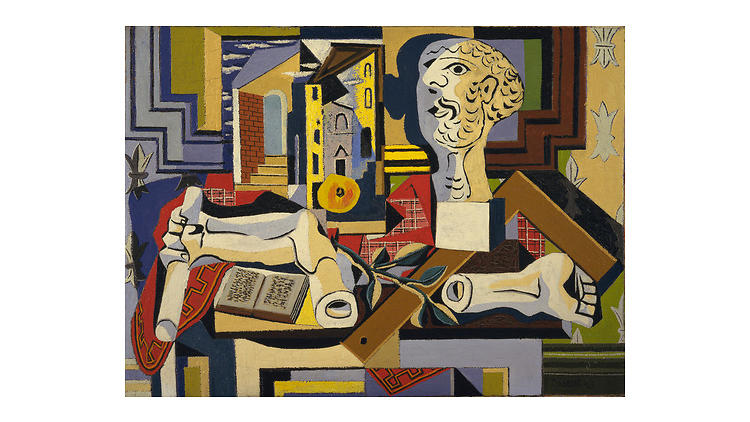 1/26
Photograph: Museum of Modern Art
Studio with Plaster Head (summer 1925)Pablo Picasso (1881–1973) was born in Málaga, Spain, and spent the bulk of his career in Paris. But when it comes to where to find his work, New York is Picasso central. Between the Guggenheim, the Metropolitan Museum and MoMA, NYC hosts what has to be the largest hoard of grade-A Picassos anywhere. His single most important painting, Les Demoiselles d'Avignon, resides at MoMA, while his most famous, Guernica, lived there for 42 years, from 1939 until its 1981 repatriation to Spain. To demonstrate the depth of the artist's connection to our city, TONY presents its selection of Gotham's top Picassos, dating from his arrival in Paris at the turn of the last century to the final years of his protean career.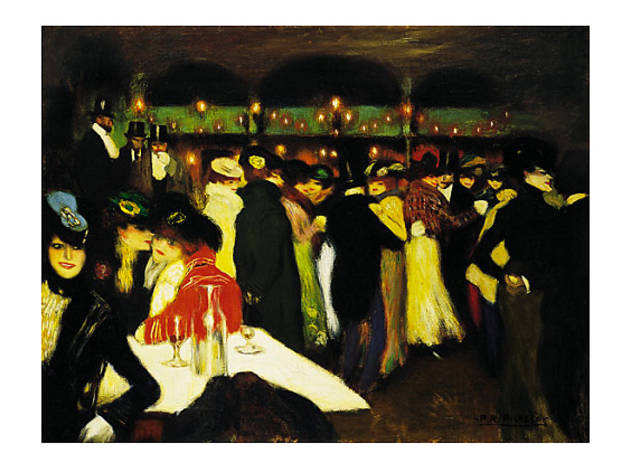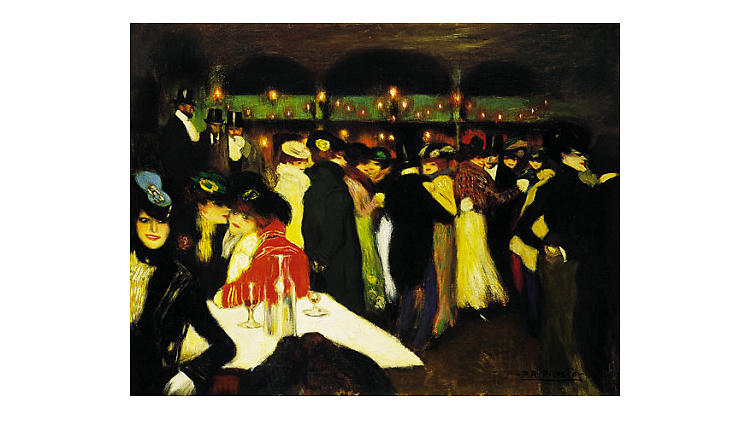 2/26
Photograph: Solomon R. Guggenheim Museum
Le Moulin de la Galette (1900)Picasso initially came to Paris in 1900, and his first winter there was a tough one. He lived in a state of abject poverty, sharing an apartment with his friend, journalist and critic Max Jacob. A product of a comfortably middle-class background, Picasso's experience sparked a lifelong sympathy for the poor and for left-wing causes. This work, the first he painted in Paris, depicts the dance hall in Montmartre that had been frequented and immortalized by such artists as Renoir, Van Gogh and Pissarro.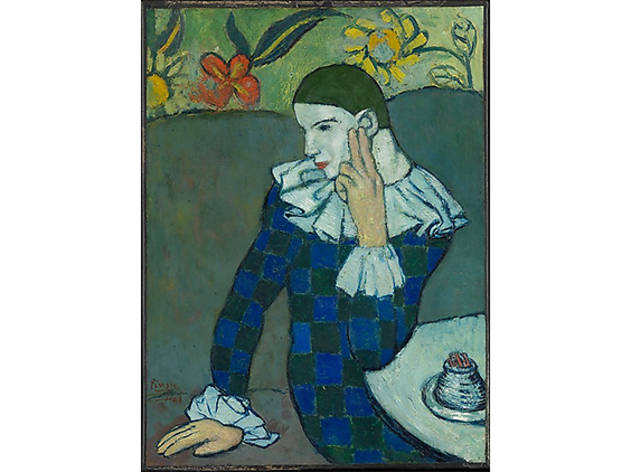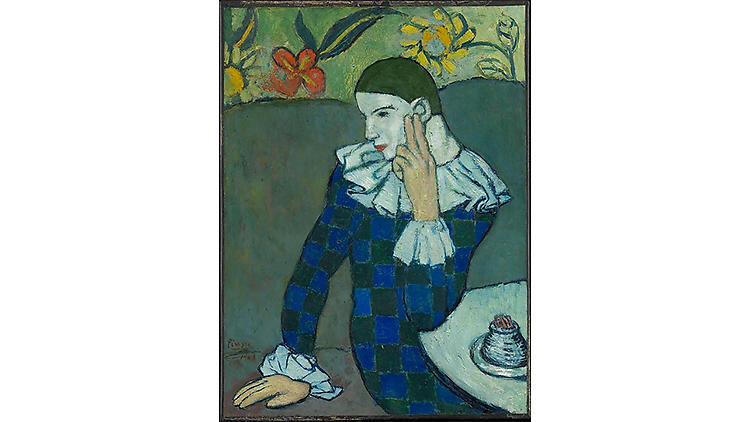 3/26
Photograph: Metropolitan Museum of Art
Seated Harlequin (1901)The woman on the far left of Le Moulin de la Galette is believed to be Germaine Pichot, who may have played a part in the backstory of Seated Harlequin. The composition is one of six that Picasso created in 1901 depicting different characters, either singly or as couples, seated at cafe tables. Harlequin, a buffoonish figure known for sexually coarse behavior, came out of the centuries-old commedia dell'arte tradition. Picasso not only places this figure in a contemporary setting, he limns him in whiteface, an attribute usually associated with another stock type from the commedia: Pierrot, the sad clown whose lady love was routinely stolen by Harlequin. The subject's pensive expression is interpreted by some scholars as a reference to another person from Picasso's milieu, his compatriot Carles Casagemas, who shot himself to death after being spurned by Pichot.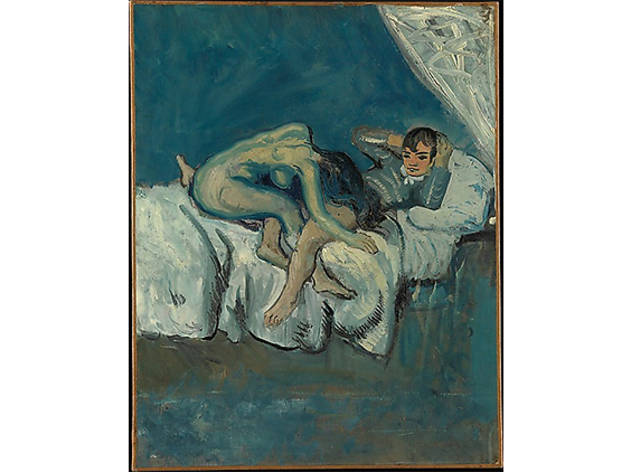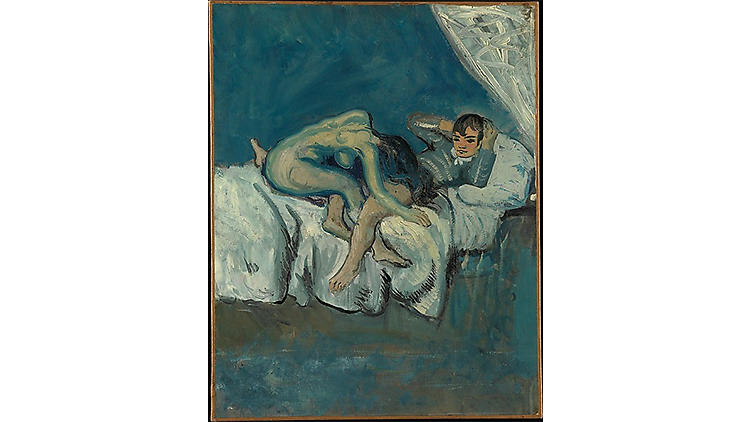 4/26
Photograph: Metropolitan Museum of Art
Erotic Scene (1902 or 1903)Picasso is famous for his own considerable sexual appetites, and from the start of his career, he had a habit of depicting himself in flagrante with various prostitutes, showgirls and artist's models. When shown a photo of this scene in 1960, he denied the painting was his, but art historians claim that it's authentic.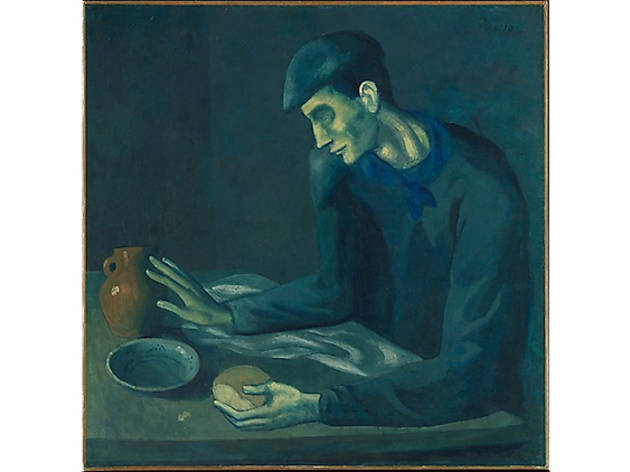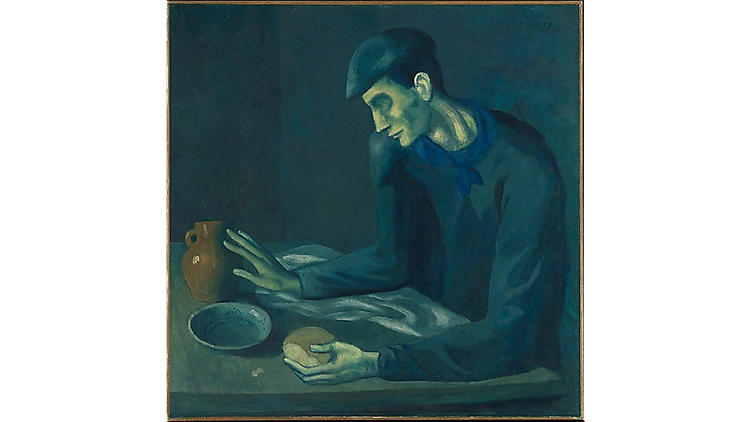 5/26
Photograph: Metropolitan Museum of Art
The Blind Man's Meal (1903)During his early years, Picasso divided his time between Paris and Barcelona, where he painted this example from his Blue Period, generally regarded to be his first mature body of work. In addition to the color and generally somber themes, Blue Period paintings feature attenuated figures in the style of El Greco. According to his own letters, Picasso meant The Blind Man's Meal to be a representation of universal human suffering.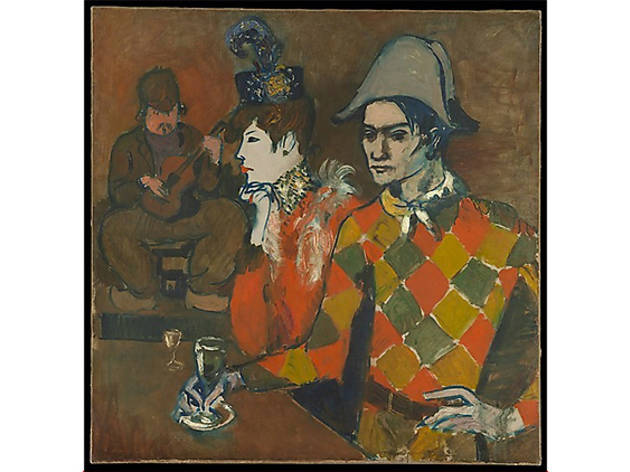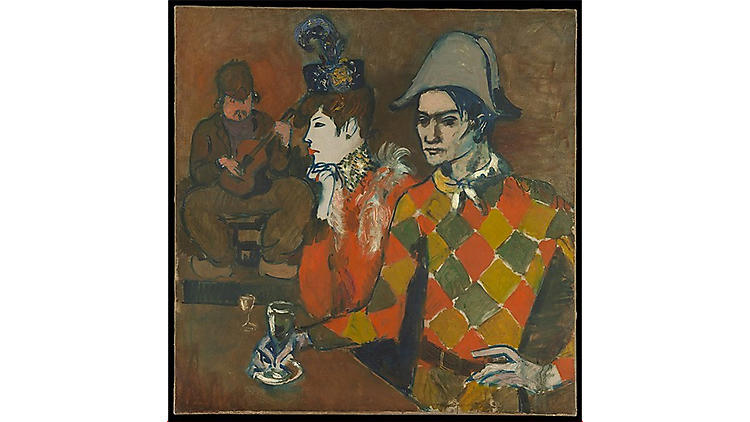 6/26
Photograph: Metropolitan Museum of Art
At the Lapin Agile (1905)Another famous Montmartre nightspot is the setting for this scene, in which Picasso depicts himself this time as a harlequin. The painting was done during his Rose Period, his upbeat turn away from the Blue Period in both color and tone. Even so, Picasso appears to be something of an unhappy camper here, while his female companion—his lover at the time—seems downright sullen. As it turns out, she's the same Germaine Pichot who became the fatal romantic obsession of Picasso's friend, Carles Casagemas.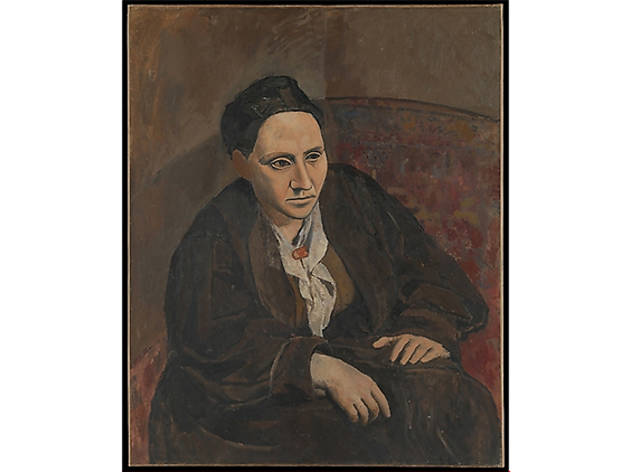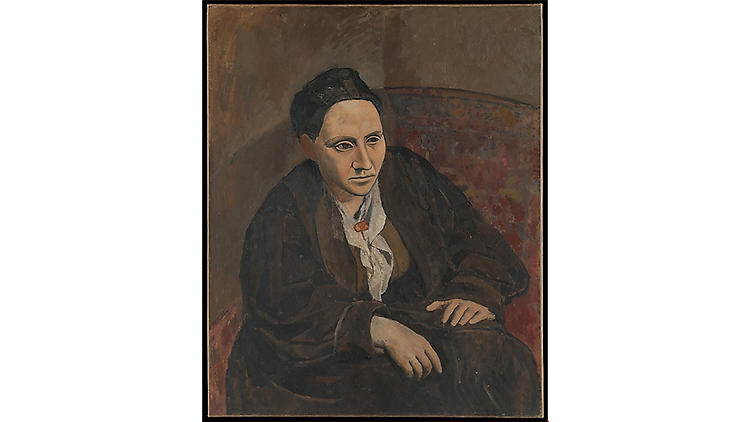 7/26
Photograph: Metropolitan Museum of Art
Gertrude Stein (1905-1906)This image of the legendary American expat writer represents the young Picasso's great turn of fortune. From her very first meeting with Picasso, Stein, who came from a wealthy Pennsylvania family of German Jews, was absolutely certain that he was the greatest artist of his age. She saw in him a kindred spirit—a revolutionary figure whose genius was bound to be recognized, as she did. She famously helped him along, buying his work and convincing her brother to do likewise. She also persuaded key figures such as American artist-gallerist Alfred Stieglitz and French dealer Ambroise Vollard to purchase Picasso's work. More than a likeness of crucial benefactor, Stein's portrait signals the beginning of Picasso's transition toward the stylistic breakthrough that would cement his place in art history.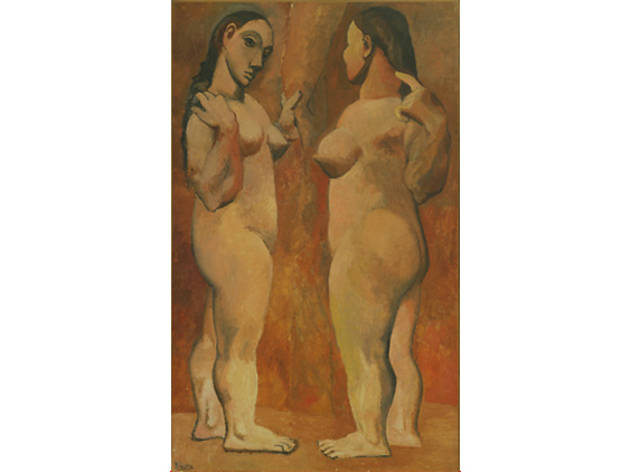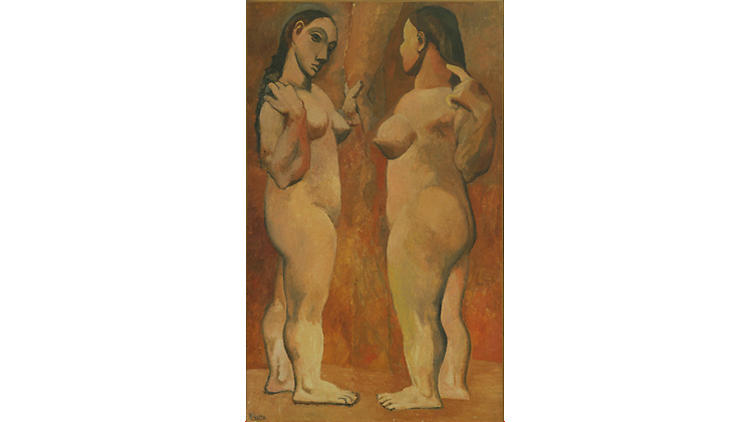 8/26
Photograph: Museum of Modern Art
Two Nudes (late 1906)This image of two females facing each other in nearly mirror opposition reflects the increasing influence of non-Western and ancient art on Picasso's work. The overall pinkish color harkens back to Bronze Age earthenware figures from Picasso's native Spain, while the stylized facial features of the model turned partly to the viewer come straight from the African masks that Picasso had observed in Paris's ethnographic museum at the Palais du Trocadéro.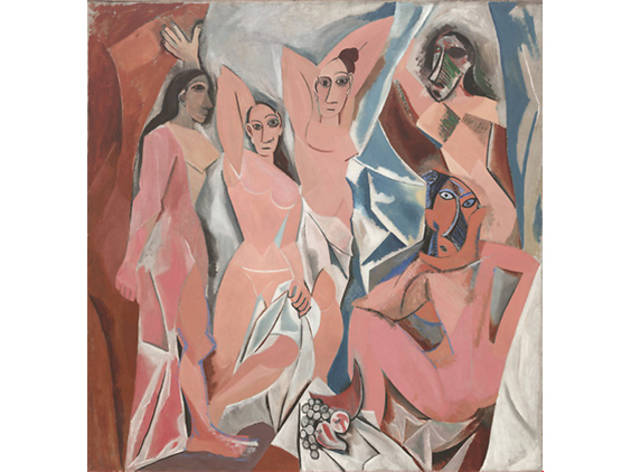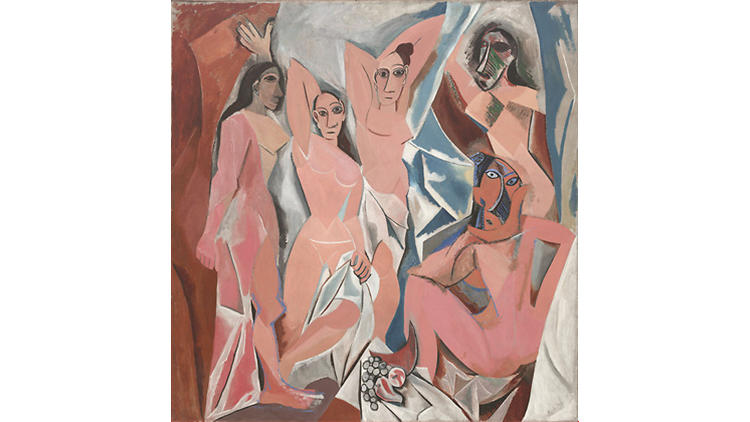 9/26
Photograph: Museum of Modern Art
Les Demoiselles d'Avignon (June–July 1907)For a half a century before Picasso, vanguard artists in France and elsewhere in Europe had been deconstructing the representational tradition of Western art—first by subverting its themes, and then by privileging the various processes behind its creation. This interior scene of a Barcelona brothel delivered the final blow against the art born of the Renaissance. It utterly shattered the picture plane that even the Impressionists and Post-Impressionists adhered to, pointing the way toward the abstract art that would eventually emerge over the next half-century.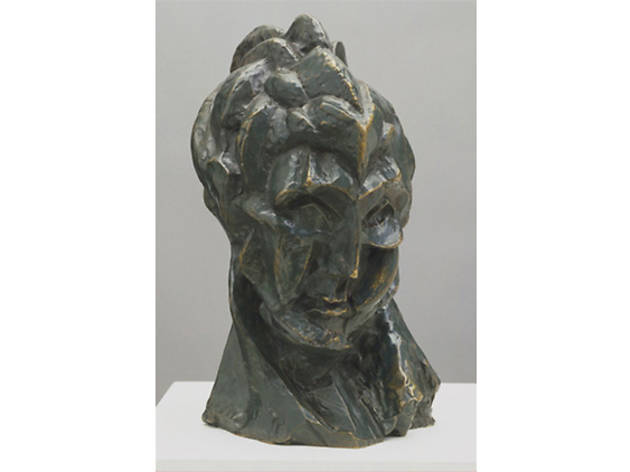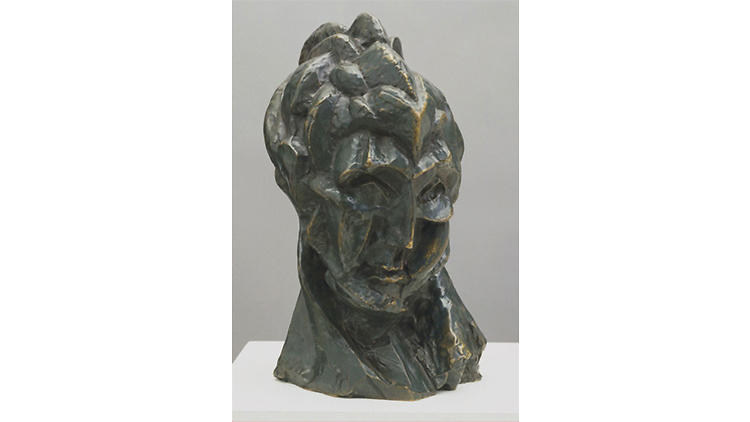 10/26
Photograph: Museum of Modern Art
Woman's Head (Fernande) (fall 1909)Les Demoiselles paved the way for the emergence of a radical new style dubbed Cubism for the way that it depicted form and space as faceted shapes. The idea was to represent vision as the sum of different vantage points presented simultaneously. But Picasso didn't limit himself to painting while blazing this trail: Sculptures like this one of Fernande Olivier, his companion at the time, proved crucial in his quest to upend artistic conventions.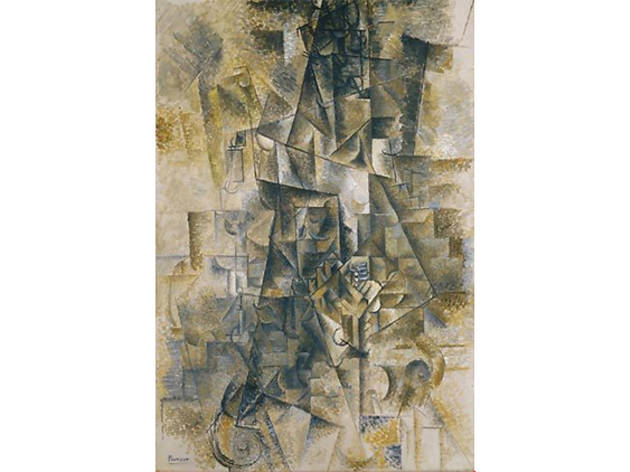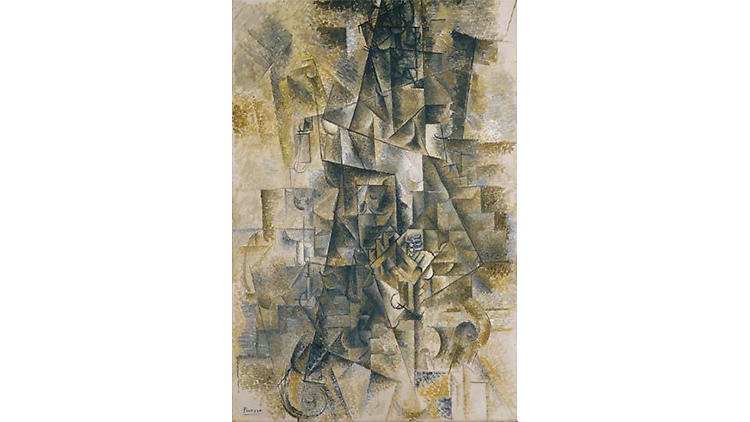 11/26
Photograph: Solomon R. Guggenheim Museum
Accordionist (L'Accordéoniste) (summer 1911)In 1907, Picasso became acquainted with Georges Braque, an artist whose own landscapes, inspired by Paul Cézanne, had started to move in the same direction as Picasso's paintings. Braque's cerebral nature complemented Picasso's passionate personality, and the two soon joined forces, working literally side by side to push the envelope on Cubism. They spent the summer of 1911 together in the town of Céret in the French Pyrenees. There, they produced canvases that were virtually indistinguishable. Accordionist is one such composition, and it shows how each artist egged the other on toward an ever more deconstructed treatment of subject and space.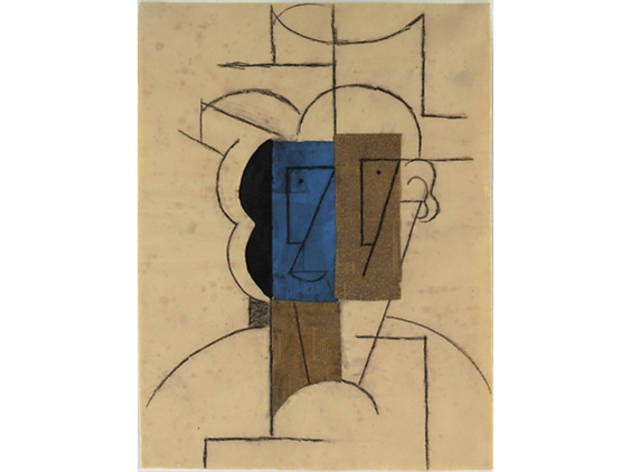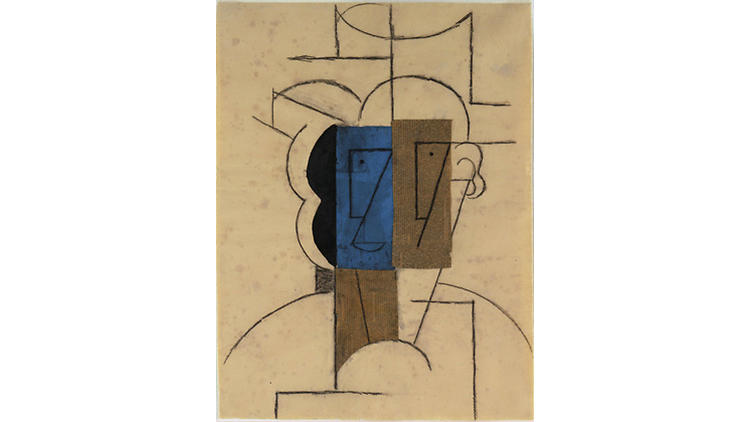 12/26
Photograph: Museum of Modern Art
Man with a Hat (December 1912)As important as Cubism was stylistically, its most important legacy for 20th-century art was collage. The incorporation of found materials into works of art effectively began the breakdown of the barrier between art and life that is still being pursued by artists today. Scholars argue as to whether Picasso or Braque invented the technique, though evidence points to the latter. Regardless, Picasso seized on the method, as shown in Man with a Hat, which uses snippets of newsprint and colored paper to create a face.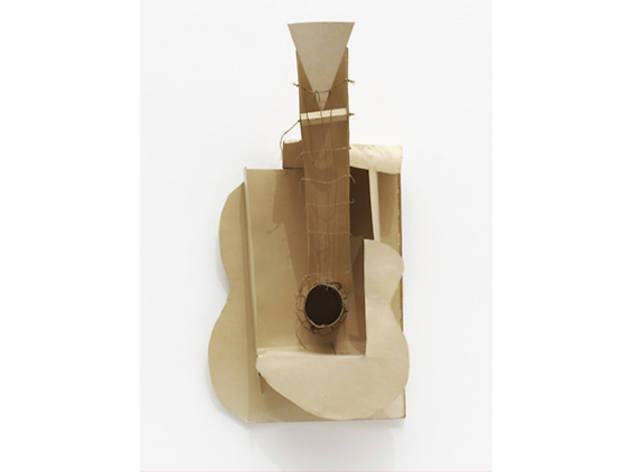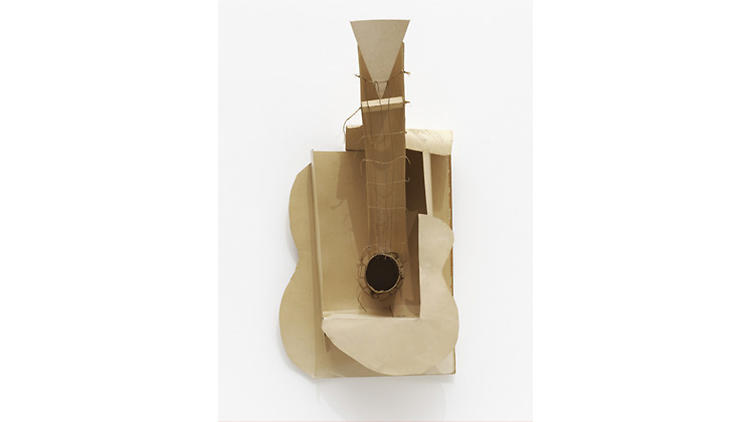 13/26
Photograph: Museum of Modern Art
Maquette for Guitar (October 1912)Guitar did for sculpture what Les Demoiselles did for painting: It exploded the medium. Before Guitar, sculpture was a process of modeling form out of a particular material—say, clay or wax—either by addition, subtraction or both. Even casting depended on this first step. But Picasso redefined sculpture as something closer to architecture—an assembly of open, planar components. This idea would continue to reverberate throughout the art of the 20th century and beyond.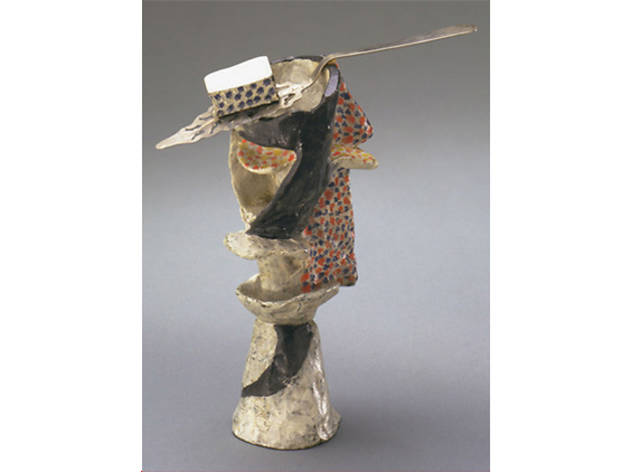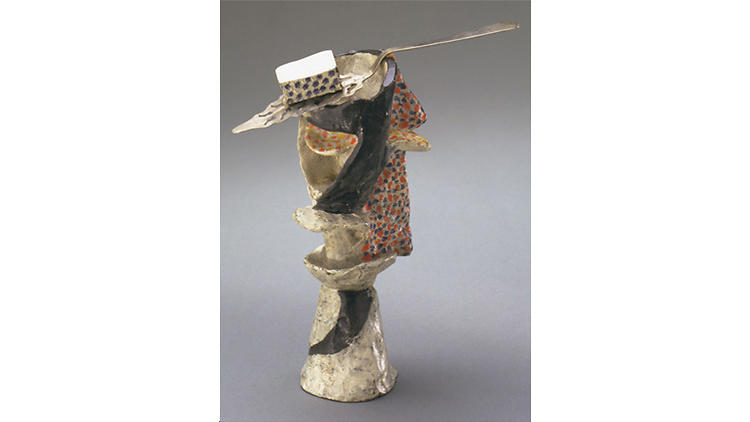 14/26
Photograph: Museum of Modern Art
Glass of Absinthe (spring 1914)Glass of Absinthe is notable for its use of an actual spoon, taken straight from everyday life without any alteration whatsoever. A year earlier, Marcel Duchamp had hit upon a similar idea when he bolted together a bicycle wheel and a stool from his studio. It wasn't until two years later, however, that Duchamp came up with a name for his accomplishment—The Readymade—and it proved to be a game changer. Nevertheless, Glass of Absinthe makes an argument for Picasso as the coauthor of this most radical development in modern art, even though he despised Duchamp and everything he stood for.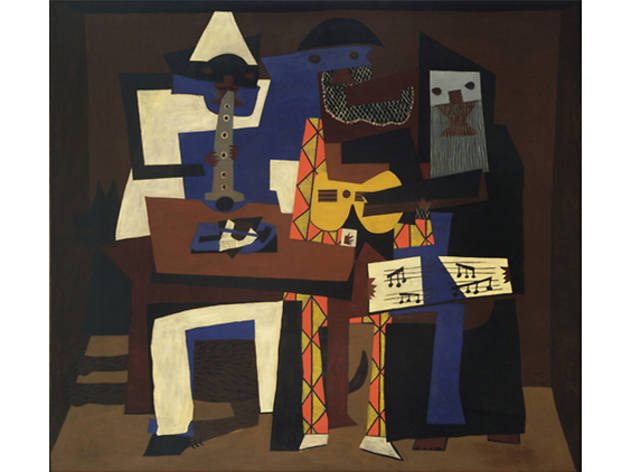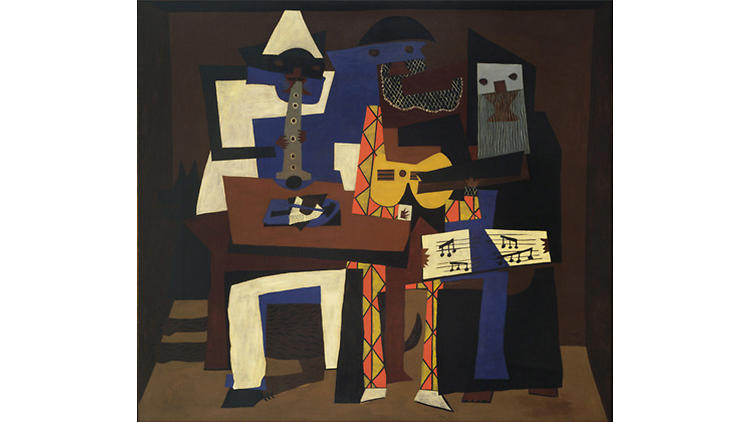 15/26
Photograph: Museum of Modern Art
Three Musicians (summer 1921)By the early 1920s, Picasso's years of revolutionary experimentation were behind him, and Cubism had been supplanted as an avant-garde fashion by Surrealism—whose adherents declared Picasso dead. Europe was still reeling from the devastation of World War I, and in France, culture turned to the past in a search for order. Picasso did likewise in two remarkably different paintings created in the summer of 1921. Three Musicians takes a nostalgic look back at the bohemian life of Picasso's youth in a style of Cubism that pulled away from the near-abstraction of works like Accordionist. Meanwhile, Three Women at the Spring (see the following image) was even more conservative in its Neoclassical treatment of its theme.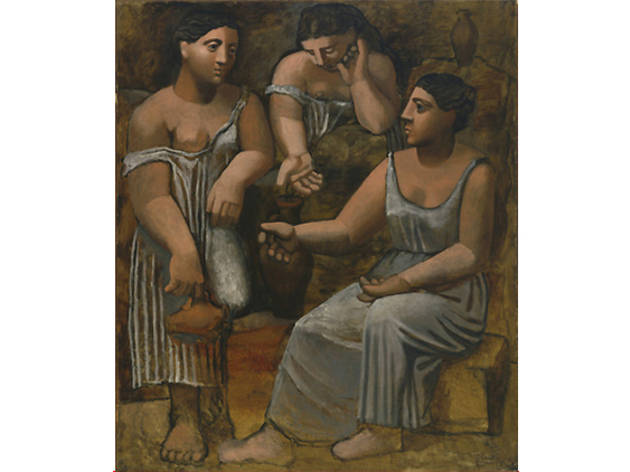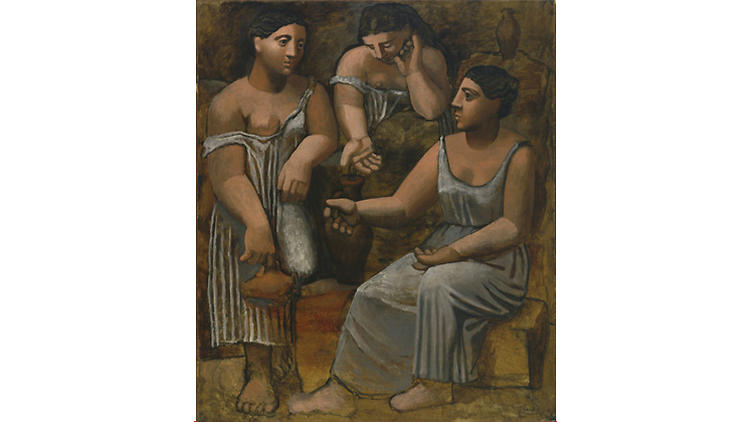 16/26
Photograph: Museum of Modern Art
Three Women at the Spring (summer, 1921)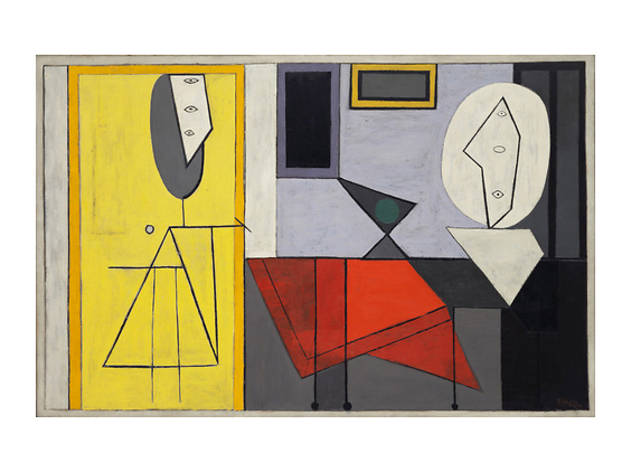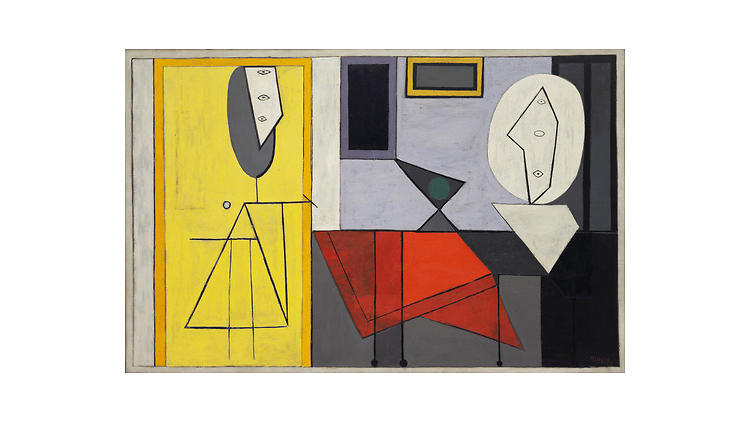 17/26
Photograph: Museum of Modern Art
The Studio (winter 1927–28)During the winter of 1927–28, Picasso painted a series of works on the theme of the artist in his studio. They were self-portraits of a kind, and this one is especially notable for its elegant contrast of bright red and yellow with blocks of grey and black. The composition is spare and schematic, as is the figure of the artist, who is rendered as a bare-bones network of connecting lines.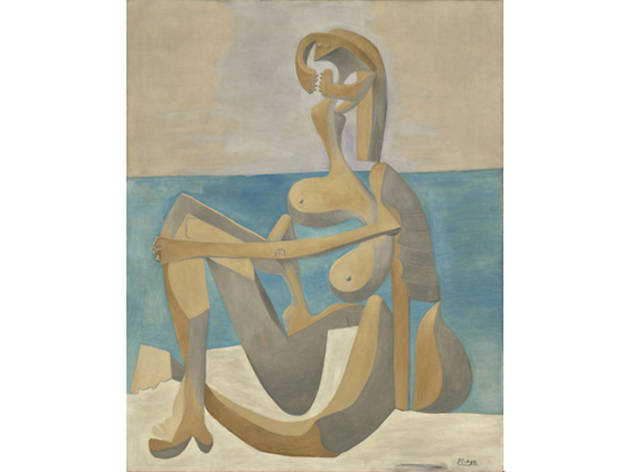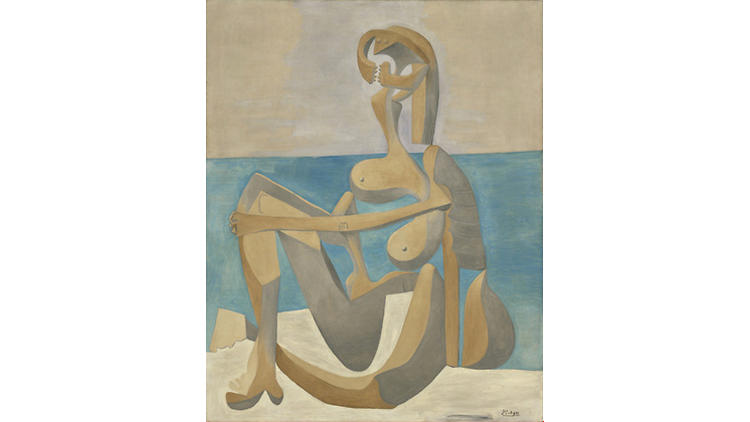 18/26
Photograph: Museum of Modern Art
Seated Bather (early 1930)By the end of the 1920s and the onset of the 1930s, Picasso, perhaps in an effort to keep up with the times, began to assimilate aspects of Surrealism into his own work—particularly the biomorphic shapes found in the work of Joan Miró, Salvador Dalí and the much younger Yves Tanguy (born the year Picasso arrived in Paris). Another thing Picasso picked up was the air of Freudian menace that suffused much of the Surrealists' work, especially the sense that newly emancipated women were getting hard to handle. Picasso himself was probably finding that women weren't quite as pliant as he was used to (one reason why, maybe, the women in his life became younger as he got older). Seated Bather expresses some of this sentiment with its bony vision of a monstrous nude by the seashore, whose head consists of a strange critter, leaning forward with its claws held together to create a vagina dentata.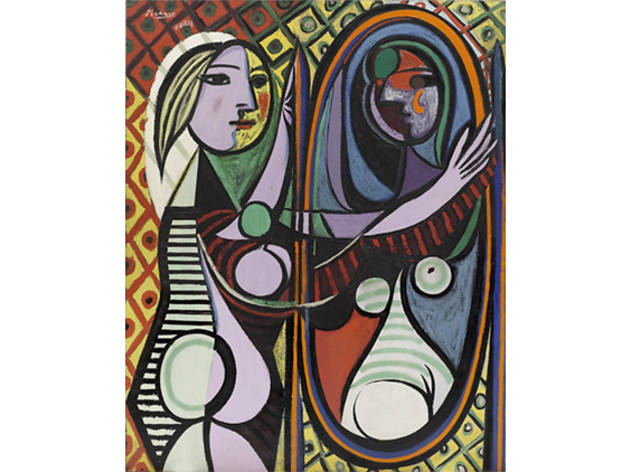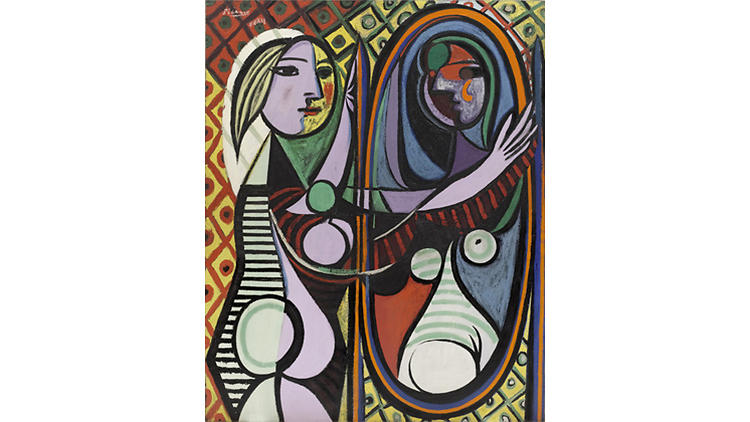 19/26
Photograph: Museum of Modern Art
Girl Before a Mirror (March 1932)The subject of this painting, a meditation on female vanity and fear of aging, is Marie-Thérèse Walter, who first met Picasso in 1927 when she was 17 and he was a married man of 45. She soon became his mistress and model, appearing frequently in his works during the following decade. Girl Before a Mirror, however, is the undeniable masterpiece of the Walter series, depicting the honey-blond, pink-cheeked ingenue as she stares into the dark and distorted abyss of her future self. She's surrounded by wallpaper in a harlequin pattern that's meant to evoke one of Picasso's favorite themes, and perhaps the artist himself as a ubiquitous if invisible presence. It's kind of creepy when you think about it, but it's hard to take your eyes off this work.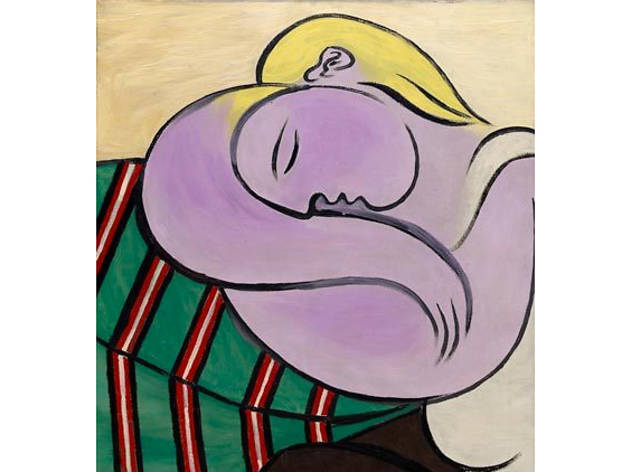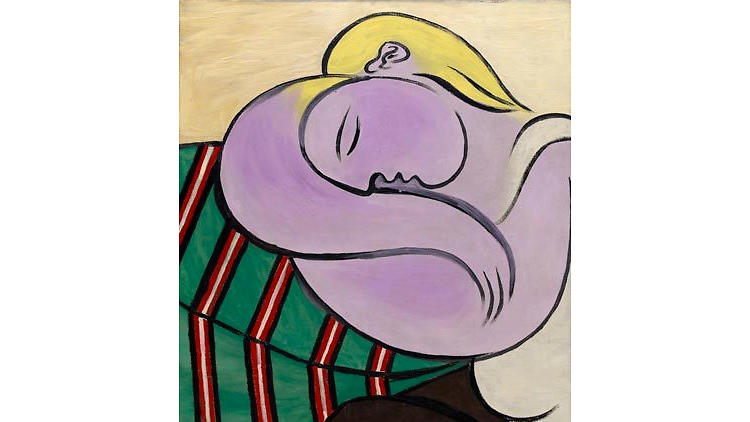 20/26
Photograph: Solomon R. Guggenheim Museum
Woman with Yellow Hair (December 1931)Picasso was fond of depicting Marie-Thérèse Walter while she slept, because he thought it captured her in her most vulnerable, intimate state. Here, she lays her head on an arm that looks like a fleshy, sensual extension of her flaxen locks.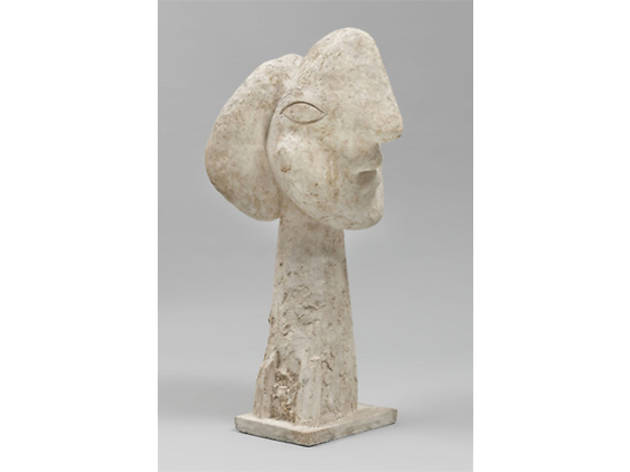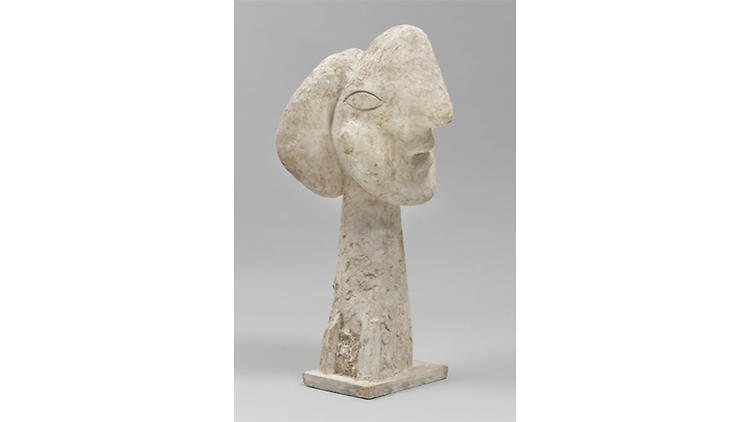 21/26
Photograph: Museum of Modern Art
Head of a Woman (1932)In creating this bust of Marie-Thérèse Walter, Picasso returned to sculpture after a 20-year hiatus. The work was produced in a converted stable on the grounds of a chateau that Picasso bought near Boisgeloup, some 40 miles from Paris.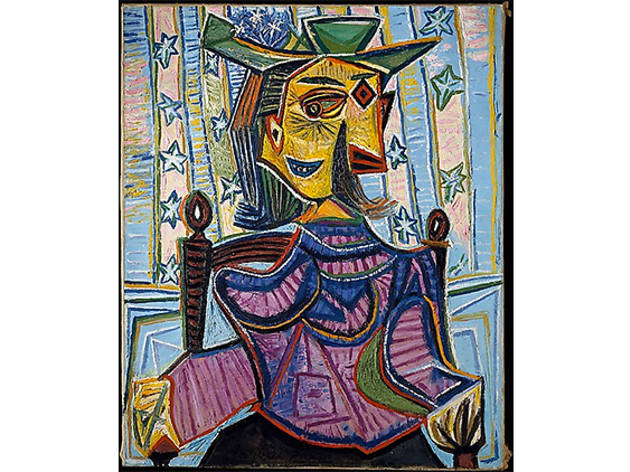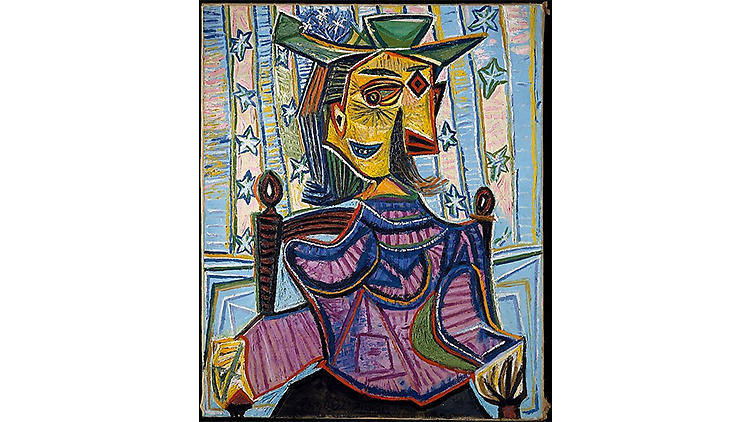 22/26
Photograph: Metropolitan Museum of Art
Dora Maar in an Armchair (1939)Marie-Thérèse Walter became pregnant with Picasso's child in 1935, even though he hadn't divorced his wife, Olga Khokhlova, a Russian ballerina—and never would. (Khokhlova died in 1955, still married to Picasso.) That same year, Picasso began an affair with Dora Maar, a Surrealist photographer who sometimes modeled for him. Picasso was perfectly happy to juggle both women, but when they ran into each other one day in Picasso's studio as he worked on Guernica, they demanded that he choose between. He demurred, saying they should work it out, whereupon they started to wrestle. Picasso would later describe the incident "as one of his choicest memories." Whether the fight actually settled matters is unclear; what is certain is that Walter moved on, while Maar became Picasso's mistress and muse. Maar was something of a neurotic: Picasso called her "the weeping woman" because of her frequent crying jags. In contrast to the way Picasso would paint Walter as a bright, glowing angel, Maar was frequently pictured in darker terms—as in the image here, in which she grimaces in a way that seems almost mad.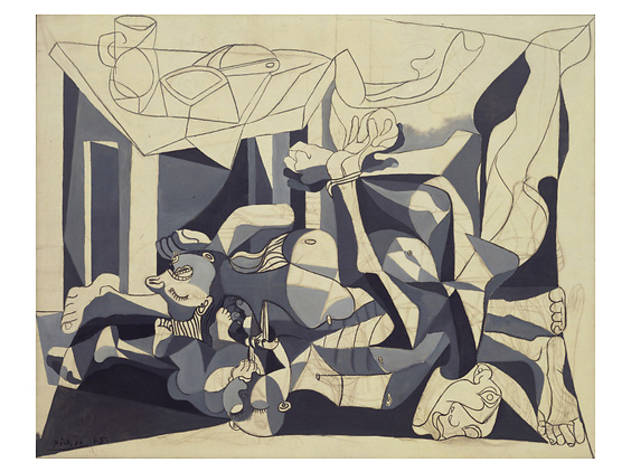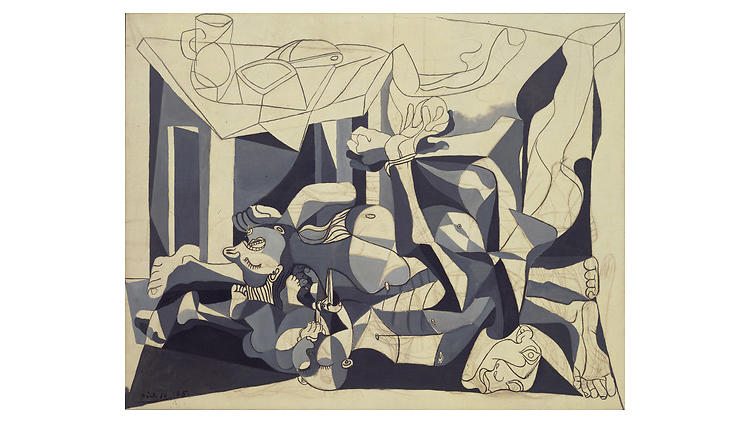 23/26
Photograph: Museum of Modern Art
The Charnel House (1944–45)Guernica, painted in 1937 in response to the Spanish Civil War, was Picasso's greatest antiwar masterpiece, but The Charnel House is a close second. Done near the end of World War II, the painting features a pyramidal pile of bodies—an image inspired by newspaper photos of combat dead. Still, it evokes nothing so much as the scenes of concentration-camp victims that would soon cause universal revulsion. Picasso chose to stay in Paris under the Nazi occupation, where he was harassed by the authorities. In this respect, the grimness of The Charnel House reflects his own personal wartime experience.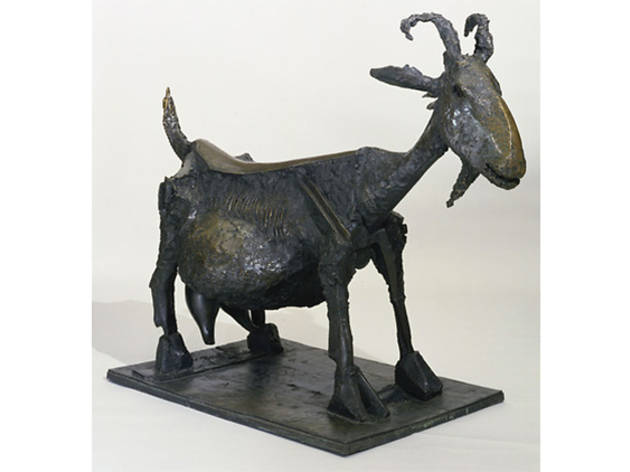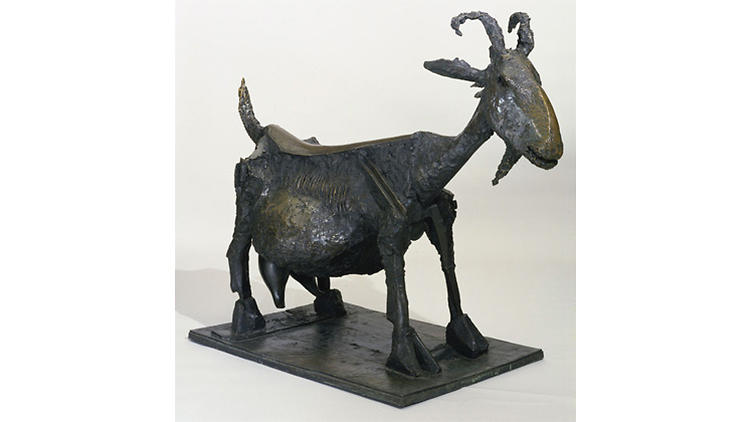 24/26
Photograph: Museum of Modern Art
She-Goat (1950)This fixture of MoMA's collection, beloved by city kids for generations, was originally cobbled out of pieces of discarded junk thrown into field by a pottery manufacturer next to Picasso's studio in the town of Vallauris, France. A wicker basket makes up the goat's rib cage, for instance, while repurposed jugs form the udders.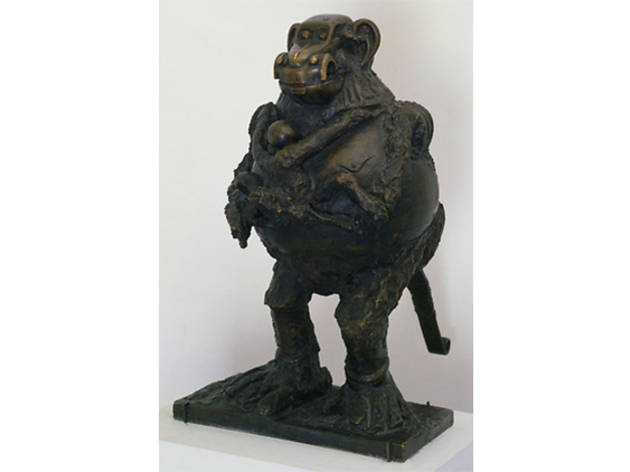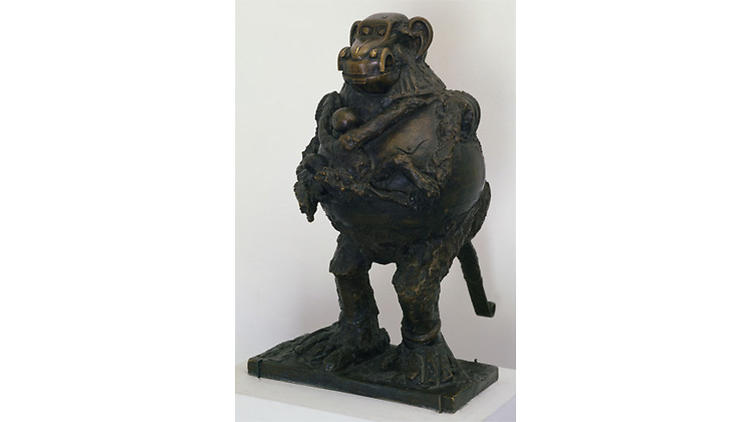 25/26
Museum of Modern Art
Baboon and Young (October 1951)In the same vein as She-Goat, Baboon and Young was created out of found objects. The animal's muzzle is made out of a pair of toys cars, while its tail is fashioned from an automobile's suspension spring. Although definitely in line with Picasso's forays into Surrealism, Baboon and Young almost seems to anticipate Pop Art.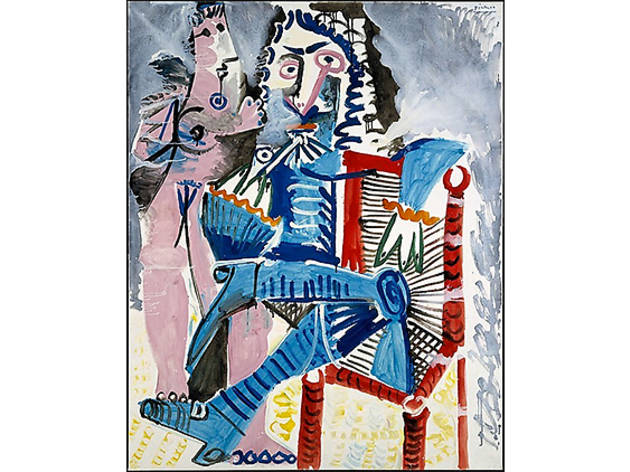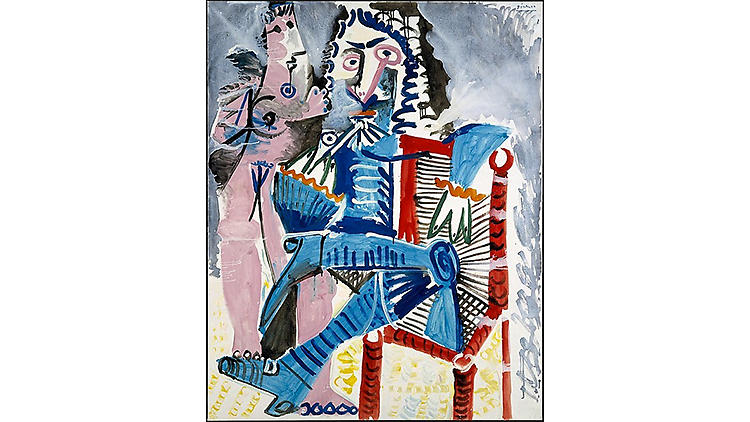 26/26
Photograph: Metropolitan Museum of Art
Standing Nude and Seated Musketeer (1968)Picasso's work from late in his life was dismissed by critics until the past several years, when a new appreciation emerged for this phase in his career. Standing Nude and Seated Musketeer is from a series created during the five years before Picasso's death in 1973. His mosqueteros, or musketeers, featured 17th-century swashbucklers that recall figures out of Rembrandt and Velázquez. But with their beards, mustaches and long, flowing hair, they also resemble the free-spirited youths of the late 1960s and early 1970s. It's easy to see how Picasso might have sympathized with the politics and sexual ethos of the counterculture. But it's also easy to imagine the musketeer as a stand-in for Picasso himself, looking back on a life of artistic adventure and historic battles won and lost.