Heads up! We're working hard to be accurate – but these are unusual times, so please always check before heading out.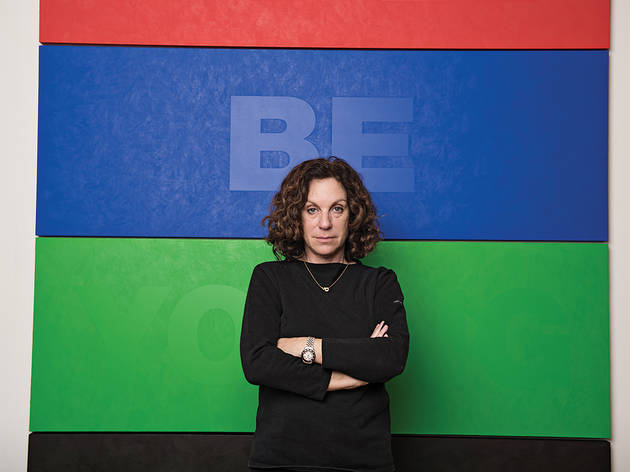 Painter Deborah Kass looks back on her two-decade career
With a new show on the way, Deborah Kass weighs in on channeling Louise Bourgeois, Andy Warhol and more
A feminist artist who mines art history, pop culture and her own Jewish identity, Deborah Kass appropriates iconic images, quotes and song lyrics and makes them her own. Her paintings often critique the male-centric character of 20th-century art by putting a satirical spin on the efforts of famous male artists, from Picasso and Jackson Pollock to David Salle and Ed Ruscha. Andy Warhol has proven to be an especially fertile subject: Kass's best-known works include parodies of his "Elvis" paintings and portraits of Liz Taylor, which ironically led to a 2012 retrospective at the Andy Warhol Museum in Pittsburgh. Fresh off the unveiling of her public art sculpture, OY/YO, at Brooklyn Bridge Park, she's readying a solo show for Paul Kasmin Gallery, which features the latest entries in her sharp and thought-provoking oeuvre.
The best of Deborah Kass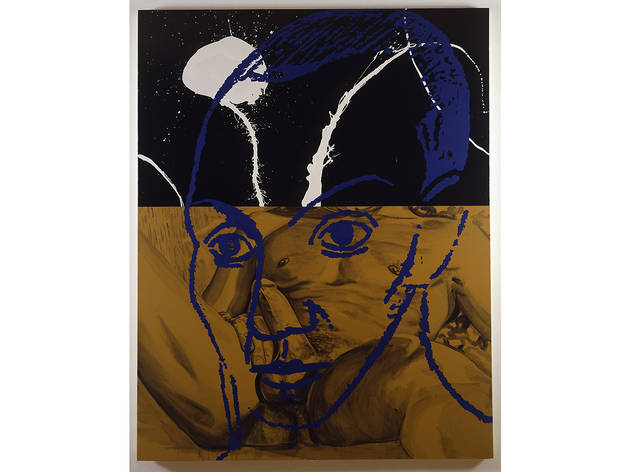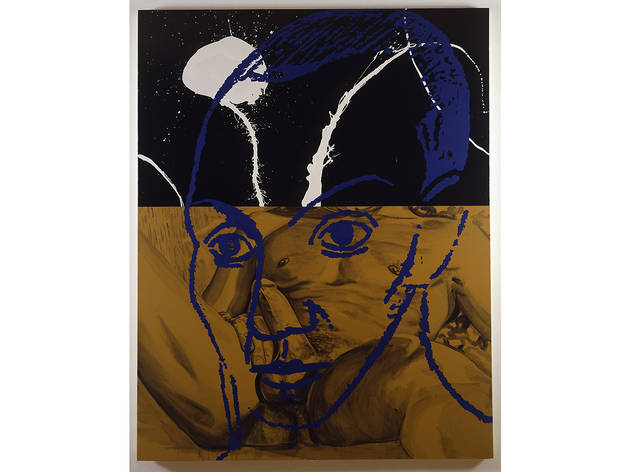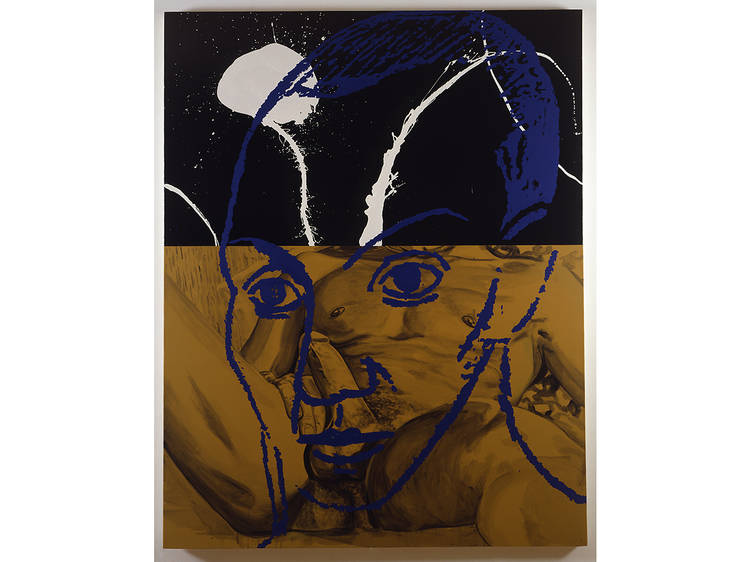 Courtesy the artist/Paul Kasmin Gallery
Portrait Of The Artist As A Young Man (1991)
"For this piece, I was riffing on someone who I thought was a very important artist: David Salle. But I was coming at his work from a feminist perspective: There's a male figure instead of the female one in the Salle painting I borrowed from, and I overlaid a portrait of Picasso. The abstraction above references Jackson Pollock, another artist I've appropriated, while the title comes from James Joyce."

Photograph: Courtesy the artist/Paul Kasmin Gallery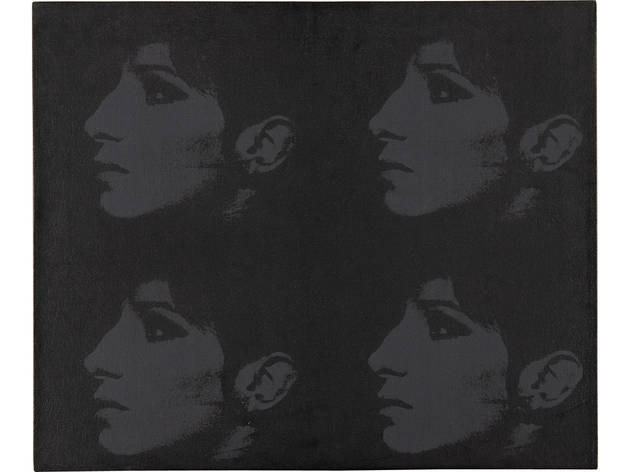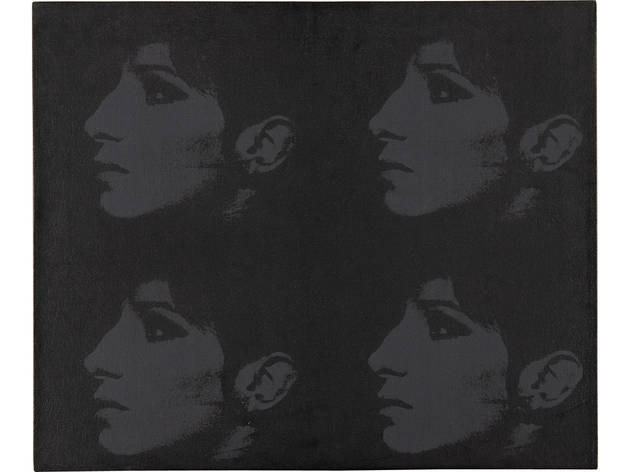 Courtesy the artist/Paul Kasmin Gallery
"When I made this painting in 1992, multiculturalism and identity issues were the topics of the day. But I realized that there was a hole that needed to be filled in that discussion regarding Jewishness. It felt like it was my civic duty to bring it up. I wanted to include my Jewish identity in the discourse in the way that made me feel excited and enlivened but still somewhat unseen."

Photograph: Courtesy the artist/Paul Kasmin Gallery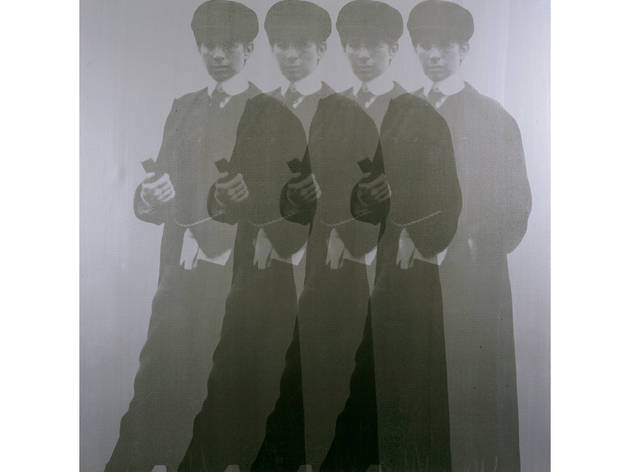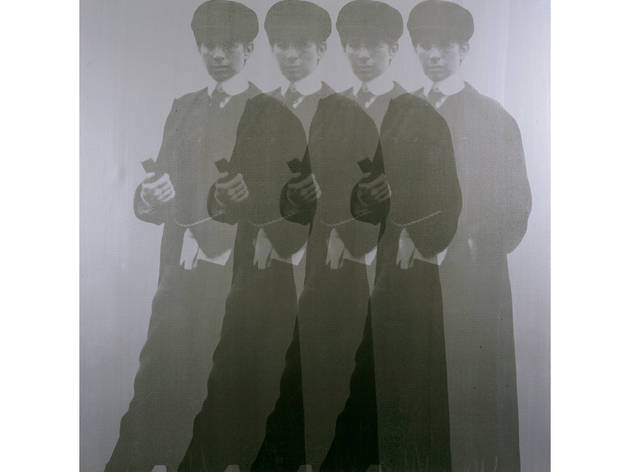 Courtesy the artist/Paul Kasmin Gallery
Quadruple Yentl (My Elvis) (1997)
"The image for this painting comes from an old laserdisc of the film Yentl, which I found at Colony Records. Barbra Streisand plays a young Jewish girl who cuts her hair short and goes full drag to study at a yeshiva, because women weren't allowed to study the sacred texts. To me that seemed like the perfect metaphor for what I was doing: being a woman artist, playing with art history—which in this case meant Warhol's "Elvis" paintings."

Photograph: Courtesy the artist/Paul Kasmin Gallery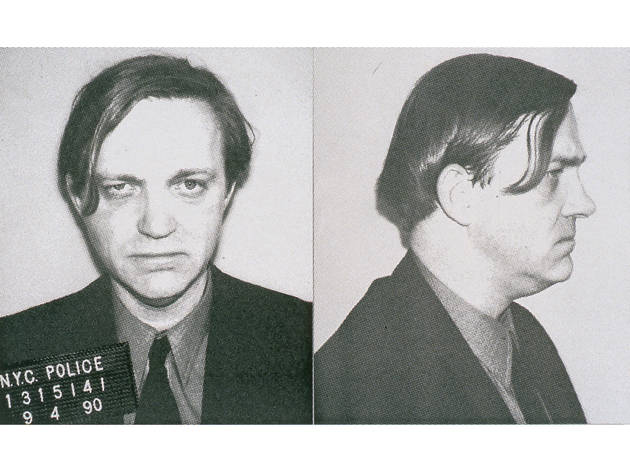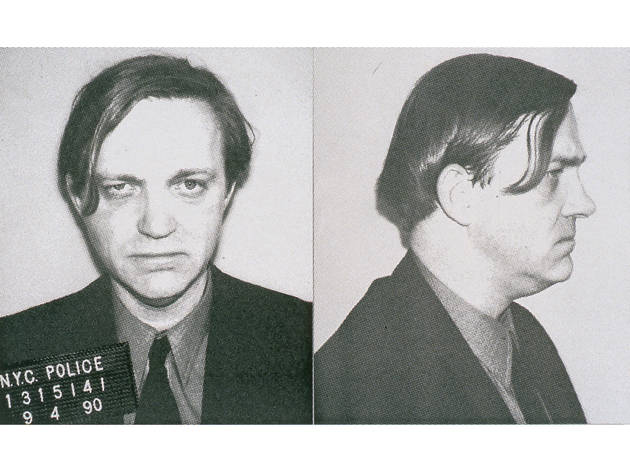 Courtesy the artist/Paul Kasmin Gallery
"This image of former MoMA curator Robert Storr was from a series of portraits of curators titled 'Most Wanted.' Basically it's about how I 'wanted' attention from them and luckily, they were all happy to pose. The little signs on them are coded to represent the name of their institution at the time and when they started there. I didn't show these works when I made them, even though there was interest to do so. I'd been exhibiting a lot of work based on Warhol, and just felt that anymore would be redundant. I finally exhibited this past spring at Sargents Daughters on the Lower East Side. Sixteen years later, everyone in the series looks young and adorable."

Photograph: Courtesy the artist/Paul Kasmin Gallery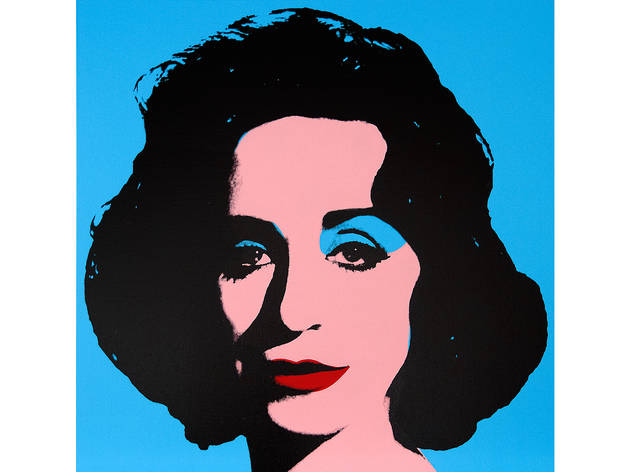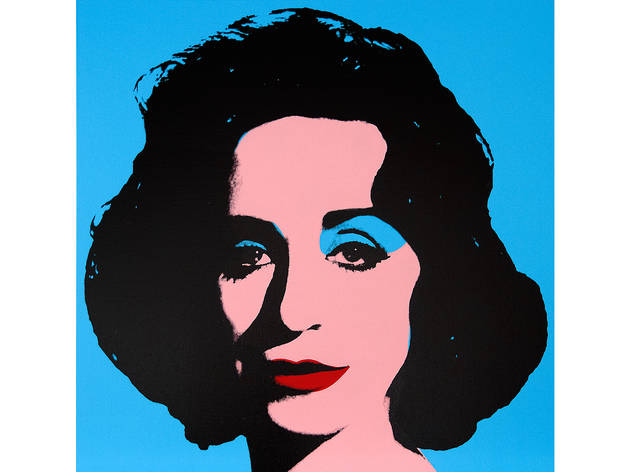 Courtesy the artist/Paul Kasmin Gallery
"For eight years, I'd been doing this ongoing series, 'The Warhol Project,' for which I was painting portraits of myself based on one of Andy's self-portraits— sort of playing at being him. Here, while the work still looks like his, I'm no longer representing myself as Warhol but as Deb. I used his image of Liz Taylor because it's so iconic, and she was this nice Jewish lady, so it seemed like the perfect vehicle. A makeup artist and hairdresser styled me after a reproduction of the Warhol. It seemed like a good way to end the series."

Photograph: Courtesy the artist/Paul Kasmin Gallery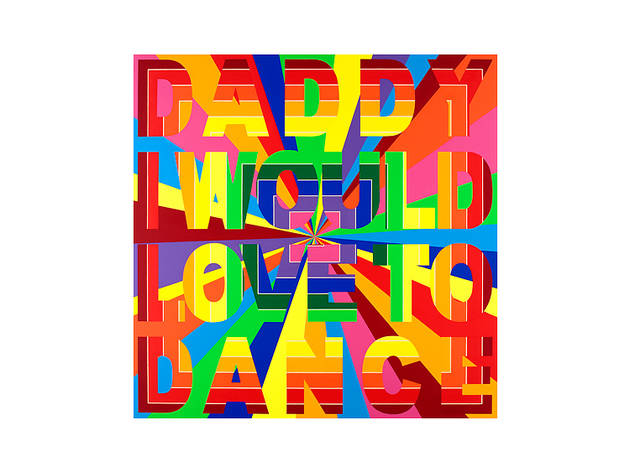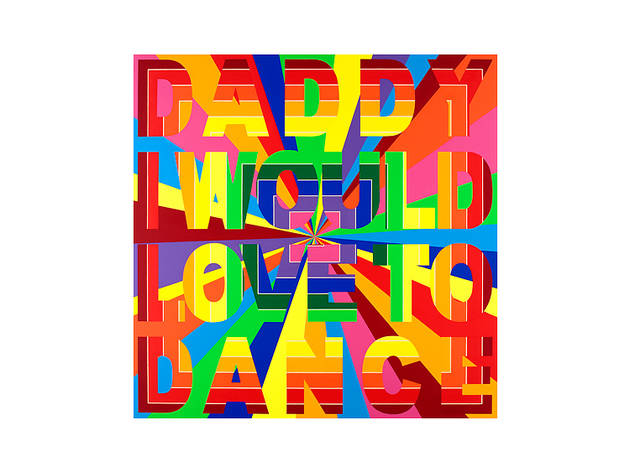 Courtesy the artist/Paul Kasmin Gallery
"The motif here is a reference to Frank Stella's Concentric Square paintings, while the text, 'Daddy I Would Love to Dance,' is a lyric from A Chorus Line. Stella was one of my biggest influences as a kid. His MoMA retrospective in 1987 really rocked my world. Daddy is part of the 'Feel Good Paintings for Feel Bad Times' series, which was seven years in the making, and started when I turned 47, the same age my father was when he died. I'd forgotten about my father's death until that birthday, and it was very emotional. I literally dreamt the first version of the painting and put it down on paper the next morning."

Photograph: Courtesy the artist/Paul Kasmin Gallery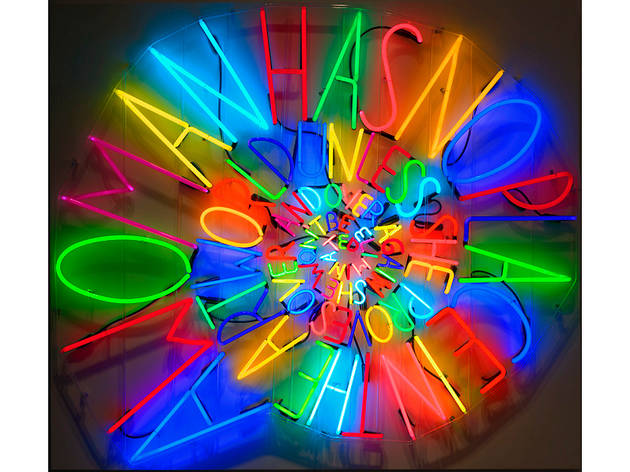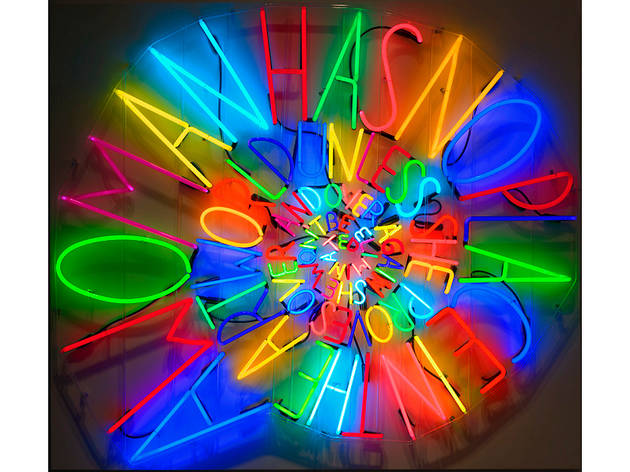 Courtesy the artist/Paul Kasmin Gallery
After Louise Bourgeois (2010)
"This was my first piece in neon. I'd previously made a version of it as a painting, but I wanted a way to make the colors more vivid. The sign fabricator who made it for me said he'd never made anything with so many colors! The quote is a take off from one by Louise Bourgeois, who said 'A woman has no place as an artist unless she proves over and over again that she won't be eliminated.' I thought that was way too hard on women artists, though. It lays the blame for problem that's really the art world's problem on the artist herself. So I changed the line to read, 'A woman has no place in the art world unless she proves over and over again she won't be eliminated.'"

Photograph: Courtesy the artist/Paul Kasmin Gallery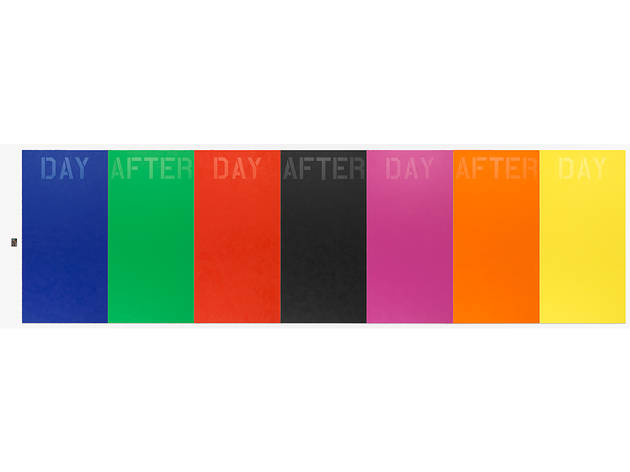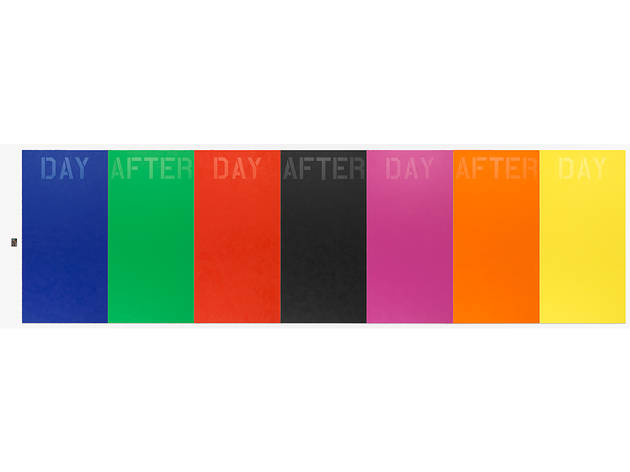 Courtesy the artist/Paul Kasmin Gallery
"This is one of my favorite paintings. The idea for it began with the Stephen Sondheim song, 'Not A Day Goes By.' I made it during the big BP oil spill in the Gulf of Mexico, which was on the news everyday day at the time—though, of course, it wasn't what Sondheim was writing about, but still, something clicked for me. The color panels I used were a reference to Ellsworth Kelly, who's work I love. I used a stencil from a hardware store for the type, which some might say is in the style of Jasper Johns, but he's another favorite artist of mine, so it's ok."

Photograph: Courtesy the artist/Paul Kasmin Gallery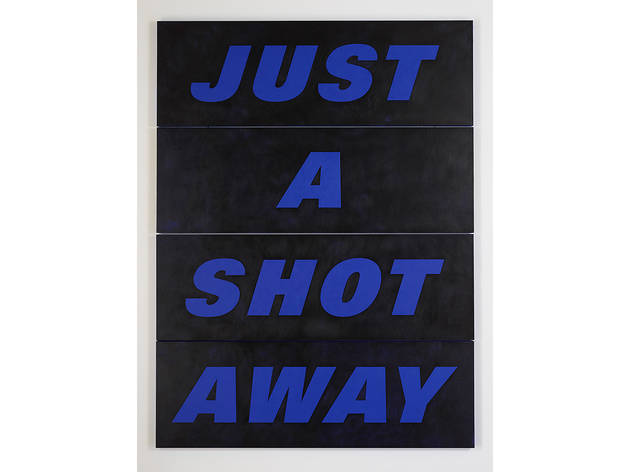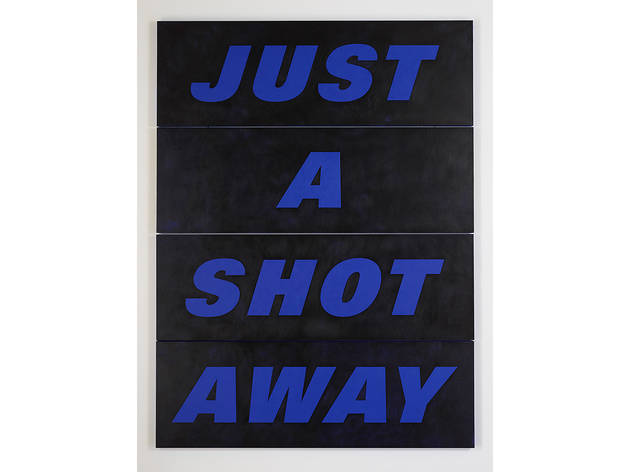 Courtesy the artist/Paul Kasmin Gallery
"I was working on this new series of black and blue canvases when all the shit hit the fan about what happened in Ferguson, Eric Garner's deaths and the start of Black Lives Matter movement. And I was watching the documentary film Twenty Feet from Stardom and a woman was singing 'Rape, murder! It's just a shot away,' and it was BOOM, done! It's a lyric from The Rolling Stones song Gimme Shelter. I painted a blue ground, tape out the words, painted the black and then sanded it to make it flatter—so that the words pop. The four panels are slightly separated to make each more sculptural."

Photograph: Courtesy the artist/Paul Kasmin Gallery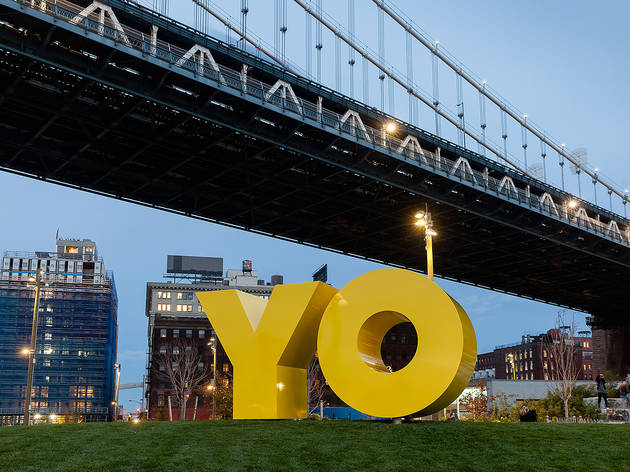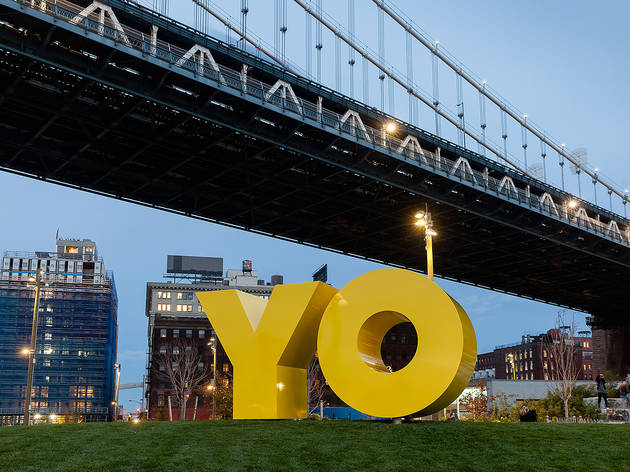 © Deborah Kass
"In 2009, I painted OY, which was a direct response to Ed Ruscha's painting, OOF. The following year, I made YO after Picasso's 1901 self-portrait, Yo Picasso. So in 2011, I followed up with a sculptural edition that could be read as oy or yo, depending on which way you look at it. Same for the eight-foot-tall version at Brooklyn Bridge Park overlooking the river: From Manhattan it reads as YO, while from Brooklyn it looks like OY."

Photograph: © Deborah Kass