Heads up! We're working hard to be accurate – but these are unusual times, so please always check before heading out.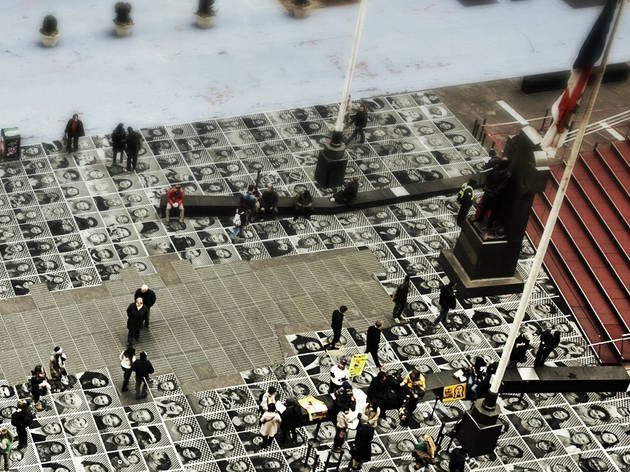 1/13
Photograph: Courtesy of INSIDE OUT PROJECT
JR, Inside Out New York City French artist JR lands with his global project, which has enabled participants in more than 100 countries to speak to their communities through facial expression. Look for the photo-booth truck in Duffy Square, where you can have your portrait taken and printed on a 3' x 4' poster to paste on the ground of the plaza or take with you. Broadway between 42nd and 47th Sts (insideoutproject.net). Daily noon–8pm; free. Through May 10.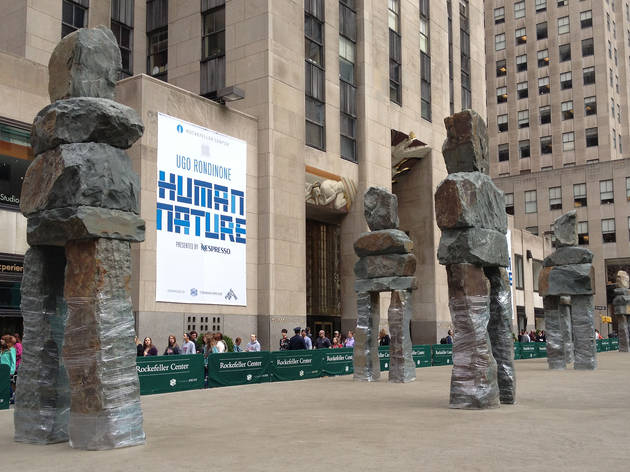 2/13
Photograph: Noma Gomez; courtesy Public Art Fund
Ugo Rondinone, Human Nature The ancient appearance of these monolithic stone figures stands in contrast to the Art Deco plaza surrounding them, but their scale (between 16 and 20 feet tall) is no less formidable. The works present a slightly different tone for the artist whose resounding Hell, Yes! sculpture once adorned the exterior of the New Museum, but the statement made by these humanoid figures is equally confounding. Rockefeller Center, 30 Rockefeller Plaza between Fifth and Sixth Aves and 49th and 50th Sts (212-223-7800, publicartfund.org). Free. Through June 7.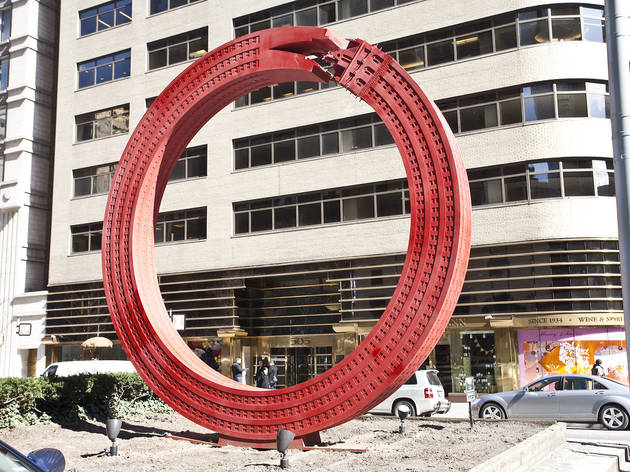 3/13
Photograph: Camille Fernandez
Alexandre Arrechea, No Limits Stroll down Park Avenue to check out ten sculptures that offer a new perspective on some of the city's more popular skyscrapers. Arrechea's work reshapes these landmarks into towering spools, circles and squiggles, whose resemblance to the originals is both surreal and amusing. Park Avenue Malls between 54th and 67th Sts (fundforparkavenue.org). Free. Through June 9.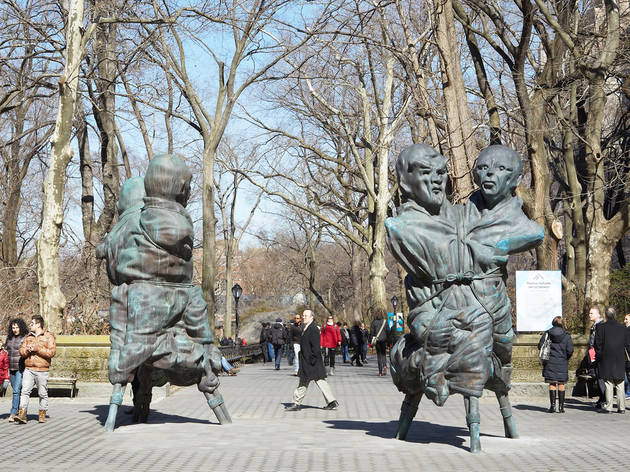 4/13
Photograph: Jason Wyche; courtesy Public Art Fund
Thomas Schütte, United Enemies Stop by the southeast corner of Central Park to have a look at these two arresting sculptures cast in bronze, depicting robed bodies whose double heads seem to be both pitted against and dependent upon each other. Whether political satire or commentary on the self, the insolvably knotted nature of these sculptures makes a good subject for scrutiny. Doris C. Freedman Plaza, 60th St at Fifth Ave (212-223-7800, publicartfund.org). Free. Through August 25.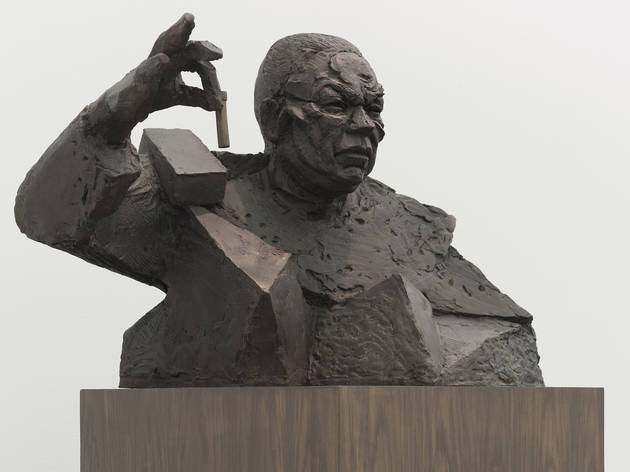 5/13
Photograph: Courtesy the artist and Andrew Kreps Gallery
Various artists, "Busted" Ditch the stuffy museums and head to the High Line, where you can see a number of sculptures that riff on portraits and monuments. Think Roman forum, but with a waft of humor and a contemporary spin. Works you'll see among the benches and greenery include a bronze satyr, Colin Powell and a giant nose. Another forthcoming sculpture project, Caterpillar by Carol Bove, will open the normally closed Rail Yards to holders of advance tickets, on sale at the beginning of May ($5). The High Line between Gansevoort St and W 28th St (thehighline.org). Free. Through Apr 2014.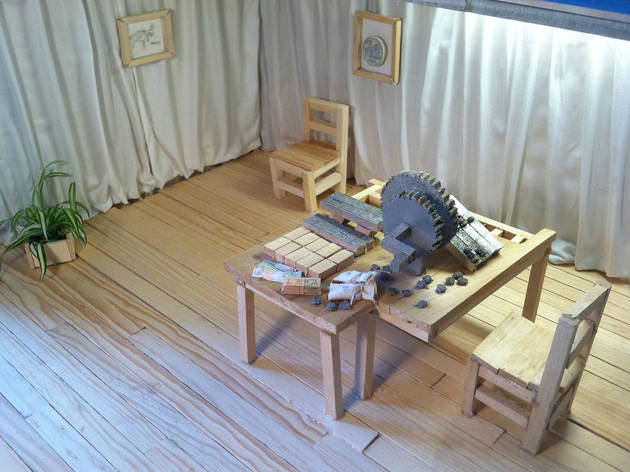 6/13
Seth Kinmont and Habitat for Artists, "TRANSported" For the New Museum's Ideas City festival, Kinmont and HFA have transformed two 20-foot shipping containers into interactive works. Tender is a sculptural installation that Kinmont uses to mint currency on-site. Addressing questions surrounding fluctuation in value, the piece invites the public to purchase this currency (for $1) and either keep it as a souvenir or use it as a lottery ticket to win the sculpture itself. Art Pac-Kit is a compact, sustainable garden that grows plants, collects rainwater and solar energy, and houses a meeting place for talks on sustainability. Want in on the discussion? Check the message board on the container's exterior for the schedule. Brookfield Place Plaza, 220 Vesey St between West St and the Hudson River (212-417-7000, brookfield.com). Free. May 1–27.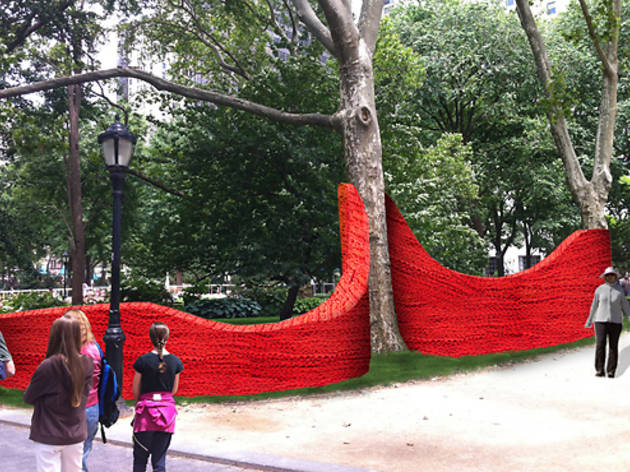 7/13
Orly Genger, Red, Yellow and Blue If you're craving waves, skip the surf and head to Madison Square Park, where you'll find sizable wavelike structures of primary colors skirting the park's walkways and swelling around its trees. Genger's installation is constructed from a whopping 1.4 million feet of hand-knotted nautical rope, all collected from the Eastern coastline and colored with more than 3,000 gallons of paint. Madison Ave between 23rd and 26th Sts (212-538-1884, madisonsquarepark.org/art). Free. May 2–Sept 8.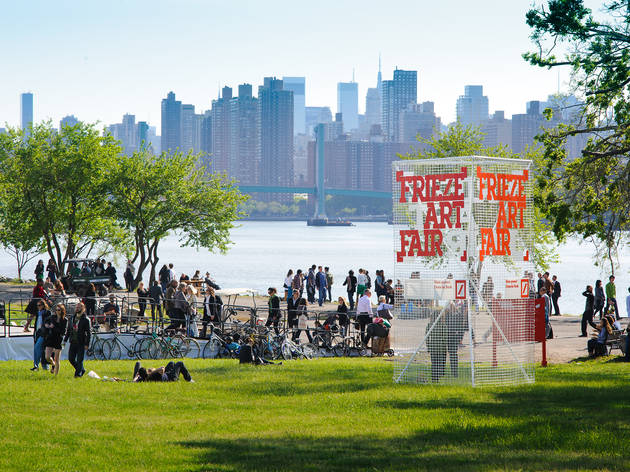 8/13
Photograph: Graham Carlow
Frieze New York The second annual edition of this art fair comes bearing free outdoor gifts (admission to the tents will run you $26–$75). Frieze creates a sculpture park along the East River featuring ten works by artists such as Austrian sculptor Franz West and multimedia installation artist Paul McCarthy. In addition, Maria Loboda's color-coded garden of plants and flowers replicates a 19th-century European interior-design motif, and pay your respects in front of the marble slabs that compose Andra Ursuta's art cemetery, a pieces find a final resting place. Randalls Island (212-463-7488, frieze.com). Free. May 10–13.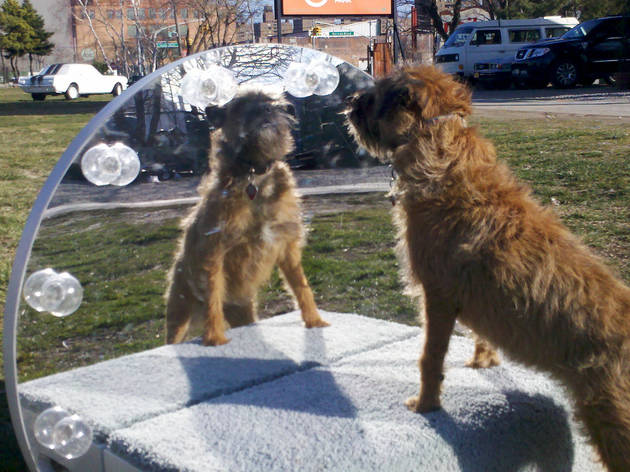 9/13
Photograph: Courtesy Socrates Sculpture Park
Hans Ulrich Obrist, do it (outside) In the most recent incarnation of this exhibition that's taken place in 50-plus venues around the world, Obrist recruited more than 60 international artists (Ai Weiwei, David Lynch and Joan Jonas among them) to write  instructions for creating all manner of works, which in turn have been interpreted by other artists and put on display alongside the directions. To see those instructions with a performative component, stop by the park on May 12 (2–6pm) for the opening. You're also invited to visit the park and act out the performative pieces yourself. Socrates Sculpture Park, 32-01 Vernon Blvd at Broadway, Long Island City, Queens (718-956-1819, socratessculpturepark.org). Free. Opens May 12.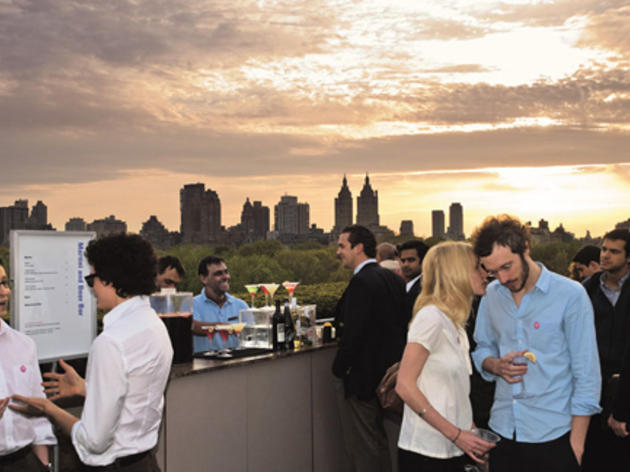 10/13
Imran Qureshi in the Met's roof garden With this site-specific work, the Pakistani artist will be the first to paint his work directly onto the roof's concrete surface. Qureshi draws from 16th- and 17th-century Islamic ornamental traditions as well as contemporary abstract theory to create sprawling, intricate and complex works. The Iris and B. Gerald Cantor Roof Garden at the Metropolitan Museum of Art, 1000 Fifth Ave at 82nd St (212-535-7710, metmuseum.org). Suggested donation $25, seniors $17, students $12. May 14–Nov 3.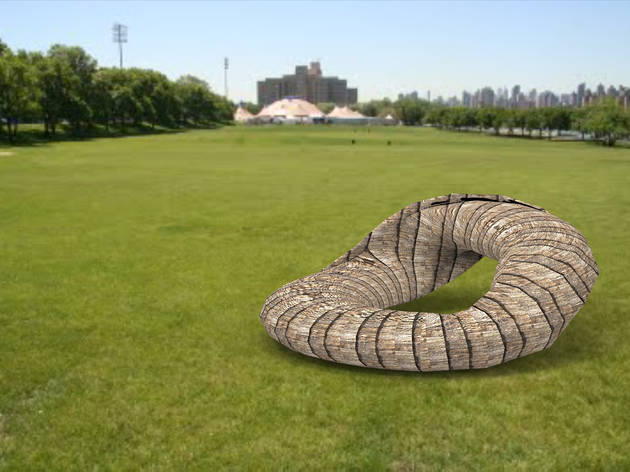 11/13
Rendering: Eto Otitigbe
Flow.13 This summer, five site-specific installations open on the southern shore of Randalls Island Park. Rest in the shade of one of Anne Percoco's New Growth two-dimensional trees, created with images from the Yellow Pages and enlarged to a height of between four and seven feet. You can also hang out at (and sit on) Eto Otitigbe's 20-foot-wide, undulating, doughnut-shaped structure, Looping Back. Randalls Island Park (212-860-1899, flowartnyc.org). Free. June 15–Nov 15.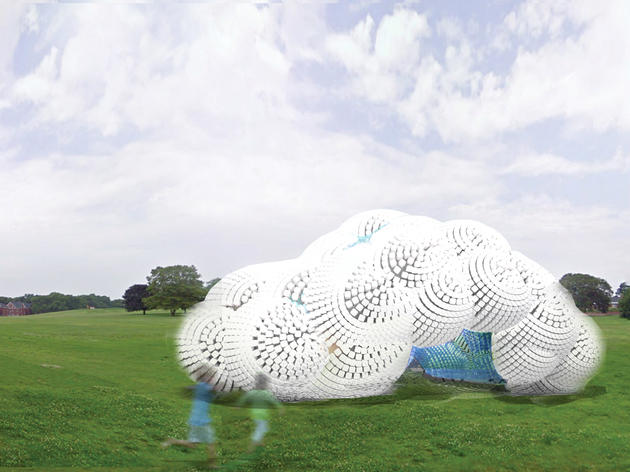 12/13
Photograph: STUDIOKCA
Studio Klimoski Chang Architects, Head in the Clouds The centerpiece of this year's Figment show on Governors Island will be architects Jason Klimoski and Lesley Chang's pavilion, made from 53,000 recycled milk jugs and water bottles collected from urban schools, running groups and sundry other organizations. The vessels are to be assembled into more than 100 pillowy segments, which combine to give this structure its cloudlike appearance from afar. Enter the interior to recline on soft-foam seating and admire the vivid blues (each container will be filled with colored water). Volunteer to help build the installation by signing up online. Governors Island (newyork.figmentproject.org). Free. June 9–Sept 23.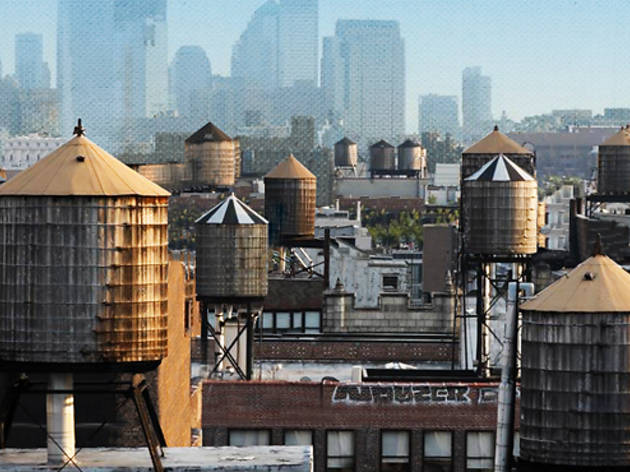 13/13
Word Above the Street, The Water Tank Project Sometimes the only place you need to look for inspiration is up—to the water towers, that is, where artwork celebrating musicians, artists, scientists and NYC residents wraps around more than 100 of the city's signature towers. Featuring contributions by notables and celebrities such as Ed Ruscha, Marilyn Minter and Jay-Z, this project strives to raise awareness for the need to protect water as an important resource. Locations vary; call 347-329-4550 or visit wordabovethestreet.org for details. Free. Aug 14–Nov 6.
Public art: New outdoor artworks to see in 2013
Check out the best additions to the public-art scene this spring and summer, including a cloudlike pavilion on Governors Island.