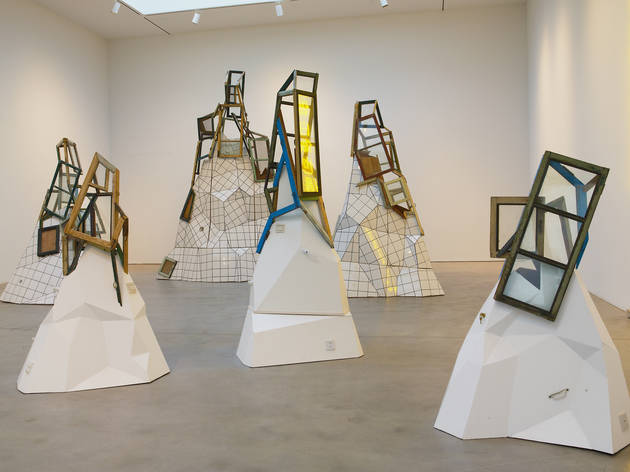 1/11
©2013 The Pace Gallery
Song Dong, instllation view at Pace Gallery
2/11
©2013 The Pace Gallery
Song Dong, instllation view at Pace Gallery
3/11
©2013 The Pace Gallery
Song Dong, instllation view at Pace Gallery
4/11
©2013 The Pace Gallery
Song Dong, instllation view at Pace Gallery
5/11
©2013 The Pace Gallery
Song Dong, Breathing, 1996
6/11
©2013 The Pace Gallery
Song Dong, Bicycle, 2004
7/11
©2013 The Pace Gallery
Song Dong, A Pot of Boiling Water, 1995
8/11
©2013 The Pace Gallery
Song Dong, Calligraphy Model Books, 1995-2012
9/11
©2013 The Pace Gallery
Song Dong, Eating Drinking Shitting Pissing Sleeping, 1999
10/11
©2013 The Pace Gallery
Song Dong, Facing the Wall, 1999
11/11
©2013 The Pace Gallery
Song Dong, A Blot on the Landscape-Cut Stroke (Jian dao cun), 2010
This two-gallery show surveys the work of Song Dong, one of China's foremost Conceptual artists, spanning his career from 1994 to the present. During that time, he's returned again and again to certain themesÑthe ephemeral qualities of life, the artistic potential of discarded items, the power of insignificant gestures—while only rarely repeating himself.
Speaking to the idea of the individual struggling against a cold, cruel world, Breathing (1996) consists of a pair of photographs in which the artist can be seen in winter, lying facedown in Tiananmen Square and also on a frozen lake in Beijing—trying, in each case, to make ice with his breath. His video Broken Mirror (1999) is similarly intriguing in its simplicity, showing a Beijing thoroughfare reflected in a mirror—until the object is smashed to reveal the other side of the street. The series "A Blot on the Landscape" (2010) quotes from traditional scroll painting to create landscapes made of food that are chopped, eaten or disposed of, as a metaphor for a society destroying its past to find its future.
Song's ventures into sculpture, however, are less assured. Assemblages created from tiled public bathroom floors, and from doors found in the old houses lining China's hutongs, or alleyways, are meant to evoke China's ordinary folk. But in transforming this material into slick, high-cultural objects, he betrays a slice of society already threatened by rapid economic growth.
Still, it's worth familiarizing yourself with Song Dong; he's a major influence on younger Chinese artists and a pioneer of that country's performance and video art. Firmly rooted in Beijing, Song's efforts comment on a way of life that's fast disappearing.—Barbara Pollack