Heads up! We're working hard to be accurate – but these are unusual times, so please always check before heading out.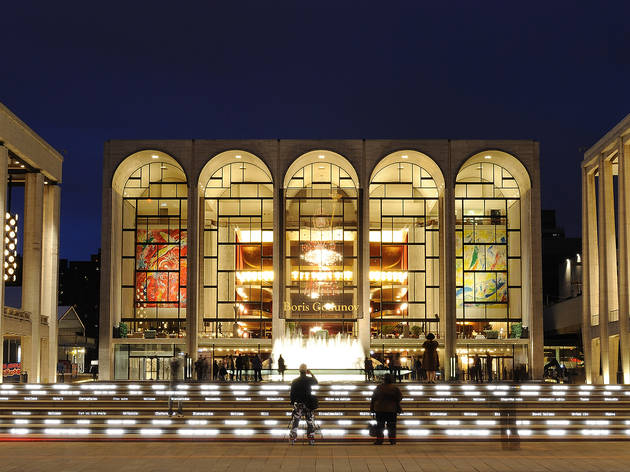 The top 10 midcentury buildings in New York, ranked
These buildings, designed by some of history's greatest architects, recall the glamour of mid-20th century New York
The Flatiron Building touched off New York's early skyscraper boom—a period that culminated with the Chrysler and Empire State buildings. But when you look around the skyline today what do you mostly see? Boxes. These are the descendants of the International Style of modernist architecture that flourished during the postwar era, and most of them are pretty meh. But they should never be confused with the midcentury buildings that inspired them. Designed by some of the greatest architects of all time, they began to spring up in Midtown and elsewhere during the Mad-Men era of the 1950s and '60s—introducing, in the bargain, such innovations as the lass curtain wall. They embodied a belief in a better future, and that spirit is just one of the reasons that these 10 examples are worth a look.
Top 10 midcentury buildings in NYC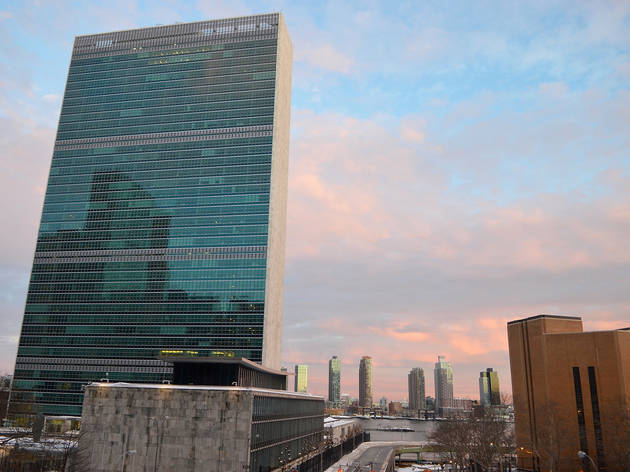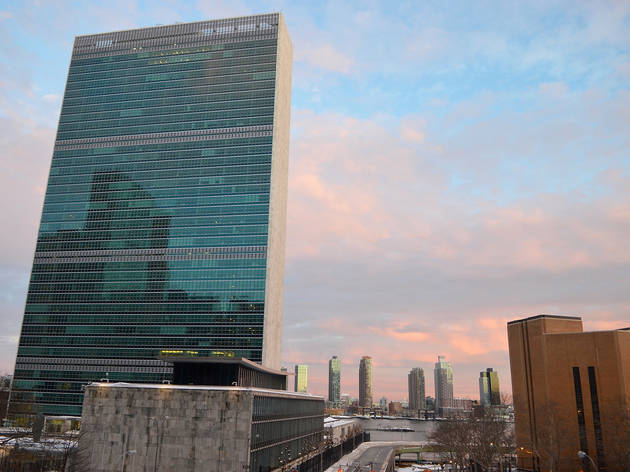 Photograph: Shutterstock
Opened in 1952, the U.N. building is one of greatest architectural icons in the world. Located in Turtle Bay, the U.N. stands out against Manhattan's skyline at its site overlooking the East River. Constructed under the supervision of architect Wallace K. Harrison, the U.N.complex comprises two major buildings, each designed by a giant of modern architecture: Oscar Niemeyer, who created the 39-story Secretariat Building, and Le Corbusier who designed the swooping General Assembly building. Niemeyer's tower was the first building in New York to employ a glass curtain wall for its eastern and western facades—a hallmark of the postwar International Style—while its north and south elevations are clad in Vermont Marble.
Photograph: Courtesy Creative Commons/Flickr/Paula Soler-Moya
Opened the same year as the U.N. Building, Lever House (formerly American headquarters for the British soap company, Lever Brothers) was the second building in New York with a glassy facade, the first of many such corporate towers that would spring up all over New York. Located on Park Avenue and East 53rd Street, Lever House's elegant design—a slim tower set perpendicularly to a low-rise podium—was the brainchild of Gordon Bunshaft and Natalie de Blois of Skidmore, Owings and Merrill.

Photograph: Courtesy CC/Flickr/Paula Soler-Moya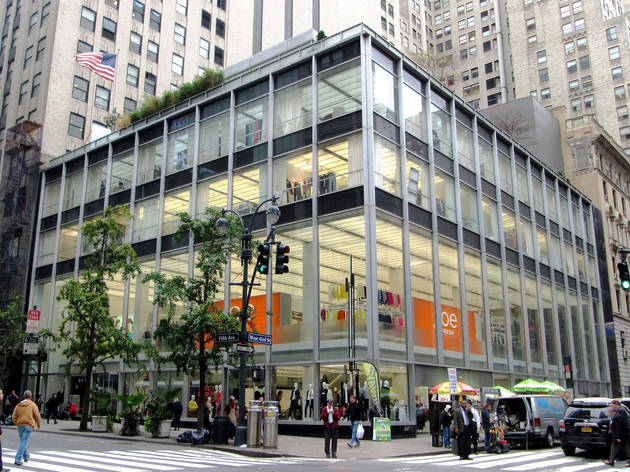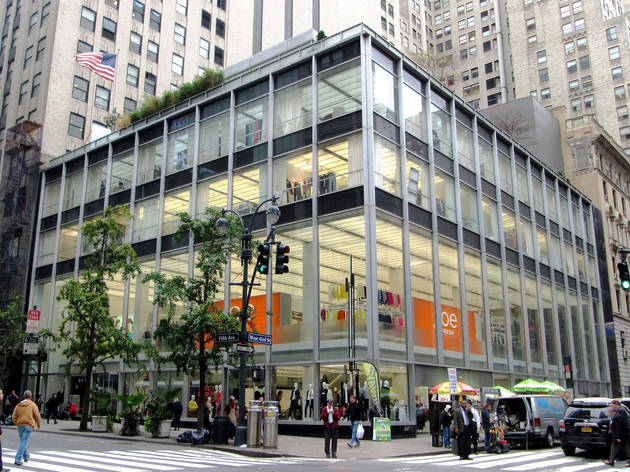 Photograph: Courtesy CC/Wikimedia/Beyond My Ken
3. Manufacturers Hanover Trust Company Building
Sitting on the corner of Fifth Avenue and East 43rd Street, the old "Manny Hanny" building designed by Charles Evans Hughes III and Gordon Bunshaft of Skidmore, Owings and Merrill isn't as well known as Lever House or the Seagram's building, but architectural historians consider this aluminum and glass edifice no less important as a milestone of midcentury modernism. Measuring four stories, it was the first bank building designed in the International Style. Though it no longer serves that function, you can still see its massive vault through the ground-floor windows—a feature that, at the time the building opened, represented a radical departure from traditional banks, which tended to hide their vaults in the basement.

Photograph: Courtesy CC/Wikimedia/Beyond My Ken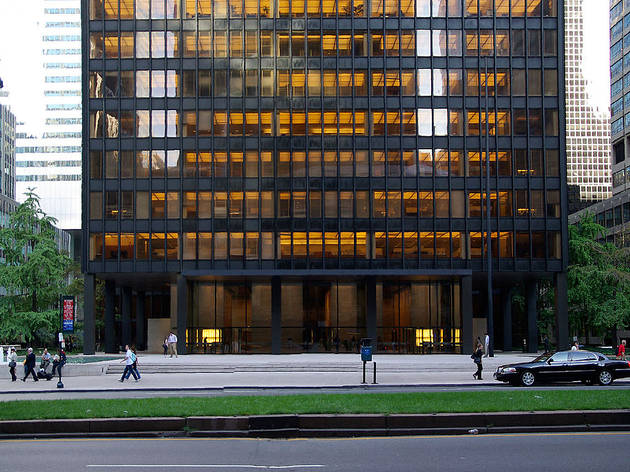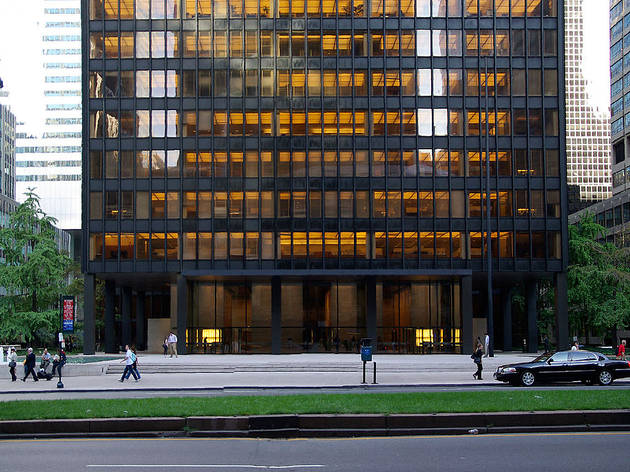 Photograph: Courtesy CC/Wikimedia/Dandeluca
There's probably no work by Mies Van der Rohe that embodies his credo, "less is more" than the Seagrams Building, located catty-corner to Lever House on Park Avenue. Completed in 1958, this beautifully proportioned tower sits back from the street, fronted by a magnificent plaza paved in granite. It's 38-story bulk sits atop a series of columns that make it seem as if the building were levitating, a bit of dark magic enhanced by amber-colored windows set inside a latticework of steel beams skinned with bronze.

Photograph: Courtesy CC/Wikimedia/Dandeluca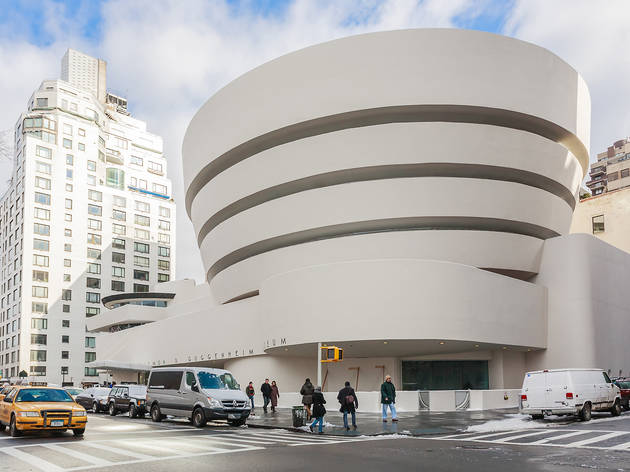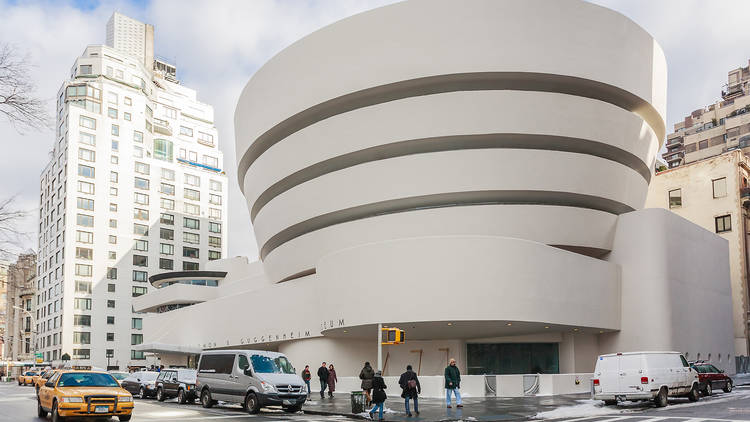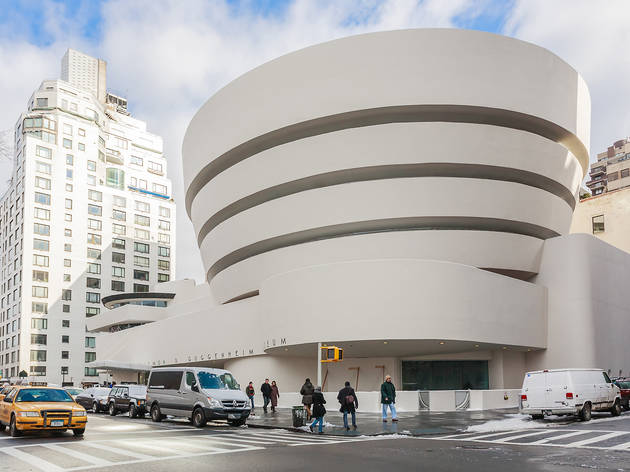 Photograph: Shutterstock
5. Solomon R. Guggenheim Museum
Opened in 1959, the Solomon R. Guggenheim Museum was one of Frank Lloyd Wright's last projects, and is also his most famous, known the world over as a New York icon and tourist destination. Its spiraling rotunda is equally famous for taking visitors past the art on inclined ramps.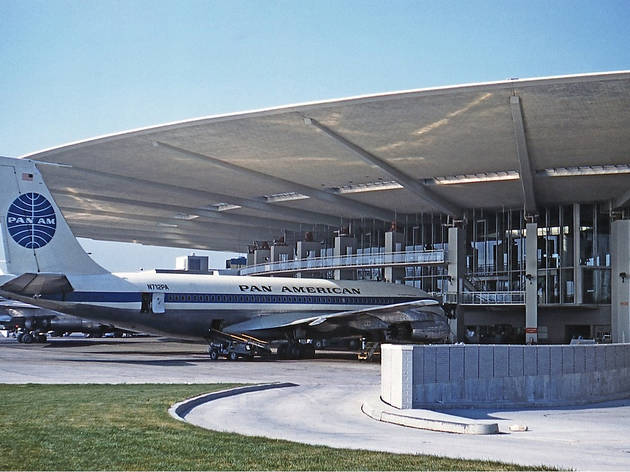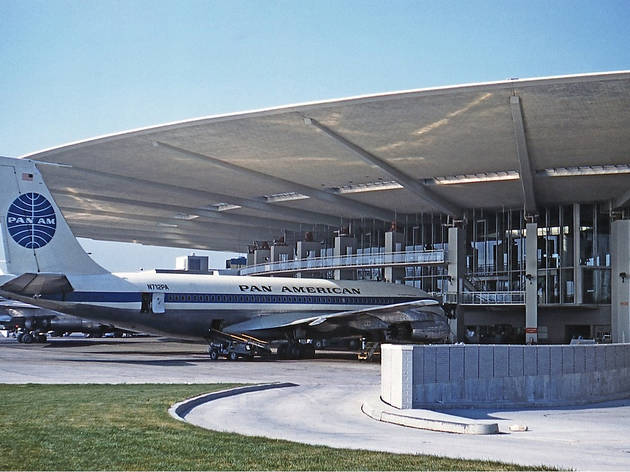 Photograph: Courtesy CC/Wikimedia/Jon Proctor
Most people are familiar with the gull-winged former TWA terminal at JFK, but few know about the equally cool Pan Am Worldport once located a stone's throw away. Like TWA, the Pan American Airlines meant its terminal to reflect the glamour of the early jet age. Opened in 1960, the structure was notable for it four-acre "flying saucer" roof that sheltered jets as they came and went. Designed by Ives, Turano & Gardner Associated Architects and Walther Prokosch, the Worldport was pure George Jetson, though its futuristic design couldn't save it from the wrecking ball in 2013.

Photograph: Courtesy CC/Wikimedia/Jon Proctor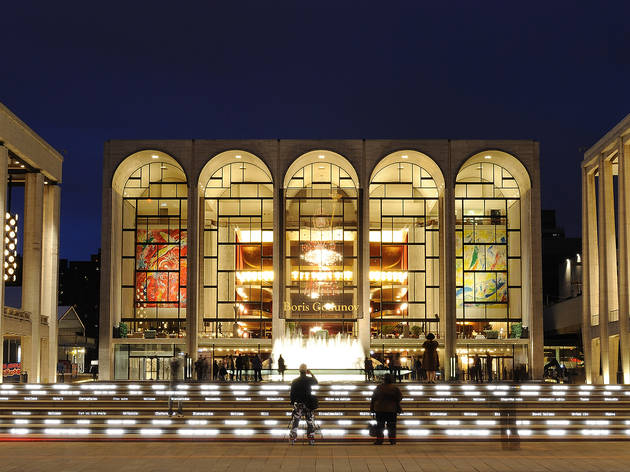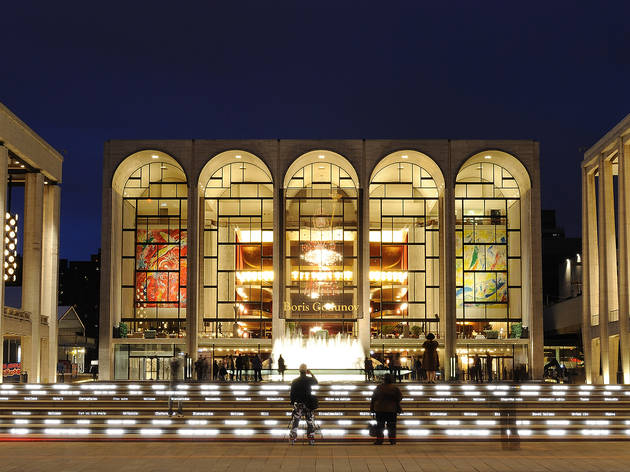 Photograph: Shutterstock
New York's cultural heart, Lincoln Center was a product of a massive redevelopment that tore down an entire neighborhood of old tenements and storefronts. Back then, this wholesale act of gentrification was known as urban renewal, an often wrongheaded government policy that treated old neighborhoods as a blight to be eradicated without any concern for the people living in them. This attitude was part of a mindset that espoused top-down solutions to effecting change. Still, no one today would dispute the magnificence of a place once described as New York's answer to the Acropolis. Lincoln Center opened in stages starting with Philharmonic Hall (recently rebranded as David Geffen Hall) in 1962 with additions being tacked on as recently as 2012. Once again, Wallace K. Harrison served as original master planner, orchestrating a team of architects that included Philip Johnson and Eero Saarinen (designer of the TWA terminal).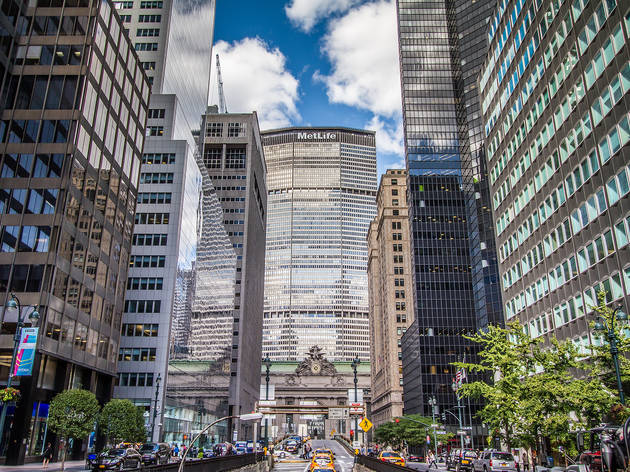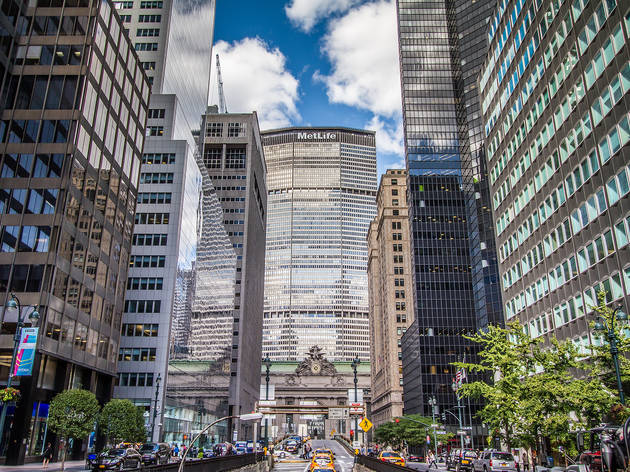 Photograph: Shutterstock
Opened in 1963, this 59-story tower above Grand Central started life as the Pan American building. Its flat roof was originally created as a pad for helicopters that would ferry passengers to and from Pan Am's Worldport terminal at JFK International. Unfortunately, a 1977 accident that killed three passengers ended the service. It was one of the first buildings clad in cast concrete. One of the architects who worked on the design was Bauhaus founder Walter Gropius, and the building represents his only project in New York.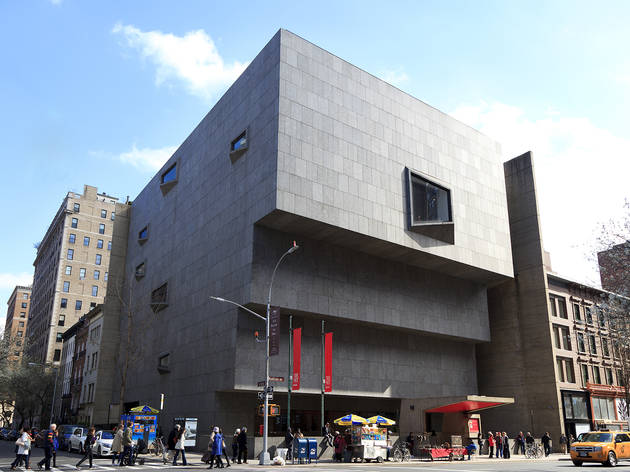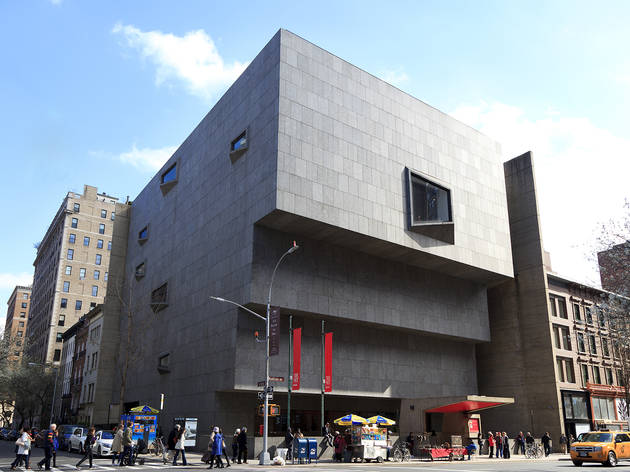 Photograph: Shutterstock
Now an annex of the Metropolitan Museum of Art, this Marcel Breuer–designed building on Madison Avenue and East 76th Street was originally the home of the Whitney Museum of America when it opened in 1966. A masterpiece of the Brutalist style, the building rises like an inverted set of steps cantilevering over an entrance separated from the street by a moat (which visitors cross via a short bridge). While the floor below street level looks out over the moat through a glass wall, the rest of the facade is featureless expect for series of trapezoidal "eyebrow" windows (one large on the front; four smaller ones on the East 76th Street side).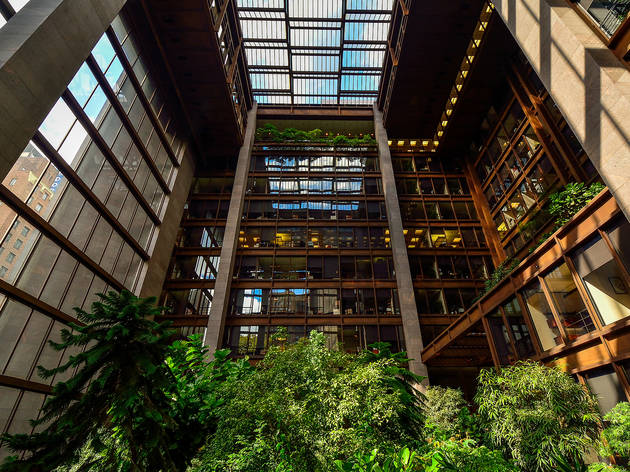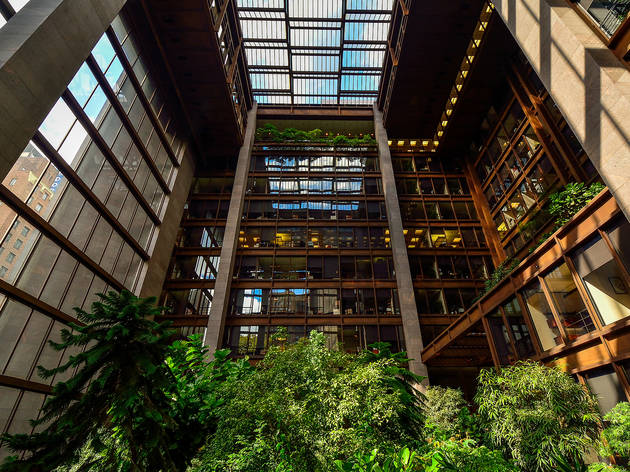 Photograph: Courtesy CC/Wikimedia/Kenlarry
10. Ford Foundation Building
Opened in 1967, the Ford Foundation Building is located on East 43rd Street and Second Avenue. Its defining feature is a stupendous skylight atrium soaring the full 12 stories of the building's height. Filled with trees and bushes, this massive courtyard softened the hard edges of the International Style and influenced future public spaces throughout the city.

Photograph: Courtesy CC/Wikimedia/Kenlarry
Looking for more art in NYC?
We picked the best art museums in New York showcasing the world's finest art, from classics to contemporary works