Heads up! We're working hard to be accurate – but these are unusual times, so please always check before heading out.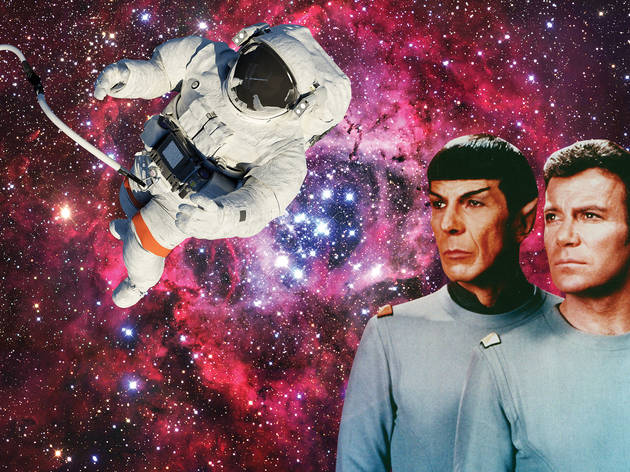 SpaceFest 2013 touches down at the Intrepid Museum
SpaceFest 2013, the Intrepid Museum's second annual celebration of our universe, soars with celeb astronauts and starry exhibits.
Science-fiction fans know that the unknown outer realms of our universe are not only vast, they're vastly more exciting than Earth—which is kind of boring, not to mention well-explored and settled. The Intrepid Sea, Air & Space Museum concurs, hence its annual SpaceFest, a multimedia celebration of our little-understood cosmos. For four days, the aircraft carrier's pier, hangars and restored Space Shuttle Enterprise Pavilion (which reopened July 10 following extensive damage from Hurricane Sandy) will host enlightening exhibits and awesomely nerdy events. Watch local schoolchildren from the First Robotics League toss Frisbees with their personally designed bots, investigate a miniature Enterprise replica by a LEGO master builder, interact with NASA displays of aircraft and aerospace technology, and scale an inflatable rock-climbing wall (one must be ready to traverse rugged terrain on alien planets) while costumed Star Wars characters roam the facilities. But that's not all—here's a telescopic focus on three additional events worth entering the SpaceFest orbit for.

Visiting astronauts
New Yorkers are pretty worldly, but how often do you meet someone who's actually traveled beyond Earth's atmosphere? Each day of the festival, several veteran astronauts will be signing autographs, answering questions and generally humbling us with their extraordinary experiences. Queens natives Ellen Baker and Charles Camarda, Bronx-bred Mario Runco Jr. and current NASA captain Lee Morin—each of whom has logged hundreds of hours in space—are on board; don't miss Baker's special presentation, "Living and Working in Space," in which she details her nearly 700 hours of NASA missions (Fri 26 at 2pm). Thu 25–Sun 28 10am–6pm; free with museum admission.

Star Trek: The Motion Picture screening
This alfresco viewing is part of the museum's Summer Movie Series, meaning you should arrive early to find somewhere to squat with lawn chairs and snacks (both of which are encouraged, though all drinks must be nonalcoholic). At sunset, you'll be transported from the U.S.S. Enterprise to the Starship Enterprise with 1979's Star Trek: The Motion Picture. The film stars William Shatner and Leonard Nimoy as Captain Kirk and his half-Vulcan right-hand man, Spock; they make a compelling duo, even if neither boasts the sex appeal of current franchise stars Chris Pine and Zachary Quinto, not to mention the villainous allure of Benedict Cumberbatch. Fri 26 at 7:30pm, early member seating 7:15pm; free.

Astronomy night
The problem with making out under moonlit skies is that your eyes are focused on whoever's in the passenger seat. Meanwhile, up above, billions-of-years-old clusters of volatile gases and dust are slowly traveling across the universe's expanse. Those ancient twinkles can be hard to differentiate, which is where experts such as Bob Moore (a member of the Rockland Astronomy Club) and Intrepid educator Alex Attanasio (former president of the Northern Arizona University Astronomy Club) come in. They'll regale curious stargazers with insight about constellations, planets, moons and all things celestial. They'll also provide telescopes for viewing—if the stars align you may even catch a glimpse of a meteor shower. Sat 27 7–10pm; free with museum admission. Registration required, e-mail educationevents@intrepidmuseum.org.
SpaceFest takes place at the Intrepid Sea, Air & Space Museum, Pier 86, Twelfth Ave at 46th St (877-957-7447, intrepidmuseum.org). Thu 25–Sun 28 10am–6pm; $24–$31, seniors and students $20–$27, children $12–$24, children under 3 and retired and active military personnel free.