The best places to get cheap beer in NYC
Finding cheap beer in NYC is not impossible—these places all have brews for under $5 (and not just at happy hour)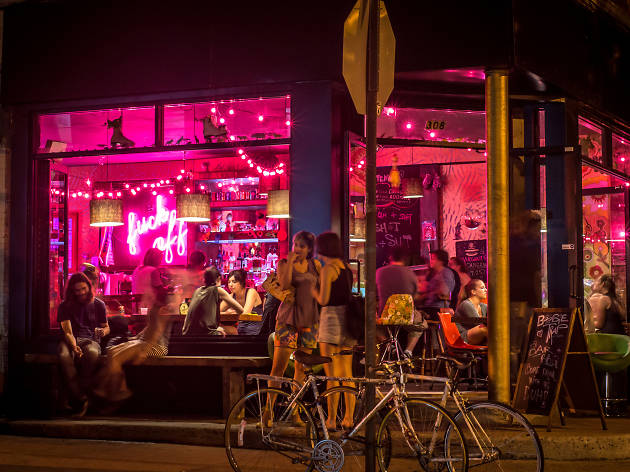 We know living in New York City can seem like a money pit, but we also know where you can get a cheap beer for less than a Lincoln. Sure, there are plenty of great happy hours, and they may not have the absolute best beer out there, but these cheap bars (which include dive bars, beer bars and beer gardens) sling brews at all hours. Cheers!
RECOMMENDED: See all of the best bars in NYC
Cheap beer in NYC: Manhattan
Come to this popular Hamilton Heights watering hole for the giant Jenga, $4 PBR drafts, domestic cans for $4 and—best of all—small nip bottles of domestic big-name brands for $3.
Read more
Getting jury duty is a whole lot better when you have this neighborhood saloon right around the corner from the criminal courts, offering domestic cans for $3 and $4 and drafts of Miller for $4.
Read more
Despite the fact that the neighborhood changed long ago, Blue & Gold Tavern is still holding down its East Village grit with dark lighting, take-no-shit bartenders, a pool table, a jukebox and drafts starting at $4.
Read more
A true Times Square treasure, this place, owned by an 85-year-old former boxing trainer (there are pictures on the walls with him and the sport's most famous athletes), is known for its low tourist count and $3 cold ones.
Read more
You might first be attracted to Fish Bar's quirky fixtures—there's fish nearly everywhere in the tiny East Village dive—but you'll stick around for the $3 PBRs.
Book now
Read more
Since 1933 (the year Prohibition ended), Rudy's has been slinging cheap drinks in Hell's Kitchen. Just be sure to take it easy on the Rudy's Blonde and Rudy's Red, the house beers you can get for $3 a draft ($8 and $10 for a pitcher, respectively), or else you might be seeing two of Baron, its famed friendly pig statue.
Read more
With nothing more than a neon red light sending the beacon of "Bar," Johnny's offers a wormhole to a different kind of West Village, where the ceiling is low, the walls are cluttered and Rolling Rocks only cost $3.50.
Read more
A far cry from the clubs in Chelsea and Hell's Kitchen, this gay bar is the epitome of low-key. Beers start in the $4 range, though specials after 10pm typically change those prices to $3—which means more money to use on the top-notch jukebox.
Read more
While some people might claim this long-standing, never-changing, West Village burger joint isn't as good as it used to be, the food still tastes great to us, especially when paired with a draft. Every single one on tap will only set you back $3 to $4.25.
Read more
Cheap beer in NYC: Brooklyn
While many people clamor for $5 beer-and-shot combos, it's this rare comic book-themed bar that swoops in to save the day with the same deal for just four Washingtons.
Read more
A true old-school Greenpoint watering hole where you'll hear Polish tunes on the jukebox, come here for $3 PBRs—or $1 Jell-O shots if you dare.
Read more
While you'll seldom see anyone who isn't a dude and who isn't over 40, you can still play pool at this longtime Kensington haunt and get some brews for less than a Lincoln.
Read more
If you don't mind some insane weekend crowds of the young and frisky, feel like Williamsburg royalty as you down $3 chalices of Budweiser or, for the same price, a bottle of the champagne of beers: Miller High Life.
Read more
Since 1964, this pub has been a favorite among locals in Sunset Park. While the prices have gone up a bit since the mid 20th century, drafts still start at $4.
Read more
Red Hook locals make this place their second home as they lounge at the outdoor picnic tables, eating pulled pork sammies and sipping domestic bottles that start at $4. If you bring friends with deeper pockets, they might want to choose one of the dozens (and we mean dozens) of other brew options.
Read more
Perhaps one of the most beloved bars in all of Brooklyn—in the past we've called it a "perfect saloon experience"—this quirky bar and music venue is not only a must-visit for its unique and friendly vibe but for the domestic bottles for just three bucks.
Read more
While the heroes behind the bar at this dive are no longer pouring 32 oz beers into Styrofoam cups (sob), domestic drafts are still just $3.
Read more
Show more
Cheap beer in NYC: Queens
Cheap beer in NYC: Staten Island
Looking to buy some beer to bring home?
Find the best beer store in New York City for unique brews, cheap-but-good picks, free samples and specialty craft beers
Read more