Foraged cocktails: New York's latest booze fad
The found-ingredient trend—seen in cutting-edge kitchens around the world—crosses over to the bar, with roots, berries and leaves going into the mixing glass.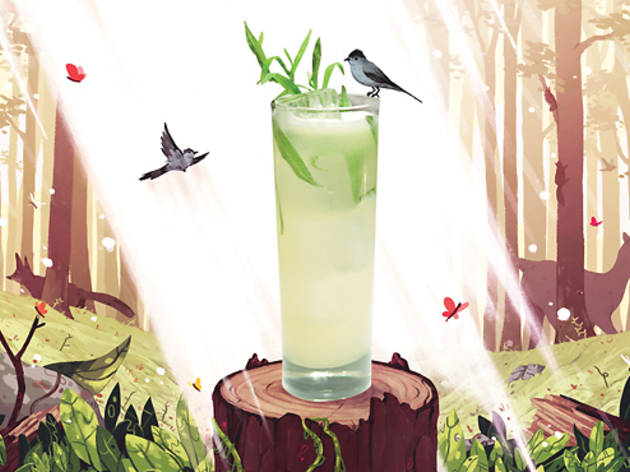 The fervor for woodland foraging in modern cuisine—a practice pioneered by Spain's avant-garde gastronomical mecca Mugaritz and popularized by New Nordic destinations like Denmark's Noma—has spread like brush fire. In the U.S., it was once a pastime only for eccentrics like naturalist Steve "Wildman" Brill (famously arrested for eating a Central Park dandelion), but the movement has reached the upper echelons of New York dining, with five-star highfliers like Daniel and Eleven Madison Park employing greenery combed from forest floors. But the world has Gotham to thank for a new innovation on the fad, appropriate for the city that never sleeps: Barkeeps are going boozy with the hunter-gatherer-style ingredients, spinning them into shoots-and-leaves tipples.

Pro forager Evan Strusinski—who collects wild, edible plants for top kitchens such as Gramercy Tavern and Blanca—is jonesing to challenge the supremacy of European aperitifs with back-country tinctures. "It's fine to use amaros and bitters from Italy," says Strusinski. "But if we can re-create [those ideas] using ingredients from around here, it's simply more tasty. They give drinks bold, striking new flavors." You can taste Strusinski's finds in a few of the imaginative quaffs at the Lounge at Atera, the mixology annex to Mugaritz alum Matthew Lightner's inventive tasting-menu temple. In the subterranean drinkery, a syrup made from a Pennsylvanian sassafras root lends earthy sweetness to the Sass, a Sazerac-like rye cocktail, while actual pinesap gives a bright, woody character to the gin-based Sapp.

Under chef Justin Hilbert (another Mugaritz vet), the naturalist bent of Williamsburg's Gwynnett St. extends to the bar program. In shaken aquavit concoction Fogg's Wager, a wetland perennial called sweet flag charges yellow Chartreuse and grapefruit with grassy, gingery undertones. On the other side of the 'hood, at cool-kid Scandinavian spot Aska, partner and beverage guru Eamon Rockey mirrors chef Fredrik Berselius's forest-to-table approach in his cocktail list: Hudson Valley tree bark—discovered while the pair was mushroom hunting—provides the arboreal base for a birch-and-whiskey decanter bitter (a type of 19th-century American sipping amaro).

Even restaurants with more mainstream ambitions have jumped on the twig-waving bandwagon: Colicchio & Sons serves the Forager—a transparently titled drink highlighting whatever handpicked ingredients are hauled in, such as wild gingerroot (made into a tea with red verjuice) and huckleberries (mixed with lambrusco for a mulled wine). While stateside toques may continue to take cues from abroad, when it comes to cocktails—an American invention, mind you—New York's still got the edge.
Sponsored listing
LeGrande Lounge
Tucked into the mezzanine level of the Time New York hotel, the LeGrande Lounge serves up small plates and specialty cocktails in a secluded setting. Order something off the beer or wine list, or go for a signature cocktail like the Gold Finch with vodka, cinnamon, cream and Stumptown cold brew or the Madame's Choice with gin, honey, sage, lemon and earl grey tea (both $16). The bartenders will be happy to mix you a Moscow mule, negroni, Manhattan or another classic cocktail, too (all $15). The food options range from light bites like bruschetta ($9) to larger, shareable plates—think steak tacos with salsa verde ($20), honeyed truffle pecorino grilled cheese ($14) and fried chicken served with hot sauce and Brussels sprouts slaw ($16).
Venue says: "Live jazz music & drink specials every Wednesday from 7-11PM featuring Acute Inflections!"