Heads up! We're working hard to be accurate – but these are unusual times, so please always check before heading out.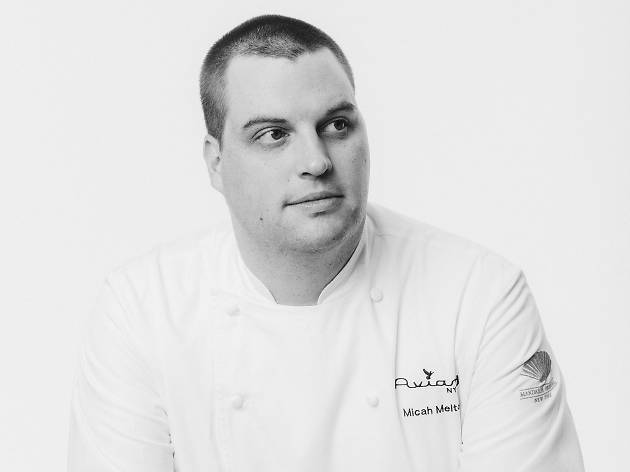 Micah Melton dragged NYC cocktails from Prohibition into the 21st century
Opening the five-star Aviary NYC, beverage director Micah Melton proved cocktails can be delicious as well as dazzling
The city's best cocktails took a quantum leap forward when Micah Melton turned one of the best hotels in NYC's bar on the Upper West Side into a five-star getaway. In doing so, he shattered the status quo among the city's bartenders and dared them to abandon their too-long-held faith in Prohibition-inspired cocktails served in speakeasy-style bars. In The Aviary NYC, Melton offers the opposite of that cliche: an adventurous passport to the 21st century.
RECOMMENDED: Full guide to New Yorkers of the Year
So much of New York's cocktail scene is locked into a few camps—the Sasha Petraske crowd (Milk & Honey, Little Branch, Attaboy), the Audrey Saunders branch (Pegu Club, Bar Goto) and the Julie Reiner crew (Flatiron Lounge, Clover Club, Leyenda, Suffolk Arms). It has the strength of being chummy and the weakness of being inbred. What was it like to come in as an outsider?
We weren't bartenders in the violet hours of the Milk & Honeys of the world, so we walked with a target on our chest. That has been great for us. It means we don't have the option to fail, the allowance to fail, because we don't really have a support system here in New York. So come at us with your criticisms, please, because look at what's happened on the other end where everyone is just cheering and congratulating each other. I get that I'm from Chicago. But the thing about New York is, it's never just about New York. It's about what's next.
The criticism you get is that this is all flash and folly, focused on presentation over substance or taste or quality.
We know we're about presentation. That's the idea. That way, we're always under the spotlight. We've had a
'prove yourself' mentality since day one. It keeps us better. We're battling gimmicks and fighting that perception with science and thoughtfulness. I admit that what we are trying would come off as a gimmick if it didn't deliver. But it delivers. The Science AF, for example, is just a really elaborate tribute to the Penicillin. And we might seem more like a gimmick because we're in such a weird part of town for this. There's a desert where it's Per Se and Jean-Georges and Masa in this tiny radius of food destinations, but for bars, it's us here at 59th Street and then ROKC at 141st. We're not on the Lower East Side or Soho. We're Alaska. We're Hawaii. We're Puerto Rico.
Tell me about a drink you didn't make.
I wanted to distill pumpkin pie and serve clear pumpkin pie liqueur. I'm getting better at turning down what's a good idea that doesn't translate. I couldn't make a
Bloody Mary
that has all these crazy garnishes that it's kinda a meal on its own. I couldn't make that and pretend I'm OK with that trend. So we made one where it's served with all these bites that are part of the cocktail, as like a fuck you. Trends are ridiculous unless you enjoy that trends are ridiculous. We try to find the fun in things. There are enough cocktails out there that take themselves very seriously.
What are the challenges you didn't expect?
We have regulars here, coming maybe three times a week. They're not going to order the crazy stuff every time. They want
a martini, scotch and soda, wine—things you have to do well without much room for weirdness. It's amazing: We go through more wine in a week here than we do in a month in Chicago. It's not a nightclub. It's not a place to make a scene or be a scene. But, at the same time, everything here has to have an Aviary element. You need to be able to look at a drink and see that it's the Aviary. That's what I call silent hospitality. And it's tough to do when people just order a martini or a Manhattan or wine. You can't do much with those orders. But that makes it all the more important to really give them what they're asking for there.
What's your order? What's your bar?
The Coliseum on 58th Street. It's nothing fancy but it has cold Miller High Life and that's all that matters at
3am.
Looking for some of the best bars in NYC?
From dives to cocktail dens and craft-brew havens to wine haunts, here are the best bars in NYC to visit right now