Mini guides to five seasonal bars in New York City
We're eagerly anticipating the return of certain seasonal watering holes. Here's everything you need to know ahead of the reopenings.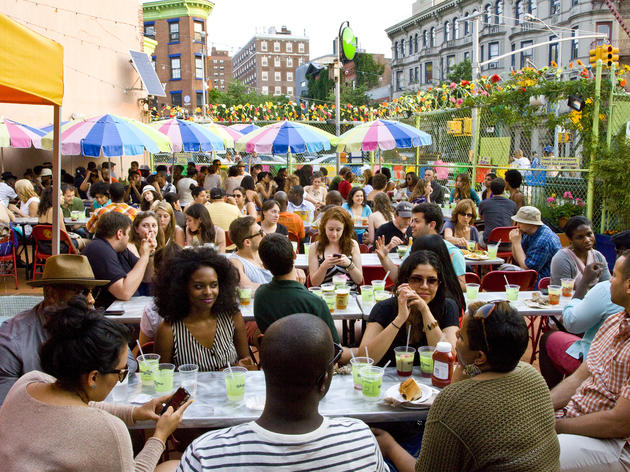 1/5
Photograph: Caroline Voagen Nelson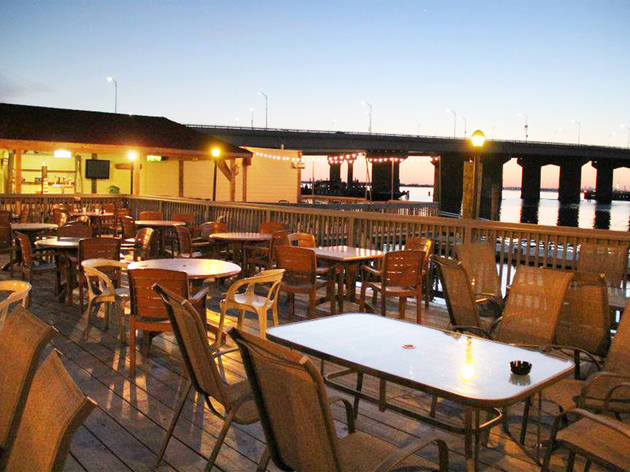 2/5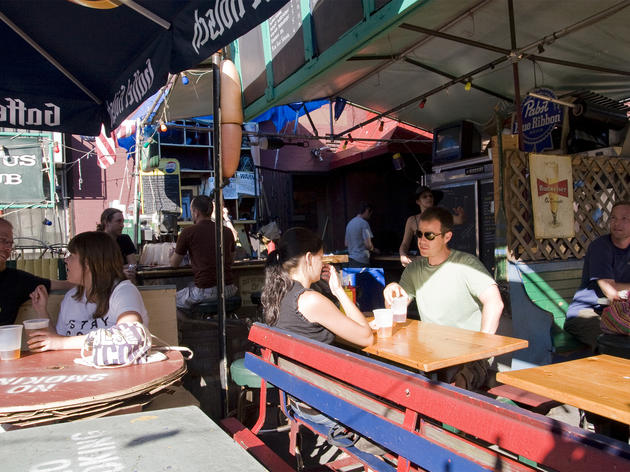 3/5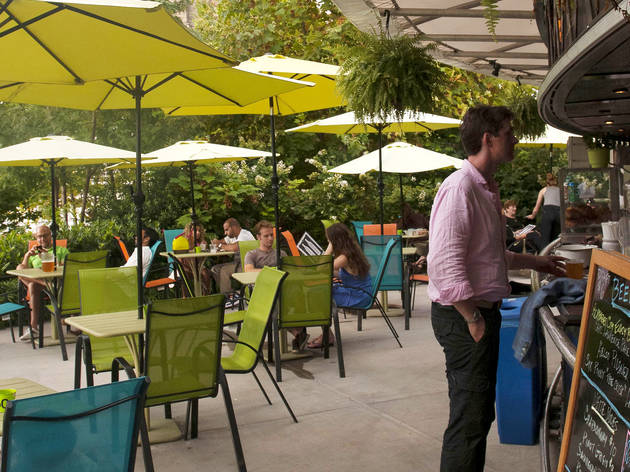 4/5
Photograph: Dianne Brogan
Brooklyn Bridge Garden Bar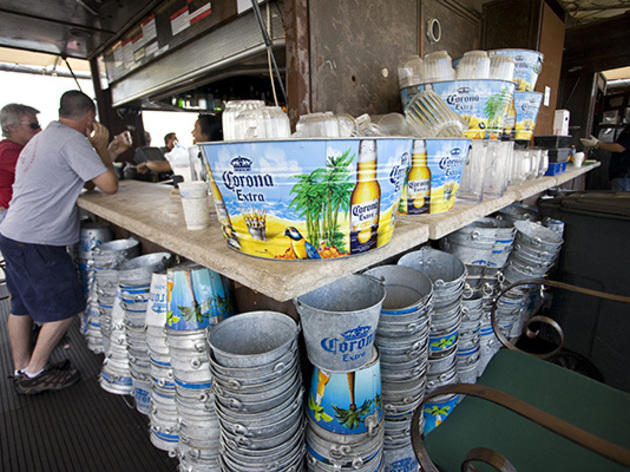 5/5
Photograph: Jolie Ruben
New Yorkers clamor for anything with a limited run, especially when it combines outdoor drinking and sunny skies. Whether you prefer craft beer or cocktails, these five venues are among best spring bars for their festive ambiance and open-air imbibing. We'll tell you how to enjoy each one to its fullest.
RECOMMENDED: Best spring bars in NYC
Projected opening: April 13
The crowd: A diverse but distinctly Brooklyn crowd, from singles on the prowl to artsy college kids, families and neighborhood old-timers
The scene: At 8pm each Sunday, Brooklynites settle in with 12-ounce drafts of Spread Love ale (a unique collaboration between owner Sean Meenan and nearby Kelso Brewery, $3), frozen mojitos ($8), Cubano sandwiches ($7.75) and mayo-and-cotija-slathered corncobs ($3) to enjoy "Movies Under the Stars." Check out Breakfast at Tiffany's on May 12 (find the full schedule of films on the website). Make like the regulars and get there early to stake out a spot at one of the picnic tables in the oft-crowded concrete yard.
Read more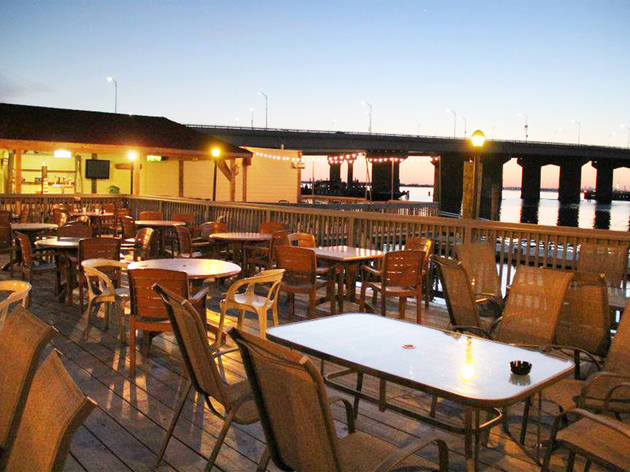 Bungalow Bar
Projected opening: April 19
The crowd: Casual Rockaway locals, families and the occasional tourist on a day trip from Manhattan
The scene: After six months of tireless post-Sandy renovation, this family-owned-and-operated pillar of Rockaway Beach will reopen its doors for a 36th season. Grab a spot in the picnic-table-peppered backyard and revel in the beach breeze as you slurp oysters ($9 for a half-dozen) and kitschy slushed drinks such as the tropical piña colada ($7). Sunday is the best time to go, when you can partake in a two-hour unlimited brunch (entrée price plus $15) next to the sparkling Jamaica Bay, to the tune of steel drums. Stick around till twilight on any day and watch the sun slip behind the distant New York City skyline through the buttresses of the Cross Bay Bridge. 718-945-2100, bungalowbarny.com
Projected opening: Mid-April
The crowd: Hip artists and young, bargain-hunting Brooklynites
The scene: There's nary a yacht to be seen at this überdive, where South Brooklyn antisocialites gather on what's more like an apartment patio than a traditional deck to swill $3 PBRs, $20 pitchers and mystery grab bags of booze (two for $5) while noshing on American eats like a fast-food-style burger ($6). The staff isn't the friendliest, but the fully alfresco space swarms with congenial regulars and eccentric locals, making it an ideal spot to hunker down for a temperate afternoon and see where your buzz takes you.
Read more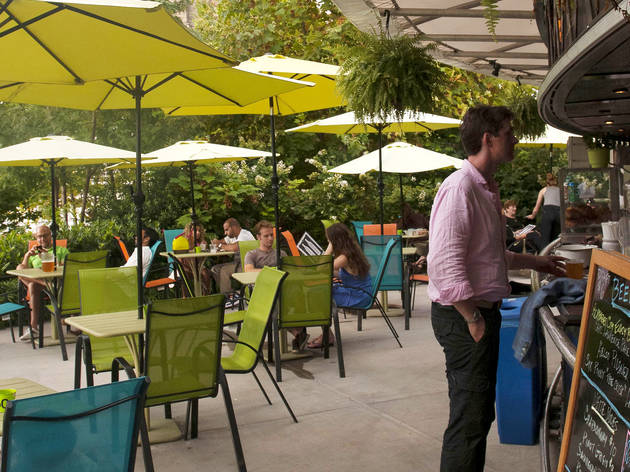 Brooklyn Bridge Garden Bar
Projected opening: Weekends in April; daily starting May 1
The crowd: Promenade strollers, dog owners and anyone with a hankering for a breathtaking view of the Manhattan skyline
The scene: Formerly known as the Brooklyn Bridge Wine Bar, this flora-laden patio now boasts a casual American menu from chefs Thomas Kuusisto and Liz McLeary, who plan to integrate a Scandinavian twist. The owners have applied for a full-scale liquor license, but until that goes through, they'll be offering hyperlocal craft beers and wine. Sunset is prime imbibing time here, but don't overlook the glory of a late night whiled away before the sparkling Manhattan skyline—the bar stays open till 1am. no phone
Projected opening: Any day the weather is 65 degrees or higher, starting mid-March; weekends in April; daily starting May 1
The crowd: Corporate sun-seekers dominate weekdays, while weekends bring a microcosm of the bistate area, from peppy tourists and young Manhattanites to a mellower bridge-and-tunnel crowd
The scene: Take the edge off a busy work week with a glass of signature house-made melon-and-berry white sangria (glass $7, pitcher $35) while floating atop the shimmering Hudson in this salvaged lightship. You'll likely spot tables cluttered with buckets of Coronas (six for $37), but we recommend throwing back the Easy Blonde ($7) from bartender Jason Yarusi's own Alphabet City Brewing Company. Scoring a seat can be tricky, so be sure to arrive at noon on the weekends. pier66maritime.com
Read more
Sponsored listing
Rye House
As the name suggests, American spirits are the emphasis at this dark, sultry bar. Along with a selection of bourbons and ryes, there are gins, vodkas and rums, all distilled in the States. Using the homeland hooch, mixologists Jim Kearns and Lynnette Marrero shake and stir top-notch mixed drinks like the refreshing house punch made with arrack (a rumlike spirit) and chai-infused rye. The Creole Daiquiri combines New Orleans rum with chorizo-flavored mescal (it's a bit like sipping a taco, which is a good thing). While the focus is clearly on drinking, there's excellent upscale pub grub: We liked the fiery fried buffalo sweetbreads.
Venue says: "Specials all Summer long! Sat & Sun 1p-7p- $5 bites, $9 apps, $6 drafts, $9 wines, & $11 cocktails. Cocktail of the month: Physical Graffiti"