NYC's best boozy hot drinks for the cold weather
Hot drinks are one of the few saving graces of New York's endless winter months. Try one of the ten warming cocktails below to stay toasty this season.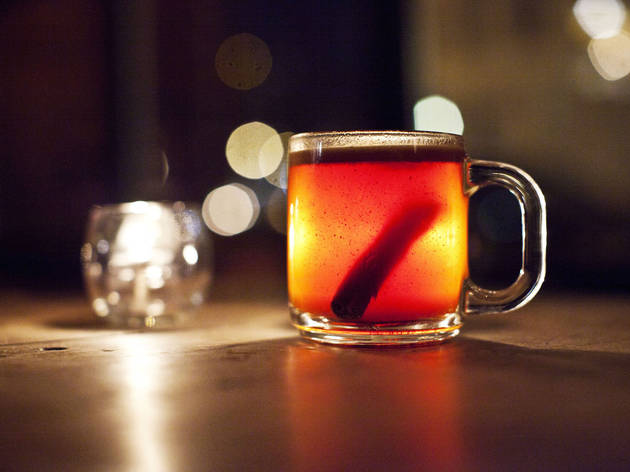 1/10
Photograph: Jolie Ruben
The Rough Trade at DramOwner Tom Chadwick adds an exotic edge to the classic hot buttered rum. He stirs a heaping spoonful of butter, cut with a Chinese five-spice mix, into a fearsomely potent pairing of rums: Coruba Jamaican and Plantation Trinidad Overproof. A nip of hot water dilutes the gutsy cocktail, but a shower of bitters (Amargo Angostura Vallet, Jerry Thomas) keeps the holiday favorite strong through the finish. 177 South 4th St between Driggs Ave and Roebling St, Williamsburg, Brooklyn (718-486-3726, drambar.com). $10.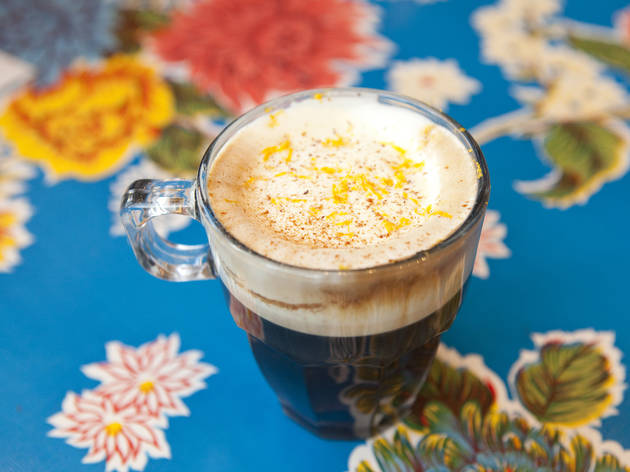 2/10
Photograph: Jessica Lin
Koffie Van Brunt at Fort DefianceA swirling layer of ivory white cream, burnished brown java and bright orange zest makes this drink as pretty to look at as it is tasty to sip. Owner St. John Frizell updates the time-honored Irish coffee with a rich, bitter shot of Counter Culture espresso freshly pulled from a La Marzocco machine. The warm mixture seeps out from under the float of chilled cream, with the mellow fruitiness of Cherry Heering and toffee flavors of an aged Bacardi 8 rum coming to the fore the longer it sits. 365 Van Brunt St at Dikeman St, Red Hook, Brooklyn (347-453-6672, fortdefiancebrooklyn.com). $10.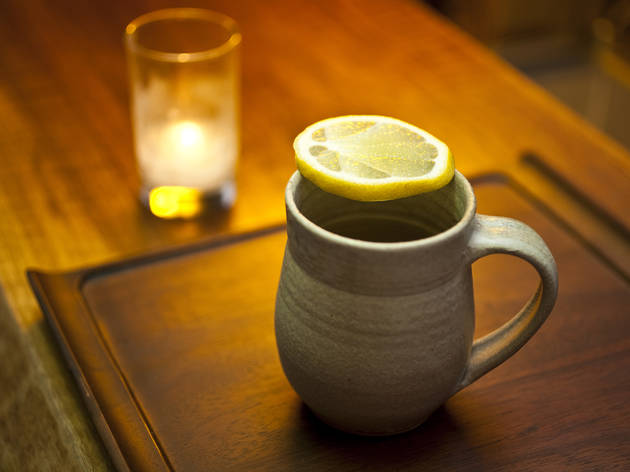 3/10
Photograph: Virginia Rollison
Swedish Punsch at AskaHigh-minded mixologist Eamon Rockey's take on Swedish punsch—a libation invented by East India Company sailors in the 19th century—tastes like something a Nordic grandmother might give you for the sniffles. This modern reimagining uses the same hooch the seamen employed (Batavia Arrack, an Indonesian sugarcane spirit), but infuses it with sweet fern and juniper, foraged by the restaurant's staff. The grassy botanicals soften the arrack's funky molasses base, and a squeeze of lemon juice lends restorative pep. 90 Wythe Ave at North 11th St, Williamsburg, Brooklyn (718-388-2969, askanyc.com). $12.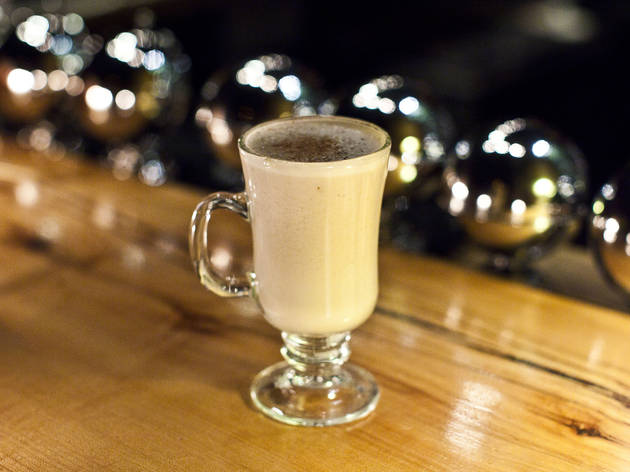 4/10
Photograph: Jolie Ruben
Tom & Jerry at Pegu ClubNineteenth-century bartending legend Jerry Thomas allegedly refused to serve this drink, an early derivation of eggnog, until the first snowfall, and cocktail maven Audrey Saunders also waits until winter to debut her version of the creamy, nutmeg-dusted potion. A labor-intensive batter—composed of boiling milk and whipped eggs, seasoned with vanilla, cinnamon and allspice—creates the luscious texture, while Ron Zacapa rum and Pierre Ferrand cognac supply a pleasantly boozy kick. 77 W Houston St between West Broadway and Wooster St (212-473-7348, peguclub.com). $13.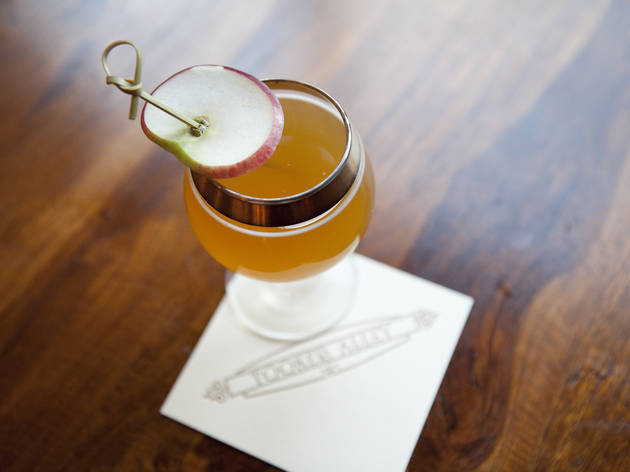 5/10
Photograph: Jessica Lin
Scrapple from the Apple at Tooker AlleyVeteran barman Del Pedro's muscular hot cider—named after a Charlie Parker tune—can go toe-to-toe with the stiffest old-fashioned. Served in a stout snifter, a double hit of whiskies (Old Grandad 114, Maker's Mark) buttresses two brandies (pear, apple) and an intensely woody, Douglas-fir-inspired eau-de-vie. A splash of steaming cider and a dash of clove-heavy Christmas bitters complete a drink tailor-made for the urban lumberjack. 793 Washington Ave between Lincoln and St. John's Pls, Prospect Heights, Brooklyn (347-955-4743, tookeralley.com). $12.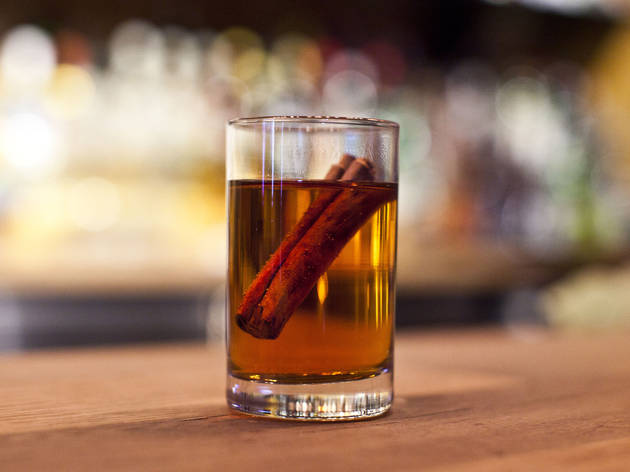 6/10
Photograph: Jolie Ruben
The Last Waltz at the ShantyAt this bar adjacent to the New York Distilling Company, head bartender Nathan Dumas outfits the summery Negroni for cold weather months. Stirred by a cinnamon stick, the powerful Perry's Tot navy strength gin, made in-house at the distillery, punches up the herbaceousness of Carpano Antica vermouth. Pierre Ferrand's bone-dry curaçao (an orange liqueur) tempers the sweetness, while a smack of Branca Menta adds a minty bite. 79 Richardson St between Leonard and Lorimer Sts, Williamsburg, Brooklyn (718-878-3579, nydistilling.com). $11.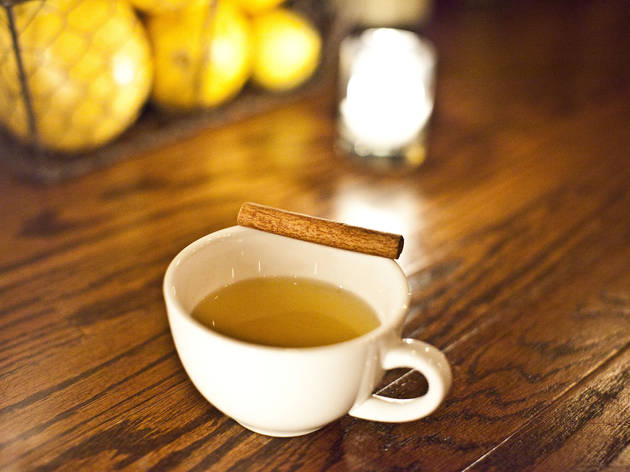 7/10
Photograph: Jolie Ruben
French Colombian at Booker and DaxColonial barflies took a straightforward approach to warming drinks—they pulled the poker out of the tavern fireplace and stuck it in their grog. Cocktail vanguardist Dave Arnold resurrects the method with his electric saber, igniting flames in the mixing glass with a quick dip. But the pyrotechnics aren't just for show: Scorching heat binds the ingredients—Pernod absinthe, demerara and lemon—into a symphony of complexity, caramelizing the sugar, intensifying the citrus and declawing the high-proof absinthe. 207 Second Ave at 13th St (212-254-3500, momofuku.com). $14.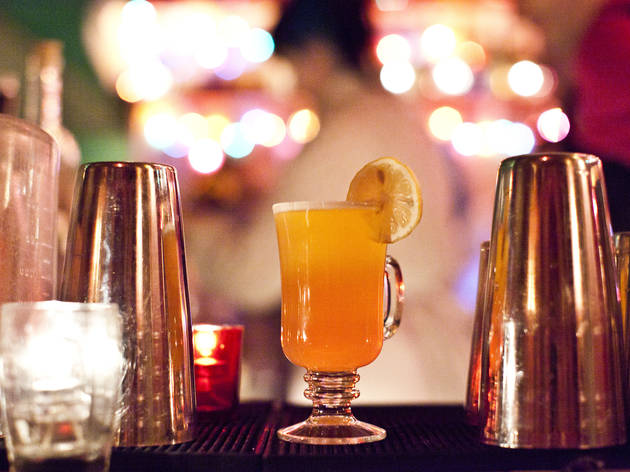 8/10
Photograph: Jolie Ruben
Orchard Toddy at CienfuegosBartender Alan Denniberg's toddy variation at this cozy rum den is deceptively simple—the standards (lemon juice, honey, Angostura bitters) are all here. But a combined blast of bonded Laird's applejack and intensely bitter cinnamon spirit Hiver Amer—mellowed by Rothman pear liqueur—gives the tipple a delightfully off-kilter electricity. 95 Avenue A at 6th St (212-614-6818, cienfuegosny.com). $14.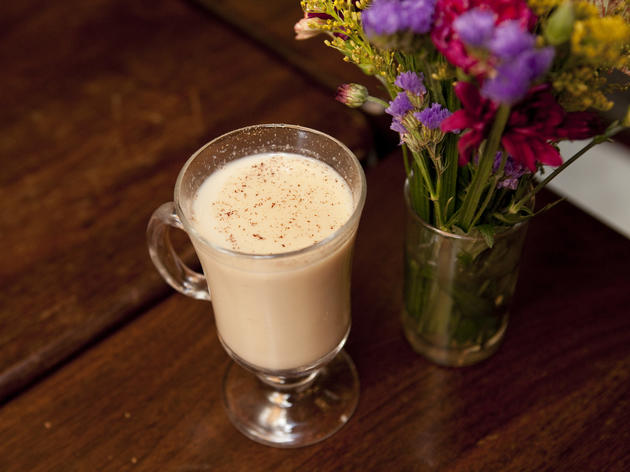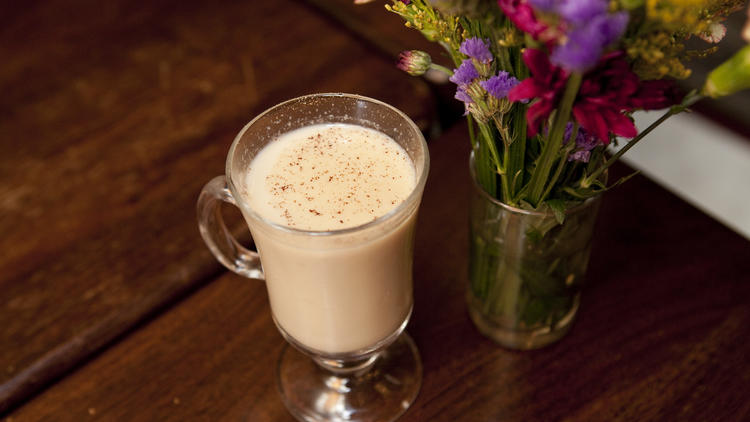 9/10
Photograph: Jessica Lin
Voodoo Milk Punch at Clover ClubBartender Brad Farran gives a spooky-strong tiki treatment to the New Orleans specialty milk punch. This pumped-up version blends two heady rums—Ron Zacapa 23 and black-tea-infused Smith & Cross—in place of the usual bourbon, with herbal Benedictine and raw demerara sugar blunting the booze's force. But there's no mistaking the boldness of this slug, fit for enlivening sluggish spirits in the dead of January. 210 Smith St between Baltic and Butler Sts, Cobble Hill, Brooklyn (718-855-7939, cloverclubny.com). $13.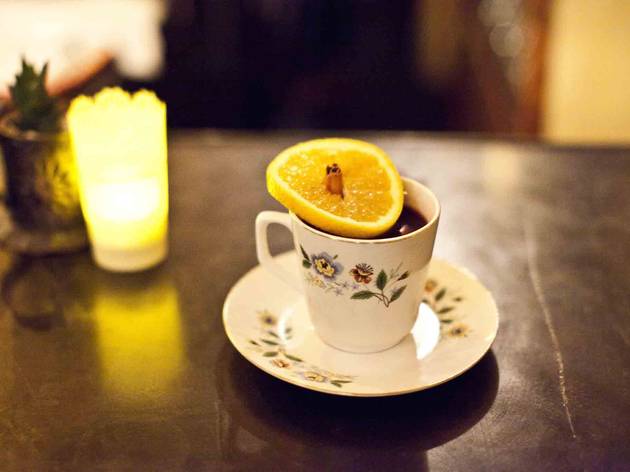 10/10
Photograph: Jolie Ruben
Gunpowder Punch at Dear BushwickTrue to its name, this take on mulled wine from bartender Darren Grenia and chef Jessica Wilson is explosively flavorful. They fortify a dry montepulciano with a piquant hit of chili flakes, house-made chili stout reduction and spicy ginger syrup, while fresh-squeezed lemon and orange make for a juicy body. A potpourri-like bouquet of juniper berries, allspice dram and star anise lingers after each sip. 41 Wilson Ave at Melrose St, Bushwick, Brooklyn (929-234-2344, dearbushwick.com). $8.
Even in our modern age, few things take the edge off the cold like a hot buttered rum or warm mulled cider. To help stave off the cold, bars are rolling out their contemporary takes on old winter cocktails—as well as new creations—for the huddled, scarf-wrapped masses. Whether it's boiled by a red-hot poker or heated by freshly made coffee, one of these drinks is sure to wet—and warm—your whistle.