Out with the old, in with the brew
Use this handy chart to check the beer trends of tomorrow against the fads of yesteryear.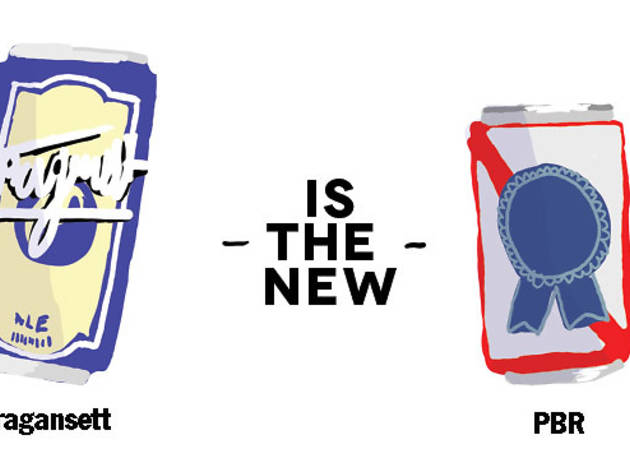 RECOMMENDED: This year's guide to the best beer in NYC
From Williamsburg lounges (Donna) to East Village bistros (Calliope), this classic New England lager is the nouveau brew of choice for penny-pinching twentysomethings. Clean and well-balanced, the $4 tall boy is cheap enough to have supplanted the watery, tired hipster icon—a fact we expect few to shed tears over.
Toss that oversize glass jug in the recycling bin. Top craft breweries like 21st Amendment and Oskar Blues have anointed the humble aluminum can as their favored modern beer receptacle, prized for its ease of production (meaning brewers can experiment with more small-batch lines) and freshness (the metal is ideal for blocking light and oxygen).
With the explosion of beers on the market—and so many of them carrying fearsome ABVs—the 16-ounce pour can prove unduly limiting. At suds destinations like Proletariat and the Pony, the eight-ounce version has gained ascendance among in-the-know drinkers, who favor the new serving size for encouraging a wider sampling of drafts and being easier on the wallet and liver.
Gluten-free beer is the new organic beer
With the diet-conscious customer in mind, dozens of brewers have begun attacking the challenge of making a beer without staples like barley and wheat—just as organic beer eschewed conventional fertilizers and pesticides. For proof of their success, look no further than the guys unknowingly sipping on gluten-free hits such as Red Bridge at Dram Shop or Brunehaut Bio Blanche at the Double Windsor.
Craft-brewery collaboration is the new craft brewery
If the past year has demonstrated anything, it's that two hopheads are better than one. Newly minted classics like Brux (jointly produced by Sierra Nevada and Russian River) and Liquid Breadfruit (made by Dogfish Head and Maui Brewing Co.) were the products of brewers putting aside competition to combine resources and ideas, allowing them to take more risks with popular, limited-run concotions.
Smoked is the new sour
One Northern European style usurps another on cutting-edge taps around town. Harkening back to the days when malts were dried over a fire, recently launched smoked beers like Aecht Schlenkerla Rauchbier at
Blind Tiger Ale House
suggest a charred, slightly burnt flavor that's in vogue with well-informed palates.
Hard cider is the new lambic
The fermented colonial beverage, long a mainstay of European drinking, is making a comeback in the U.S., providing a hint of fruity sweetness to those who might normally opt for a framboise-based Belgian lager. Get a taste of the renaissance at spots like the
John Dory Oyster Bar
, which pours Dooryard from Farnum Hill in New York, or the Narrows, where you can sip on Crispin Cider, made in Minneapolis.
Sponsored listing
The Wilky
You won't find a Stella or Budweiser at The Wilky. The name of the game here is craft beer, and at any given time, the bar keeps as many as 18 different brews on tap, plus a few more in cans or bottles. The selection changes seasonally, but on a recent visit, the suds list included Evil Twin Modern IPA ($8 for 16 ounces), Clown Shoes Clementine ($7 for 16 ounces) and Founders Backwoods Bastard ($9 for 9 ounces). If you're not sure what to order, one of the bartenders will be happy to help you narrow it down—most of them are also Certified Cicerone beer experts. The Wilky also offers a few seasonal cocktails for non-beer drinkers, like the Smoke After with mezcal, Amaro Averna, lemon and Thai chili bitters ($11). All that drinking is sure to work up an appetite, so why not order something off the menu of snacks and sandwiches? The jumbo soft pretzel ($8) or cuban sandwich ($11) ought to hit the spot.
Venue says: "Check Out This Craft Beer Bar in Brooklyn-18 beers on tap, wine, cocktails, & food. ➜ Get YourFirst Beer Free: http://thewilky.com/timeout"