Bastille Day in NYC guide
Celebrate Bastille Day in NYC with our guide to the best Bastille Day events, French restaurants and outdoor parties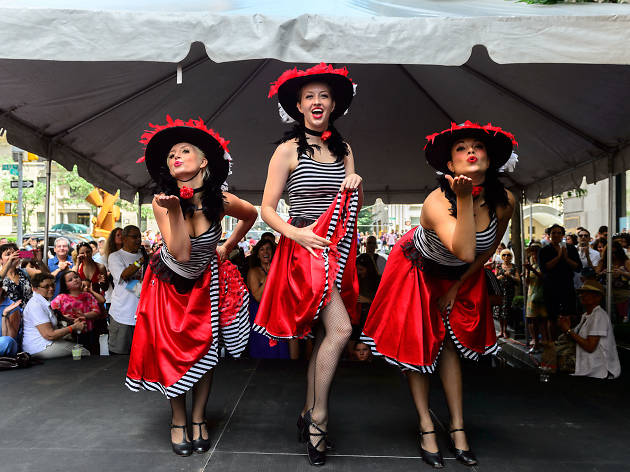 Ooh la la! Francophiles have their choice of fetes to celebrate Bastille Day. NYC's annual events include street fairs, outdoor parties, dance events and performances (the cancan!), and more great things to do outside.
RECOMMENDED: Full guide to things to do in the summer in NYC
When is Bastille Day?
Officially, Bastille Day is on Friday, July 14, 2017. The holiday is always held on July 14 to celebrate French National Day (July 14, 1789). When the French holiday does not fall on a Sunday, NYC celebrations are held the Sunday before, so this year you can celebrate Bastille Day in NYC on Sunday, July 9, 2017.
What is Bastille Day?
Bastille Day, also known as French National Day, is a holiday celebrating the beginning of the French Revolution and the Storming of the Bastille.
Where is Bastille Day?
While the most popular Bastille Day celebration takes place on 60th Street between Lexington Avenue and Fifth Avenue on Sunday, July 9, there are multiple fetes happening all over the city through Sunday, July 16.
Best things to do for Bastille Day
Where to eat for Bastille Day
From Midtown brasseries to charming Soho bistros, meet the best French restaurants NYC has to offer
Read more
From classic flavors to oddball riffs, these top-notch Parisian cookies at NYC patisseries are the best macarons in NYC
Read more