Twenty years ago today, Friends debuted on NBC, opening its famous purple door to a decade-long parade of lovable lobsters, transponsters and Regina Phalange hijinks. While the sitcom wasn't always the most accurate when it came to depicting NYC life—who the hell did they think they were fooling with those apartments?—there were times when the show actually did hit the nail on the head.
1. PIVOT!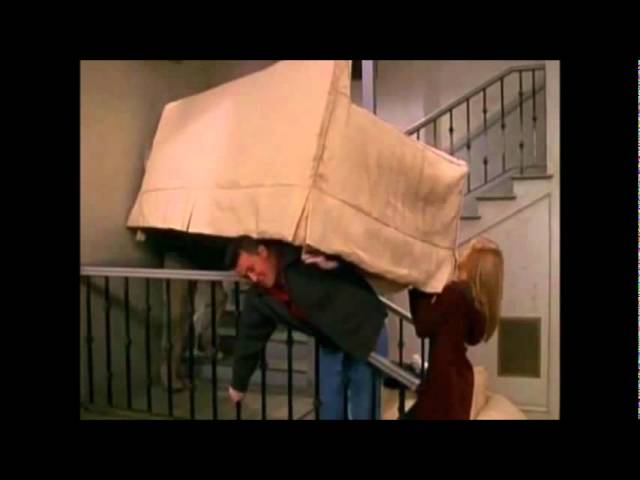 If you've ever tried to haul a full-sized sofa into a five-floor walk-up sans movers, you can sympathize.
2. Ugly Naked Guy

The ultimate display of NYC neighbor voyeurism. Sure, you may not poke at their bodies with a makeshift pole, but you know you creep on that dude from 3C on the regular.


3. "Oh. My. Gawd!"

Janice's recurring cameos were a reminder that in this city, you never know when or where you'll run into that dreaded ex.
4. Laundry laws

You've truly made it as a New Yorker when you learn to confidently navigate laundromat politics.
5. Natural History nookie

Don't know about you, but that was
way
more eventful than any of our grade-school museum field trips.
6. Wedding-gown beat-down
Remember those Running of the Brides sales at Filene's Basement? Well this is terrifyingly spot-on.
7. New Year's Rockin' Eve

We're still waiting for drunk revelers to recreate this epic dance in the middle of Times Square. Maybe 2015's the year?
8. Bus baby

As if we didn't have respect for MTA-using moms before.
9. Celebrity encounters
Gothamites come across film sets on the daily—nonchalant Rachel is how we all pretend to act, but on the inside, we're totally panicky Monica.
10. Cabdriver Phoebe

Phoebe inherited a Checker taxi from her grandmother, because of course she did.