Despite it's, uh... colorful reputation, New Jersey has a bevy of awesome spots for nature lovers, party animals, families and adventure seekers alike. But for Manhattanites and other city-dwellers, having a reliable form of personal transportation isn't always an option. Fear not—getting to some of the cooler places in Jersey doesn't have to out of reach. Here are a few fun day trips to take in New Jersey without a car:
RECOMMENDED: See the full guide to New Jersey
South Mountain Reservation, Millburn
Photograph: Courtesy CC/Wikimedia Commons/Jared Kofsky/Placenj.com
This idyllic paradise features more than 2,000 acres of pristine woodsy trails. Pack a picnic lunch or head to one of Millburn's many astounding eateries for a brief return to civilization. One entrance is right across the street from the Millburn NJ Transit train stop, which is about a 45-minute ride from Penn Station.
Grounds for Sculpture, Hamilton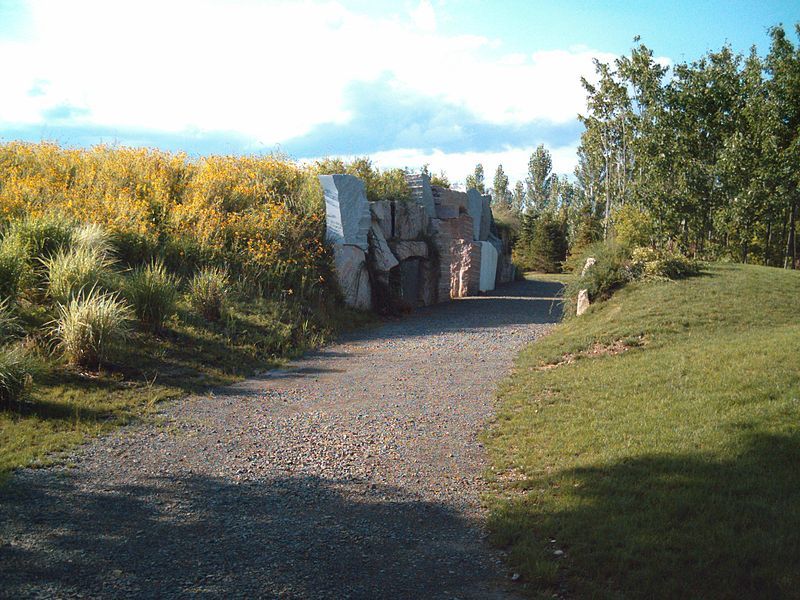 Photograph: Courtesy CC/Wikimedia Commons/Mcavallini
Who doesn't want to peek up the dress of a giant Marilyn Monroe statue in the middle of lush green gardens? Grounds for Sculpture is giant 42-acre sculpture garden featuring amazing contemporary and classic outdoor artwork for you to admire. The park is a five-minute taxi ride from the Hamilton NJ Transit Train Stop—or a little more than half an hour if you choose to walk.
Liberty Science Center, Jersey City
Photograph: Courtesy CC/Wikimedia Commons/Bernadette Marciniak
Embrace your inner child at the super-cool Liberty Science Center, a huge interactive museum. Don't forget to get lost in the pitch-black Touch Tunnel and catch an epic film in the giant IMAX dome. If you finish early, Jersey City has tons of other fun activities that are an easy walk or Uber ride away, from driving high-speed go-carts at Pole Position Raceway to kayaking at Liberty State Park. Take the Liberty Landing Ferry, Hudson-Bergen Light Rail or a PATH train to get there.
Asbury Park Boardwalk, Asbury Park
Photograph: Courtesy CC/Wikimedia Commons/Sk5893
Hit the beach, grab brunch at local hotspot Toast or killer Korean tacos at MOGO, and then catch a show at the legendary Stone Pony when you're all through with the day. In between, be sure to grab a drink with some four-legged friends during Yappy Hour at Wonder Bar, because, well, puppies. To get there, just take the train directly to the Asbury Park stop.
Duke Farms, Hillsborough
Photograph: Courtesy CC/Wikimedia Commons/Siddharth Mallya
Avid cyclist? Duke Farms is a vast expanse of historical buildings, trails, gardens and artwork for you to explore on foot or on a bicycle. Best of all? Admission is 100 percent free. Duke Farms is about three miles away from the Somerville stop, which is a quick ride on a bike.
Mountain Creek, Vernon
Photograph: Courtesy CC/Wikimedia Commons/Mike Goralski
Whether you want to take a quick getaway with the fam or with your squad, Mountain Creek offers skiing, snowboarding and tubing in the winter and zip lining, hiking and mountain biking during the warmer months. You can't get to Mountain Creek by train, but there are plenty of coach bus services that offer great deals from Manhattan.
Princeton Township
Photograph: Courtesy CC/Wikimedia Commons/Dan Komoda Photography
Hobnob with the elite and well-educated by journeying down to Princeton for the day. Easily accessible by NJ Transit, Princeton is a hub of great restaurants, cute shops, delectable farmer's markets and first-class museums and art galleries. Wine lovers can head over to the nearby Hopewell Valley Vineyards and high-class music aficionado can check out the Princeton Symphony. And obviously, make sure to walk the grounds at the famous Ivy League university that shares the town's namesake.