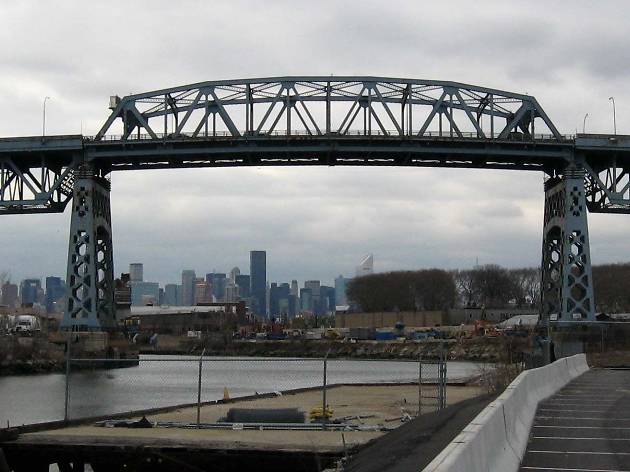 Group wants to use wolves to stop the old Kosciuszko Bridge from being demolished
Posted: Tuesday June 27 2017, 1:16pm
In mid-July, the main span on the defunct old Kosciuszko Bridge will be separated from its adjacent approaching sections and lowered 125 feet onto a barge in Newtown Creek. From there, it will be taken to a recycling facility in New Jersey where it will be dismantled. The maneuver is expected to take 12 hours, and will be a "pretty phenomenal sight," according to the Newtown Creek Alliance.
But one satirical Facebook group is hoping to defend the 78-year-old bridge with force. An event dubbed Defend the Kosciuszko Bridge from Demo with Wolves & Swords surfaced on Facebook earlier this week, claiming to do exactly what the title suggests.
"All you faithful supporters of the TRUE KOSCIUSZKO BRIDGE know that the TIME OF FIRE IS UPON US," the event's description reads. "Join us as we form a circle of sword wielding human warriors and their wolf warrior brethren."
Contrary to what another Facebook event states, there is no set date for the bridge deconstruction, and the main part will not be demolished by way of dynamite. The Newtown Creek Alliance wrote that the lowering of the main slab will likely take place sometime between July 7 and 15 and that it will not be exploded. The two adjacent approaching section will meet their demise by way of explosives—that work is scheduled to take place roughly six weeks after the first phase in mid-July.
The new Kosciuszko Bridge opened in April, marking the first new bridge to be build in New York City since 1964. Its completion left the old piece of infrastructure obsolete, hence the demolition project.
If a sword-bearing group accompanied by wolves does show up at the bridge this July, it certainly wouldn't be the weirdest thing we've ever seen in New York. After all, the event is scheduled just a week before the debut of the new season of Game of Thrones, so passersby would probably just chalk the event up as cosplay anyway.
Share the story