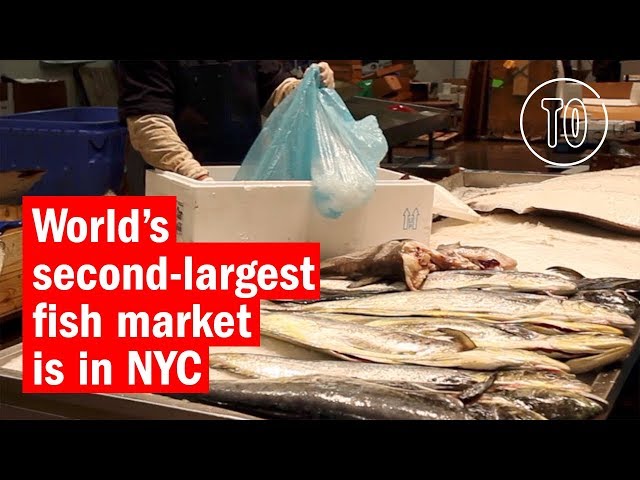 New York is filled with great fish markets, but purchasing a fillet or a tail from one of them often costs an arm and a leg. In a city that's on the ocean and home to one of the world's busiest ports, one can't help but wonder where you can get fresh fish straight from the source. The answer: the sprawling, 400,000-square-foot New Fulton Fish Market tucked away in the southeast Bronx.
The facility is the second-largest fish market in the world behind Tsukiji fish market in Tokyo. More than 35 vendors operate out of the space, selling literally every kind of seafood imaginable. Located in Hunt's Point in an industrial area that also includes the largest meat and produce markets in the city, it's not easy to get there.
New Fulton opened in 2005 with a generous 50-year lease from the city. It replaced the historic Fulton Fish Market in Lower Manhattan near the Brooklyn Bridge, which was sitting in an area that real estate developers considered more worthy for condo owners than for a bunch of fishmongers.
On weekdays from 1-7am, the market is open to anyone who wants to come and purchase fish for a small surcharge ($2 if you're on foot, $3 if you drive). While all of the vendors sell large quantities of their products to wholesalers and distributors, any member of the public can purchase smaller portions for a fraction of what they'd pay at a neighborhood fish market. Prices are constantly in flux, but the best deals can be found before the market closes for the weekend at around 5am on Fridays.
If you do happen to schlep it up to the Bronx at the crack of dawn, be warned that the market is a stink factory. The space is refrigerated, and less than an hour in the space left this writer smelling like a rotten hunk of halibut.
Despite the smell, any seafood aficionado will feel like a kid in a candy shop at the market.