The best seafood restaurants in NYC
Whether you're craving a simple lobster or an ornate tower of oysters, these are the best seafood restaurants in NYC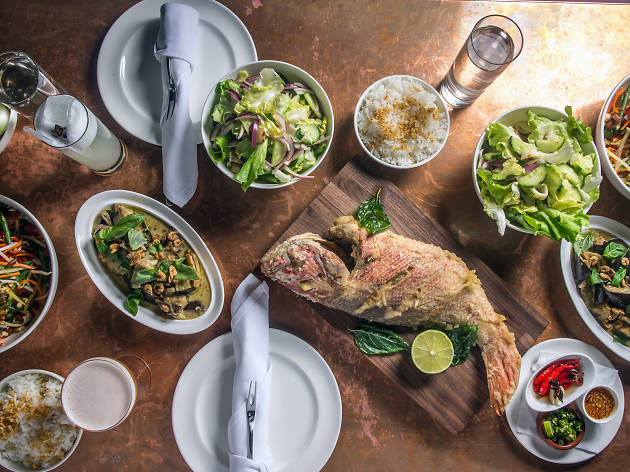 Thanks to the city's proximity to open waters, seafood has always been an important part of the New York diet. In the early days of settlement, street vendors hawked fresh oysters for just cents apiece; today, a happy hour oyster goes for a buck. (To us, that's still cheap eats.) Gotham's obsession with seafood hasn't died down, and no matter where you are in the city—whether you're near the source at one of these waterfront restaurants or far from any shore at one of many Midtown restaurants—you can score a great plate of fish. These are the best seafood restaurants in NYC.
RECOMMENDED: Full guide to the best restaurants in NYC
Find the best seafood restaurants in America
These best seafood restaurants in America serve expert chowder, droolworthy lobster and new takes on classic fish dishes
Sponsored listing
Cornerstone Café may be one of the best deals in the East Village. Perhaps it's because the restaurant is cash only. Perhaps it's thanks to the no frills atmosphere—exposed brick painted in jewel tones is the only decoration. Regardless, it's a welcome change to see an $8 cocktail menu in NYC—the restaurant even offers a two for $12 deal. You get what you pay for, though—both the gin martini and the prohibition-inspired The Last Word are merely serviceable. It might be a safer bet to order off the extensive beer and wine list. If the page-long beer list overwhelmed you, the dinner menu might be a tough sell. Largely Italian in its influence, it offers everything from penne vodka ($4—no, that's not a typo) to burgers ($10) a roasted lamb shank in red wine sauce ($26). Though some of the more elegant dishes fall flat—the salmon fillet ($24) arrives overcooked and oily and the tiramisu ($9) overly bitter—the elevated bar food is more successful. Pungent gruyere adds big flavor to the creamy oven-baked mac and cheese ($16), and the chef batters and fries fresh cheese for the breaded mozzarella appetizer ($9). What Cornerstone Café lacks in execution, it makes up for in friendly, attentive service. Water glasses remain constantly full, and servers always seem ready to offer a recommendation or refill the bread basket. Though it's not particularly fancy, perhaps that's not the point. It's a corner café, as the name suggests—and a charming one, at that. BY COMMUNITY REVIEWER: ANN
Venue says Need dinner plans? Think no further. Come try our mouth watering baby back spare ribs with fries for $15. All bottles of wine HALF OFF!