I have but 300 words to review Taylor Mac's concert extravaganza spanning years 1776 to 2016 (which, save one 24-hour marathon performance, is split into eight three-hour/three-decade acts). My remaining 270 should simply be: "Go!" Also: "Bring your doctor!" Can we endure Mac singing, joking, ranting and changing costumes for 24 consecutive hours? Can he? Mac wouldn't be the first to die for his art, but he'd surely be the first to do so in a wig made of champagne corks, a deconstructed hoop skirt and a flesh-colored jockstrap accented by a shredded American flag, butt cheeks bouncing in the wind.
There is so much art genius rampaging through St. Ann's Warehouse: found-object couture by Machine Dazzle; wizardly song arrangements by pianist Matt Ray; "Dandy Minions" distributing food and props. My night (1776–1806) encompassed the Revolutionary War, women's liberation and drinking songs—alternately tender and brassy renditions of "Amazing Grace," "Yankee Doodle Dandy" and "Shenandoah," among other more obscure ditties. "Perfection is for assholes," Mac states quite perfectly, forging beauty from pain and failure.
What else? They gave us root beer to drink and ping-pong balls to throw at Temperance scolds. Mac ground his crotch into the most stuffy, middle-aged guy white guy he found the audience. It was three hours without intermission, pure anarchic and, yes, exhausting bliss. Folks were encouraged to stand and tell their most humiliating puke stories. Oh, look: I've run out of words; thank the angels and devils Taylor Mac never will.
St. Ann's Warehouse (Off Broadway). Conceived and performed by Taylor Mac. Directed by Mac and Niegel Smith. Music direction by Matt Ray. Costumes by Machine Dazzle. Sets by Mimi Lien. Lighting by John Torres. Sound by James L. McElhinney and David Schnirman. Puppetry by Eric F. Avery. Running time: 3hrs. No intermission. Through Oct 8. Click here for full venue and ticket information. Click here for full schedule and FAQ about the show.
Follow David Cote on Twitter: @davidcote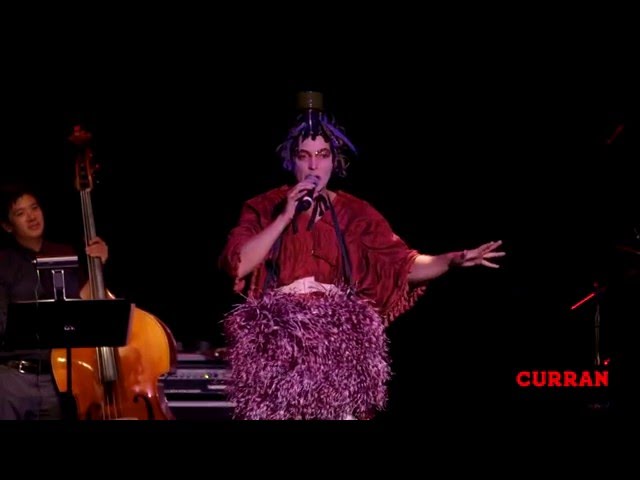 Show your love! Nominate your favorite local places for the Love New York Awards.