Campfire snacks just got a major upgrade. The Ultimate S'mores, created and deconstructed exclusively for Time Out New York by chef Dominique Ansel, is a warm, gooey take on the popular dessert.
"It reminds me of the first days of fall and a warm toasty fire," he says. "It's the perfect in-between bridge between a light summery dessert and a warm heavier dessert."
You can stop by the West Village shop to buy one of treats starting Oct 21. The Cronut creator breaks down his gourmet take on the classic below.
Speculoos cookie
"Speculoos is a more intensely flavored gingerbread version of a graham cracker," Ansel says. You can bake your own at home—"the trick is the spread the batter thin and bake it between two sheet pans so it's flat."
Shards of milk chocolate with Maldon sea salt
"Using high-quality chocolate is really important, and Maldon sea salt adds contrast in flavor," says Ansel, suggesting picking up salt at Dean & Deluca or Williams-Sonoma to elevate the gooey goodness.
Honey marshmallow
Ansel's signature flavored marshmallow is his secret ingredient (shh!). "Using honey instead of sugar gives it a more floral flavor and a softer texture," he says. Roast yours with a butane torch from your local hardware shop, or go old-school and start rubbing sticks together if you're taking a trip to an actual campground.
Dark chocolate ganache with Cabin Fever
For his chocolate of choice, "ganache offers that smooth texture of melted chocolate without the messiness," Ansel says. And add in a hint of Cabin Fever whiskey, found at Vintage Grape or Borrisal Liquor & Wine: "It gives it a nice kick and a slightly bitter, deep maple flavor."
Caramelia
Sprinkled on the ganache is Valrhona chocolate-covered puffed rice, available at Whole Foods. "It's not something in a traditional s'more, but it adds texture with a little bit of nuttiness and crunch," says Ansel.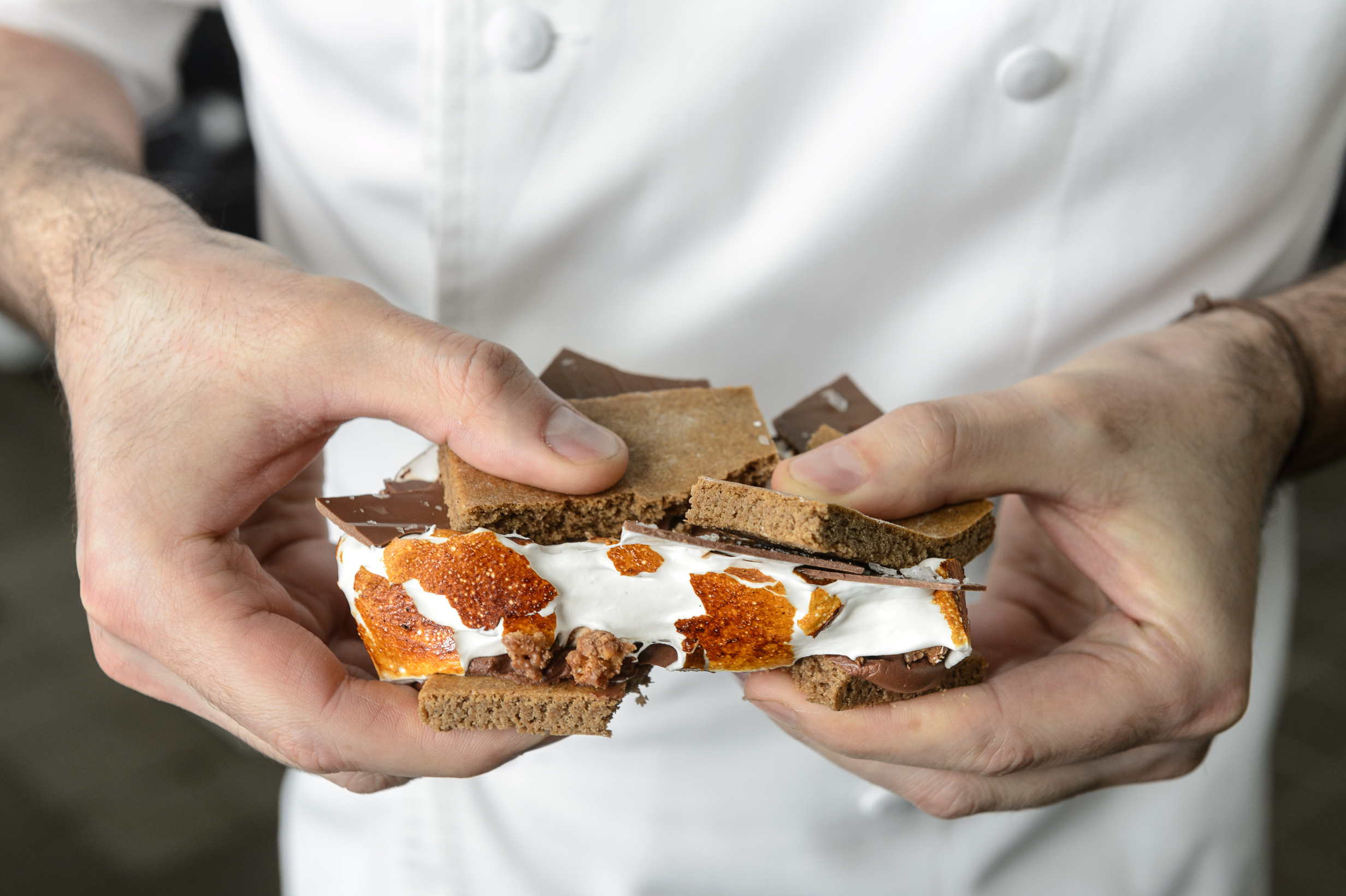 Photograph: Filip Wolak