The chicken wing—once a throwaway part used solely for stocks—has been a menu mainstay since its debut on March 4, 1964, when Teressa Bellissimi made a deep-fried snack for her son Dominic and his friends at the now-famous Anchor Bar in Buffalo, NY. Since then, wings have grown from pub-grub staple to retooled bites served in gourmand-baiting dining rooms. But some of the best wings in the city are still the classics, those covered in hot-sauce-and-butter or smoky BBQ. To weed out the best from the worst, we've ranked New York's top time-honored drumettes.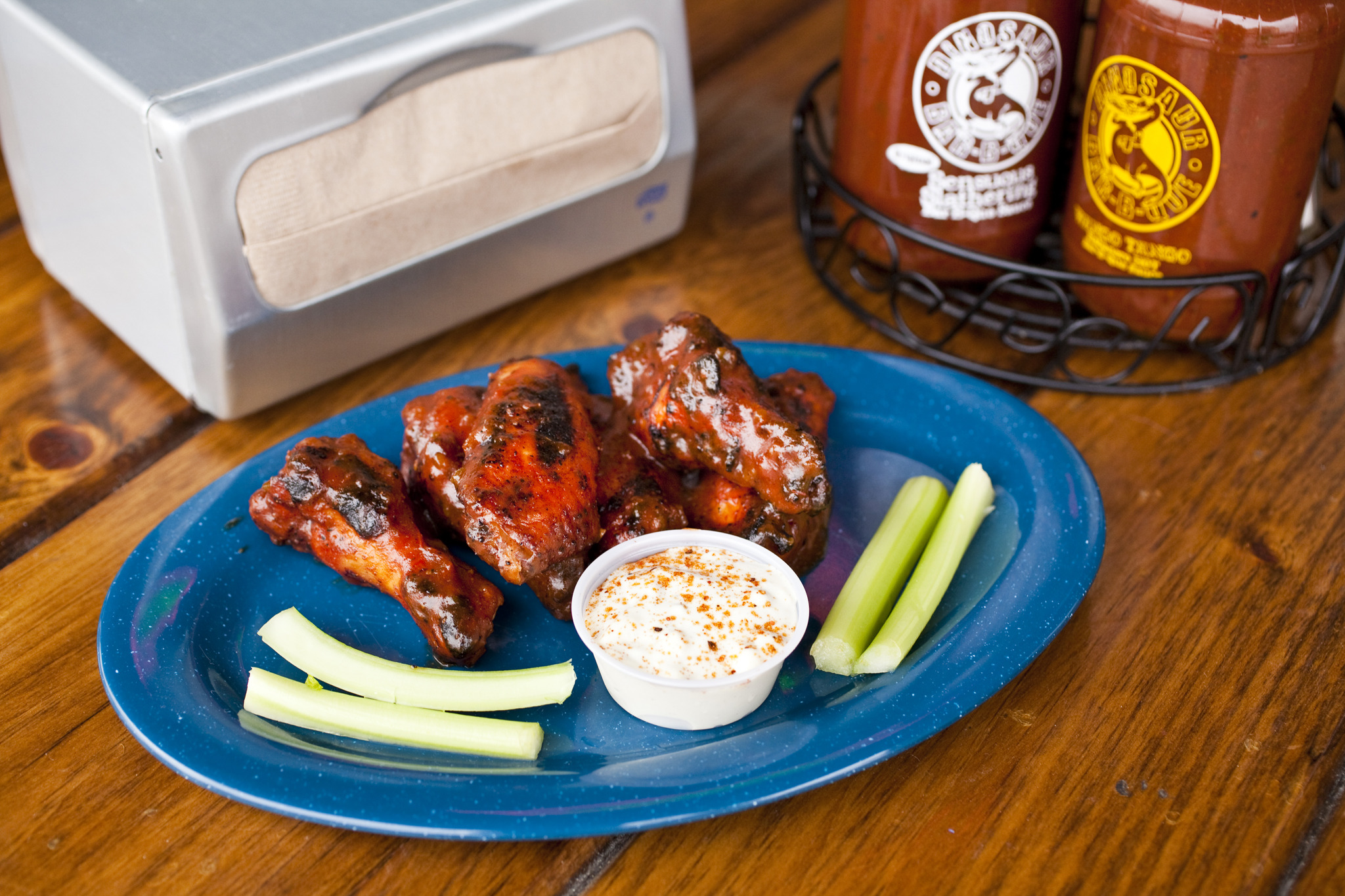 Photograph: Jessica Lin
1. Wango Tango wings at Dinosaur Bar-B-Que
Rating: 8 Top notch
Like most items on the barbecue-slathered menu of John Stage's acclaimed smokehouse, the jumbo wings require a heap of Wet-Naps and a complete lack of self-consciousness (you will end up covered in sauce). Spice-rubbed, pit-smoked and finished on the grill, the tender, char-blackened meat is drenched in a thick sauce that's equal parts spicy—cayenne, habanero, black pepper—and sweet, with molasses, brown sugar and onion. 777 W 125th St at Twelfth Ave (212-694-1777) • 604 Union St between Third and Fourth Aves, Gowanus, Brooklyn (347-429-7030) • $3.95 for three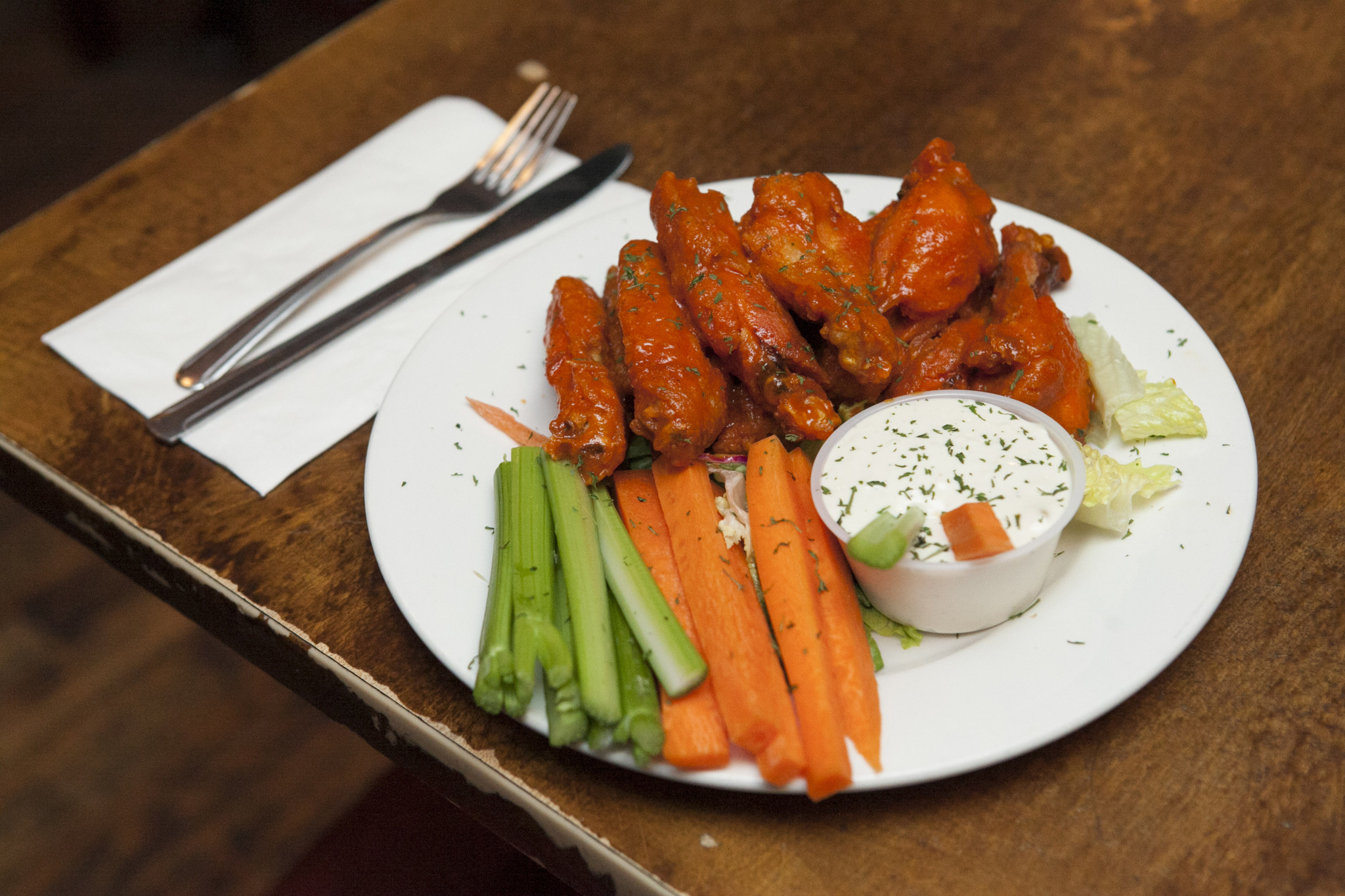 Photograph: Lauren Spinelli
Rating: 7 Stellar
For a textbook buffalo wing outside of upstate New York, score a stool at the marble-and-mahogany bar of this 120-year-old Flatiron dive. The small, crisp wings are dutifully old-school, drenched in the traditional mouth-puckering duo of melted butter and vinegary cayenne sauce, pepper fumes hitting your sinuses upon arrival. The butter lends a luscious quality to the lick-the-plate-clean sauce. 45 E 18th St between Broadway and Park Ave South (212-529-6732). $10.25.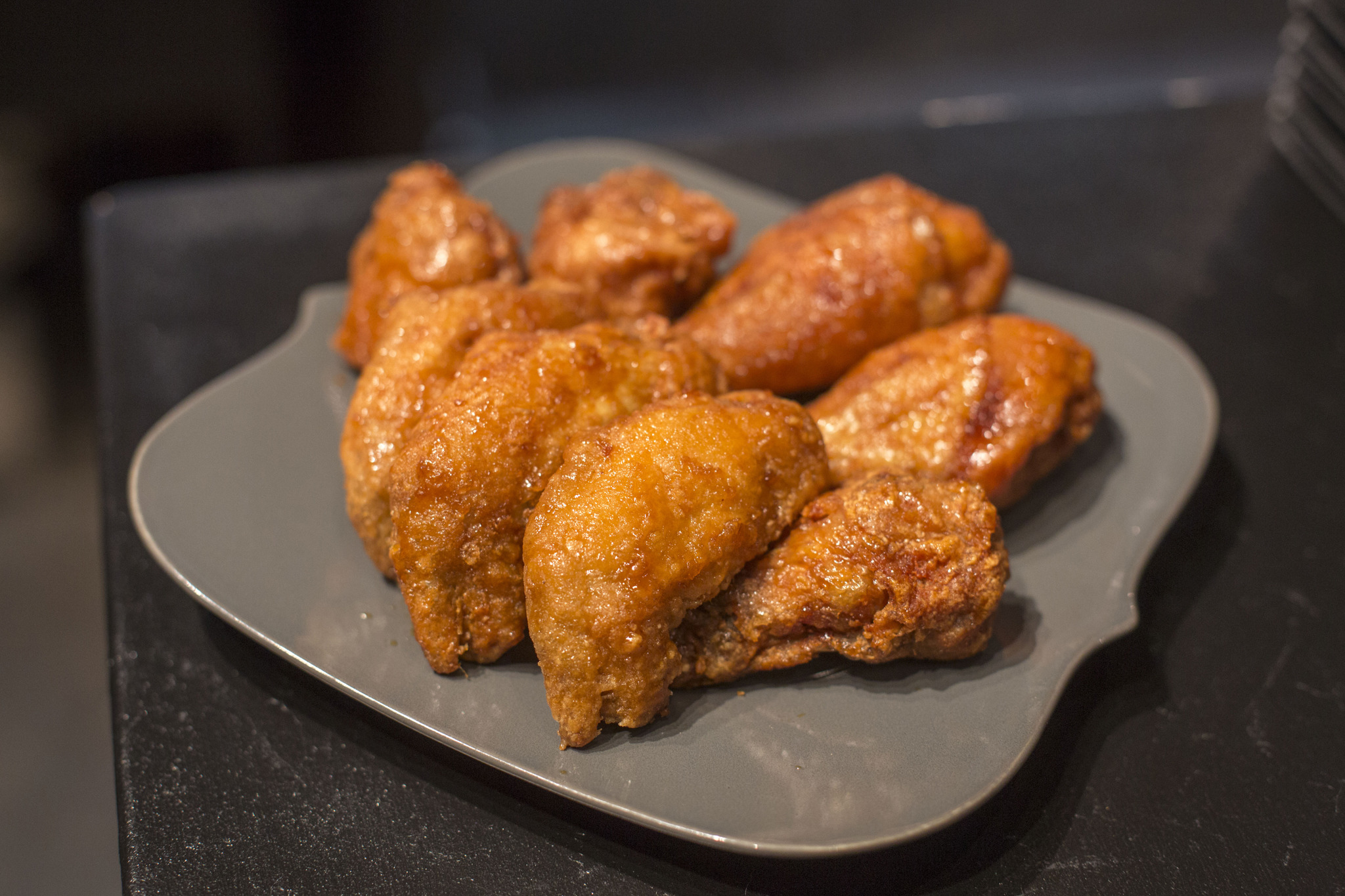 Photograph: Caroline Voagen Nelson
Rating: 7 Stellar
The South Korean chain—which first hit Gotham in 2007—brings the country's token fried chicken into buffalo territory with these first-rate hot wings. Fried twice at low heat for a delicate, crackly cocoon, the bird's paper-thin skin is painted with gochugaru (chili-pepper powder) for a healthy scorch. Cubed and pickled daikon acts as a cool, refreshing reprieve from the heat. 207 W 38th St between Seventh and Eighth Aves (212-221-3339). $11.95.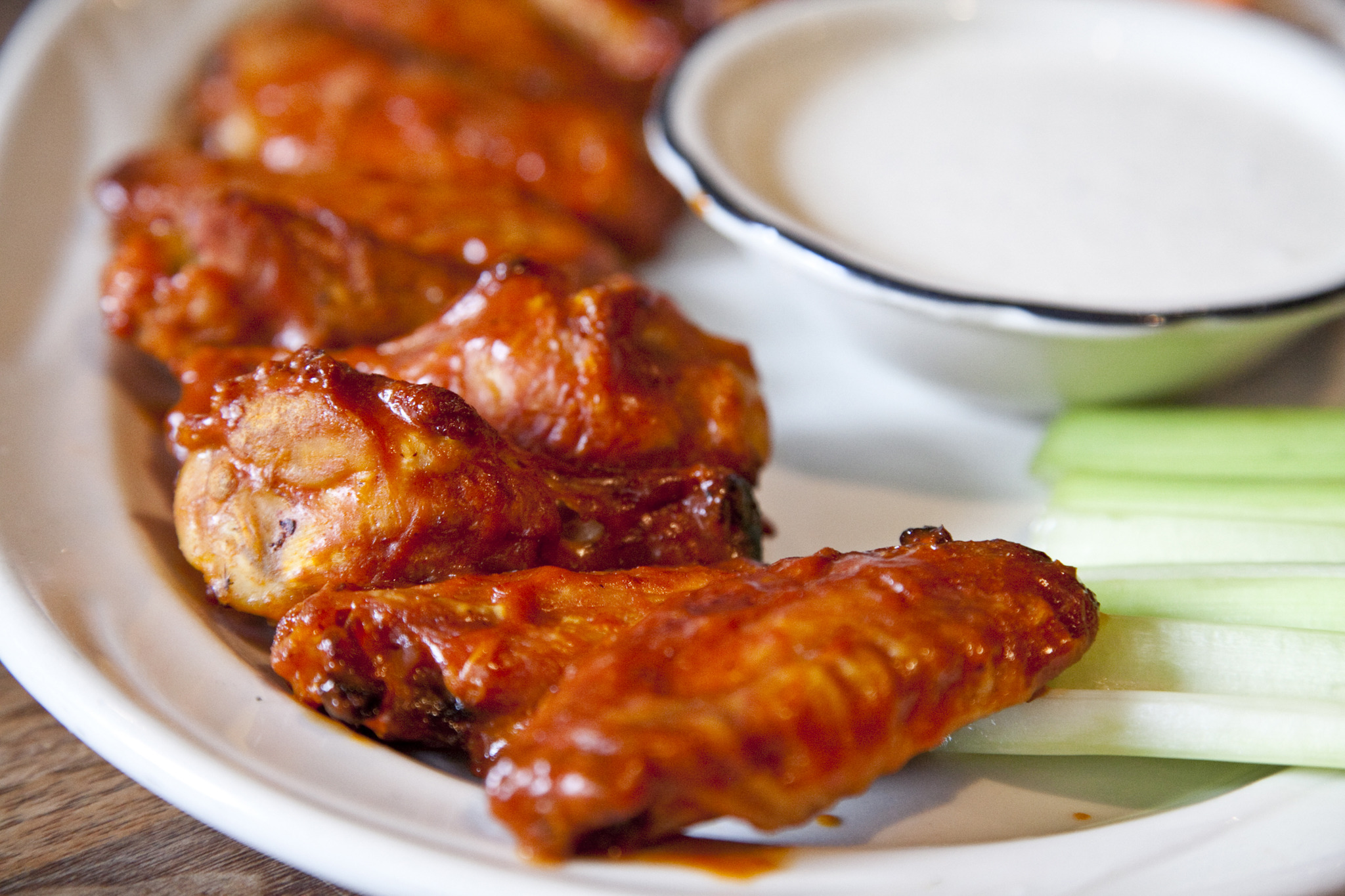 Photograph: Melissa Sinclair
Rating: 6 Up to snuff
When smothered in tongue-numbing hot sauce, detecting the taste of actual chicken in a chicken wing is nearly impossible. This West Village brewhound haven manages to preserve the poultry flavor, brining the meat in a salty pilsner solution until it's lustfully juicy. The wings are baked and have a campfire smokiness well matched—but not masked—with a pepper-licked sauce and chunky house-made blue-cheese dip. 281 Bleecker St at Jones St (212-462-4682). $12.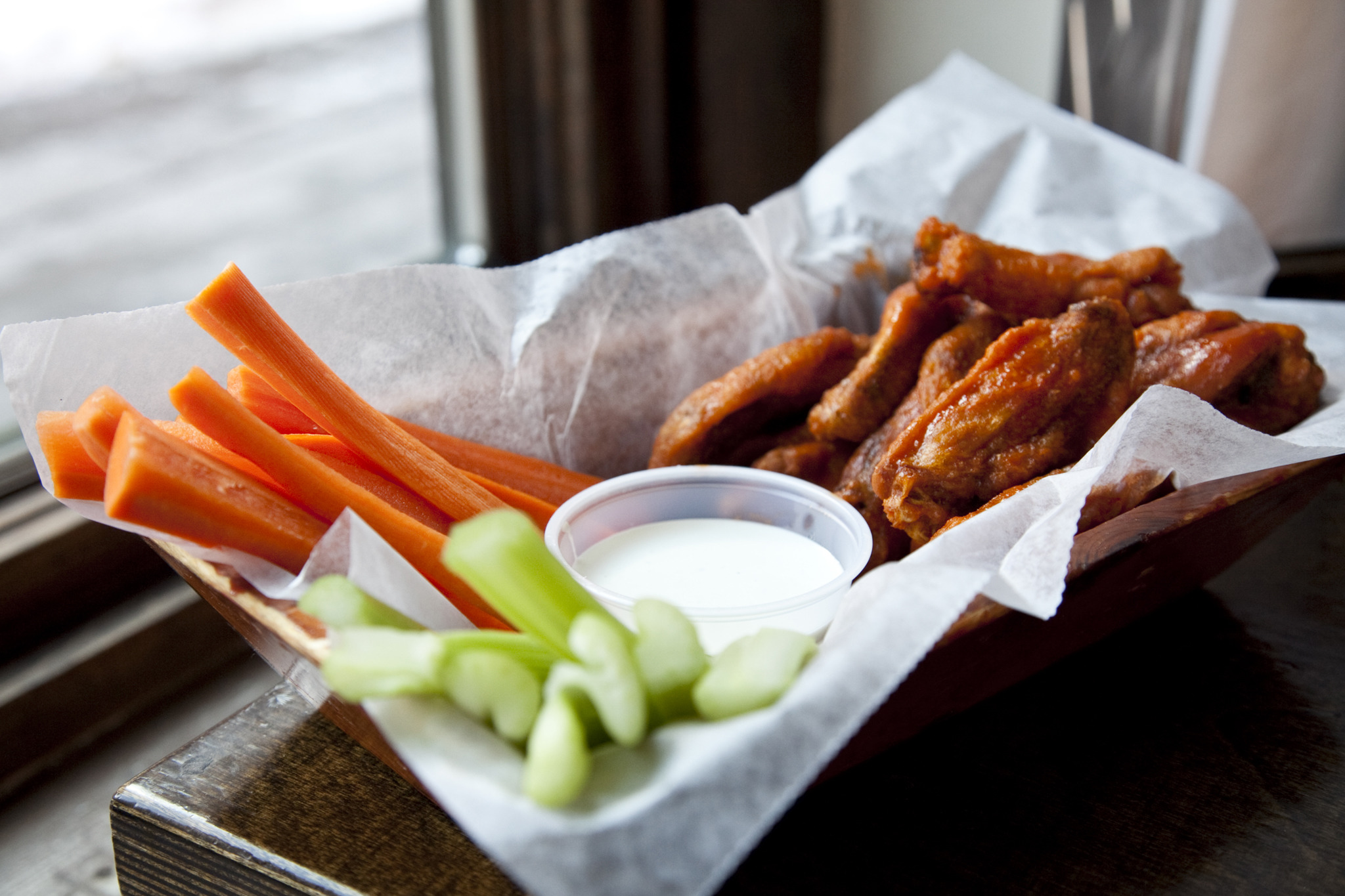 Photograph: Melissa Sinclair
Rating: 5 Not too shabby
Though this pint-size Village saloon is Philly proud, they fry up a commendable take on the Buffalo, NY specialty. Bathed in the customary butter-and-hot-sauce combo, the fried flats and drumettes are of a small stature, but nicely balance juicy meat and crisp skin, with a rolling spice-and-vinegar kick that builds with every bite. 39 Greenwich Ave at Charles St (212-229-2171). $9.25.

Photograph: Jessica Lin
Rating: 5 Not too shabby
The West Village pub's proprietary wings are of the buffalo variety—shellacked in hot sauce, melted butter, vinegar and garlic—but the flappers are flavorfully one-note. More successful are their barbecue-sauced cousins, fried two-biters liberally glazed in a smoky-sweet chipotle mop, with cooling ranch for dipping. Fill up on Mondays from 3-7pm, when wings are 50 cents each. 533 Hudson St at Charles St (212-989-0313). $9.95.

Photograph: Caroline Voagen Nelson
Rating: 4 So-so
Using a recipe inherited from sister bar Scruffy Duffy's—a Times Square watering hole that shuttered in 2007—this Hell's Kitchen rugby bar serves a hot wing that lives up to its name. Though slightly overfried—with a thin, crispy casing that borders on brittle—the wings are meaty and coated in a fiery, pepper-flake-studded sauce that will knock your body temperature up a few degrees. 599 Tenth Ave between 43rd and 44th Sts (212-239-8020). $9.95.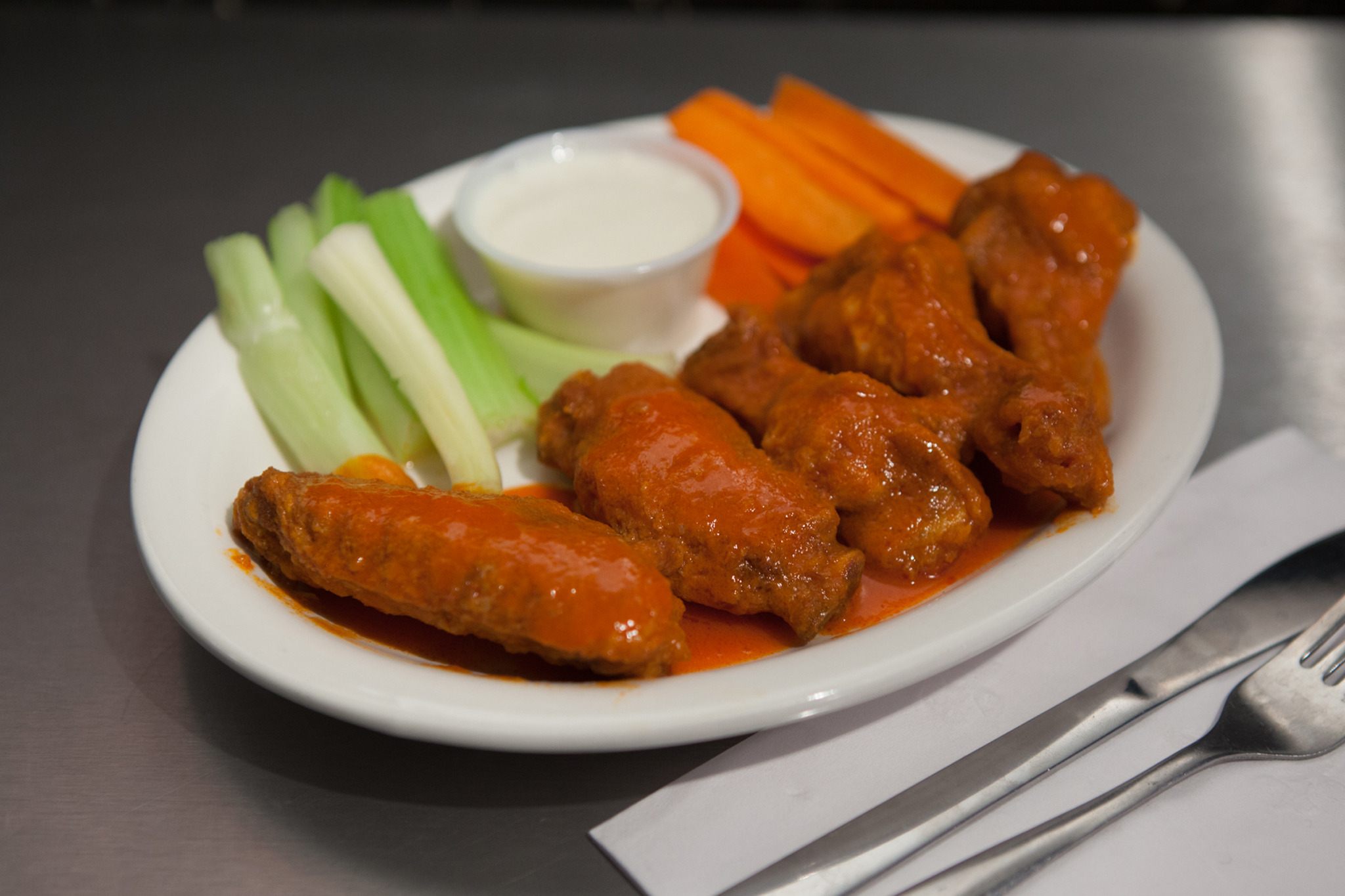 Photograph: Camilla Cerea
Rating: 3 Only while intoxicated
Founded in 1989 by Adam Lippin, who apprenticed at upstate landmarks Duff's and the Anchor Bar (creator of the buffalo wing), this chicken-wing chain doles out the kind of Snooki-orange drumettes that keeps cardiologists up at night. Unabashedly saucy and sloppy, the six-napkin fried wings come in six levels of spice, from slow-burn mild to the incendiary "suicidal." Scant on meat and in dire need of crunch, they're more guilt than pleasure. 528 Ninth Ave between 39th and 40th Sts (212-760-9090). $9.95.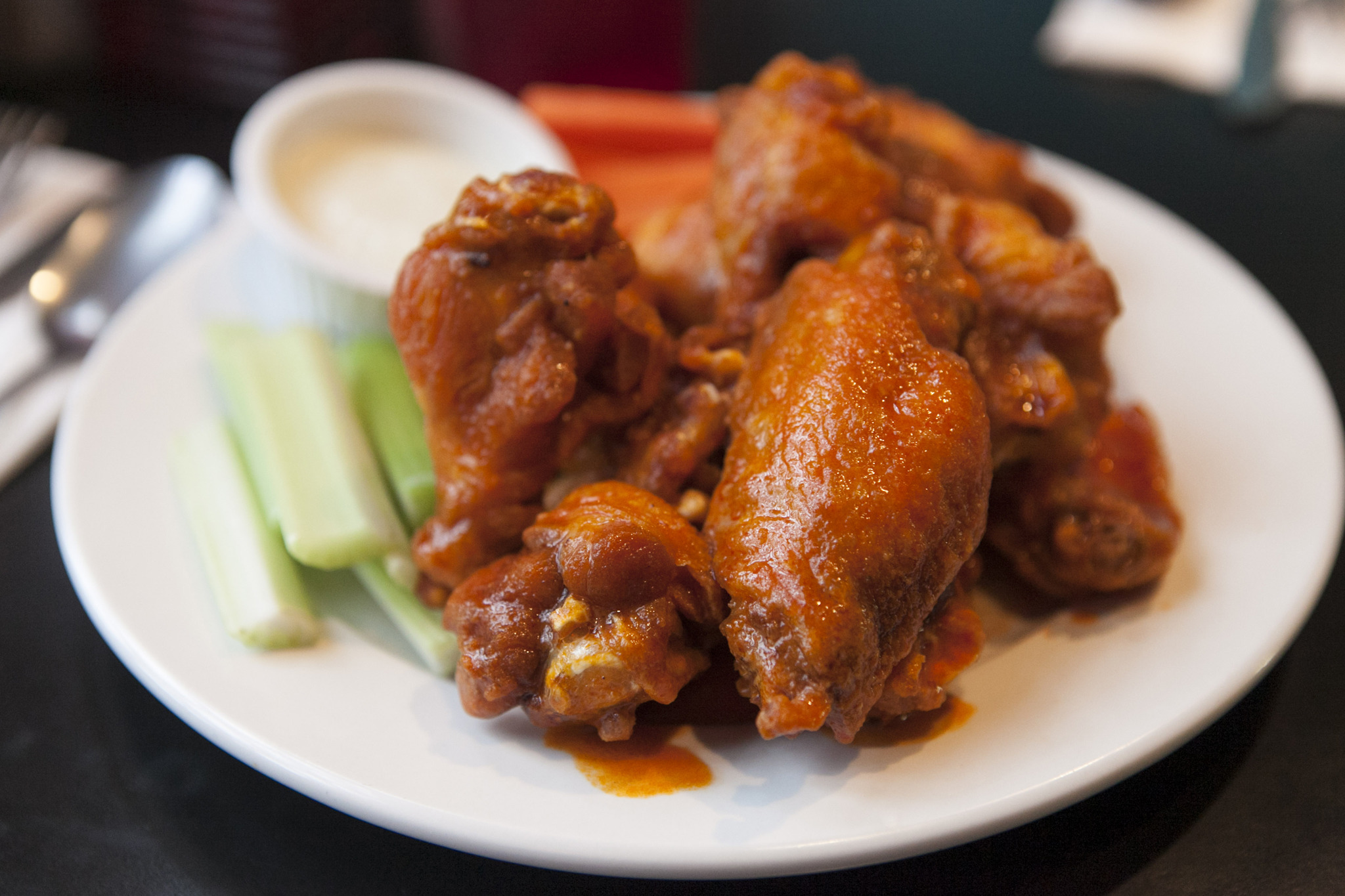 Photograph: Lauren Spinelli
Rating: 2 Frightful
If you can get through one of the wings at this fallen-from-grace Park Slope pub—once a benchmark for consistently solid wings—you'll be left with an acrid tartness on your tongue that even the ripest blue cheese couldn't curb. Fresh from the fryer, the wings are large but lack a sufficient crisp-to-sauce ratio, with too-dry chicken skin obliterated beneath the harsh, oily hot sauce. 278 Fifth Ave between Garfield Pl and 1st St, Park Slope, Brooklyn (718-369-9527). $8.95.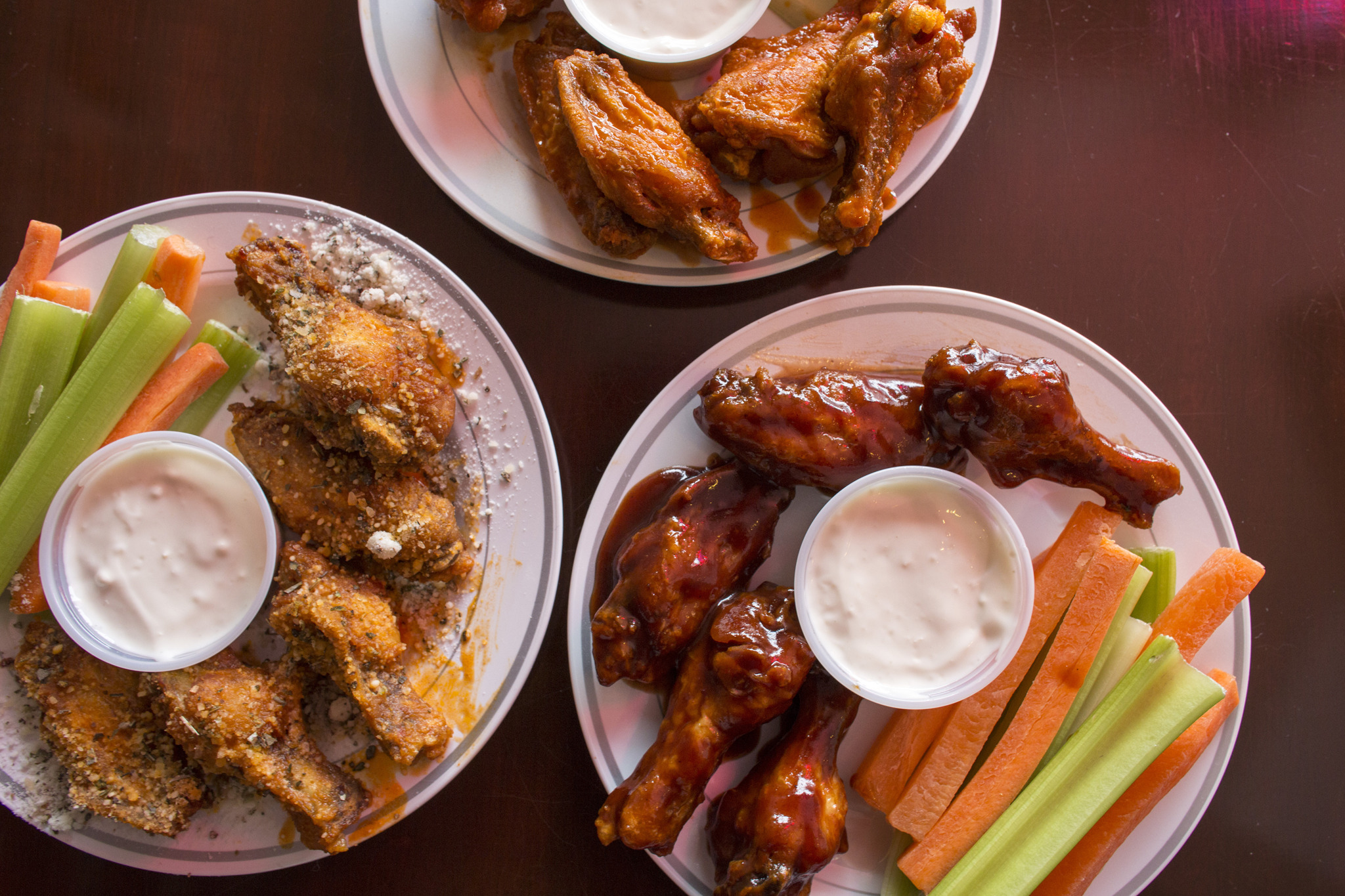 Photograph: Caroline Voagen Nelson
10. Buffalo wings at Wing Wagon
Rating: 0 No, just no
Tiny and timid, the wings at this cash-only Flatbush storefront accomplish the unthinkable: being simultaneously dried-out and overly greasy, flabby wingettes sitting in unseemly pools of oil. And where the medium variety doesn't even register on the spice scale, the hot wings barely eke by with a subdued lip-tingling heat. 351 Flatbush Ave between Carlton and Vanderbilt Aves, Prospect Heights, Brooklyn (718-398-0501). $7.35 for six.