Heads up! We're working hard to be accurate – but these are unusual times, so please always check before heading out.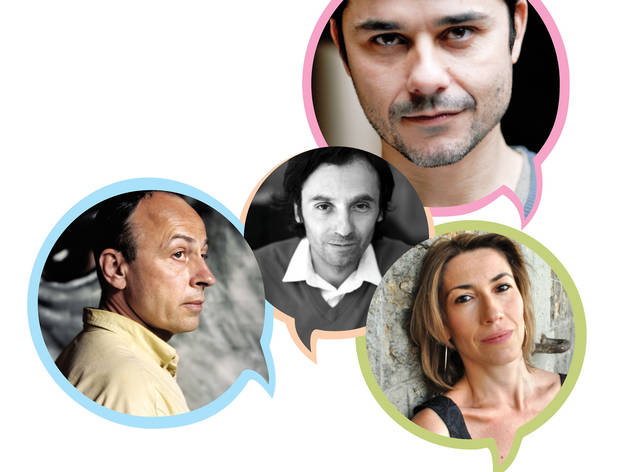 Walls and Bridges brings French thinkers with to New York for conversation and performance
Meet Claude Arnaud, Laurent Binet and others who power Villa Gillet's cultural festival.
For three seasons, the Walls and Bridges festival has been pairing French thinkers, artists and writers with their American counterparts. The fourth edition—which is run by culture institute Villa Gillet, based in Lyon—flies into New York on Thursday 11 with more than a dozen events with a transcontinental scope. You'll likely be familiar with those artists from the states, so here's a primer for some of the French heavyweights on the program about which you may know little.

Laurent Binet, A Salon de Fleurus Salon
Binet was invited to participate in this evening—which looks to re-create something akin to Gertrude Stein's famous gatherings—for the way he blended metafiction and the history in his breakthrough work, HHhH. The book, about a plot to kill an SS general during World War II, won the Prix Goncourt (one of France's top literary honors) and was translated into English earlier this year. "If I had to find a kind of model for my novel, I would say Art Spiegelman's Maus," says Binet, when asked about his influences. The structure of HHhH even follows the dual timeline of Spiegelman's famous graphic novel: "At the end it was clear to me [that I had to split the narrative] between the '40s and the present time." Museum of Modern Art (MoMA), 11 W 53rd St between Fifth and Sixth Aves (212-708-9400; moma.org). Thu 11 at 6pm; $10.

Claude Arnaud, "I Contain Multitudes: An Evening of Music, Performance and Storytelling"
The author of the tome Qui dit je en nous? (roughly Who Says I in Us?) is one of ten performers who will meditate on the question of what is the self in a series of five-minute presentations. "I certainly have a strange capacity to reshape myself," says Arnaud. "Maybe it's my generation. I was born in '55, and we tried a lot of drugs and a lot of travels; We hold many ambitions about ourselves—not socially speaking or professionally speaking, but experimentally speaking—and I still experiment with a lot of things." The Invisible Dog Art Center, 51 Bergen St between Court and Smith Sts, Carroll Gardens, Brooklyn (646-270-2550, theinvisibledog.org). Oct 19 at 7:30; free with R.S.V.P. to multitudes@villagillet.net.

Gwenaëlle Aubry, "Far from the Tree: When Families are Dysfunctional"
Aubry began writing her memoir, No One, after she discovered a manuscript that her late father, who suffered from bipolar disorder, left with the instructions: "To be novelized." "My own text was built around parts of his," explains Aubry, "like a kind of echo and around the lines of fiction that were already perceptible [in his work]." She will speak with three other writers (Mira Bartók, Marco Roth and Claude Arnaud) who have written about their family troubles. McNally Jackson Books, 52 Prince St between Lafayette and Mulberry Sts (212-274-1160, mcnallyjackson.com). Oct 20 at 4pm; free.

Thierry Hoquet, "What Makes Us Human?"
As a scientific philosopher, Hoquet has spent much of his career analyzing the works of Darwin, and lately that has taken him into the realm of cyborgs. "It's our nature to create technical devices such as cranes, cups, cars, etc.," says Hoquet. "The cyborg is the first technical device that wants to be part of you. And it not only wants to be a part of you, it wants to be integrated into your body. And worse than that, it causes you to despise your own body—to feel that the organic is dirty, it's not reliable, it's something that we should get rid of." McNally Jackson Books, 52 Prince St between Lafayette and Mulberry Sts (212-274-1160, mcnallyjackson.com). Oct 21 at 4pm; free.
Walls and Bridges happens Thu 11–Oct 21. Visit recette.villagillet.net/en/portal/walls-and-bridges for details.
You might also like
Best of Walls and Bridges 2011
Review: HHhH by Laurent Binet
See more in Books