Heads up! We're working hard to be accurate – but these are unusual times, so please always check before heading out.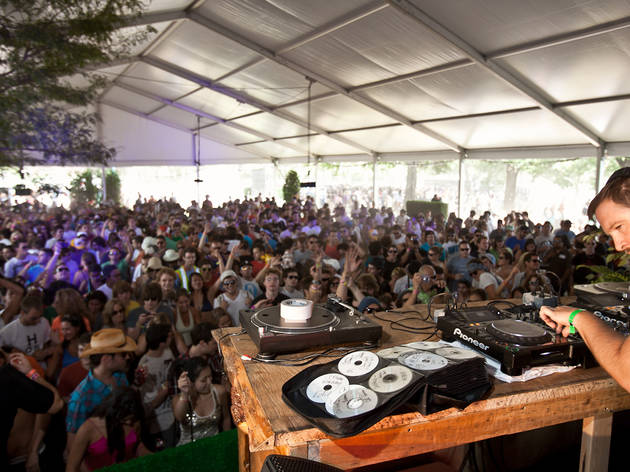 Electric Zoo 2012 DJ mixes
Check out DJ mixes and live sets from a slew of this year's Electric Zoo artists.
You wanted DJ mixes and sets from the big names and underground stars playing 2012's Electric Zoo festival—and we've got 'em! Give a listen to these mixes, many of them exclusive to TONY, to get revved up for the big party. And check back often; we'll adding new mixes on a near-daily basis until just before the festival itself.
RECOMMENDED: Complete Electric Zoo guide
Martin Solveig: The Parisian DJ and producer, he of the monster club hit "Hello," tends to incorporate heavy doses of rock-tinged beats into his sets. In the case of this mix, get ready to headbang at around the 20-minute mark—that's when AC/DC makes a scraggly-haired appearence. Catch the man live when he plays the Hilltop Arena alongside Benny Benassi, Wolfgang Gartner and Rusko on Saturday, September 1.
Marco Carola: Check out this deep and streamlined set from the Italian techno overlord; it's a mix that beautifully straddles the line between machine-tooled rigor and dance-floor abandon. The veteran spins at Sunday School Grove on Sunday, September 2.
Argy: Greece's Argyris Theofilis, who's recorded for labels as varied as Cadenza, Permanent Vacation and Defected, melds dubby deep-house vibes to teched-up dance-floor grooves. He's playing the Sunday School Grove tent on Friday, August 31

Frank & Tony: Frank is Francis Harris, the veteran NYC producer also known as Adultnapper. Tony is Anthony Collins, a talented French music maker, is one of those guys who always seems to be referred to as a "rising star" (though in our opinion, that star is fully risen). Together they make sweet and lovely deep house together—just like they will when they play the Sunday School Grove tent on Saturday, September 1.
Treasure Fingers: He's the party-starting DJ-producer from the Fool's Gold, Defected, Nurvous and MoS labels (among others) whose recent "Rooftop Revival" single was a splendid little slice of garage-inspired grooviness. The man otherwise known as Ashley Jones will be playing the Riverside tent with the rest of the Fool's Gold gang on Friday, August 31.
Eco: The trance artist is a favorite of the mighty Armin van Buuren, who says this: "I seriously don't know how he does it. Everything this man is touching is turning into pure melodic gold." Hear him on the main stage on Saturday, Sept 1.
Felix Cartal: Massive beats, buzzing bass and swirling synths leavened by sweet pop melodies—that's what you get with Dim Mak artist Cartal, who'll be hitting the Riverside stage alongside Steve Aoki, Datsik, 12th Planet and the rest on Saturday, September 1. Nicky Romero: What is it about the Netherlands that turns all of it's nice young fellows into big-room house and trance superstars?(It can't be the weed; that would just make them lazy.) Romero's only 23, and he's already palling around with David Guetta. Jeesh!He'll be playing on the main stage on Friday, August 31.
Destructo: When he's not playing his "metal-techno-disco," Gary "Destructo" Richards keeps himself busy by organizing those big-ass Hard fests in L.A., NYC, Miami and all over the country. But on Sunday, September 2, you'll be able to find him at Sunday School Grove.
Umek: Republic of Slovenia in the house, y'all! Specifically, Slovenia's Umek—who's been playing and making tough-yet-cuddley techno since the mid '90s—will be at the Sunday School Grove on Sunday, September 2.
Zach Roth: Thought all the festival's progressive trance slots were filled by dudes from the Netherlands and Germany? Well, Zack Roth is based right here in good old NYC. He's playing at the Hilltop Arena on Friday, August 31. Kyau & Albert: Those male vocals on Kyau & Albert's tracks? They're sung by Albert himself. The German trancers will be on the main stage Friday, August 31
Morgan Page: If you like your pop-club tunes to be of the full-steam-ahead variety (with the occasional time out for a spine-tingling breakdown), then you could do far worse than blowing out your earbuds with a dose of Morgan Page action. The Grammy-nominated Vermoter is at the Hilltop Arena on Saturday, September 1.
Angger Dimas: We suspect Dimas isn't really that anggery—the young Jakarta native is rapidly ascending through the ranks of the world's big-room jocks. It doesn't hurt to have pals like Dim Mak mastermind Steve Aoki, and he'll be playing alongside Aoki and the rest of the Dim Mak roster at the Riverside tent on Saturday, September 1. (Expect to hear a truckload of tunes when he's on the decks; he managed to squeeze 27 tracks into this set's 56 minutes.)
Jaytech: A mainstay of the Above & Beyond–affiliated Anjunadeep imprint, James '"Jaytech" Cayzer delivers a great-sounding tech-trance hybrid a of set, its swirling synths anchored by tough rhythms. Want more? Catch the talented young fellow when he rocks the Hilltop Arena with Above & Beyond themselves on Friday, August 31. Brass Fergie: Known to his Brooklyn neighbors as Dan Oh, the one-time City of Angels resident—who recently spent time as the tour DJ for Katy B—has honed a sound that's one part dubstep, one part hip-hop and a whole lot of dystopian. He'll be doling out his beats when the Dim Mak label takes control of the Riverside stage on Saturday, September 1. Dash Berlin: The popular Dutch progressive-pop-trance collective (essentially Jeffrey Sutorius, with production help from Kalberg & Molijn) recently released its second artist album, #musicislife—and you'll probably be hearing a lot of that LP when they play the main stage on Sunday, September 2. Helicopter Showdown: The Bay Area bass-music quartet—Devan Day, Ryan Wade, Joshua Small, and Blake Power—have been described "the Wu-Tang of dubstep." We're not quite sure what Ol' Dirty Bastard would have made of their bigger-than-big beats—but Electric Zoo revelers will undoubtedly be eating it up when the foursome hit the Hilltop Arena on Sunday, September 2.Mustard Pimp: Here's what the French duo said in an interview for the Soundlogik website: "We recently took a good stab into equatorian pop music, depressive black metal, surf drone jazz, doomstep and other introspections." But we suspect that if you catch Mustard Pimp when the Dim Mak label takes control of the Riverside stage on Saturday, September 1, the unit will be playing the bouncy, squelchy electro that it's known for.
Pierce Fulton: This Vermont native is only 20 years old—and the young electro-house honcho is already one of the leading lights of the festival-sized-EDM universe. Kudos to him…but don't buy him a congratulatory drink, or you'll risk being busted for contributing to the delinquency of a minor. And that would be a bummer! He's playing the main stage on Sunday, September 2.
Strip Steve: The native Frenchman makes and plays techy house music. Or is it housey techno? Oh, who cares—it's stripped-down, tough and pretty damn funky in a machine-tooled way, and it got him signed to the Boysnoize Records label. He'll be playing alongside Djedjotronic at the Sunday School Grove (headlined by Boys Noize, natch) on Sunday, September 2.