MoMA PS1's Warm Up 2012
This year's Warm Up lowdown is here!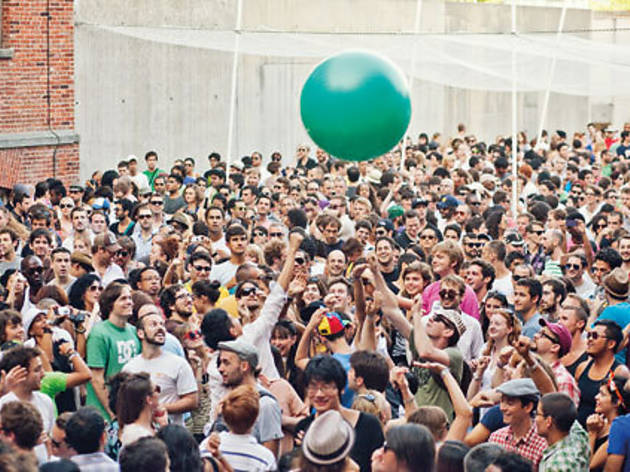 MoMA PS1's sprawling Warm Up parties return to the Long Island City's courtyard in just over a month—and, finally, we have this year's lineup in our hot little hands. The year's DJs and performers are as varied a lot as ever, to the point of haphazardnous—everything from Todd Terry's straight-up house and M.J. Cole's bumping garage to James Holden's butterfly-wing techno to Floating Points' spacious progtronics are on the menu—but we're happy to see that there's at least a bit of concentration on the electronic- and dance-music end of things. (This is the Clubs & Nightlife section, after all.) Check out the full lineup below; advance tickets go on sale on the MoMA PS1 website on June 18—and it might be a good idea to go that route for at least a few of these dates, because with folks like Jamie xx and drum 'n' bass pioneer Photek on the bill, the lines are going to be as massive as ever.
RECOMMENDED: Check out our full guide to MoMA PS1 Warm Up
July 7th
Todd Terry (X--Mix Productions, NYC )
Light Asylum (Mexican Summer , Brooklyn)
Nguzunguzu /(Fade to Mind / Hippos in Tanks, Los Angeles)
Trust (Arts and Crafts, Toronto)
Arca featuring HBA (UNO, NYC)

July 14th
Terrence Parker (Parker Music Works, Detroit)
D3 (Mark Flash, Jon Dixon and DeSean Jones) (Underground Resistance, Detroit)
Ron Morelli (L.I.E.S, NYC)
Jeremie Delon /(L.I.E.S, NYC)
Steve Summers (L.I.E.S, NYC)
Professor Genius (L.I.E.S, NYC)

July 21st
Matthew Dear (DJ Set) (Spectral Sound, NYC)
Sepalcure (Hotflush Recordings Berlin/NYC)
Le1f (Camp & Street, NYC)
MikeQ (Mad Decent , NYC)
JDH and Dave P (Fixed, NYC)

July 28th
M.J. Cole (Prolific Recordings, London)
DJ Spoko (True Panther, South Africa)
Micachu & The Shapes (Rough Trade, London)
Slava (Software, Brooklyn)
Van Rivers

August 4th
Jamie xx (Young Turks, London)
Pearson Sound (Hessle Audio, U.K.)
Lemonade (True Panther , Brooklyn)
Sinjin Hawke (Pelican Fly, Barcelona)
Zora Jones (Pelican Fly, Barcelona)

August 11th
Photek (Photek Productions , U.K.)
Evian Christ (Tri Angle, U.K.)
Shlohmo (Friends of Friends, L.A.)
Autre Ne Veut (Software, Brooklyn)
Howse (Tri Angle, Providence)

August 18th
Floating Points (Eglo, London)
Jacques Greene (Vase, Montreal)
Secret Circuit (Beats in Space, L.A.)
Hieroglyphic Being (Mathematics Recordings, Chicago)

August 25th
Just Blaze
Nick Catchdubs (Fool's Gold, Brooklyn)
Danny Brown (Fool's Gold, Detroit)
The Stallions (Lovefingers & Lee Douglas) (ESP Institute, NYC)
BAIO (Greco-Roman, Brooklyn)

September 1st
James Holden (Border Community, London)
Kassem Mosse (Workshop Records, Germany)
Om Unit (Civil Music, London)
Silent Diane (Austin, TX)

September 8th
Atoms For Peace (DJ set) (XL Recordings, London)
Rustie (Warp, Glasgow, Scotland)
Holy Other (Tri Angle, Manchester, U.K.
Maria Minerva (Not Not Fun, London)
Justin Strauss (WhateverWhatever, NYC)