Your guide to MoMA PS1 Warm Up 2021
The Warm Up party returns for more live music from MoMA PS1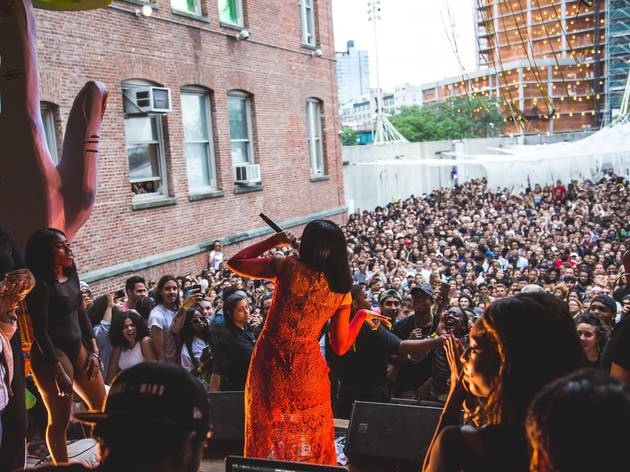 MoMA PS1 Warm Up is back, baby! This year's outdoor summer music and art party is back in Long Island City for its 24th season in the museum courtyard. Music aficionados and sun-worshiping revelers can return in August to enjoy a strong a lineup of bands, DJs, underground experimentalists, rising rap stars and the usual out-of-this-world outdoor art. This year, it'll be in person again but it'll also be streamed live in case you can't make it to LIC. Here's the lowdown on the biggest weekly summer party.
RECOMMENDED: Full guide to summer music festivals in NYC
What is MoMA PS1 Warm Up?
Warm Up is an outdoor music series in MoMA PS1's courtyard. The museum combines elements of music, sound and the performing arts, with unique lineups of artists and exclusive installations.
When is MoMA PS1 Warm Up?
The event is taking place on Saturdays, August 7, 14, and 21.
Where is MoMA PS1 Warm Up?
At MoMA PS1, located at 22-25 Jackson Avenue at 46th Avenue in Long Island City.
On the Sunday after each Warm Up, The Rockaway Hotel will bring the talent and sounds of Warm Up to the Rockaways with DJ sets from the emerging musicians of PS1's music program from 4-6pm. The program will also be available to livestream globally at moma.org/warmup.
Who is playing at MoMA PS1 Warm Up?
August 7: Amorphous / Empire, Yung Baby Tate, Patia Borja, MISTERVATION, River Moon, PATIASFANTASYWORLD, SURF GANG, Joselo & Friedplatano, Maricon
August 14: foreigner, Ariel Zetina, Smart Bar + Discwoman + Rumors, La Goony Chonga, rrao, K Wata, Enayet, Simisea, SLINK, Ana Roxanne
August 21: Doss, LuckyMe, glaive and ericdoa, Sango, AGO, Yu Su, bié + Music From Memory, Kaifeng, China Club Eat
What art is at MoMA PS1 Warm Up?
The courtyard will have art installations by Gregg Bordowitz, Niki de Saint Phalle, and Raul de Níeves, as well as PS1's acclaimed exhibitions "Niki de Saint Phalle: Structures for Life," "Gregg Bordowitz: I Wanna Be Well," and the Homeroom installation "Black Trans Liberation: Memoriam and Deliverance" (through August 16).
This year's Warm Up will be performed from Rashid Johnson's "Stage," a participatory installation and sound work that draws on the history of the microphone as a tool for protest and public oratory. This new location in the center of the courtyard also harkens back to the earliest days of Warm Up, when performances were often viewed in the round.
Is there food at MoMA PS1 Warm Up?
Yes, Mina's will be serving up refreshments.
How do I get tickets to MoMA PS1 Warm Up?
Tickets are $18 at Eventbrite.com. Long Island City residents with proof of residency in ZIP codes 11101 or 11109 can get one complimentary ticket, which can be booked online via Eventbrite. You must be able to provide proof of vaccination or a negative COVID-19 test at entry.
Things to do near MoMA PS1 Warm Up
Archive MoMA PS1 Warm Up Content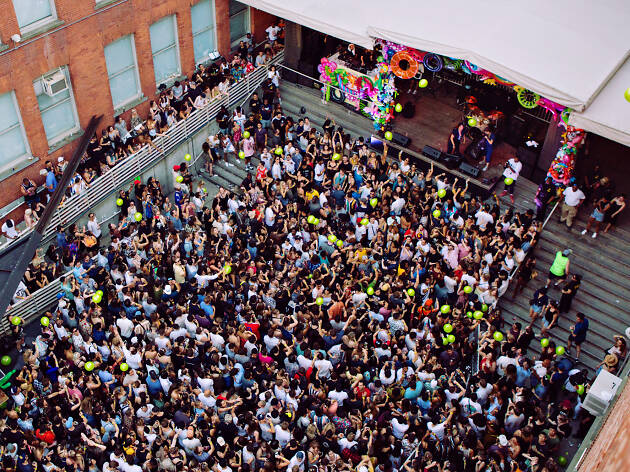 The full MoMA PS1 Warm Up 2019 schedule
MoMA PS1 Warm Up series—an annual summer concert staple—has always been known for hosting a diverse array of music, but this year's schedule demonstrates a special eclecticism, bringing 75 artists specializing in genres ranging from hardcore punk to classic techno to pop R&B. This year, the outdoor party takes place in Long Island City across nine Saturdays starting July 6 through August 31. RECOMMENDED: Full guide to MoMA PS1 Warm Up Grab tickets here (move fast—they tend to sell out) and check out the summer's full schedule below. MoMA PS1 Warm Up 2019 Schedule July 6Freddie Gibbs & Madlib / Keep Cool, RCA, ESGN + Invazion / Gary, Indiana + Los Angeles, CAPardison Fontaine / St.Lukes Section8 / Newburgh, NYKelly Lee Owens / Smalltown Supersound / London, UKKedr Livanskiy / 2MR / Moscow, RussiaJOY (Douglas Sherman, Takaya Nagase, Yuji Kawasaki) / Ridgewood Queensduendita / Queens, NY July 13Mark Ernestus / Rhythm & Sound / Berlin, GermanySanti / Monster Boy / Lagos, NigeriaMina / Earth Kicks / London, UKBAD GYAL / Interscope + Aftercluv / Barcelona, SpainEquiknoxx feat Shanique Marie / Bird Sound Power / Kingston, JamaicaMs. Nina / Córdoba, ArgentinaLil C / Gal-Dem + Prestige Pak / London, UK July 20Take A Daytrip / NO IDLE / New York, NYSmino / Zero Fatigue / St. Louis, MO SHENSEEA / Kingston, JamaicaBoogie / Shady Records / Compton, CAEveryday People / New York, NYThe Marías / Los Angeles, CAJezenia Romero / Bunny Jr. Tapes / Los Angeles, CA + New York, NY July 27Michael Brun / Kid Coconut / Port au Prince, HaitiAj Tracey / West London, UKRosa Pistola / Perreo Pesado / Mexico City / MexicoFuego / Transcend.ent + Universal Music Latin / Washington, DC + Santo Domingo, Dominican RepublicSCRAAATCH / SCI FI & FANTASY, Halcyon Veil / Philadelphia, PA August 3Mall Grab / Looking for Trouble + Steel City Dance Discs / Newcasle, AustraliaDJ Seinfeld / Young Ethics / Malmö, SwedenAma Lou / London, UK Mr Mitch / Gobstopper / London, UKFlohio / Independent / LondonBlack Noi$e / Detroit, MIFOOZOOL / CLUB CHAI / San Francisco CA8ULENTINA / CLUB CHAI / Oakland, CA August 10Ron Trent / Music&Power + Future Vision + Prescription / Chicago, ILEris Drew / Perth, Australia + Chicago, ILChika / Montgomery, ALDJ Python b2b Anthony Naples / Incienso / Ridgewood, New YorkOuri / Ghostly International / Montreal, QC, CanadaKhotin / Ghostly, Pacific Rhythm / Vancouver, Canada August 17C. Tangana / Sony Music / Madrid, SpainChaos in the CBD / In Dust We Trust / London, UKSho Madjozi / Flourish and Multiply / Limpopo, South AfricaDeem Spencer / Deem Spencer & The Flower Shop / Jamaica, Queens, NY MIKE / 10K / New York, NYTygapaw / Fake Accent / Brooklyn, NYBembona / Vibras NYC / Brooklyn, NY+ more to be announced August 24Martinez Brothers / Cuttin' Headz / Bronx, NYShigeto / Ghostly / Detroit, MichiganNOODLES / Above Ground / East Bay Area, CAP-Lo / EMPIRE / Bay Area, CADjrum / R&S Records / London, UKDJ Osh Kosh / Eardrummer Records / Atlanta, GA + Los Angeles, LA August 31Annie Mac / BBC Radio 1 / London, UKFLOORPLAN (Robert & Lyric Hood) / M-Plant / Detroit, MIPalms Trax / Dekmantel / Berlin, GermanyLAUNDRY DAY / New York, NYUgly Primo / Primos Studio / Los Angeles, CANabihah Iqbal / Ninja Tune + NTS Radio / London, UK
Show more