Your guide to MoMA PS1 Warm Up 2020
The Warm Up party returns for more live music from MoMA PS1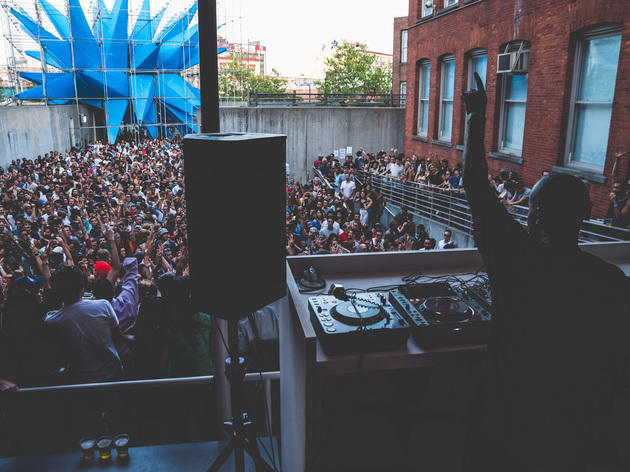 With almost two decades of packing the Long Island City museum courtyard with music aficionados and sun-worshiping revelers, MoMA PS1 Warm Up is back with a slight change. While this year brings as strong a lineup of bands, DJs and producers as it's had in years, hosting underground experimentalist, rising rap stars and the usual out-of-this-world outdoor art, it'll be streamed live to multiple music venues across the city, rather than hosting crowds of people itself. Here's the lowdown on the biggest weekly summer party.
RECOMMENDED: Full guide to summer music festivals in NYC
What is MoMA PS1 Warm Up?
Warm Up is an outdoor music series in MoMA PS1's courtyard. The museum combines elements of music, sound and the performing arts, with unique lineups of artists and exclusive installations.
When is MoMA PS1 Warm Up?
The event is taking place Saturday, September 5.
Where is MoMA PS1 Warm Up?
This year, you can catch it live from outdoor music venues including The Rockaway Hotel, the Queens Botanical Garden, 99 Scott, Cafe Erzulie, Elsewhere, Ode to Babel, Public Records and Rise Radio.
How do I get tickets to MoMA PS1 Warm Up?
This year's event is free, but PS1 is asking audience members to donate to NYC Nightlife United to help artists and venues through this difficult time.
MoMA PS1 Warm Up 2020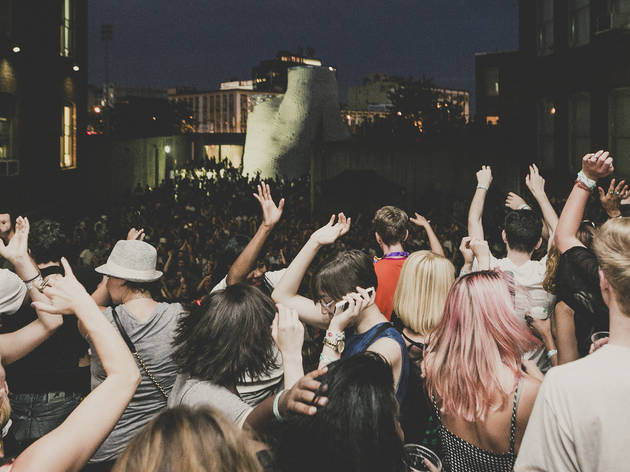 MoMA PS1 Warm Up series returns this weekend at outdoor music venues
MoMA PS1's weekly summer party, where sun worshippers and music enthusiasts collide, is coming back this weekend. Warm Up 2020 is on Saturday, and while it usually takes place at MoMA PS1 across several weeks, it'll be compacted into one eight-hour concert streamed live from the museum at NYC's outdoor music venues. This way, audiences can patronize and support these venues as well as keep revelers distanced. Wondering who's on the lineup? There will be 12 DJ sets and live performances. Highlights include Papi Juice, an art collective celebrating queer and trans people of color; Barbie Bertisch, who runs the beloved fanzine Love Injection; and Bronx-based label Sie7etr3. Here's the full lineup: Oscar Nñ + Adam R. / Papi Juice / Brooklyn, NY J.I. / Interscope / Crown Heights, Brooklyn, NY Chucky73, Dglo73, Fetti031, YoungKilla73 / Sie7etr3 / Bronx, NY Stonie Blue / BELIEVE IN YOURSELF DO IT YOURSELF RECORDS / Brooklyn, NY + Dallas, TX DJ Chill + Jo Vill / St. James Joy / Brooklyn, NY AceMoMA / HAUS of ALTR / New York, NY Eartheater / PAN / Queens, NY Sazón Department (Diego Hauz, Sebastián Maria, Magnolia Polaris, Probabablyourdaddy) / Sazón Department / New York, NY KeiyaA / Forever Recordings / Brooklyn, NY Barbie Bertisch / Love Injection / New York, New York Analog Soul / Uzuri + Sublimate / Brooklyn, NY Disco Tehran / New York, NY + Tehran, Iran And in keeping with its artsy roots, the Warm Up stage itself is designed by New York-based artist Cécile McLorin Salvant, which will be unveiled on the day of. So for eight hours on Saturday, from noon to 8pm, you can go to The Rockaway Hotel, the Queens Botanical Garden, 99 Scott, Cafe Erzulie, Elsewhere, Ode to Babel, Public Records and Rise Radio to catch the concert. To further help support these music spaces and artists across the city, PS1 is working with Red Bull to raise money for NYC Nightlife United, an emergency relief fund focused on supporting BIPOC-owned and led businesses that create safe spaces for BIPOC and LGBTQIA communities. Warm Up audiences will be encouraged to donate to the fund during the program. Attendees will also be able to buy T-shirts designed by Willie Norris that recycle Warm Up 2018 deadstock designed by artist Andrew Kuo to benefit NYC Nightlife United. Photograph: Courtesy Willie Norris While this isn't the typical Warm Up series, we're hopeful it'll be the boost these music venues need. You can stream the program directly from moma.org/warm up or via Boiler Room's YouTube. Most popular on Time Out - 13 hidden patios, backyards and gardens for outdoor dining in NYC- Will NYC teachers go on strike? Here's what you need to know- Find out what your NYC building looked like in the 1940s- There's a pop-up bar modeled after a shipwreck on the Lower East Side- The Metropolitan Opera is streaming modern operas every night this week
Things to do near MoMA PS1 Warm Up
Archive MoMA PS1 Warm Up Content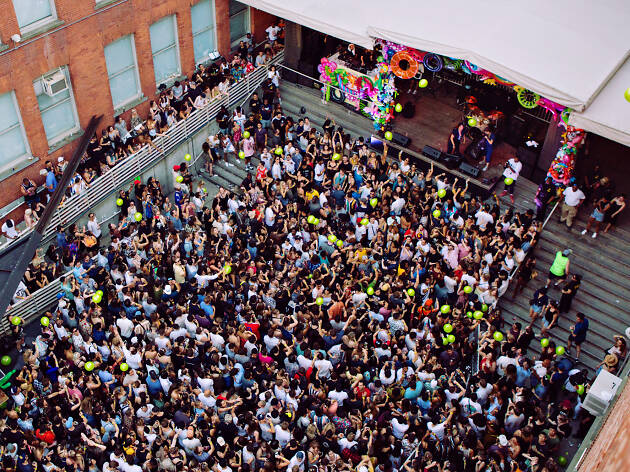 The full MoMA PS1 Warm Up 2019 schedule
MoMA PS1 Warm Up series—an annual summer concert staple—has always been known for hosting a diverse array of music, but this year's schedule demonstrates a special eclecticism, bringing 75 artists specializing in genres ranging from hardcore punk to classic techno to pop R&B. This year, the outdoor party takes place in Long Island City across nine Saturdays starting July 6 through August 31. RECOMMENDED: Full guide to MoMA PS1 Warm Up Grab tickets here (move fast—they tend to sell out) and check out the summer's full schedule below. MoMA PS1 Warm Up 2019 Schedule July 6Freddie Gibbs & Madlib / Keep Cool, RCA, ESGN + Invazion / Gary, Indiana + Los Angeles, CAPardison Fontaine / St.Lukes Section8 / Newburgh, NYKelly Lee Owens / Smalltown Supersound / London, UKKedr Livanskiy / 2MR / Moscow, RussiaJOY (Douglas Sherman, Takaya Nagase, Yuji Kawasaki) / Ridgewood Queensduendita / Queens, NY July 13Mark Ernestus / Rhythm & Sound / Berlin, GermanySanti / Monster Boy / Lagos, NigeriaMina / Earth Kicks / London, UKBAD GYAL / Interscope + Aftercluv / Barcelona, SpainEquiknoxx feat Shanique Marie / Bird Sound Power / Kingston, JamaicaMs. Nina / Córdoba, ArgentinaLil C / Gal-Dem + Prestige Pak / London, UK July 20Take A Daytrip / NO IDLE / New York, NYSmino / Zero Fatigue / St. Louis, MO SHENSEEA / Kingston, JamaicaBoogie / Shady Records / Compton, CAEveryday People / New York, NYThe Marías / Los Angeles, CAJezenia Romero / Bunny Jr. Tapes / Los Angeles, CA + New York, NY July 27Michael Brun / Kid Coconut / Port au Prince, HaitiAj Tracey / West London, UKRosa Pistola / Perreo Pesado / Mexico City / MexicoFuego / Transcend.ent + Universal Music Latin / Washington, DC + Santo Domingo, Dominican RepublicSCRAAATCH / SCI FI & FANTASY, Halcyon Veil / Philadelphia, PA August 3Mall Grab / Looking for Trouble + Steel City Dance Discs / Newcasle, AustraliaDJ Seinfeld / Young Ethics / Malmö, SwedenAma Lou / London, UK Mr Mitch / Gobstopper / London, UKFlohio / Independent / LondonBlack Noi$e / Detroit, MIFOOZOOL / CLUB CHAI / San Francisco CA8ULENTINA / CLUB CHAI / Oakland, CA August 10Ron Trent / Music&Power + Future Vision + Prescription / Chicago, ILEris Drew / Perth, Australia + Chicago, ILChika / Montgomery, ALDJ Python b2b Anthony Naples / Incienso / Ridgewood, New YorkOuri / Ghostly International / Montreal, QC, CanadaKhotin / Ghostly, Pacific Rhythm / Vancouver, Canada August 17C. Tangana / Sony Music / Madrid, SpainChaos in the CBD / In Dust We Trust / London, UKSho Madjozi / Flourish and Multiply / Limpopo, South AfricaDeem Spencer / Deem Spencer & The Flower Shop / Jamaica, Queens, NY MIKE / 10K / New York, NYTygapaw / Fake Accent / Brooklyn, NYBembona / Vibras NYC / Brooklyn, NY+ more to be announced August 24Martinez Brothers / Cuttin' Headz / Bronx, NYShigeto / Ghostly / Detroit, MichiganNOODLES / Above Ground / East Bay Area, CAP-Lo / EMPIRE / Bay Area, CADjrum / R&S Records / London, UKDJ Osh Kosh / Eardrummer Records / Atlanta, GA + Los Angeles, LA August 31Annie Mac / BBC Radio 1 / London, UKFLOORPLAN (Robert & Lyric Hood) / M-Plant / Detroit, MIPalms Trax / Dekmantel / Berlin, GermanyLAUNDRY DAY / New York, NYUgly Primo / Primos Studio / Los Angeles, CANabihah Iqbal / Ninja Tune + NTS Radio / London, UK
Show more