Heads up! We're working hard to be accurate – but these are unusual times, so please always check before heading out.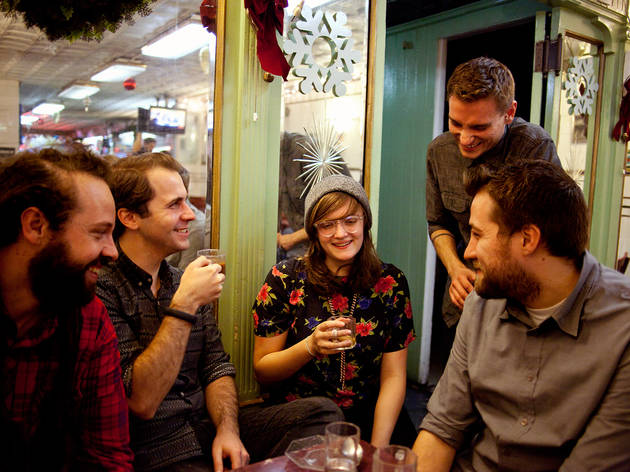 New York parties and the nightlife kingpins behind them
Check out the hottest New York parties to hit up in 2013, and meet the people who throw them.
Nightlife is brimming with scintillating soirees of all sorts—but those shindigs don't just appear out of thin air. Here are a few of our favorite impresarios—such as Shien Lee, and Jules Kim and Katie Longmyer—from the current crop behind five essential New York parties.

RECOMMENDED: New York nightlife guide 2013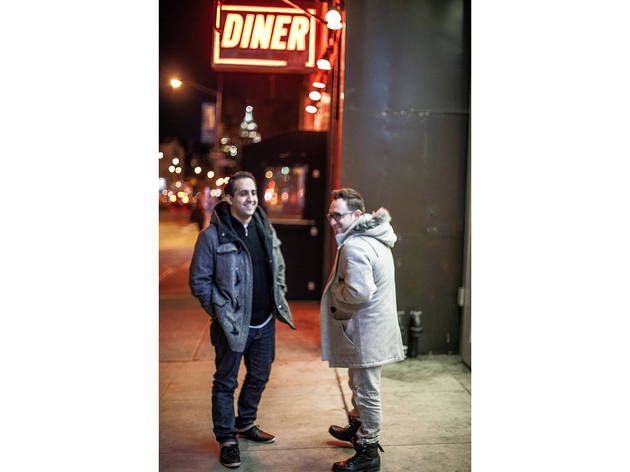 Photograph: Julien Boudet (bleumode.com)
The Dog & Pony Show: Paul Raffaele
Paul Raffaele, cofounder of the city's premier house-music organization, the Dog & Pony Show (dogandponynyc.com)Origins
"Growing up in Staten Island, both [fellow founder Dave Kers and I] ventured out to the city a lot as kids, totally enamored by Manhattan's after-hours scene. Eventually we decided to start a party just for our friends to hang out and DJ at. From there it evolved into bringing our favorite producers to play. We get the most satisfaction from giving a breaking artist an amazing party in our city. If that's done right, then the patrons have an amazing time as a result."
The party
"From the very first moment a potential partygoer comes into contact with our brand, we want them to have fun. From the time someone looks at one of our ridiculous flyers, we're encouraging people to smile and have a good time. It's not a cool contest, or a place for an ego, it's just big smiles and heavy house and disco vibes!"
What you've missed so far
"We did a party at
W.I.P.
when it just opened with the Revenge and 6th Borough Project, who we'd been wanting to book (and meet) for a really long time. That party absolutely went off. Jimmy Edgar was amazing at
Le Bain
in October, and last month's Eats Everything New York debut blew everyone's mind!"
Next event: The Dog & Pony Show Presents 6th Borough Project + The Revenge + Mark E at Le Poisson Rouge, 158 Bleecker St at Thompson St (212-505-3474,lepoissonrouge.com). Jan 26 at 11pm; $20.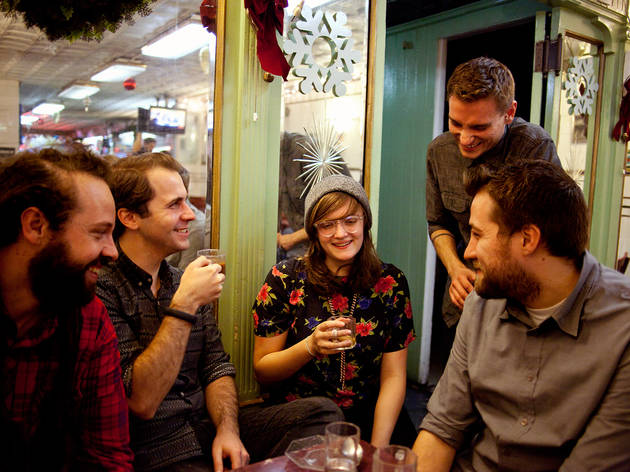 Photograph: Francesca Tamse
Turrbotax: Contakt and Rem Koolhaus
Contakt and Rem Koolhaus, Cofounders and resident DJs (along with Space Jam, C-Sick and Mayster) of Turrbotax, a dance party that wends its way through house, techno and more (turrbotax.wordpress.com)

Origins
Koolhaus: "When we started in 2009, so many awesome, diverse influences were smashing together in the wake of dubstep. It kind of breathed new life into 4/4-oriented dance music. We just really wanted to have a party where we could hear this music really loud all night long and dance with our friends."

The party
Koolhaus: "Turrbotax has a really free and fun kind of vibe; people really go all in. We've banned photography because it took people out of the moment. We also have a history of having no announcements as to who's playing. We don't want people who will show up right before the DJ they read about on the Internet is on, tweet something snarky and then leave. It's kind of our way of driving home the idea that Turrbotax is not an indie-rock concert; it's a loud, banging, sweaty dance party."

The crowd
Contakt: "What I really love about our events is that our crowd is really mixed. Lots of young people, lots of veterans who rarely go out except to our events. All races, sexual preferences, ages and a good mix of guys and girls."

What you've missed so far
Contakt: "There have been so many special nights, it's impossible to think of just one; everything from surprise DJ sets from Four Tet to seeing Robert Hood play the best DJ set I have ever seen in a tiny, packed room. The highlight for me this year was Terrence Parker playing an absolutely outstanding DJ set. I get chills thinking about how good it was. The entire crowd was wrapped around his finger. I think everyone who was at that event walked away with that same feeling."

Their recommendations
Contakt: "We feel really lucky that there are so many great underground (for lack of a better descriptor) promoters in NYC, and to have a great working relationship with all of them. Some of our favorite events in NYC are Fixed (fixednyc.com), Mr. Saturday (mistersaturdaynight.com), Discovery (adiscoparty.com), Percussion Lab (percussionlab.com), Dog & Pony Show (dogandponynyc.com) and Trouble & Bass (troubleandbass.com)."

Next event: Cameo Gallery, 93 North 6th St between Berry St and Wythe Ave, Williamsburg, Brooklyn (718-302-1180, cameony.com). Jan 25 at 11pm; $10.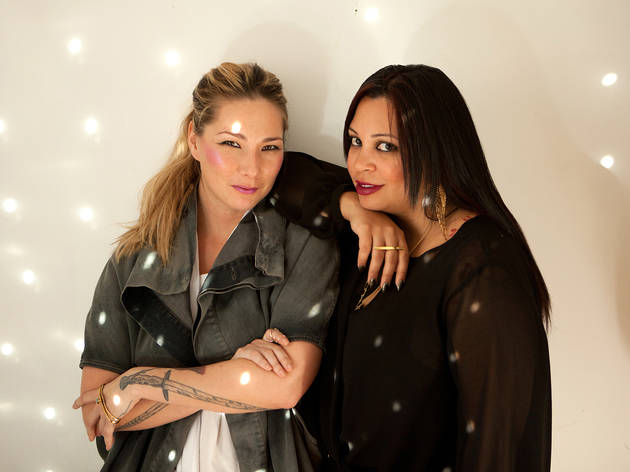 Photograph: Alessandro Simonetti
Select Fridays: Jules Kim and Katie Longmyer
Jules Kim, luxury jeweler (bijulesnyc.com), and Katie Longmyer, lifestyle and nightlife curator; cofounders of the weekend-starting wingding Select Fridays(good-peoples.com)

Origins
Longmyer: "Select Fridays was started as a unique nightlife alternative, a space where our community could get up and set off to their weekend nights."

The party
Kim: "Atmosphere is truly important, and the event needs to wrap each partygoer in it. [Patrons] come out to flourish amongst their peers and uncover new things. The vibe should embrace the possibilities by providing good sound, good music, good drinks and good company."

The crowd
Longmyer: "We are the creators that surround you every day, making music, art, photos, clothes and more. We designed your favorite brand's logo, we were behind the camera of your favorite ad campaign, and we dressed your favorite celebrity. That new genre of music, we had a hand in pushing that from underground nightclubs to the radio, too."

What you've missed so far
Kim: "I love the summer parties that Katie and I began on the roof of Le Bain. We can chill in the sun with friends during the day on Fridays. It is exciting to have created something that works and can also grow to include new venues and places, like Stockholm, Paris and Berlin!"

The future
Longmyer: "I'm excited about going global with the party. I'm really not kidding when I say I want to take over the world. Music truly is the international language, right?"

Next event: El Jockey Lounge at Super Linda, 109 West Broadway at Reade St (212-227-8998, superlindanyc.com). Fri 10pm–2am; free. Beginning Memorial Day: Le Bain, 444 W 13th St at Washington St (212-645-4646, standardhotels.com). Fri 2–8pm; free..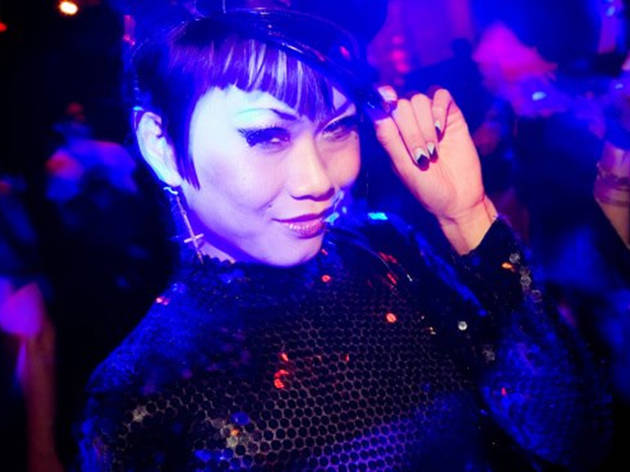 Photograph: Michael Alexander
Dances of Vice: Shien Lee
Shien Lee, event producer and founder of the retro-themed, dandified Dances of Vice affairs (dancesofvice.com)Origins
"I started throwing events when I moved to New York in 2007. I wanted to create a space where lovers of vintage culture, fantasy and anachronism could meet like minds and celebrate art, unconventional beauty and rebellion."
The crowd
"We attract an eclectic mix of vintage-music and -fashion enthusiasts, artists, dancers and beauty-seekers. One thing that most attendees have in common is that they tend to be creative, stylish and love dressing up!"
What you've missed so far
"My favorite Dances of Vice event was the Dada Revue, a celebration of absurdism, surrealism and creativity. The wild and topsy-turvy nature of the music and performances that night broke down boundaries between individuals and lowered inhibitions—guests arrived in fantastic, crazy costumes and danced with reckless abandon. I hope to do it again soon."
Her recommendations
"
Le Poisson Rouge
is one of my favorite venues for live music and shows. Muffinhead and Eric Schmalenberger produce an incredible art party and exhibition called BANZAI!!!!! that blows my mind each time."
Next event: Dances of Vice second annual Valentine's Day Ball, Riverside Church, 490 Riverside Dr between 120th and 122nd Sts (dancesofvice.com). Feb 14 time TBA; $TBA.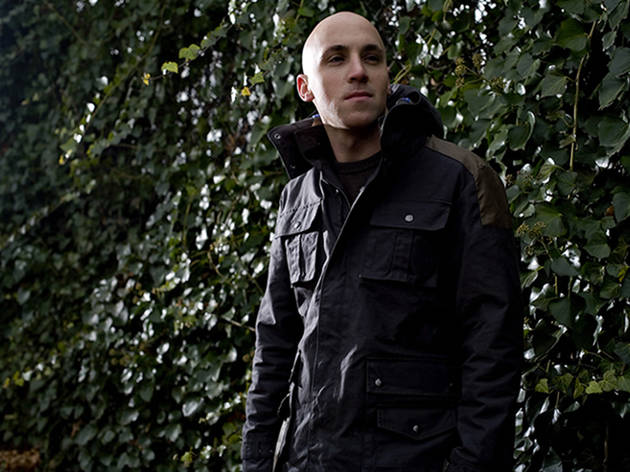 Photograph: Katya Guseva
Luke McCann, founder of Reconstrvct, a party geared toward cutting-edge dubstep and its various bass-heavy offshoots (reconstrvct.com)

Origins
"I used to go to Dub War religiously and sweat through my clothes to the sounds of Joe Nice and Dave Q. It was such a release from the mundane, and when it ended I was devastated. Like a fiend, I started planning trips to London, honestly, faking sick at work to fly over for the weekend, staying in hostels or sleeping in the airports, just to be able to experience an eight-hour DMZ party in Brixton or Amerstdam. It wore me out, but it was the only way I could justify working such hours at a crappy job."

The party
"We were just looking for a place that would allow us to play this music the way it's intended to be played: loud and into the late night. These artists we bring out are sharp as surgeons and know exactly how to work the floor with their music. Please know it's gonna get loud, with the bass reaching 149 decibels—you will feel it in your chest if you're close enough to the speakers. What we don't do is have cheesy rave lights, fake smoke, dress codes, or MCs speaking in tongues. Just the essentials."

The crowd
"Colorful as the United Nations but with open minds and good hearts. Reconstrvct brings together enthusiasts and fans from a multitude of time zones, all to celebrate the most prolific, forward-thinking artists, producers and DJs in the EDM/bass culture scene."

What you've missed so far
"The Outlook Festival vs. Reconstrvct was beautiful, primarily because it was the first time we moved to a big venue from a small (200 person capacity) venue. I was really nervous because I had never worked with the venue, nor booked so many DJs, nor maxed out my lines of credit. The Author (Jack Sparrow and Ruckspin) live PA set was incredible. You can listen back to it on Soundcloud and see what I mean. We're definitely going to do that again this June."

His recommendations
"The Delancey has something fresh on Thursdays called Fourth Temple (facebook.com/fourth-temple) with DJ True Nature, and On the Sly (ontheslyny.com) at Le Poisson Rouge. The Lit City (facebook.com/litcitytrax) guys are doing it right too, they had Kode 9, Gang Gang Dance and [Chicago's] DJ Rashad for ten bucks the other night."

The future
"I'm really beyond excited to be bringing forth this new art and music showcase called Idle (facebook.com/stayidle), going on in Brooklyn on February 2. They're bringing out this quartet Old Apparatus alongside Ashes57, amongst others, and I've got to say, their sound-and-art design is light-years ahead, with some serious next-level producers from South London making their debuts."

The past
"I read an article about [techno DJ] Adam X and he talked about how Brooklyn used to be in the '80s (cheap). He spoke of the blending of sounds at underground parties and the freedom in music people shared from raw techno, hip-hop, disco and beyond, which is what Berlin has become. I'd love to go back to when people had such an open mind about the transcending qualities of music experimentation instead of expecting a certain sound."

Next event: Location TBA. Jan 19 at 10pm; $TBA, advance $15. Advance tickets available at residentadvisor.net. R.S.V.P. required; e-mail rsvp@reconstrvct.com or visit facebook.com/reconstrvct.