Gravity. Electromagnetism. Bridget Everett. All awesome forces of nature, but only one 6', unhinged alt-cabaret superstar is likely to spew chardonnay in an audience member's face right before sitting on it. After more than a dozen years in the trenches, playing gay bars in Hell's Kitchen and downtown venues including Joe's Pub, Everett is finally getting the attention she deserves. Amy Schumer championed her in 2013, with invitations to appear on Inside Amy Schumer and, in 2015, with a part in Trainwreck. Since then, the momentum behind this 45-year-old—whose original songs include lyrics like, "You got them little nippy titties, put 'em in the air!"—has only increased. In 2017, Everett stole scenes in the bawdy comedy Fun Mom Dinner; delivered a surprisingly dramatic turn in hip-hop underdog tale Patti Cake$; and starred in the sadly-passed-on Amazon pilot Love You More, created with the help of her mentor, Michael Patrick King.
RECOMMENDED: Full guide to New Yorkers of the Year
Your stage persona is demanding and all-consuming, whereas you're quite gentle and sweet in person. How much do you relish becoming that onstage Bridget, or how much does it take out of you?
I feel like I'm storing up energy before I go onstage. Usually, it's two glasses of Rombauer and "Dr. Footlights" and I'm back in business. "Dr. Footlights," that's what my friend Neal Medlyn—[hip-hop cabaret and performance artist] Champagne Jerry—calls [stage time]. Every time before I go out, I'm like, God, I'm getting too old for this shit. My body can't take it anymore. And then it's fine.
You're very fast and loose with costumes onstage. What do you make of the term wardrobe malfunction as it applies to your act?
Every wardrobe malfunction I have ever had has stayed with the show. I used to lower my pants just a little bit to show I was wearing a g-string, and one time my pants just dropped. I just stepped out of them and kept going. I was like, Oh, this is what I was trying to get to and I didn't even know it. So when accidents happen, I think you have to embrace them and set sail.
I was at Joe's Pub the night you mashed Gloria Steinem's head into your cleavage during your rendition of "Titties." It felt like I was witnessing a great moment in feminist history.
That felt incredible. There was a number of years I wanted to call myself a feminist but I didn't think they would want me based on what I was doing. I remember having a conversation about [feminist and preeminent riot grrrl] Kathleen Hanna about it, and she was like, "You're wrong, we do want you." So getting a stamp of approval from her, and also Gloria Steinem, I was like, Oh. I'm just always suspicious of myself, like I'm doing something wrong.
Did you get to talk to Gloria Steinem before or after the show?
I did, and in fact I wrote a song inspired by her that I used to close my show called, "I'll Take You Home." Every time you get a chance to talk with her, she's very disarming and you sort of forget you're talking to an icon. The fact that she embraced me was enough to last me a lifetime. If anybody ever walks out of my show—it does happen, if they think it's too much—I'm like, Gloria Steinem doesn't have a problem with this, bitch. Fuck off!
Amy Schumer is not only your friend, she really backed you as a performer. What has that relationship meant to you?
Amy is really funny, and has a giant heart and would do anything for a friend. If anything, she's made me want to be a more loyal, loving friend. I've worked with people in the past that were undermining, or didn't always root for me. When I started working with her, it was really hard for me to trust that she was like, on my side. She changed my life in many ways, not least of all, seeing how someone could be so selfless in their generosity. Now I'm surrounded by people like that, who want me to do well and who I want to do well, and life is a lot sweeter.
Your part in Fun Mom Dinner seems like an extension of your comedic work, but let's talk about Patti Cake$. When did you picture of success include dramatic acting?
The writer-director saw me on [Inside Amy Schumer] singing, dancing, motorboating people—whatever I was doing—and he was like, You should be the mother in my movie. I was like, Eh, I'm not an actress. I didn't want to fuck up somebody else's thing. He's very convincing and gentle and sweet and thoughtful, and he was like, "Just come to Sundance [Directors Labs]. There's no pressure, let's see what happens." It just so happened that we all sort of fell in love with each other and doing the movie together. I kept thinking, I'm going to get replaced by Kathy Bates. I actually had a nightmare that Kathy Bates was going to get the part.
"I'm like, Gloria Steinem doesn't have a problem with this, bitch. Fuck Off!"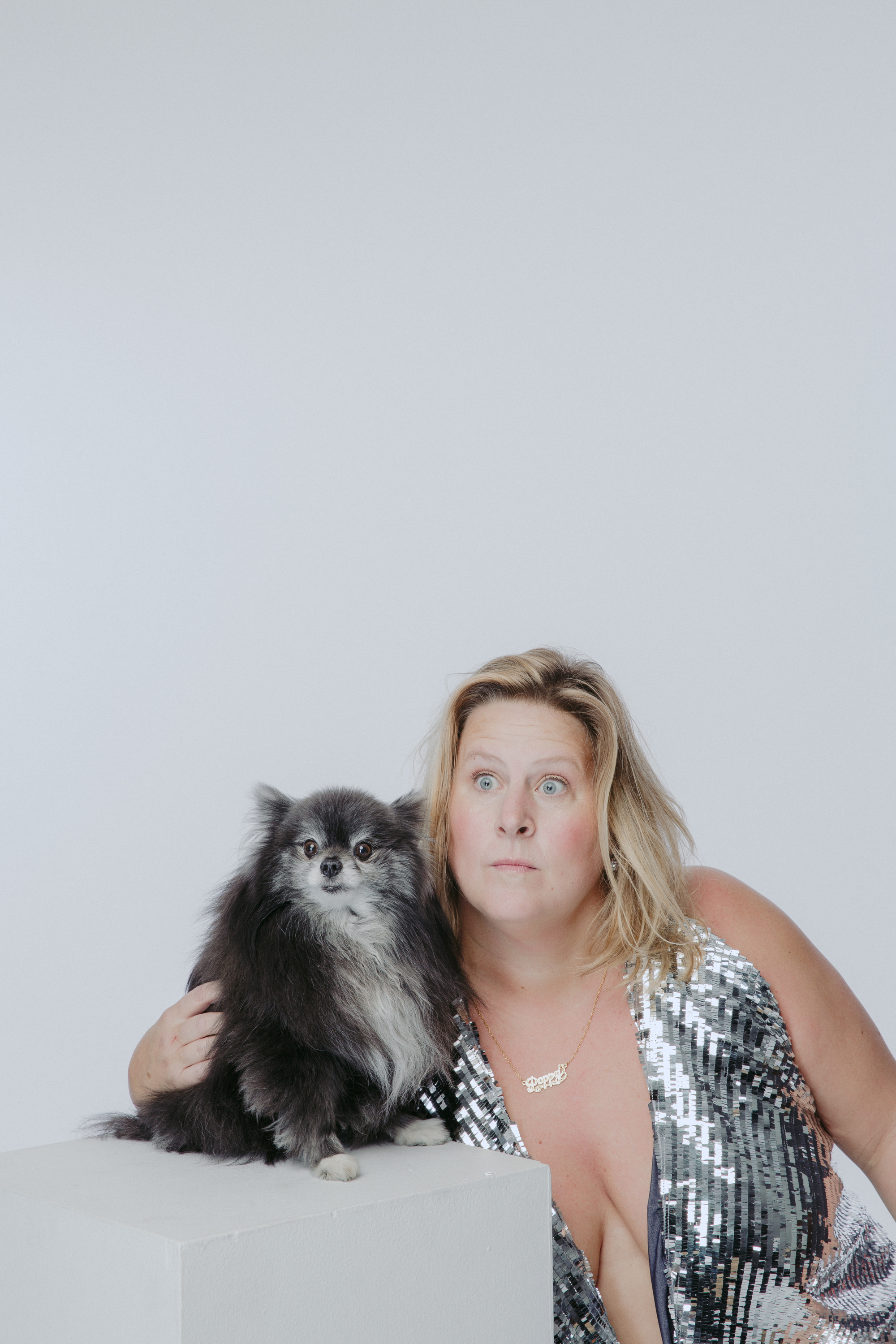 Photograph: Tawni Bannister
How long had you harbored the fantasy about doing that kind of work?
I think if you see me perform onstage, you'd like, Oh, that woman thinks she can do anything. But in reality, I'm filled with self-doubt, and I don't really trust my instincts, and anytime I go out onstage and there's an audience full of people, I'm like, What are they doing here? I'm thrilled, but I'm not somebody who has a natural faith in myself. I think I can sing and am funny and have some abilities but I'm not somebody who takes big chances. I'm trying to take more chances on myself because I think it pays off.
What did you do to prepare, given that so much of your work has been comedic and larger-than-life?
I didn't really prepare other than memorize the lines. [Patti Cake$ Director] Geremy [Jasper] would give me direction and I would go for it. You just have to take a big swing. And the character of Barb is someone I really related to: Her loneliness and frustration and feeling trapped in sorrow. Funny people are fucked up people, so, it's in there. It was a little easier to tap into than I would have liked.
Love You More is both a raunchy sex comedy and a heartfelt story about a woman who helps to run a home of young adults with Down syndrome. What led you to marry these disparate elements?
Because that's who I am. I'm on top of a karaoke bar ripping my shirt off and I'm a regular person at home, on the couch, drinking a bottle of wine feeling sorry for myself. We wanted to create a world that was all parts of me. I remember I met with Carolyn Strauss and Michael Patrick King for coffee, and they told me about it, and I was like, Wow, that seems fucking crazy but I think it would really work.
How early did Michael Patrick King come into the process?
We did a show together in 2007 at Ars Nova called At Least It's Pink, and he's been in my life since then as a mentor. He's put me on 2 Broke Girls and the Sex and the City movie, and we stayed close friends. He was looking for something new to do and I happened to be on vacation with him at the time. We were sitting on the dock at his house in Lake Arrowhead and he said, "I think it's time we finally do our show." I sat there like I was watching a Lifetime movie. [Makes over-the-top weeping sounds.]
In the past, you've mentioned LL Cool J's motto—DDHD, or Dreams Don't Have Deadlines—which you have adopted as your own. For those struggling late bloomers out there, exactly how long has it been since you quit waiting tables?
About two and half years ago, maybe three years. Not long. New York is full of people like me. It's just a matter of finding what makes you special and sticking to it. If you keep at it, eventually someone is going to listen.
How did it feel when you finally quit?
It felt incredible. My restaurant manager [e-mailed me] like, When can you work next weekend? And at that point I wasn't working a whole lot, I was just trying to keep my health insurance, and I definitely still needed money from time to time. But I just said, I'm not coming back in. And she wrote back, Good for you. I went in that night, and told the people at Joe's, and I knew I'd done it the right way. It took me a long time, but that's okay.
How will you feel if TV and film work make you too busy for stage performances?
It's essential for me to keep doing the stage stuff, because it's the juice. If I want to stay buff, I've got to keep that juice going. And specifically the shows at Joe's Pub, I feel like that's the place I can try new things. There's this new song and I was like, "I don't know if I should do it," and my friend Murray [Hill] was like, You've earned this, this is your space, they want it and they're ready for you.