The best gay bars in NYC
The best gay clubs, bars and pubs in New York to drink and party the night away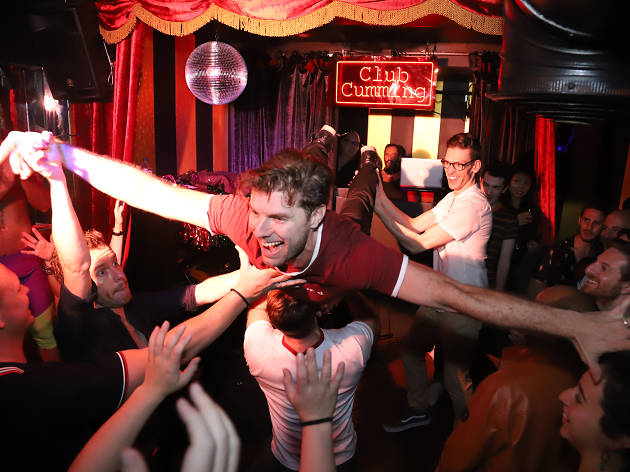 Nightlife in NYC may always be in flux, but for the LGBTQ community, some places will always be home. Whether you're looking to see the city's best drag queens in the East Village or an avant-garde party in Bushwick, we've got the best queer spots for cabaret, drag, dancing and beyond.
LGBT and gay bars in NYC
Daniel Nardicio and Alan Cumming took over the former Eastern Bloc bar in 2017 and reimagined it as a cabaret, comedy and party hub evocative of NYC's golden era of downtown nightlife. Count on Broadways singers belting out favorites by the piano, wild '90s dance parties and stellar cabaret and comedy nights just about any time you drop in.
If it's true that one in ten people is gay, and that Brooklyn is home to more than 2.5 million people, then the borough must be crawling with queers. Billyburg cuties can call this place their own. The cozy, 1950s ski-lodge–inspired space, with two fireplaces and exposed-brick walls, is home to a friendly crowd of guys and gals chilling with nightly drink specials at the weekly DJ parties. Count on subversive drag shows all week long.
This classic, no-attitude gay lounge in Chelsea has outlasted many others due to its combination of cozy couches, awesome drag shows, generous happy hours and friendly bartenders.
Bushwick's thriving queer rennaissance converges at this laid-back spot, at which low-budget drag, dirty dance parties and backyard hang-outs are always going down. Grab a cheap happy hour special and sit back in the couches; you're certain to make new friends.
The birthplace of gay liberation says "yes!" to empowerment and "hell, yes!" to go-go boys. The high-energy dance music draws a mixed, flirty crowd. Drink at one of two bars, or shake your groove thing on the dance floor upstairs. Daytime brings gawking tourists, but the evenings are still for partying.
A friendly, spacious bar with an intimacy-heightening low ceiling, Nowhere attracts attitude-free crowds—and the place is filled with everyone from dykes to bears, thanks to a fun lineup of theme nights. There's no official dance floor, but don't be surprised to find yourself moving to disco, rock, new wave and whatever else the DJ feels like spinning.
This Ridgewood bar serves homestyle favorites for brunch and dinner, and hosts queer-skewing parties and performances later into the night. Bear parties, otter throwdowns and queer womens' bashes go down just about every week, so get ready to sweat on that dancefloor.
Cubbyhole is one of the Village's more festive and hetero-friendly gay-and-lesbian bars. Chinese paper lanterns, tissue-paper fish and holiday decorations hang from the ceiling. Barstools are upholstered with glossy vinyl bearing pictures of Bugs Bunny, Daffy Duck and Porky Pig. Eclectic? You bet.
In recent years, Bushwick has quickly become a queer paradise, with bars like the Rosemont and the Deep End throwing bashes every night, and the Bushwig festival rising in prominence year by year. And with the June 2018 opening of this double-trouble nightlife hub, the neighborhood may be embarking on a new golden age. Enjoy drinks in the lovely Americana bar 3 Dollar Bill, which features shows and events like Sunday BBQ parties; then head to Sutherland, the fabulous warehouse space in the back of the venue, for thumping dance parties every night guided by sound systems inherited from venues like the Roseland Ballroom. Some of the best drag performers and DJs in the city have begun their takeovers of the new spot; get in early and join the community.
Show more
Best gay clubs in NYC
LGBT parties in NYC offer something for everyone, from relaxed, mixed shindigs to sweaty dance throwdowns