The best gay bars in NYC
The best gay bars, dance clubs, and pubs in New York to drink and dance the night away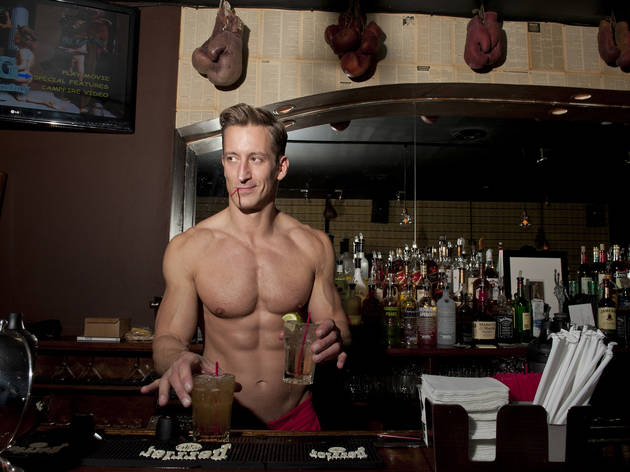 Don't let the naysayers fool you: The Internet and Grindr have definitely not caused the death of New York gay bars. NYC is still home to so many LGBT drinkeries, the options can be staggering—but it's really hard to go wrong. Whether you want to cruise the Hell's Kitchen main drag, drink in the Village's historic watering holes, or hop on the train to check out the scenes in Queens and Brooklyn, you'll find a friendly crowd eager to make new friends—and maybe even an IRL hookup. Many of the best bars also have top-notch DJs, fierce drag-queen performances or fun cabaret shows, which are often free. Just do yourself a favor while you're out there: Keep your phone in your pocket.
LGBT and gay bars in NYC
1
A friendly, spacious bar with an intimacy-heightening low ceiling, Nowhere attracts attitude-free crowds—and the place is filled with everyone from dykes to bears, thanks to a fun lineup of theme nights. There's no official dance floor, but don't be surprised to find yourself moving to disco, rock, new wave and whatever else the DJ feels like spinning.
Read more
2
Cubbyhole is one of the Village's more festive and hetero-friendly gay-and-lesbian bars. Chinese paper lanterns, tissue-paper fish and holiday decorations hang from the ceiling. Barstools are upholstered with glossy vinyl bearing pictures of Bugs Bunny, Daffy Duck and Porky Pig. Eclectic? You bet.
Read more
3
The men behind longstanding Chelsea haunts Barracuda and Elmo Restaurant bring you this sultry midown drinkery. Unlike cozy Barracuda, Industry is a sprawling, high-ceilinged space, featuring a long concrete bar (manned by hunky, often shirtless bartenders, naturally) a stage hosting drag and music performances and a sizeable dance floor. Those seeking a more intimate scene will find plenty of private nooks and comfy couches.
Read more
4
This classic, no-attitude gay lounge in Chelsea has outlasted many others due to its combination of cozy couches, awesome drag shows, generous happy hours and friendly bartenders. IPhone addicts beware: You'll have a hard time getting reception in here, so you'll have to use your IRL skills (rather than Scruff or Grindr) to meet Mr. Tonight.
Read more
6
City folk can party honky-tonk–style at this country & western gay bar. The 74-seat spot is outfitted to look like a Wild West bordello, complete with red velvet drapes, antler sconces and rococo wallpaper. Throw back a shot and wrangle yourself a mate, or chow down on hearty grub like Texas red chili or Angus beef burgers. Don't miss the entertainment—performances by bartenders dancing in cowboy boots add to the raucous vibe.
Read more
8
The birthplace of gay liberation says "yes!" to empowerment and "hell, yes!" to go-go boys. The high-energy dance music draws a mixed, flirty crowd. Drink at one of two bars, or shake your groove thing on the dance floor upstairs. Daytime brings gawking tourists, but the evenings are still for partying. Theme nights include the Latin house party Uncut Wednesdays, but true to the bar's democratic spirit, everyone is welcome.
Read more
9
A self-described "rock and sleaze fag bar," the Cock is just the sort of dark, sketchy dive where you can unleash your inner sexy beast. The dearth of uptown attitude (or any apparent concern for cleanliness) pulls artists, musicians, writers, fashionistos, tourists and closeted rebels in stiff polos, all of whom can appreciate a little dirty fun. Homeskool Mondays feature DJ extraordinaire Jon Jon Battles. Weekends get so crowded (midnight to 3am) that there's often a cover charge. Stuff your pockets before coming here; it's cash only.
Read more
10
Not many lesbian bars are as welcoming to men, gay or straight, as Ginger's is. Two rooms and a spacious garden accommodate everyone, even decompressing softball teams from nearby Prospect Park. Small tables are a good place to chat and listen to the juke; the back room draws cue-carrying pool sharks, but skill-free shooters are welcome too.
Read more
Show more
Best gay clubs in NYC
LGBT parties in NYC offer something for everyone, from relaxed, mixed shindigs to sweaty dance throwdowns
Read more