Heads up! We're working hard to be accurate – but these are unusual times, so please always check before heading out.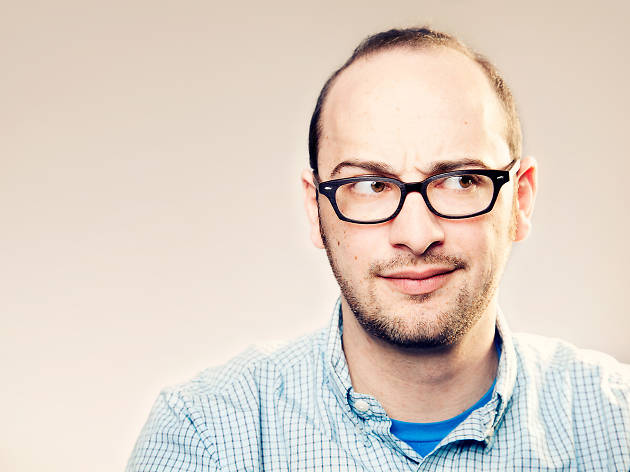 Josh Gondelman on his unique career transition
Gentle and apologetic aren't typical adjectives for comics, but Josh Gondelman is different
Have you heard the one about the former preschool teacher turned comic? That's not a setup for a really cheesy joke—that's the life of soft-spoken, former-Bostonian Josh Gondelman, who is now one of the funniest New Yorkers. Besides performing his standup at some of the city's best comedy clubs, Gondelman writes for Last Week Tonight with John Oliver and pens the popular Twitter account Modern Seinfeld. Make sure to catch Gondelman at the Knitting Factory on Sunday, June 12—it's going to be one of the best comedy shows in NYC this month.
Why's a guy like you writing an update on Seinfeld?
I love the show. The feedback has been great. But it's such a testament to how strong the characters are that it still works in the present day. I wonder what Elaine Benes would think about Snapchat.
Has there been any feedback from the Seinfeld camp?
Jason Alexander tweeted about it; Jerry Seinfeld and Larry David were asked about it, and their reactions were like, "Huh?" To inconvenience Larry David for a minute is a pretty cool thing.
You've scored a plum gig working with John Oliver. How tough was the adjustment from life as a freewheeling comic to life in a cubicle?
It was an adjustment. I went back to those old Dilbert cartoons to learn how to work in an office. It's as amazing as you [would] think here.
You've experienced desk life as a preschool teacher, which is perhaps the most unlikely job for a comic.
Maybe it is, but it made sense for me. My mom worked as an education director. She suggested that I work as a preschool teacher full-time during the day and the rest of the day focus on comedy.
You were born and raised just outside of Boston, but where's your Lenny Clarke–esque accent?
It comes out whenever I watch sports. But I say things that are so Boston, like, "Where's the bubbler?" People here in New York are confused they think I'm a really intense pothead, when the reality is that I'm just thirsty. The bubbler is the pay phone of the hydration world—you don't see anyone using it unless they're in dire straits.
Your voice might not give away your birthplace, but your Red Sox cap does. What's your worst harassment story?
It was right outside of my apartment. This guy looked at me and said, "Yankees forever." I said, "I respect that." He said it in such a menacing manner. But for the most part, it's been amazing in New York. It's an incredible place to live.
Gondelman is at the Knitting Factory Sun 12 at 9pm.
Looking for open mic nights in NYC?
To help get your stand-up career started, we've compiled the best comedy clubs for open mic NYC has to offer