The best open mic nights in NYC
To help get your stand-up career started, we've compiled the best comedy clubs for open mic NYC has to offer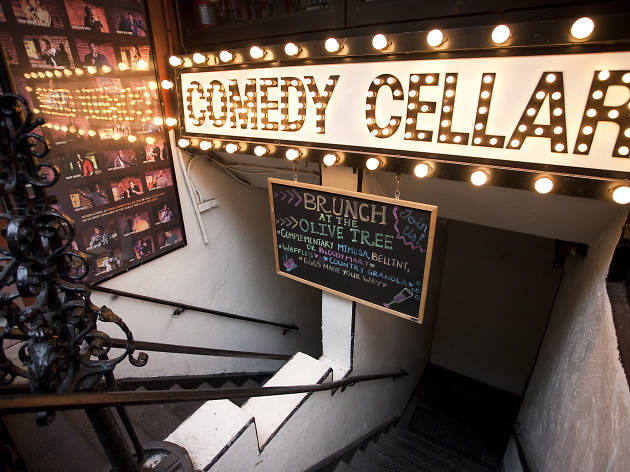 Want to try your hand at stand-up? That's great! Write some jokes about the city or something else you have opinions about and get up on stage. We can't teach you how to write a joke, but we can tell you about comedy clubs that will let you take charge of the mic for free (or cheap) to hone your craft. Before you head to one of these spots, remember to show up early and definitely have some material before you go and sign up for an open mic. NYC, it may not seem like it, but everyone from Louis C.K. to anti-humor comedians like Neil Hamburger work hard at making material. No one wants to wing it in front of a tough audience.
Best places for open mic in NYC
To get to this brick-walled comedy club beneath a bar, venture to MacDougal Street and make your way past sidewalks packed with NYU's bar-crawling crowd. But trust us: The trek is worth it. The sister venue of the Village Underground and underground neighbor to Olive Tree Cafe & Bar, it hosts frequent Open Mic nights—get on stage and and you'll be joining a roster of past performers including Louis C.K. and Aziz Ansari.
Read more
Chris Mazzilli's vision for his club involves elegant surroundings, professional behavior and mutual respect. That's why the talents he's fostered, such as Jim Gaffigan, Tom Papa and Ted Alexandro, keep coming back here long after they've found national fame. He even offers an open mic downstairs if you want to get in on the action.
Read more
This darkly lit Lower East Side bar serves some absurdly named cocktails (Southern Tailgate Stripper, Your Cousin's Incestuous Margarita) alongside a slew of comedy, variety and talk shows. The Peep Show Open Mic recurs weekly, providing a platform for up-and-coming comedians every Wednesday night at 7pm. Get there early to sign up; the space is small and fills up fast.
Read more
After many years in Chelsea, this improv and sketch theater moved crosstown to a dramatic east-side location with a warm mainstage proscenium stage, a black box in the basement and an inviting bar. Cheap shows, open mics and free jams keep the crowds young and lively.
Read more
This small-but-mighty club opened in 1986, promoting big names, including Robin Williams and Jerry Seinfeld. It's one of a handful of spots that survived the burst of the comedy bubble in the '90s, and a recent renovation has made it a warmer environment. On top of that, they offer an open mic so maybe one day, you can become a household name.
Read more
This burgeoning, multilevel comedy palace in Long Island City is the deserving gem of the Queens comedy scene. Owner Rebecca Trent programs shows mixed between open mics seven nights a week, and at times, you can catch up to five free shows on a busy weekend night.
Read more
Exemplary bar food and stellar craft beer selection distinguish this Williamsburg bar from the cocktails-and-sliders rotation at downtown comedy clubs. Go on a Wednesday night at 8pm to see or partake in the open mic night event Group Therapy—unlike going to your shrink's office, it's both fun and free.
Read more
Since Chicago-born comedy troupe Upright Citizens Brigade moved to New York in 1996, it has expanded with two theaters in Los Angeles and a second in New York. (Chelsea was first; this one's a newer addition.) Alumni include Saturday Night Live stars Kate McKinnon and Bobby Moynihan and Broad City's leading ladies Ilana Glazer and Abbi Jacobson. Take to the stage at a free open mic night on the first and second Thursday of every month at 6pm.
Read more