Heads up! We're working hard to be accurate – but these are unusual times, so please always check before heading out.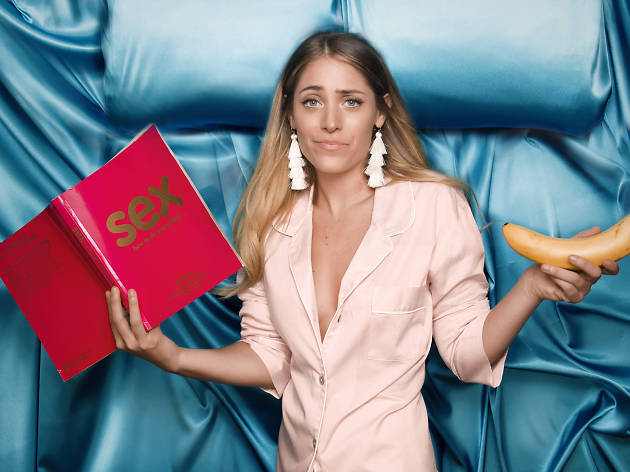 Remy Kassimir seeks sexual wisdom on her podcast How Cum
Stand-up Remy Kassimir interviews comedians, sex workers and more on her podcast How Cum?
Remy Kassimir has never had an orgasm. On her NYC comedy podcast How Cum, the sharp stand-up welcomes comics, sex educators and other guests to discuss their craziest sex stories; they also assign her homework to help her along the way. A handful of episodes in, How Cum has awakened Kassimir—and granted a new legion of fans a space for nonjudgmental discourse. We asked her to share what she's uncovered beneath the sheets.
Women and men all over the world have the same issue.
"Downloads are coming in from more than 50 countries at this point. One guy reached out to say that he hadn't come until he was 28. My friend's mom told me she can't come anymore because she's on Klonopin. A lot of people reached out to me and said, 'I hadn't, and now I have.' They're taking the same assignments as I am. The one I just finished was to go to a gynecologist and see if everything was normal. I asked, 'Was it weird for me to ask this question?' And she said, 'You would be surprised.' "
Don't believe what you hear.
"Before I started this podcast I had a lot of different views on female orgasms. For a while before I started the podcast, I didn't think women even had orgasmsthem; every joke in every sitcom is about how the wife's husband can't make her come and doesn't even care. Men only cared about their own pleasure, and women could go suck an egg. I also saw the Samantha Joneses of the TV world having orgasms in five seconds or less and thought, Well, she's just in a category of her own. There are women who come and women who don't. And working on it is really weird. Either you're a sexual pervert or you're doomed to a life of no orgasms, and that's that. But it's so untrue!"
Squirting isn't gross; people like it! And think about it: Basically every guy squirts (whoa).
"In my first episode, comedian Wendi Starling was explaining that she sells her used panties on Craigslist, which means she has to come a lot. I always thought people said squirting was gross or shameful. And she gets paid to do it; people think it is hot. I had a lot of guys write in saying, of course it's hot. I've had girls write in saying: I'm someone who has never even done it, or someone wrote saying that she has squirted when she's masturbated but never had sex, because she's afraid guys wouldn't like her. That's hot, man. And all guys do it. They make a mess."
Try everything. Find what works for you.
"It's different now than it was in the days of Cosmopolitan, which had language like, 'This is how you do it. Here are five instructions.' What I've learned from the guests on the podcast is that everyone's first time was different. One of the guests said that if you touch their nipples, they'll come. I didn't know that people had those sensitive spots. You can't tell people how to pleasure you because they physically can't feel how you feel. Not everybody likes vibration or suction. Some people are like, 'Don't touch my dick—I can only come from you sticking your finger in my butt.' "
Talk about it.
"I do it all for the podcast, but the podcast is for me. When people reach out and say that this has opened their eyes and made them part of a conversation, it makes me feel like less of a weirdo. I had one woman write in saying, 'I did your episode-one assignment, and it was the first time I had ever come without porn. I have sexual trauma and I always feel dirty after. This was the first time I did it for me. I really took the time to fully embrace myself.' I would rather have that than immediately come myself."
See Remy Kassimir Live!
Join the always-game Remy Kassimir for this reliably-stellar comedy show over brunch. While you down mimosas, Kassimir and her favorite funny friends tear the house down with killer sets.