Shalewa Sharpe and Courtney Fearrington talk black cinema
Thug Passion Presents hosts Shalewa Sharpe and Courtney Fearrington pick the most underrated movies of black film canon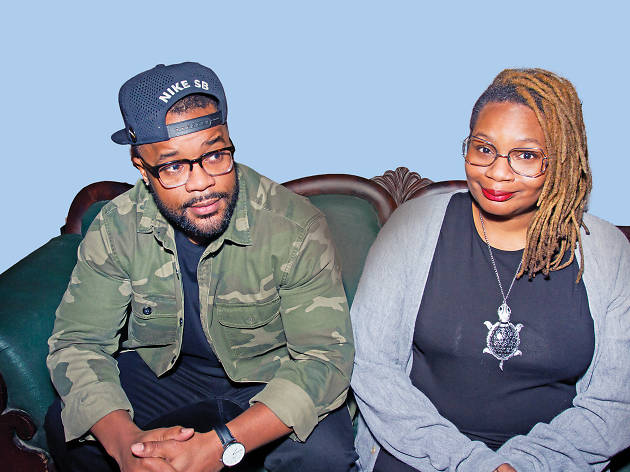 At their live comedy show Thug Passion Presents, the unimpeachable stand-ups Shalewa Sharpe and Courtney Fearrington host roundtable readings of some of the most beloved, bizarre and quotable entries in the black film canon. Before they hit Union Hall on Sunday, March 11, the NYC podcast hosts share their favorites movies.
Shalewa and Courtney's most underrated picks
How Stella Got Her Groove Back
Shalewa Sharpe: When this movie was released, it was very nice to see Taye Diggs' ass. In fact, I'm pretty sure the billing of the movie was "Angela Bassett, Whoopi Goldberg, Taye Diggs' Ass." Years later, I came across the film on cable. Instead of observing Stella's groove, I began analyzing my own. My groove was so weak, barely breathing. Hell, I'm currently trying to get to pre-groove Stella status: a house, a car, a dishwasher, knick-knacks.
Courtney Fearrington: This 1998 gem was big for me discovering that sometimes certain things just ain't for me. I don't think I made it through this when my mom brought home this Friday night new-release Blockbuster rental. I mean, big ups to Angela Bassett: She looked the exact same age 30 years later in Black Panther. It was like she moved from Jamaica to Wakanda because Taye Diggs' character traded in his puka shell necklace for a new job in a Vibranium mine.
Shalewa: Not long ago, I did get my groove back. I promptly lost it five months later. Label your groove, everyone. Keep it next to your house keys or something.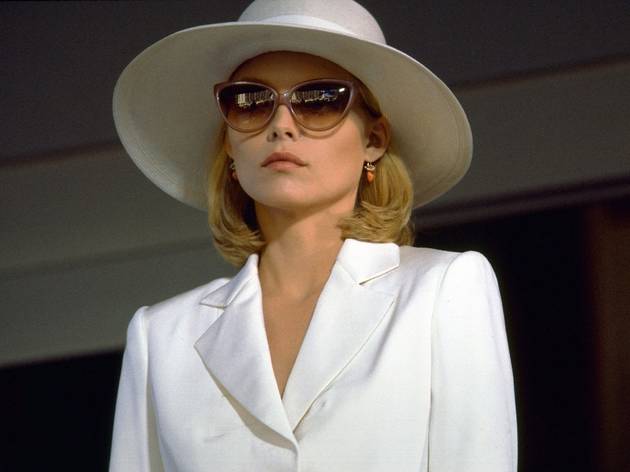 Courtney: There's no way we can leave off a movie that inspired a movement. So many notable scenes and quotes. My favorite part though is this movie's impact on hip-hop culture. Man! So many custom Scarface Nikes.
Shalewa: The movie that launched a thousand MTV Cribs.
Courtney: What about that MTV Cribs episode when rapper Trick Daddy had vertical blinds in his house that formed the original Scarface poster when they were closed? That's real power.
Shalewa: An interesting note about Scarface: It's so bad! You just have to accept it as the drug-dealing, mafia-themed camp that it is. Let yourself be swayed by Al Pacino's ridiculous accent and Michelle Pfeiffer's severe bob. Also, somewhere in there is a message of If You Believe It, You Can Achieve It. Most importantly, that poster art goes with every décor.
Courtney: Spike Lee's love letter to HBCUs [historically black colleges and universities] is an absolute classic. Growing up in Washington DC, this movie had a special place in my heart because it featured music from the go-go band E.U. and Spike was in the music video for the song "Da Butt." To this day, how many movies feature go-go music?
Shalewa: When I was 15, I took summer improv classes on the Morehouse College campus. Our instructor was a delightful dude named Bill Nunn. One day he wore a jacket to class (which was notable because this was summertime in Atlanta) and it was covered with artwork for something called "School Daze." When we asked Bill what that meant, he smiled and said, "Oh, you'll see. Y'all will see soon enough." Three years later, I'm watching it with some friends in college and as they turn to me, the only black person in the room, and ask me to explain the ambiguous ending of Laurence Fishburne yelling for everyone to "WAKE UP," I think to myself, "Wow, Bill, you could have given us a bit more info about this joint."
Courtney: I like to think Laurence Fishburne yelling "WAKE UP" at the end was how "woke" originated.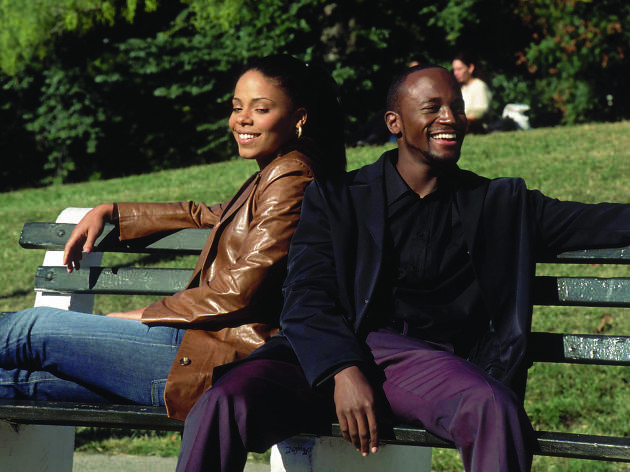 2002 Twentieth Century Fox Film Corporation
Shalewa: Okay, I'm trying to get this flick into the pantheon of romantic comedies, because it is fantastic. Why should I have to watch Meg Ryan morph into Kate Hudson as they play coy with Matthew McConaughey when I can watch Sanaa Lathan refuse to age while sparring with Taye Diggs (Taye Diggs, always Taye Diggs), while Mos Def awkwardly woos Queen Latifah? Also, the soundtrack is the best of neo-soul and grown folk rap, preserved in amber and scented with black love incense.
Courtney: How much Taye Diggs is too much Taye Diggs? If there was a black ensemble movie in the late '90s–early '00s, he was probably the lead. Def not mad at it; he played some of my favorite characters of the time. Seeing a normal corporate type dude that wasn't made to be overly corny was refreshing. It gave a young nerd hope—does it get any better?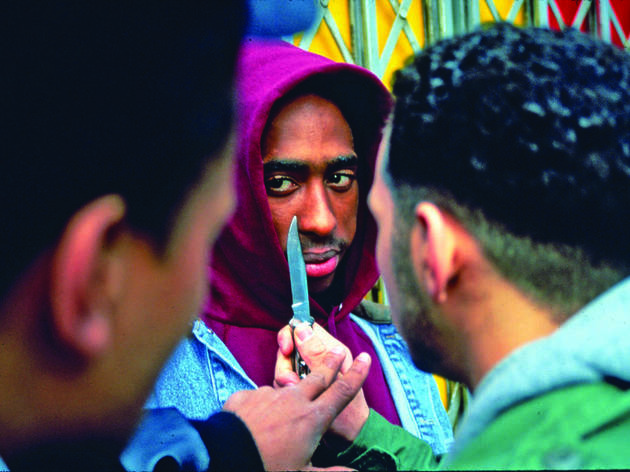 Courtney: This movie is cursed for us. We've been trying to bring a Thug Passion version of this to the people for years! Every time we get close something bad happens.
Shalewa: The ancestors do not want us messing with this movie. I'm assuming it was filmed on an old bodega burial ground.
Courtney: This is a modern black horror movie. Everything about Bishop—TuPac's character—reminds me of Friday the 13th. The appearing out of nowhere, the blank expressions, and there's a scene where Q—Omar Epps—is running and a walking Bishop easily catches him. Plus, we actually never really see him die in the end. I've been waiting for a sequel, maybe Juice 2: Bishop's Back.
Berry Gordy's Last Dragon
Courtney: You have to say that whole title.
Shalewa: This was not really my jam. The lead character, Bruce Leroy, didn't do it for me. The protagonist, Sho'Nuff, looked too much like an actual dragon. Also, I preferred Vanity singing sexually explicit songs I didn't quite understand yet, not acting. Ew.
Courtney: This is a deep cut, and something I probably pressured Shalewa to add to this list. One of my favorite movies. It combines pop, hip hop, disco, kung-fu, and one of the most charismatic villains of all time: Sho'nuff, The Shogun of Harlem. Sometimes when I'm down I'll put on the soundtrack and pretend like I have 'the glow' while walking by one of the millions of random karate studios NYC has. This city needs a dojo intervention.
Listen to your favorite comedians on these NYC podcasts
Before they become household names, some of the funniest up-and-coming New York comedians are throwing down on podcasts covering sex, politics, pop-culture and working in the entertainment industry. And because they're in NYC, you can catch performances of these podcasts at live comedy shows all around town. What are you waiting for? Embrace your new addictions.