Time Out Live, our New York Comedy Festival show stars… Michael Che and Hari Kondabolu
Two New York natives who are on the rise perform in TONY's annual New York Comedy Festival showcase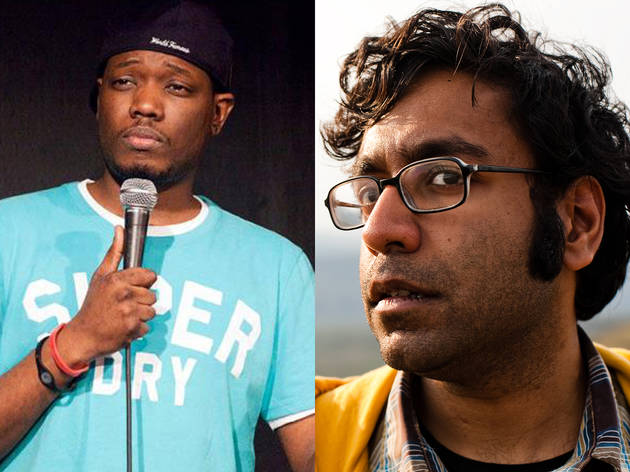 Michael Che
Who he is: A New York–native wunderkind who, after having started doing stand-up not quite three years ago, is already a ubiquitous fixture in the downtown comedy scene

What he does: Cohosts weekly showcase Broken Comedy in Williamsburg; was named one of Comedy Central's Comics to Watch last year; has appeared on John Oliver's Stand-Up Show once and IFC's Bunk multiple times; headlined Carolines' Breakout Artist Series twice.

Why we love him: His preternatural confidence and unflappable exterior give his keen social observations—from digs about iPhones to recollections of growing up on the Lower East Side—a particularly sharp edge. He's not homophobic but he doesn't judge homophobes, he prefers like to love and he's an animal lover who considers pets slaves. He's an enigma like that.

Hari Kondabolu
Who he is: A smart and humanistic comic, writer and international traveler who nevertheless has humble roots in Queens

What he does: Writes for and dishes editorials on FX's Totally Biased with W. Kamau Bell; premiered a half-hour Comedy Central Presents last year; did stand-up on Conan; cohosts a chat show with brother Ashok (of Das Racist) about whatever strikes their fancy.

Why we love him: Though Kondabolu's comedy is cerebral and political, he never ceases his search for fun—which he finds much more often than not. He's impressively well-rounded: How many comics do you know who have a master's in human rights from the London School of Economics? Plus, he's developed the world's first feminist dick joke.

Time Out Live happens Nov 9. Tickets available at east.ucbtheatre.com.
You also might like
Three comics to watch: Michael Che
Joke of the Week 2012
21 New York comedy linchpins