Heads up! We're working hard to be accurate – but these are unusual times, so please always check before heading out.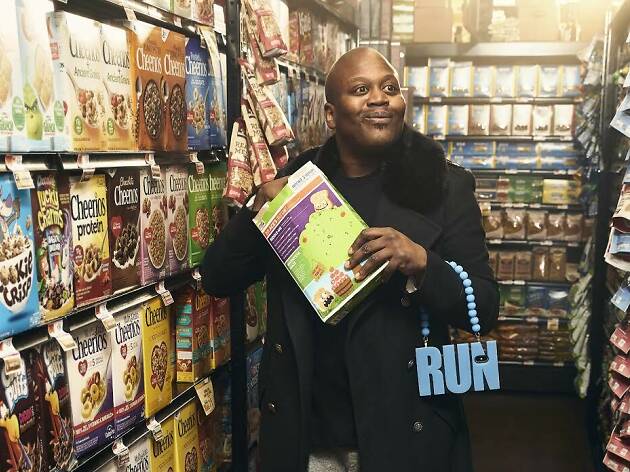 Unbreakable Kimmy Schmidt's Tituss Burgess: "I caused the 2003 blackout!"
The effervescent New Yorker Tituss Burgess says goodbye to Titus Andromedon and gears up for what's next
Walking up Ninth Avenue, I'm having an empowering experience with Tituss Burgess. The word empowering gets thrown around a lot, but by the time we've walked 10 blocks, I feel like every problem in my life can be easily fixed. For the past 30 minutes, the Unbreakable Kimmy Schmidt star has assured me that it really isn't that difficult to fit a grand piano into an apartment ("You just flip it over and take the legs off!"), that any piece of ugly furniture can be quickly spruced up ("I had this hideous dresser, so I just put it on its side, took out the drawers, put in some sliding glass, and I had a great console!") and that there are always unexpected ways to incorporate more fun into your life ( "My dining-room table is a secret pool table," he whispers).
Before this interview, I was told that, in person, Burgess is a lot different than his bubbly, larger-than-life breakout character on Unbreakable Kimmy Schmidt. But that's only partially true. While both the Kimmy and IRL Titusses exude an infectious, positive spirit, the real deal tends to be much more thoughtful. In fact, he can be deadly serious at times, especially when our conversation moves from home decor to meatier topics like minority representation in the entertainment industry.
After moving to New York from Georgia in 2003, Burgess landed on Broadway in the Beach Boys musical Good Vibrations. Since then, he's turned in brassy, scene-stealing stage performances as Sebastian the Crab in The Little Mermaid and Nicely-Nicely Johnson in the 2009 revival of Guys and Dolls. On the small screen, his endlessly quotable role of D'Fwan on 30 Rock led to his celeb-making casting as Titus Andromedon in Unbreakable Kimmy Schmidt, which launches its last season on January 25.
During our stroll through Hell's Kitchen, he speaks passionately about the past and the future, detailing, among other things, his early days in NYC and his plans to adapt the film The Preacher's Wife for the Great White Way. Then, out of nowhere, he decides we need to pop into a store for a new fragrance, opting for not one but two musk-scented bottles. "I want anything that smells amazing!" he grandly proclaims, not unlike the Kimmy Tituss.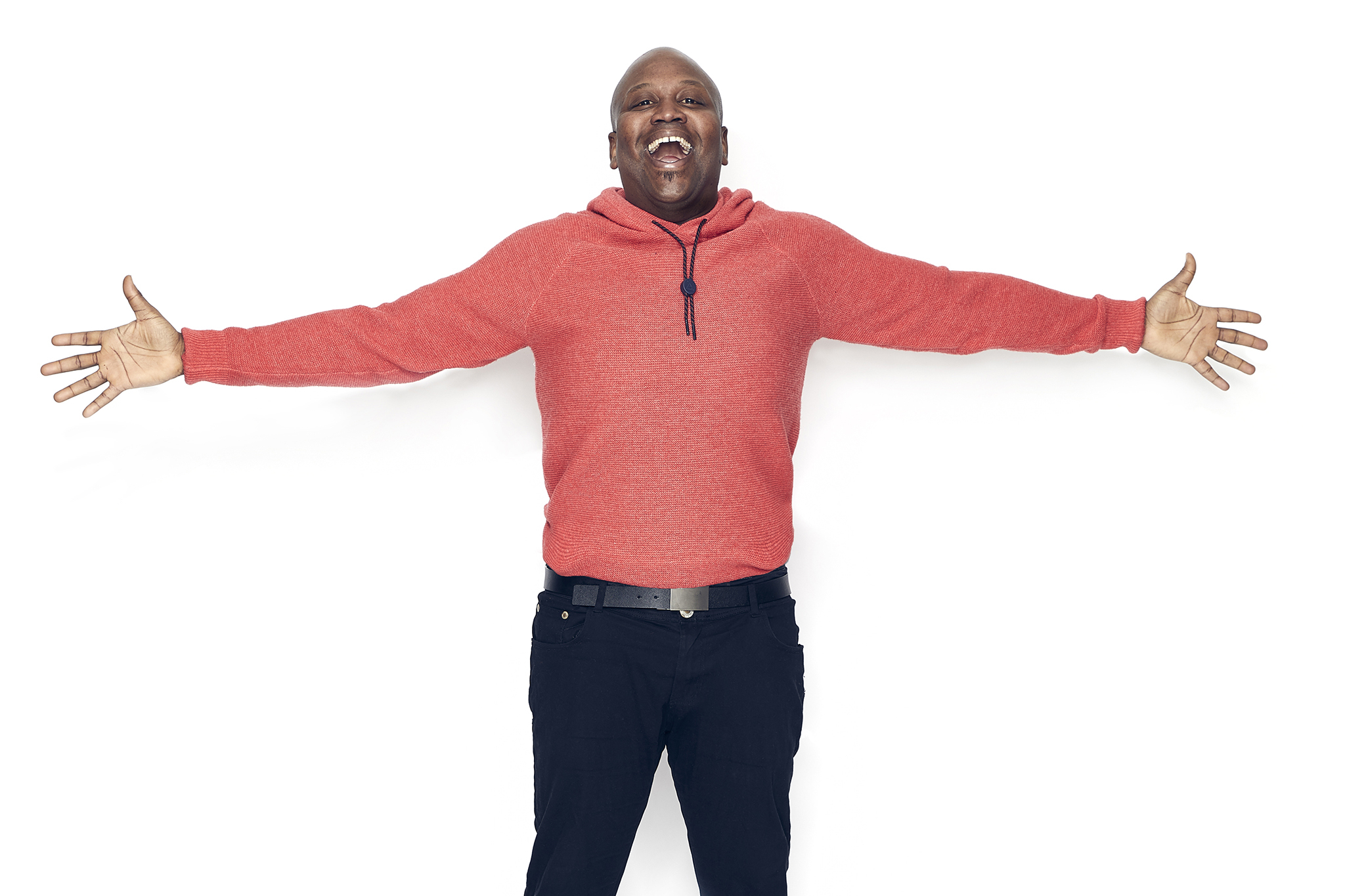 Photograph: Justin Bettman
What were your early years in New York like?
I was living in everyone else's apartment. I started out in Inwood. A good friend of mine and I shared a one-bedroom apartment, and I was working at churches.
Churches?
Not "churches"—Church's Chicken. [Laughs] They say you romanticize even the darkest times of your life, but I look back now and think that that particular New York really is completely gone. Limelight's gone. The Gaiety—that's gone. It was kind of the age of Sex and the City—perhaps that's what we'd call it. You felt like Samantha and Carrie and Miranda and… What's the other one? Oh, right: Charlotte. You felt like they were going to walk around the corner at any moment. It had a feeling of innocence and promise and lived-in–ness and experience.
What was it like living in Inwood then?
Well, when I moved here, it was the summer of the blackout in New York City. It was so hot, and I had saved up my money to buy an air conditioner, but being the non-handyman that I am, I didn't measure the window. So, I just plugged in the AC, and it was sitting on my couch. I was like, "Nailed it!" But then I started hearing these buzzy, short-circuit-y noises, and the entire sofa was completely drenched with whatever comes out of air conditioners. Then, zzz, zzz, and the power goes off in the apartment—I'm thinking it's just me, that I had something improperly installed in my apartment. But by 9pm, my entire block was dark.
So, you're saying that you personally caused the 2003 blackout?
I caused the 2003 blackout! The whole thing was my fault! But to this day, I will never, ever forget what I learned about New York City: For all of its eccentricities and divisiveness, and for all of its blatant, visible socioeconomic divides, when there is great urgency and a need for community and for us all to pull together and take care of each other—goddamn it, New York City is the place. Pizza parlors in the neighborhood with fire stoves were making pizzas for everyone for free. It was the most beautiful thing to witness. [That spirit] is probably the top reason why I have stayed here.
In your work, you're able to pull from this great upbeat energy. Where does that come from?
I spent a lot of time with my grandparents growing up, and they used to drop pearls of wisdom all the time: "The storm is passing over. Live on and you'll see the world change its face." It was a way to start seeing the upside of things and being forced to be self-sufficient and resilient. And that's kind of the way New York is: It doesn't pause for anybody, and either you evolve or you leave. And the faster you incorporate that into your day-to-day, the more successful you'll find yourself and your mental health here.
Did that mentality help you when you were starting out?
I was one of the lucky ones: Broadway came rather quickly for me. I was here for less than a year and a half when I got Good Vibrations. I was told that the role [of Eddie] was supposed to go to Chad Kimball, a little white boy. But I just marched in there and showed them that it was absolutely unnecessary for this role to be cast as Caucasian, because it had absolutely nothing to do with the plot. I sang the shit out of it and acted what little bit of plot there was, and that was it.
Have you experienced that a lot when you go on auditions?
I think someone always has someone else in mind other than me. I think everyone thinks, "Oh, Tituss was a queen on this show. Let's put him as a queen on this show," you know?
What can you tell us about where Titus Andromedon ends up on Kimmy?
I'll say that he ends in a place far different from where we found him, which is to say that he considers people's feelings now in his decision-making process. And while that sounds like a very, very small movement of the needle, it actually was quite the Herculean task for someone who was closeted for most of his adult life. And once he got a taste for being out, he just operated unto himself and unto his own rules.
Will you return to theater?
I bought the rights to The Preacher's Wife, that film starring Denzel Washington and Whitney Houston. I wrote the score and lyrics for a musical version of it. My degree is actually in music, not acting. So that will hit Broadway before I will again. To be perfectly frank with you, there are the occasional people of color who cut through for whatever reason, but on the whole, some of us darker people have a tougher time getting on to the other side of the table on the Great White Way.
What drew you to The Preacher's Wife?
It's a musical about the ramifications of gentrification on the family unit. And we have not seen a musical on Broadway that centers around people of color that also has both the father and the mother in the home.
Shows always depict broken families?
Yes. Everything that's a commercial success on Broadway always has some broken-up black family—it's re-damn-diculous. So, I'm gonna change that.
Styling: Michael Fusco
Styling Assistant: Erica Pitnick
Grooming: Brenna Drury
Photo Assistant: Paul Lee
Locations: Hudson Yards Loft & Brooklyn Fare
Special Thanks: Scotch & Soda, Topman, Nike, Private Policy, Zara, Todd Synder x Champion, Minnetonka, Laurence and Chico
The best theater to see in NYC right now