Heads up! We're working hard to be accurate – but these are unusual times, so please always check before heading out.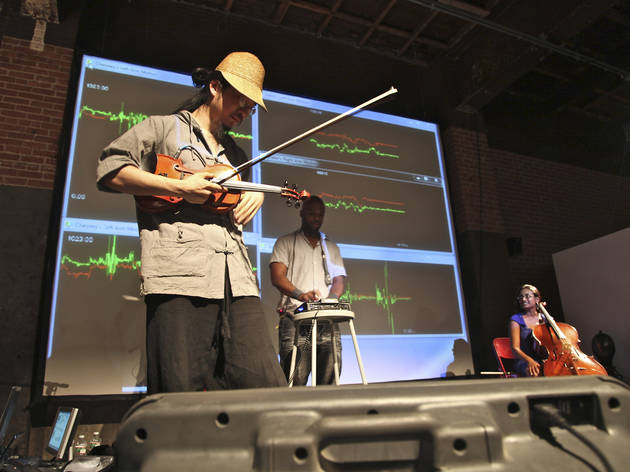 The week's best festivals: May 24-30, 2012
The Blip and World Science festivals bring video game tunes and laboratory experiments to New York.
Blip Festival
Saturday 26, Sunday 27
Wax nostalgic for your eight-bit NES and other classic gaming systems at a chip-music extravaganza. This year's lineup favors the Game Boy as instrument of choice—Brazil's Pulselooper, France's Dr. Von Pnok, L.A.'s Wizwars, and event organizers Bit Shifter and Nullsleep all utilize the program Little Sound DJ to transform the handheld toys into full-blown digital orchestras. Techies can improve their own alternative spinning skills at an "LSDJ Masterclass Workshop," where Danimal Cannon will give tips on how to maximize drums and streamline groove functions (Sat 26 1–3pm; $15). On Sunday 27, Burnkit2600, a trio of circuit-bending composers and performers, will teach how to construct portable synthesizers at "Blips and Bleeps: Square Wave Oscillators 101" (Sun 27 1–3pm; $45 including materials). Vintage video-game visuals also inspire mixed-media work of CHiKA, who's performed pieces at MoMA and the American Museum of Natural History. You can also check out Jean Y. Kim's GIFs she made, using a video game console. The creativity extends to the bar, which boasts cleverly named specialty cocktails like the 8static, Supernova Kiss and the Blip Flu, so called for the aural hangover that chip-music can induce. Gramercy Theatre, 127 E 23rd St between Lexington and Park Aves (212-614-6932, blipfestival.org). Times vary; one night $31, festival pass $65.
World Science Festival
Wednesday 30–June 3
Nobel Prize winners and notable artists join forces to reveal entertaining, intriguing and inebriating aspects of different academic disciplines at this fifth annual event. Explore the nerdy underpinnings of works by Philip Glass, who considers mysterious black holes in his new orchestral piece Icarus at the Edge of Time, or hear tales during Too Close to the Sun: Stories of Flash Points, a Moth yarn-telling session featuring comedian Andy Borowitz and Pulitzer Prize–winning physician Siddhartha Mukherjee (The Emperor of All Maladies: A Biography of Cancer). Brewers from Dogfish Head will set up a master class and tasting about reviving ancient suds, such as a 700 B.C. Etruscan ale, in "Cheers to Science! A Drinkable Feast of Beer, Biotechnology and Archaeology." Meanwhile, sci-fi fans will have their minds blown at Innovation Square in downtown Brooklyn, where they'll be able to watch as objects float in midair during the first demonstration of quantum levitation staged outside a lab. The fest culminates with the Ultimate Science Street Fair, which takes over Washington Square Park with a telepathy lab where visitors can control computers with their minds, a station to create personalized perfumes and a three-point shootaround with NBA players. Locations, times and prices vary; visit worldsciencefestival.com for details.
Related
See more in Events & Festivals